Your Wedding Cake - Where to Start!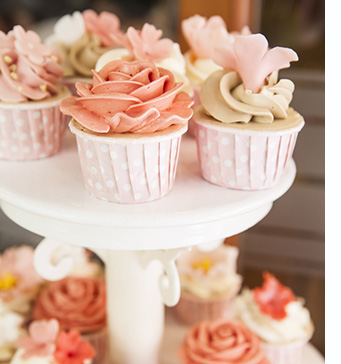 No reception would be complete without the wedding cake and nowadays they come in all styles, shapes and taste! Three tier cakes are still a favourite for many couples, who are about to tie the knot, but there are no rules to say you shouldn't get a cake designed especially for you, in any size!

Where to start...


With so many different cakes to choose from, picking your wedding cake can be a difficult task. Catering to everyone's taste can be really tricky too. You could choose to have a tiered cake made up with different flavours, solving your problem! For example, a fruit cake tier, a chocolate cake tier and, maybe, a victoria sponge tier.

Alternatively, instead of one large cake, you could opt for a tower of little cupcakes. This is becoming more and more popular and again, you could mix different flavours together on one stand.

There is a definite trend for alternative cakes, sometimes called 'the groom's cake.' This could be a cake given, by the bride, to the groom or visa versa, to appeal to his or her particular taste buds. This can be in addition to the wedding cake and can be a lovely gesture. Get thinking and be creative!

Decorating your cake


Icing, sugar paste flowers, ribbons, icing lacework, monograms and motifs will co-ordinate your cake, or cakes, with your wedding theme. If you have chosen a specific colour theme, for your big day, then talk to your cake maker about incorporating the same shade into your cake design. A good cake maker will take the time to really get to know you both to ensure the perfect end results.

A cake maker


Generally, the cake maker will deliver the cake to your reception and assemble it on site. This means there is less to worry about on the big day; nobody wants their cake in pieces!

Rather than place your cake on the top table, it is wiser to have a separate table, which is then decorated with flowers or petals. Not only does it make the cake look more spectacular, but it also means it isn't in the way during your meal. Talk to your cake maker about where you would like the cake to sit.

If you are getting married abroad your cake maker can design a cake to carry on board the plane, as hand luggage. Make sure you let them know in advance if you are planning to do this.

Cutting the cake


Traditionally, it takes place after the speeches. However, you may choose to do this before the meal, especially if the cake, or cakes, will be the dessert course. This will allow the caterers time to cut and prepare it for serving.

The bride holds the knife in her right hand and the groom's hand closes over hers. With the knife upside down, for luck, they cut the first slice together. Your caterer should cut through the icing first to prevent your cake toppling over. 'Cutting the cake' is announced by the toastmaster or best man and is toasted with champagne or sparkling wine.

If you wish to follow tradition, you will want to keep the top tier for your first anniversary. It will need to be carefully wrapped and stored in a dry, cool place, or it could be frozen. Alternatively, you may wish to store some of the sugar details in a sealed glass container. Ask your cake maker for advice and inform your caterers of your choice, before everyone indulges in a slice!

Some extra tips


Choose your cake after choosing the style and theme of your wedding.

Take along sample materials and colours to your cake maker.

Always have a sample tasting session. Yum!

 If choosing ingredients, such as fresh cream, keep in mind that it will not keep longer than four hours if not refrigerated.

Ask your cake maker to tell you of any ingredients used that may affect people with allergies. For example, nuts, gluten, dairy.

If it is to be a marquee reception, where floors can be uneven, consider having a stacked cake, rather than a tiered cake that is supported by pillars.

Before ordering your cake you should work out a number of people who will receive a slice, including those who will not be attending the wedding. For example, colleagues.

If you have not ordered your cake from your wedding venue, the venue may charge extra for the cutting and plating.

Avoid the same flavour cake to that of your dessert.

Ask your cake maker if delivery and assembly is included in the cost.

Ask for a written, detailed contract before paying a deposit.

Check your venue has a table suitable to display your cake, preferably with wheels if it is a large cake so it can be moved easily to the kitchen for cutting. Do they provide a stand and a knife?

Arrange a time with your venue for access to set- up your cake table.

Banner image courtesy of: Meringue Girls