Cheat Sheets to Spring Wedding Flowers
---
here. Choosing flowers for your wedding day that suit your budget AND your taste can be a little bit of a minefield, so we often stick to the ones we've heard of and end up paying large amounts for them - well known flowers often mean high prices. So with lots of gorgeous floral options out there, we love the idea mingling in more unusual and lesser known flowers for something different and truly stunning that will save you pennies too. To get you inspired, we have created colour coded 'cheat sheets' below to Spring flowers - explore the options on offer in your colour palette, play around with the colour combinations and if anything takes your fancy find out a little more about that flower at the bottom of the page. We'll also give you our tips on each floral colour along the way and suggest some options we feel look great together.
WHITE FLOWERS
Ah, sometimes nothing beats a classic. With so many options for white flowers, it always looks beautiful when you mingle them together a little bit. Stick to pure white arrangement or mix white flowers with pale shades of pink and purple with a pop of zingy green. You could also channel the Spring look with tones of yellow and blue but try to avoid white and red as the look can sometimes appear too harsh. If you do fancy this colour combination, be sure to mix in another colour to avoid it looking too stark - shades of pink, green or burgundy always work well at doing this.
PINK FLOWERS
For the ultimate in romance, soft pinks are always a real winner with any wedding colour palette. Whether you decide to go all out pink, pair it with white and zingy greens or mix it with other berry toned flowers - it is always a great colour to start your colour palette with. Spring is the season of gorgeous pink cherry blossom taking over our streets like great puffs of candyfloss so why not add a touch of this to your day? When it comes to roses, the number of pink toned types is mind boggling and totally welcomed! With so may beautiful ones to choose from that you may not know about, it's worth quizzing your florist to find out their favourites - they're guaranteed to have at least one!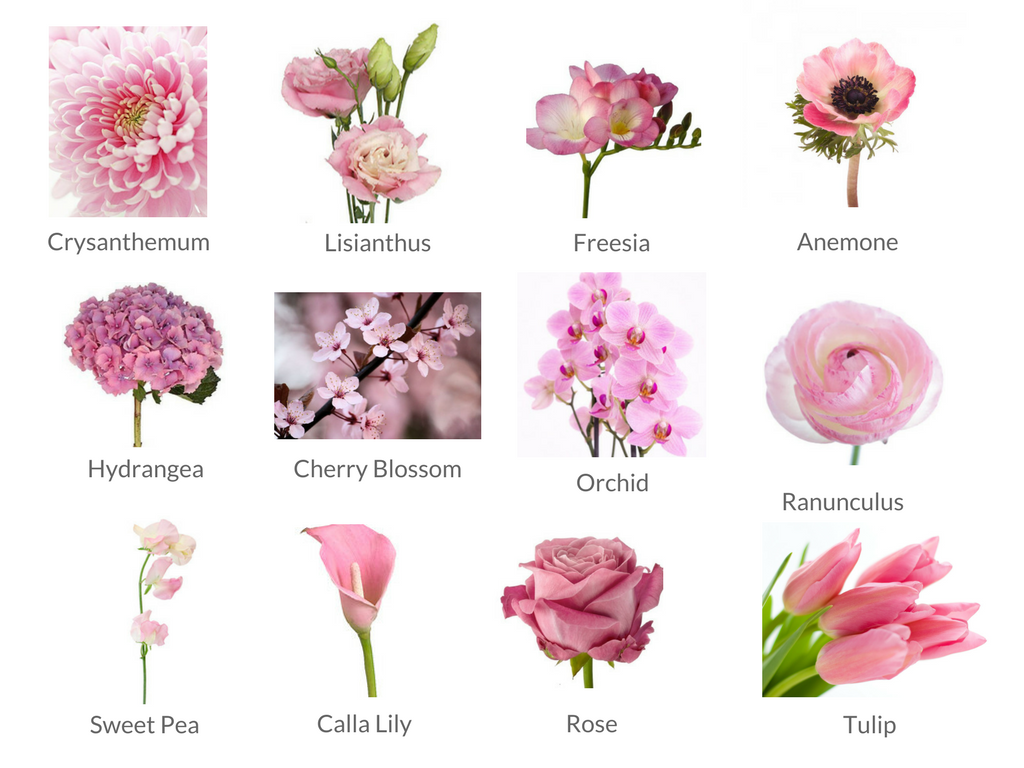 RED FLOWERS
If you're having an evening wedding reception, red flowers look unbelievable by candlelight and really set the tone of the day. Luckily in Spring, there are flower types in abundance, allowing you to really add dimension to your wedding flowers. To really let this colour shine, stick with red flowers in varying tones or mix it up with pinks and berry shades. This is also a great colour to add in if you're playing around with colour but be really careful when combining with white as you'll probably need an additional shade or colour to soften the look a bit.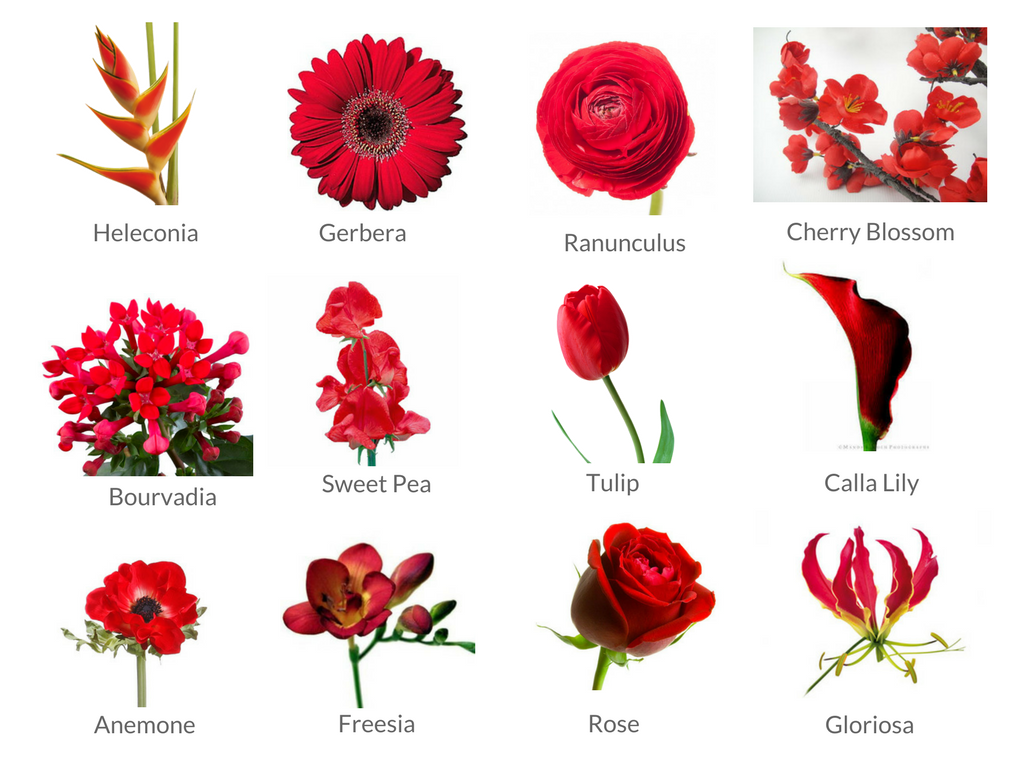 PURPLE FLOWERS
A colour that really reminds us of the English Countryside, purple is a truly dreamy colour when paired with soft tones - whites, pinks, blues and pale yellows. If you are having elements of dove grey in your wedding decor and dresses then purple is a match made in heaven. For a striking table centre, we think it's well worth investing in fabulous and tall delphinium - with so many heads on one stem you don't need many to make a statement.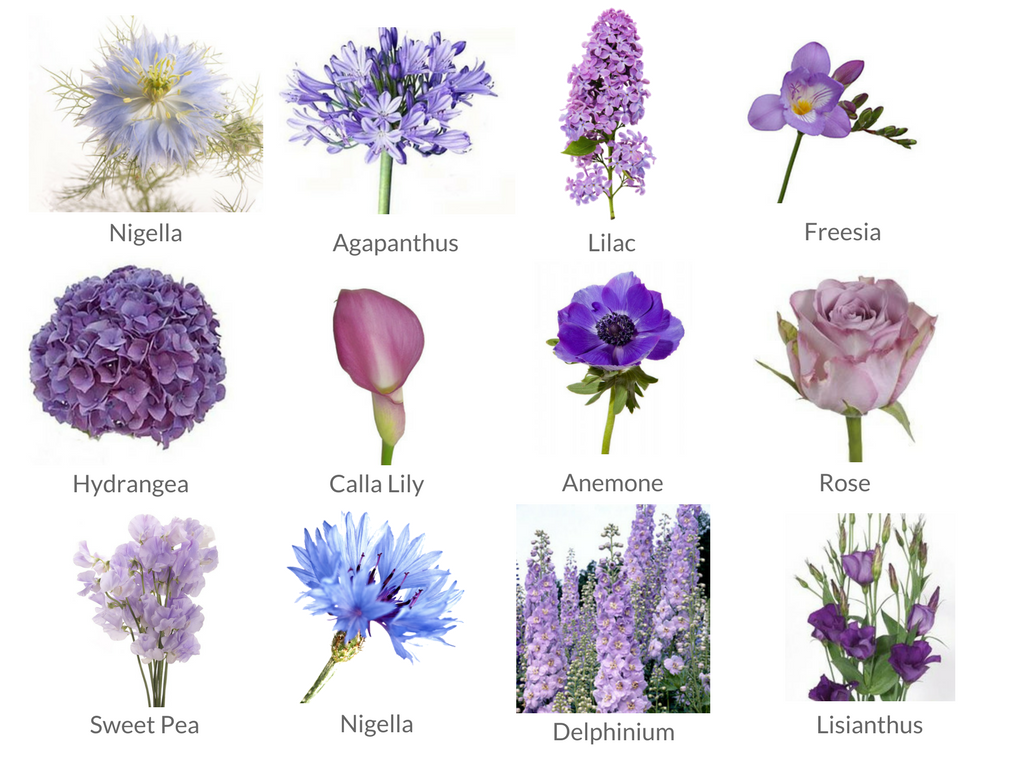 BLUE FLOWERS
The much sought after blue flower is often suprisingly quite hard to find! As much as many people love the shade blue, it's not a colour that blooms all too much. But if you're after them, then lucky for you Spring and Summer are your seasons - good luck finding them in Autumn and Winter! Don't rule out lilacs as a blue option too though as a lot of flowers sit somewhere between the two colours. You can get flowers sprayed blue but we'd suggest avoiding that unless it's very realistic - ask your florist to order you a sample before going ahead with it just in case.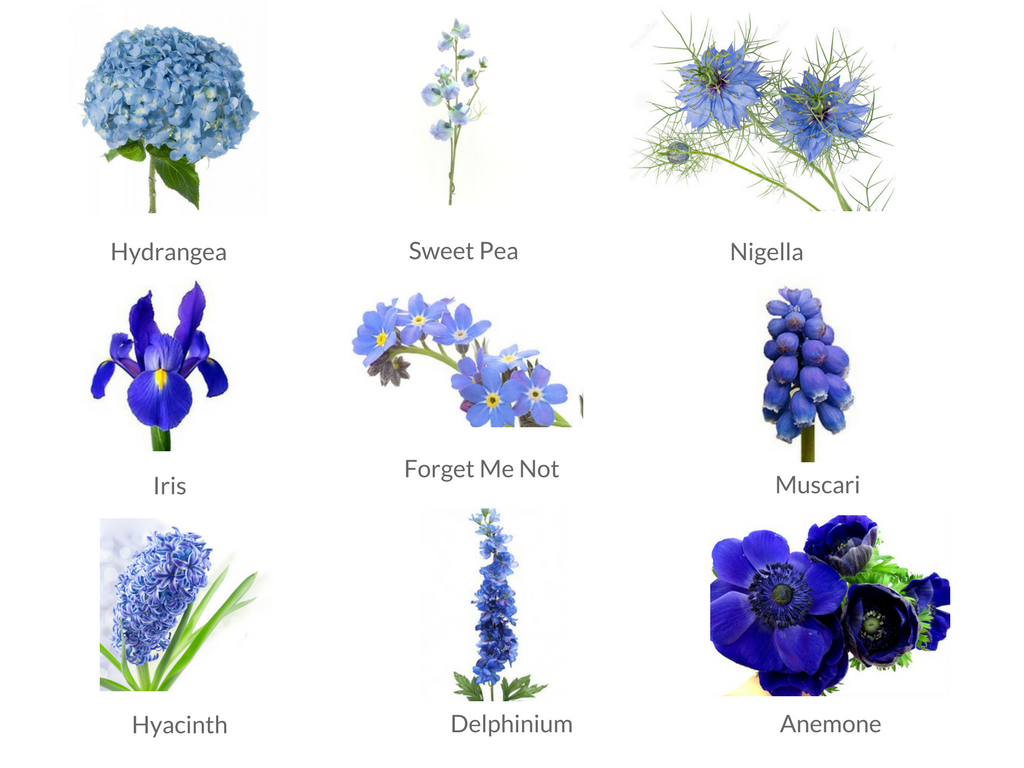 YELLOW FLOWERS
If you want to channel a real Spring vibe, then yellow is the shade for you. Mix with peach tones for a more low key look or add a pop of yellow alongside other colours in your floral arrangements. My all time favourite is the yellow craspedia - these cute little balls of fun can perk up any bouquet and really transform a traditional bouquet into a unique and unusual one. Final tip is don't rule out flowers that are deemed 'cheap' or a bit 'supermarket' as there are often lots of other versions of it that are really lovely. Full and fluffy 'snowball' style crysanthemums can look like gorgeous Dahlias. Again, this is one to quiz your florist about!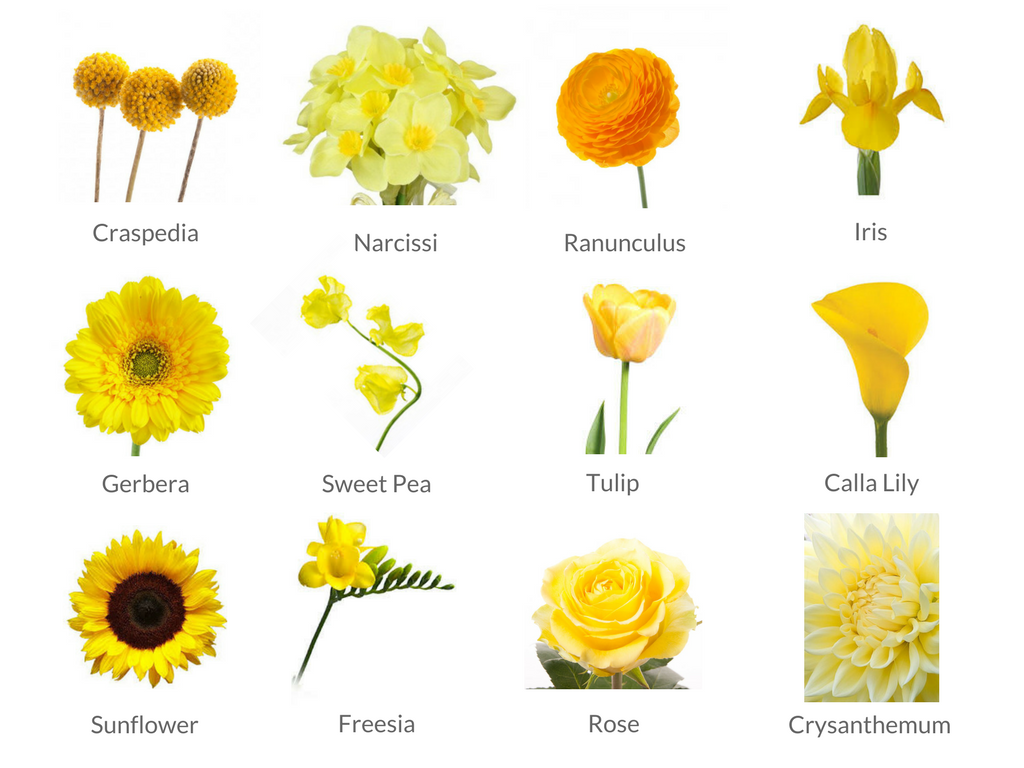 Floral A-Z
Agapanthus - A lovely tall stemmed flower, it's great for the country garden or modern look.
Anemone - With gorgeously dainty and blousy petals, these shorter stemmed flowers come in a variety of colours
Bourvadia - With each stem bearing lots of lovely little heads, this is a great 'filler' flower to mingle through your arrangements
Calla Lily - Robust and long lasting, can come extremely long stemmed. Colour options are amazing, with colour gradient changing throughout the petal
Cherry Blossom - Blooming everywhere in Spring, these woody stems have flower heads dotted along them. Get this fairly in advance to the wedding to ensure they are fully open for the big day.
Craspedia - Made up of lots of small heads, these are a fun addition and are really long lasting
Crysanthemum - A typically cheaper stem, there are so many lovely, full varietys so explore your options
Delphinium - Gorgeous long stemmed flowers with bundles of flowering heads that create a slight 'poker' shape along the stem.
Freesia - Popular scented cut flower that comes in an array of different colours with multiheaded stems
Forget Me Not - Lots of small delicate clusters of flower heads that appear almost identical, it's a flower that carries a nice sentiment
Gerbera - Pocket friendly and long lasting flower, comes in mini versions and tons of colours
Gloriosa - Otherwise known as the 'flame lily', this flower is great to add a tropical kick to your arrangements
Hydrangea - Large fluffy blooms, these are expensive but just a few stems can be impactful. Avoid putting in bridal bouquets as they wilt easily without water
Hyacinth - A strongly scented short stemmed flower, it comes in a variety of colours and is best use for floral arrangements rather than bouquets
Helconia - Hardy tropical flower, great for jazzing up a look and comes in plant form too
Iris - Three main petals, come in white, yellow and blue
Lily of the Valley - A beautifully scented and delicate short stemmed flower, this is a wedding classic but be prepared for it to be expensive
Lisianthus - A long stemmed and multiheaded flower, it comes in lots of colours, looks lovely with roses and is really cost effective
Lilac - Originating from the Olive family, this woody stemmed flower is best reserved for table arrangements rather than bridal bouquets.
Muscari - Known as the 'grape hyacinth', this more robust looking flower is a well known Spring bulb flower
Narcissi - Small headed and highly scented version of the larger headed daffodil
Nigella - Otherwise known as 'love-in-a-mist', it has fine feathery petals and grows in blue, pink, purple and white
Orchid - These phalaenopsis orchids are super long lasting and can make a real impact. Pop a few heads through your arrangements to add a luxurious edge
Ranunculus - Beautifully multi-frilled flower that comes in a large array of colours
Rose - All year round flower, there are so, so many different types so really explore your options for something unusual. Opt for David Austin roses if you want beautifully scented ones
Sunflower - Really large headed flower with a thick stem, best for table arrangements
Sweet Pea - Beautifully scented but short stemmed, so can only be placed in smaller bouquets
Tulip - Come in lots of colours, dual tones and frilled edged versions (Parrot Tulips). Need lots of water so better for table arrangements than bridal bouquets
If you're looking for ways to stick to your wedding flower budget but want to ensure what you have is fab, then read all our tips on how to do so here.