Wedding Myths Busted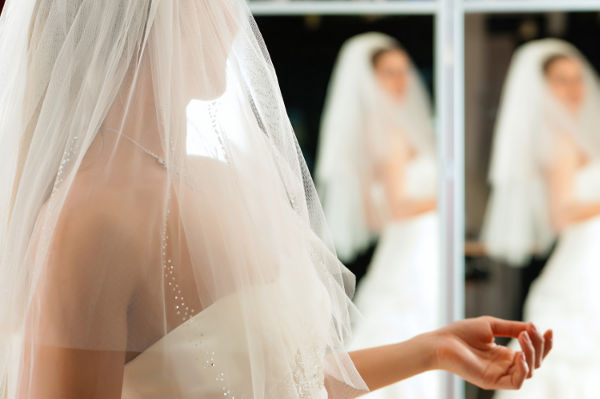 Oh, the mythical concept that is the 'perfect wedding'. There are many myths and ideas floating around which dictate what you should and shouldn't do on your wedding day; from bouquet tossing to buttonholes there are many expectations which are associated with your big day, which, quite frankly, you are absolutely free to ignore! Around the ceremony, the wedding is a celebration of the union of two people, and you are here-by free to conduct it exactly as you wish! Here are our top 10 wedding planning myths BUSTED!
1.The bride must wear white
Not only is this tradition a tad old-fashioned, it's also wrong! In the late 18th and early 19th centuries white was a popular choice for formal wear amongst the upper classes, as white cloth was hard to come by! Pale pastels and ephemeral shades remained a popular choice too! Check out our article on the
Wedding Dresses Exhibition at the V&A
where we learnt lots on the topic! Blush pinks are a particularly popular choice on the 2015 bridal catwalks, like this pretty number from
2. I can save costs by using friends instead of suppliers
Uncle Bob may well be a dab hand with a camera, but having relatives or friends step in in the place of suppliers - even if they offer, is often a mistake. Whilst it's an enticing way to cut costs, there are a few risky elements too; you may get a sub-standard result, if you were to shop around professionals you're more likely to find exactly what you want to make your vision come alive. What's more, if you weren't happy with the quality of work of Uncle Bob it's far more awkward to raise the issue with him than a professional. The other thing to bear in mind is that it may just be a little unfair to expect a loved one to spend their day working, and if they try to combine both work and play (and a drink or 3) your wedding could suffer!
3. You'll cry at the dress, the vows,  and pretty much everything else
Your wedding day is one of heightened emotions and nerves and it's hard to know how you'll  react until the day itself. Just because you don't break into tears of joy as you say 'I do' it doesn't mean that you're not emotionally connected! Some couples get the giggles, and it's adorable! Just go with the flow... and if you do cry, apparently it's a sign of good fertility in marriage!
4. You have to be christened to marry in church
Whilst some reverends may prefer that this is the case, most churches are more than happy to welcome everybody in! There are 7  criteria (of which you must meet one) in order to marry in specific church. You can find more information on this
here
.
5. Single guests need a plus one
Would you rather have a bunch of random faces on your wedding photos, or, a couple hundred extra pounds to spend on your flowers or booze? It's an expense that's simply unnecessary, and when those singletons tie the knot themselves they'll realise this and forgive you! If your budget does allow for it, however, the more the merrier!
6. You can't see each other until you walk down the aisle
Whilst this tradition is kind of cute, it's only superstition! Having a moment alone together right before the ceremony can be really special; a moment to expel nerves, collect your thoughts and take in each others beauty! It also makes for some ADORABLE photographs.
7.  You have 1 year to send out your 'Thank You' notes
This is a traditional and kind of out-dated myth. With modern day technology and endless options for your thank you's, there's no excuse for it to take so long. Also, as a piece of advice, following a period of your life when 
everything
was about the wedding, it's best to get all things wedding done and dusted as soon as possible and enjoy married life! A cute idea to speed the process is to have all your guests write their addresses on envelopes whilst at the wedding so you can post them quickly and easily!
8.  DIY-ing will save you money 
Whilst it can be fun to DIY aspects of your wedding, and it's a BIG trend right now, it can actually work out super expensive to achieve the look you have in mind. Unless you happen to work in crafts and have access to lots of crafty tools, they can be expensive to buy before you even start on the materials! Besides, who needs the added stress of tying 200 tiny ribbons in the perfect bow before you dye them in your perfect match wedding colour and immerse them in unicorn glitter?
9. I should spend £X on X
As we established earlier, your wedding is your big party to do with as you please! There are certain myths hanging around like the bride's family should pay for the reception, and the groom may pay for transport, and that there are certain amounts of money that should go on certain things. Just like the tradition that a man should spend 2 months' salary on a ring (
read about that here
), these things are totally outdated and you can do as you please! If you want your wedding dress to be that £50 dress from the high street, that's so fine!
10.  If  they invited you, you have to invite them
Not only does the element of time change things, but also does your budget! If you're having a super huge wedding, and they're people you'd quite enjoy to be there, then invite them! But by no means feel under any pressure to invite people just because they invited you - you never know, they could have been scraping the barrel a bit to fill out the numbers! It's your day, people will get over it.
You can read more about guest list politics here!