Wedding Favours Your Guests Will Love
Here at WP HQ we're strong believers in two things when it comes to wedding favours; firstly, if you don't want to give wedding favours, you really, really don't have to. And secondly, if you are going to give favours, make it something that guests will actually be excited to take home with them, and not something that will just clutter their windowsill/bits n' bobs drawer/car. The following is a little list of the top 10 wedding favours that your guests will really love.
There's a mix of expensivo and budget/DIY, but most of the ideas can be adapted to your budget! Enjoy!
1. Biscuits (Or doughnuts or cookies or other fun edible treats that aren't sugared almonds!)
2. Alcohol - For when they can't be bothered to get the bar, or as 'one for the road'. Little bottles of schnapps or a nice liqueur are always a well appreciated unisex favour. Just watch the kids don't get hold of them!
3. Candles - More of a hit with the ladies than the gents probably, though I know a good few fellas who appreciate a nice candle. This can be pretty cheap and is a great one for crafty brides! Think candles in tea-cups, or shot glasses, or a personalised tin.
4. Jam! Who doesn't love a spot of jam? Accompany it with a little sign saying 'Spread the Love', and encourage people to take one for their breakfast! Even better if you make it yourself and you can have a little photo display of the two of you in a big sticky, jam-making mess!
5. Cookie Cutters - Another one which may prove more popular with the ladies or the kids, but definitely one to be appreciated. Maybe if you accompany it with an actual cookie too that would appeal to those thinking with their stomachs! A cute idea would be to put it alongside a small printed out recipe card, and maybe to pick a cutter which isn't a bog standard love heart but actually reflects you guys. Like a dinosaur.
6. Tea/Coffee - For those moments when they run out, it happens to everyone. It's also a chance to get creative and make your own 'blend of love', or such like. Cheap to make and package too!
7. Bottle Openers - Goes down particularly well if you've got a bunch of boozers at the wedding! But who doesn't love a handy bottle opener?
8. Coasters - May sound dull, but you can double these as place settings! Having a coaster with your name on it knocking around doesn't sound bad hey? We particularly enjoy these ones which are chalk board style - that way your guests can play with them too!
9. Charity Donation - in the midst of a day of opulence, where you've already splashed a huge amount of cash, it's nice to give something back. Choose a charity close to your hearts and leave a little notice on the tables or somewhere around the room.
10. Matches! Always handy to have knocking around, and if we're thinking practical favours, this tops the list! Have the boxes personalised, or buy them plain and stamp them!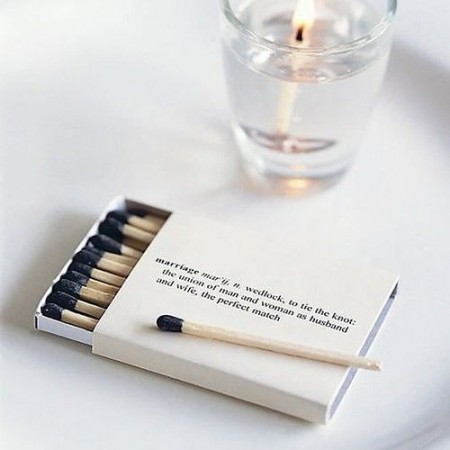 For more amazing favour ideas and suppliers, take a look here.