Oh So Perfect Advice: Should We Invite Kids?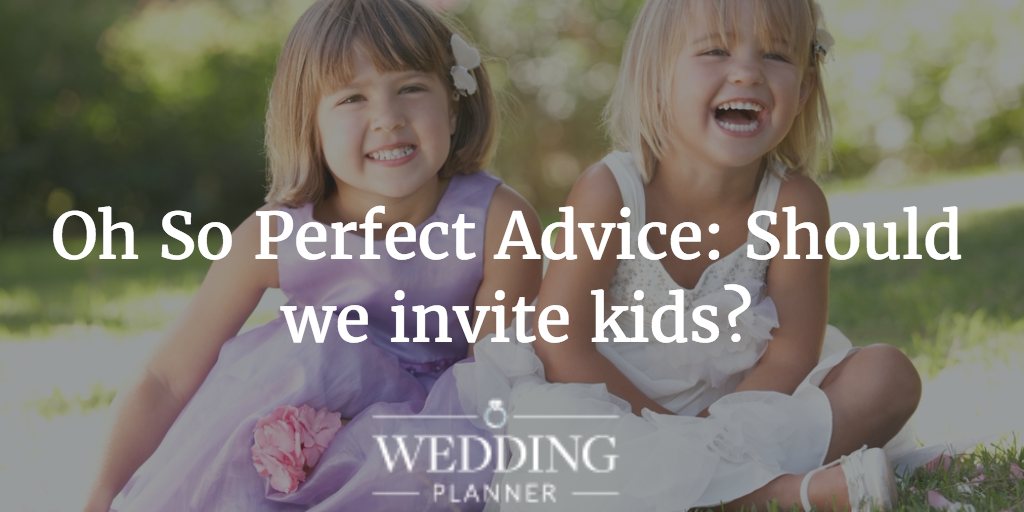 This month's bride has a problem which we've heard time and time again in the Wedding Planner office; should we invite kids to our wedding?! It's a tricky field to navigate and if not handled correctly it may lead to feelings being hurt, or guests unable to attend. Luckily, wedding expert and favourite celebrant, Samantha, is on hand to give us some much needed advice....
"My fiancé and I have decided that we don't want to have any children at our wedding, as we feel that having kids running around and making noise in our ceremony will spoil it for us! We're not sure how to tell people this though as we have a lot of friends with children and don't want to offend them, plus my nieces are my flower girls so there will be two young girls there on the day…. How should we tackle this?"
Lot's of couples now are opting to have child-free weddings, and that's OK - remember it's your day, your way! It is important though that you are clear with your decision from the start, so as not to confuse or upset anyone later. Include a small but polite message with your invitation which states that you have chosen to keep your wedding day restricted to adult guests only.
If you are including your nieces as flower girls in the ceremony, this is fine - your guests will recognise their role in your day! If you allow these lovely two girls to join you, your other guests will surely understand, but you must play fair and not pass exception on to any other guests with young children too, as it may cause those who left their children at home on your wishes to feel that they have been unfairly treated or targeted on your day.

Read on for some top tips on how to deal with children and your wedding day, whether or not you decide to invite them...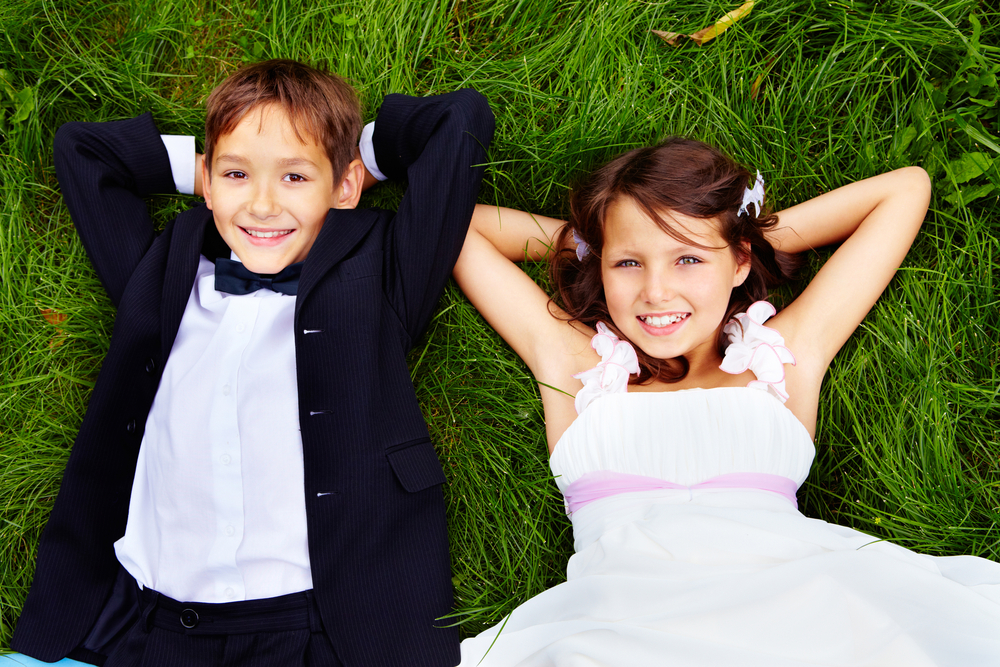 · Name your guests
Be clear on who you are inviting from the very beginning, by specifically addressing those invited on the invitation. If you are choosing to invite only the adults, address it thus so:
"Sarah & David"
Or, if the whole family are invited, address your invitation to everyone:
"Sarah, David, Millie & George / Sarah, David & Family / The Butler Family"
· Be clear
It's OK not to invite children to your wedding if you prefer, but it is important that you are clear with your guests from the start. If not, you may confuse your guests or risk leaving them unsure, or worse still, they may find themselves feeling very embarrassed on the day when they arrive with the buggy! Include a clear but polite message on the information insert of your invitation, outlining your wishes.
· One rule for all
Play fair to your guests; it's not cool to allow some people to bring children and not others as it could upset or offend those told NO when they see other guests with their kids on the day – especially if they've forked out for a babysitter back home! If you have children involved your ceremony, most guests will be more understanding of this, but be where clear to draw the line beyond this.
· Break up your day
Perhaps you wish to have a child-free ceremony, but are happy for guests to bring children to the reception? This is fine! Consider breaking up your day into 'parts' to include guests with families where welcome. Again, be clear on the invitation by perhaps inviting families to the evening reception only, or include a jovial note on the insert to politely inform guests that whilst you would prefer no young ones be present when saying your 'I dos' you welcome them to come and party with you afterwards.
· Age matters
Perhaps you would prefer to only include guests of a certain age: "We welcome guests over the age of 10 to join us…" Or "We politely request that younger guests are collected by 7pm leaving mum and dad to let their hair down with us late into the night…" are all perfectly acceptable requests.
· Strategic seating
Be thoughtful to seat younger families towards to back of your ceremony, allowing them an easy escape if they need one, and ensuring any unexpected noises are further away from where you are positioned to say your vows. Ask your ushers to guide families towards these seats when entering the ceremony venue – your guests will understand!
· Perfect planning
When plotting your wedding breakfast, seat families together where children can entertain each other, and parents can feel more comfortable together. Try to place tables with children towards the back of the room, so that younger voices are less likely to interrupt the speeches, and busy feet have a little more freedom to run around without disturbing diners.
· Entertainment
If you have lots of children attending your wedding, it's vital to cater for them too – they are also your guests, after all! Include some lawn games, bubbles, and kids activities for them to safely enjoy whilst mum and dad are sipping the champers, and place colouring books and quiet toys on the tables to entertain them through dinner. Hire a bouncy castle for the evening too – although you can guarantee it won't just be the kids having fun on this!
· Give us another one!
It's important to remember that children are children! Sitting at a dinner table for 2-3 hours is quite the challenge for any wedding guest, especially if they're a little one, so if you have the budget available, why not consider hiring a children's entertainer for the afternoon? After dinner, have the children escorted to a separate room where they can be entertained by a magician or clown, or watch a puppet show or film. Parents will be able to relax a little, and you and your guests can all enjoy the speeches without interruption.
· Baby, baby…
If you are planning to invite a lot of children to your wedding, choose a venue with plenty of family accommodation on site. That way, guests have the freedom to put babies to sleep in the evening and continue to party, knowing they're safe nearby. Better still, you could hire in a group of nannies or babysitters to take care of the younger children in their own rooms, so that parents can really relax and enjoy the rest of the night without distraction, or needing to depart early.

Samantha Kelsie is a professional celebrant providing bespoke wedding and commitment ceremonies to couples all over the UK and Internationally.