Veil Lengths - Everything You Need to Know!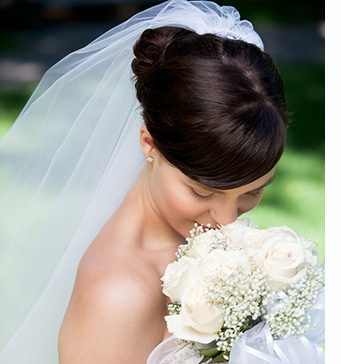 The veil is still the favourite headdress and with so many different styles to choose from, it can be hard to know what type of veil to buy. Use our guide to gage the right length for you.

Lengths of veils
Flyaway:

This is a short style of veil that sits just above your shoulders. It looks best with a simple dress or a wedding suit. These veils can be fun and flirty but can also add a delicate touch to a daytime wedding, adding a touch of tradition to a less formal outfit.

Elbow length:

A veil this length will fall just short of your elbow. It is a very popular choice amongst brides and looks great with all wedding dresses. Not only is it practical, it also looks great. Perhaps avoid this length if you are planning a more formal, evening wedding and pick something a bit longer!



Fingertip:

The fingertip length is a great middle ground! The length falls to your fingertips, a perfect length that oozes elegance. This veil is practical, not too long but makes for a dressier look than a shorter veil.

Three quarter or waltz:

This length falls between the knee and the ankle. This is a great length to choose, it allows you to dance all night, without the possibility of tripping over on your veil!

Cathedral:

This is a full-length veil that flows behind the bride. These can really make you feel like a princess on your big day! Due to the length you may want to discuss with your bridesmaids about holding your veil as you walk in and out of the ceremony! Most cathedral veils can be detached so you could always wear an elbow or fingertip length veil for the evening!

Fountain veil:

This type of veil can vary in length but is styled in the way a fountain would fall. It rises from the crown of your head and falls elegantly down your back. These veils can look great in photographs.

Blusher:

This is the part of the veil that covers your face. It usually falls just below the neck, no longer than your bust. The groom then usually lifts it as he kisses the bride. This can be a very elegant, romantic touch!

Things to think about when choosing your veil


How do you want to wear your hair? Choose a hairstyle that is practical if you want to make a statement with your veil.

You can always attach your veil to a hairpiece, instead of your hairstyle. If you choose to do this, think carefully about what headpiece you want to buy. Do you want it to be discreet or maybe you would like a glittery tiara?

Where are you getting married? Some veils would be more appropriate for certain settings. For example: a cathedral veil would be perfect for a large church wedding.

Other Timeless Advice you might like to read:

'Looking Good and Feeling Great!'
'Bridal Wear'