Twin Centre Honeymoons - The Answer To All Your Woes!
Planning your honeymoon is SO exciting, but as with any great adventure there comes doubts, concerns and questions to be answered. Whenever we feel those little queries creeping in, as if my magic a flip-flop and sarongue clad superhero comes to our rescue and makes us feel all happy and warm. We are, of course, talking about our resident travel expert and founder of Perfectmoon Travel Club, Rebbeca! Over to you...
It was a Friday, we didn't know it yet but we were going to be in for a busy day. We (Myself and Lindsay - owner of Dress in Love Weddings) were in early, standard, I had the large and extra strong coffees, standard, and Lindsay had the pastries, standard, so far it was a pretty standard morning. Just then a courier arrived with a bouquet of flowers, a beautiful arrangement of blue, white and lilac flowers, they were from one of our brides, she thanked us for her stunning bridal gown, assistance with make-up and hair styling and for an unforgettable honeymoon. This was one truly happy bride, Lindsay and I sighed, this was one mission complete.
We hadn't even put the flowers in a vase when not one but two delivery men entered the boutique, they were here to deliver three bridal gowns directly from the studio of award winning British designer Alan Hannah and his esprit collection Mia Mia. Everything stops when a bride's gown arrives at the boutique, Lindsay puts on a pair of white gloves, with a fabulous embellishment and bow of course, to ensure the gown is in pristine condition, it is carefully inspected to ensure all customisations are exactly as the bride ordered and then, and only then, does Lindsay make the call to tell the bride-to-be her gown is here. We had checked all three gowns and were about to call the brides when suddenly the boutique door swung open, a bride we had seen twice before, Jessica, stood there panting and in a fluster, " I've got 26 minutes until I start work, I need to order my dress, now!" she yelled. "I've made up my mind, I don't know why I have been waiting, I can't stop thinking about this gown and I just have to have it" she babbled as she took off her coat and scarf. Lindsay ushered her into the fitting room, I passed the gown in question through the curtains and all that could be heard was "I love it, I love it so much, thank you for seeing me straight away, I hope you dont mind, does this take long?, I don't want to make any changes, its perfect the way it is", Lindsay couldn't get a word in edgeways, but she didn't need to, all she needed to do was get the right measurements. I had spoken to Jessica briefly at a previous appointment about her honeymoon but we hadn't created any itineraries yet as she wasn't sure where her groom-to-be fancied going. Almost exactly 20 minutes later and the gown was ordered along with a matching bolero, Jessica was about to leave the boutique when she turned and said "Oh Rebbeca, we have a problem on the honeymoon front… I want a beach, all inclusive, do nothing kinda honeymoon but he can't sit still for long and wants adventure, he's not compromising and neither am I". This statement was nothing new to me, it is very common for couples to have mixed opinions as to what makes the perfect honeymoon. To date there has not been a honeymoon request too hard, too extreme or too crazy for the Perfectmoon team to create.
For the couple who want luxury beach mixed with adventure and exploration…
La Reunion & Mauritius. La Reunion is an, almost, top secret island, full of action and raring and roaring to go! This little-known island lies west of Mauritius and boy does it pack a punch when it comes to jaw-dropping scenery! Towering active volcanoes, tumbling waterfalls, lava fields, forests and mammoth craters entice adventure-seekers with a penchant for hiking and exploring.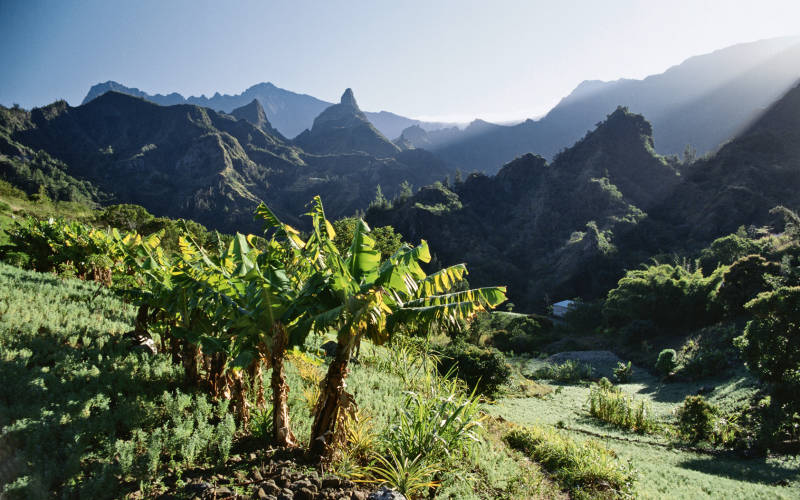 Over 40 per cent of La Reunion is a UNESCO World Heritage Site and this Jurassic Park-style setting, minus the beasts, can be discovered by land, sea or air, dipping into canyons, gliding through valleys lined with waterfalls and ruffling the forest treetops in a helicopter, whale watching, trekking, climbing, 4X4 adventure, canyoning, rafting, wine tasting, mountain biking… the list goes on. This Island is just destined to be explored.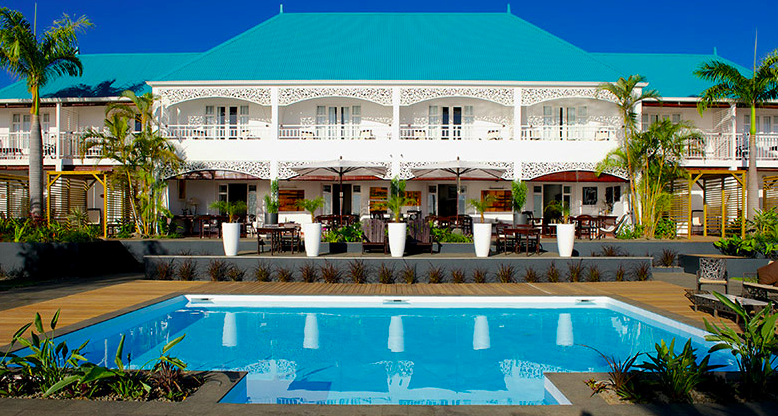 Our favourite hotel in La Reunion is the Hotel Blue Margouillat, a boutique hotel with just 14 rooms, reputed to have the best restaurant on the entire Island, 500m from the lagoon, with incredible elevated sea views.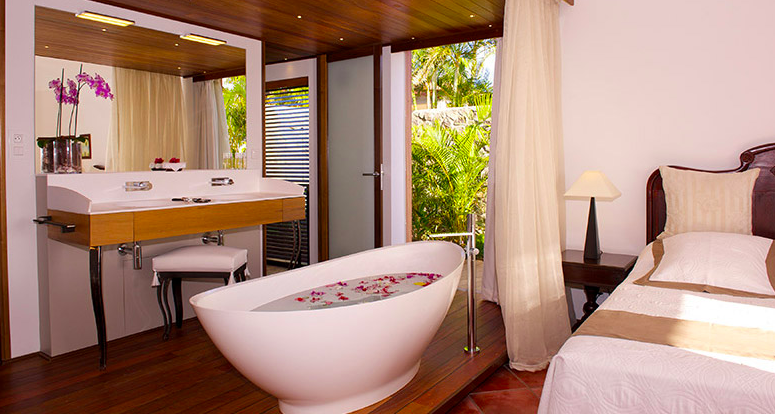 The hotel has both standard bedrooms and just two spacious suites. The suits are nestled in the gardens below the pool and have a separate bedroom and living room, an outdoor shower and a private jacuzzi on the terrace with a sea view.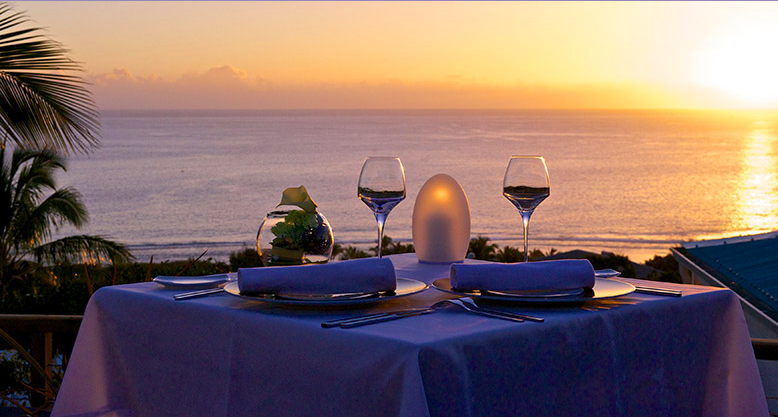 From La Reunion it is quick and easy to connect to Mauritius, a 45 minute flight and you're there.
When Mark Twain visited Mauritius in 1896, he came away saying that 'God first made Mauritius, and from it he created Paradise'. He wasn't wrong. The island drips with the sort of greenery you'd expect of somewhere lying just north of the Tropic of Capricorn, and its white-sand beaches and azure waters, which swell over the coral reefs that completely encircle the island, have long attracted the newly wedded and heavy-walleted. The culture of Mauritius is a mixture of many influences, from French Creole and Muslim to Chinese and Indian. Overall, as well as the spectacular natural beauty of Mauritius, guests can enjoy a wonderfully safe environment, amazing cuisine and attentive service.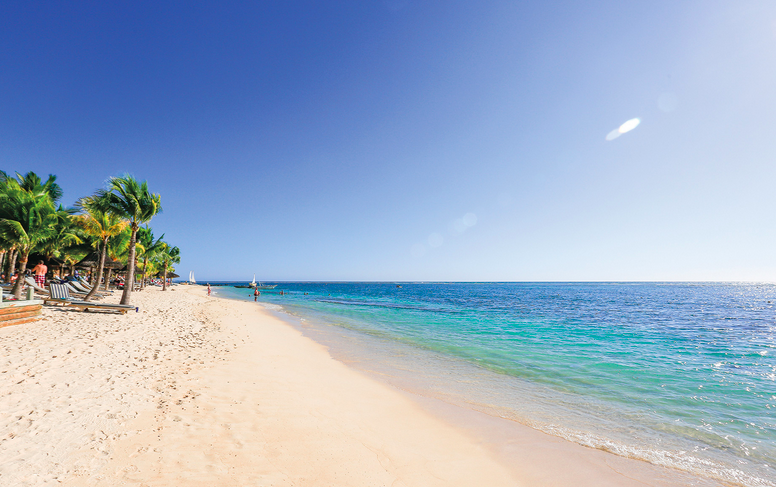 We have two favourite hotels in Mauritius, one being the Beachcomber Shandrani and the other the Beachcomber Trou aux Biches. The Beachcomber properties have honeymoon hospitality down to a T. From the idyllic settings, to the fantastic spa and the best all inclusive package in Mauritius, you cannot go wrong with a week or two here.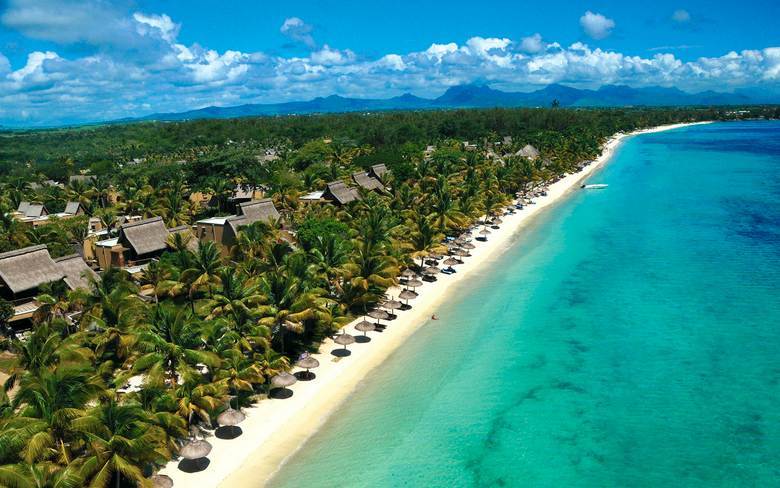 The Shandrani Resort and Spa has the only National Geographic PADI-Diving Centre in the Indian Ocean and offers a comprehensive diving programme. With it's location, on Blue Bay, it is the perfect spot for watersports, there are plenty of free activities on offer including water-skiing, windsurfing, sailing, glass bottom boat trips, snorkelling trips, kayaks and pedal boats. If you have sunbathed yourself to a shade of mahogany and made the most of the free flowing food and drink, maybe a little too much, then check out Beachcombers Sport & Nature Programme. It brings you thrilling close encounters with the island's fascinating wildlife, combined with a choice of energetic sporting activities - including mountain biking, trekking, canoeing and canyoning.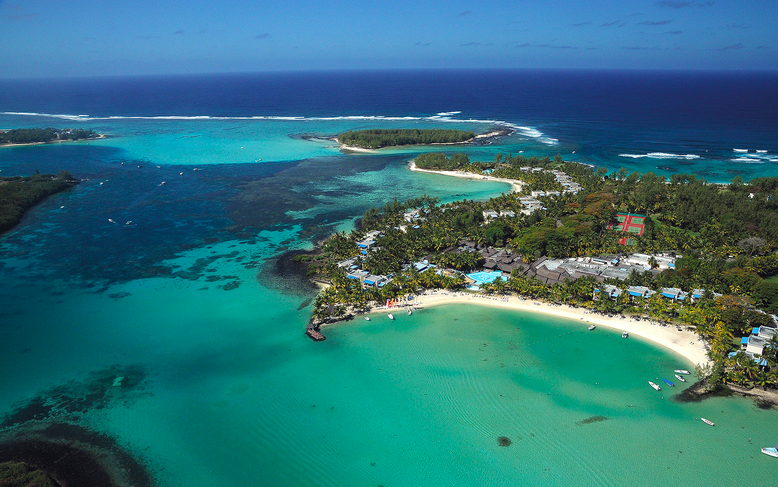 The stunning Trou Aux Biches Resort & Spa enjoys a prime position on the west coast near to lively Grand Baie and Port Louis and is set along one of the best stretches of beaches in Mauritius. The Trou Aux Biches hotel is an all suite property offering an impressive choice of accommodation. We particularly like the tropical junior suites with their outdoor rain showers, and the beach front suites with private pool are exactly as they are described, on the beachfront with your own private pool.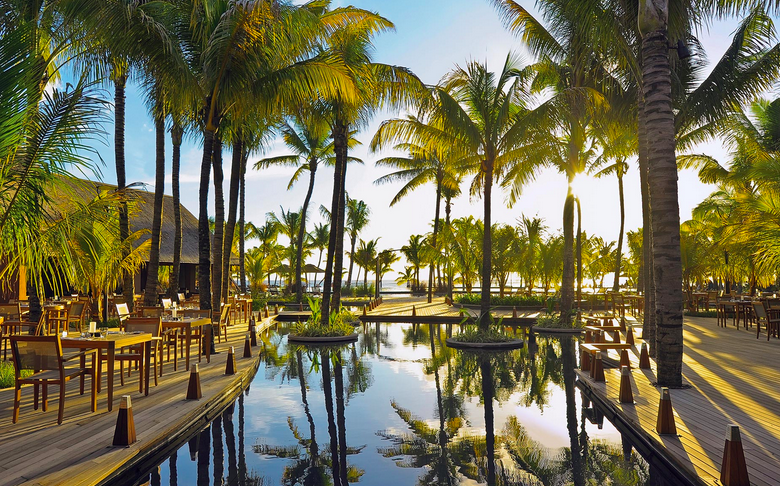 There really is plenty for you to enjoy here, from a cooling dip in one of the six garden pools, to joining in with numerous free land and water sports. Or just relax and enjoy the hotels outstanding setting.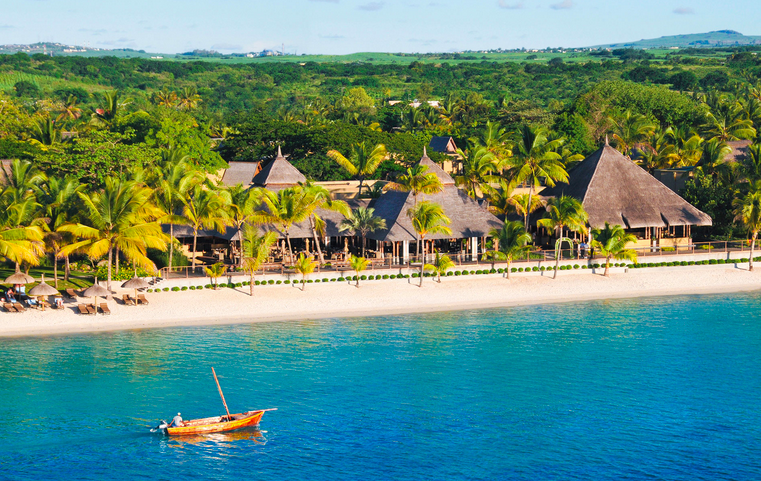 For the couple who are at one with nature… The location of Mauritius in the Indian Ocean makes it a perfect destination to twin with a Safari. Safari means 'journey' in Swahili, and every moment you spend with African soil beneath your feet will forever be a precious memory of your journey of self-discovery. Africa is not just a place, it's an experience. Africa is about epic wildlife, walking in the footsteps of explorers, majestic landscapes and the fascinating people which bring it all to life.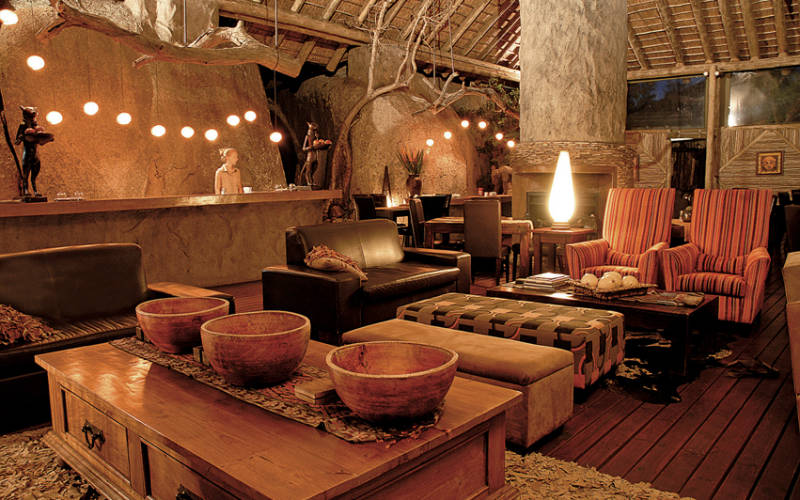 We like Kwa Madwala Game Reserve Manyatta Rock Camp. Kwa Madwala provides excellent value and is ideal for first-time safaris and as an introduction to the African bush. The Manyatta Rock Camp nestles amongst boulders and trees that form a kopje overlooking the private Kwa Madwala reserve, with magnificent views from the dining deck, bar and private lookout deck of each chalet. The Manyatta Rock Camp is booked on a dinner, bed and breakfast basis with lunch and activities charged separately as you require them. This way you only pay for what you want to do. For the more energetic a busy on-the-move adventure packed experience awaits you, and for those who choose more of a 'time out' experience, this may be to just relax on your private look out deck, enjoy a treatment in the spa or spend some time reading by the pool. Your stay includes a three hour game drive everyday, also available at this camp are night drives, walking safaris, elephant back safaris, horse back safaris and microlight flights. Its takes a little over 4 hours to fly direct to Mauritius, spend the following week in pure luxury at one of the Beachcomber hotels.
For the couple who like the big city and to hit the shops until they drop… Dubai, although almost a 7 hour flight away, is an easy connection to Mauritius as Emirates fly direct from London to Dubai then on to Mauritius. Dubai, a land of cityscape souks, skyscrapers, sand, sea, bling and buy. A city of thrilling innovation and luxurious everything, Dubai rises like a mirage from the desert, flanked by the Arabian Gulf coast and divided by a glittering creek.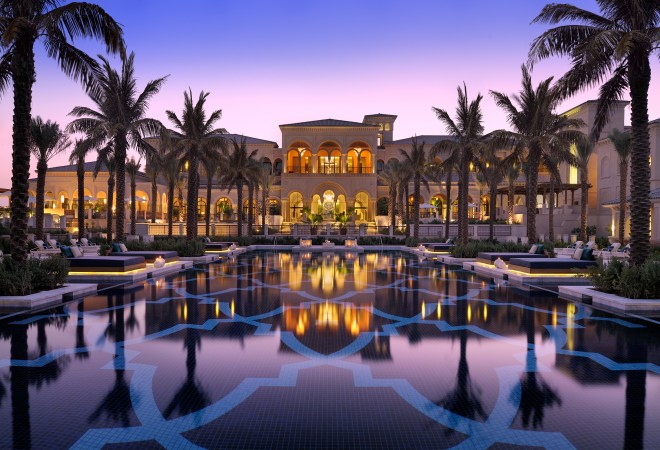 The spectacular, one&only, The Palm resort, stretched out over the Persian Gulf on Dubai's tree-shaped Palm Island, has all the indulgent service, spa treats and impeccable dining you'd expect from a luxury UAE hotspot, topped off with superlative sea and city views.
Famously home to a seven-star hotel, the iconic Burj al Arab, this rags-to-riches boom town is said by some to have 'no culture'. Not so. Camel-racing, falconry and horsemanship are still passionately enjoyed in the Emirates; traditional wind towers still stand in the Bastakiya quarter and working dhows still cruise the creek. There aren't many places on earth where you can snorkel, ski, sunbathe and shop at the world's biggest mall in one day – but hey, this is Dubai, shop til you drop; your time in Mauritius will have you rejuvenated and refreshed in no time.
A week later and I received a phone call from Jessica, she was overwhelmed by the options surrounding Mauritius and had decided on 4 nights La Reunion, 7 nights Mauritius and 4 nights Dubai. A pleasant mix of adventure, relaxation and shopping, just perfect.
If you'd like to get in touch with Rebbeca and Perfectmoon to create your dream honeymoon, you can do so here.