Honeymooning in Barbados: Top Picks!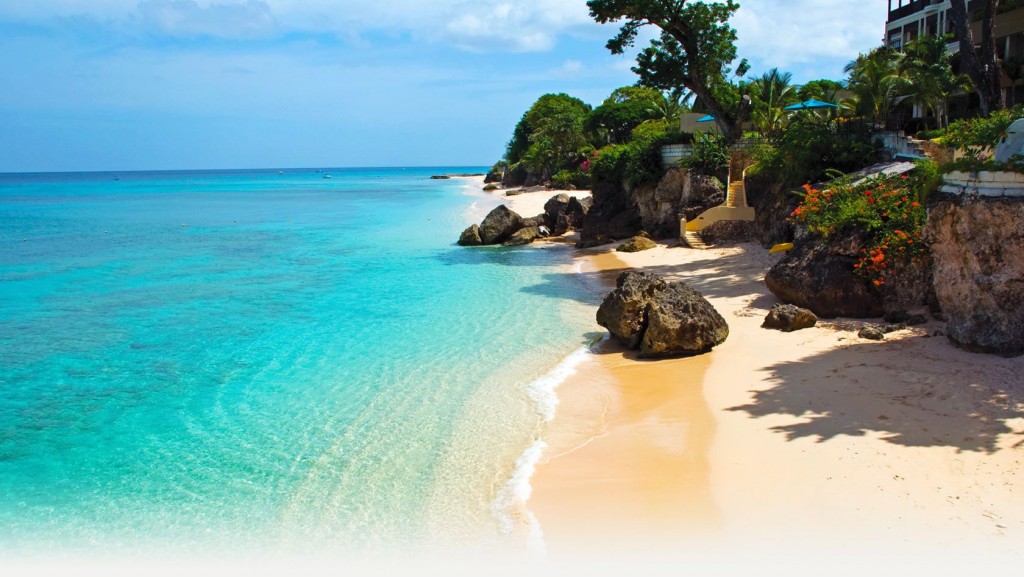 It's always one of my favourite times of the month when an email from the wonderful Rebbeca, from Perfectmoon Travel Club, lands in my inbox full of fabulous travel tips and honeymoon inspiration! Rebbeca has unrivalled knowledge of all the best places to go, what to do when you get there, and how to make your moon totally, well, perfect! This month we're chatting Barbados! Definitely one for my wish list... over to you, Rebbeca!
It was a Sunday morning, 8am and I was already bright eyed and bushy tailed on the motorway. Now, I don't get up at this time for just anything, it has to be either very exciting or very important for me to set my alarm before 7am. Today we (Perfectmoon & Dress in Love Weddings) were not only showcasing at one of Hertfordshire's largest wedding fairs but we were also hosting the catwalk show. In our usual fashion we don't do things by half and had been planning a fabulous show for the last 3 months. We had 30 beautiful bridal gowns, 8 stunning models, 3 dressers, 2 make-up artists, 2 hair stylists, a catwalk co-ordinator and a handsome man with a van - hence my early start, today was very important and extremely exciting. Our show stand was eye catching to say the least, the lighting was low with the occasional spot light beaming down on the room. We managed to perfectly place a new Alan Hannah designer bridal gown right beneath one of these lights, it looked like an angel had been sent down from heaven adorned in layers of tulle, spaghetti straps and the most intricate flower detailing, fabulous. The fair opened and we soon had a frenzy of brides-to-be asking about the 'heaven sent' gown, we always have a great response to wedding fairs as our services are really quite unique… bridal styling, honeymoons, customisation, alterations, the list goes on. In my usual fashion I was discussing honeymoon ideas, it never ceases to amaze me how little other people know about this wonderful world we live in, the beaches, the people, the wildlife, the food that is out there, you just need someone to show you how to find it. Ahem, that would be me! We had three brides on the trot all asking about Barbados, infact they weren't just asking about Barbados they had well and truly decided on Barbados for their honeymoon and wanted my help in sourcing the perfect hotel.
Barbados has always been known as an Island of luxury, frequented by the rich and famous, its for the jet-setters, a place to see and been seen. It is a romantic hideaway with a cool calypso beat and a haven for honeymooners. When in Barbados – arguably the most charismatic of Caribbean islands – you'll live like the locals do, eat with them, chill with them and most definitely party with them. Get lost in the middle of the island and you'll be set back on the right track by friendly residents, drive around for an hour or two and you'll pass cricket matches with players turned out in full whites, locals chilling outside wooden shops and bars with painted beer slogans and, on Sundays, churchgoers walking to prayer in their Sunday best. The south and west sides boast the usual gorgeous tropical-beach scenes, the east is an unexpected surfer's paradise – wild and untouched, with white sand and natural rock formations. It is due to the island's laid back, friendly vibe that choosing the right hotel can be more time consuming than most.
My top picks for whilst honeymooning in Barbados…
All inclusive Sandals Barbados resort and spa - the only five star luxury included, all inclusive, resort for couples in Barbados!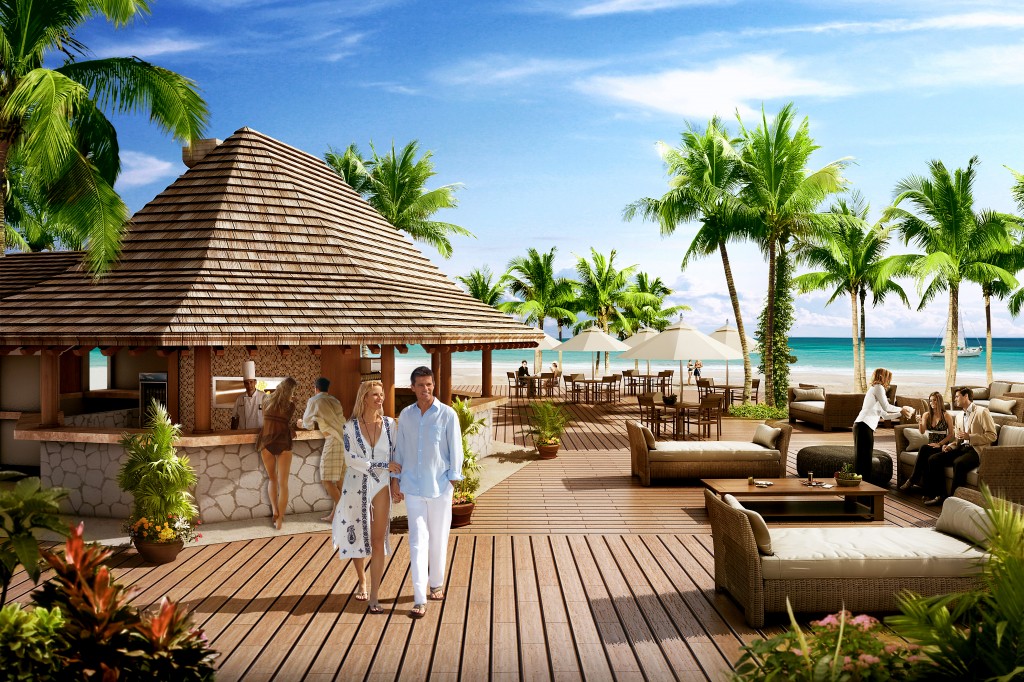 The location of Sandals Barbados couldn't be better, just 15 minutes from the airport, on Dover Beach, think pristine pure white sand and crystal blue sea. For an unforgettable honeymoon book yourself into an Ocean Village Beachfront One Bedroom Butler Suite with Balcony Tranquility Soaking Tub! These incredibly luxurious suites boast an oversized bedroom with separate living room, ocean views and indulging personal butler service. The magnificently appointed bedroom features exquisite handcrafted mahogany furniture, a four-poster king-size bed, flat-screen television, and an en-suite bathroom complete with a double basin and backlit mirror, dual control walk-in shower, and Kohler claw-footed bathtub. Meanwhile, the private balcony showcases an exterior tranquility soaking tub, chaise lounges and stellar views of the Caribbean Sea.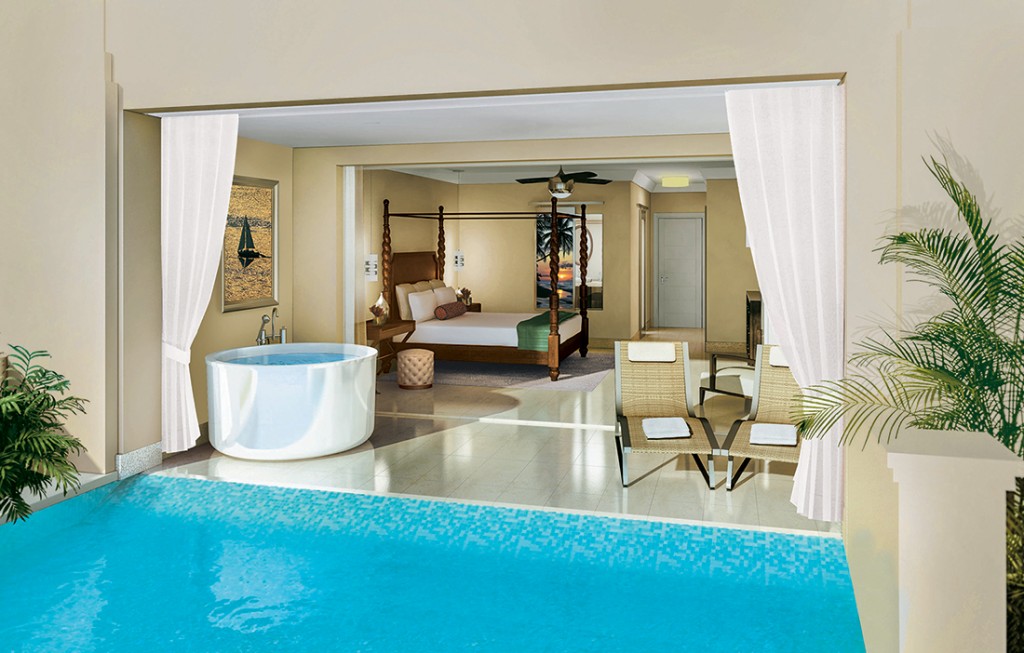 Now lets just take a moment to talk about the Butler Service… Sandals Butlers are trained to the highest standards, by the Guild of Professional English Butlers, and are there to cater for to your every need. You will have a mobile phone to call your butler 24/7 for whatever you wish, maybe a romantic rose petal scented bath, maybe an in-room candle lit gourmet dinner, maybe book your spa treatments, bring your favourite cocktail to you on the beach or even reserve you a cabana by the pool. The ultimate in service and luxury. Every aspect of Sandals Barbados has been created to be indulgent, to be attractive on the eye and leave the most beautiful memories. Even the decking and seating around the beach bar is chic and romantic, think chaise longues and fire pits. There is free WiFi throughout the resort and the pool side cabanas even have sockets underneath, there will be no running back to your suite to recharge the ipod, tablet or kindle. Talking of Kindles, they are available in the lounge already loaded with the latest best sellers, they really have thought of everything.
Boutique Bed & Breakfast Little Good Harbour - Some of the best seafood in Barbados at the Fish Pot plus luxury living with a down-to-earth attitude. The Australian owners of Little Good Harbour have managed not only to create a Bajan boutique hotel that captures the essence of the island's beach life 20 years ago, but have also opened one of the most impressive restaurants in the country. A scattering of whitewashed coral-stone cottages, this seaside hotel oozes unpretentious luxury – the perfect in-the-know hidey-hole for Caribbean beach-bunnies. The one-and two-bedroom suites overlooking the little pool encompass two floors and a terrace, all decorated in inimitably Caribbean greens and yellows, and offer a sublime sense of privacy for couples seeking escape. The newer Vineyard suites at the top of Little Good Harbour are more geared to families, with high spec kitchens, spacious showers and large tiled verandahs. The most historic rooms are in the three-bedroom Fort Suite, part of the original Fort Rupert building on the beachfront, where you can fall asleep to the sound of the sea. The Fish Pot is one of the most celebrated spots on Barbados, serving a delicious medley of fresh seafood and pasta dishes, accompanied by a wide selection of wines expertly chosen by the owner, who's something of an oenophile.
Spa Hotel Coral Reef Club - Follow a sweeping drive, lined with mahogany trees, to the coral-stone great house of this award-winning resort that blends classic Bajan charm with contemporary luxury. While long-established traditions such as afternoon tea are still in place and loyal guests return year after year, this family-owned and run resort is also attracting new guests keen to experience the resort's renowned colonial charm, impeccable service and fine dining. Breathe in the sweet scent of the frangipani trees as you follow winding paths through landscaped gardens to the exceptional spa or the golden beach. Dress up for dinner at the elegant restaurant which offers classic dishes with a Caribbean twist and beautiful sea views. With daily changing à la carte menus you will find plenty to tempt you, including freshly caught seafood and tasty desserts such as flambéed pineapple drizzled with rum. Enjoy cocktails and live music at the chic bar and don't miss the weekly barbecue which is accompanied by a lively floor show with limbo dancing and fire eating. Each of the colonial-style rooms is named after local flowers, trees and fruits, and range from smaller rooms to spacious villas. The garden cottages are set within the beautiful gardens and the luxury plantation suites feature a four-poster bed, private plunge pool and sea views – perfect for honeymooners. Barbados can very easily be twinned with either another Caribbean Island, Grenada, Saint Lucia, Antigua, Tobago or with one of America's big cities, New York, Las Vegas, Miami. There really is a Barbados honeymoon for every couple, its about finding the right hotel. I had spoken to three couples about their perfect honeymoon in Barbados and a dozen others about varying worldwide destinations and then it was showtime. As usual we pulled off a fantastic show, all went to plan, we had a diary full of new bridal appointments, lots of interest in our new gown and, by the time we had made it back to the boutique, an inbox full of honeymoon requests. It is fair to say by 10pm I was exhausted, I soon drifted off to sleep and dreamt of nothing but pure white sand lapped by clear blue sea, sipping a rum cocktail whilst watching the locals play cricket.