Totally Alternative Wedding Cake Trends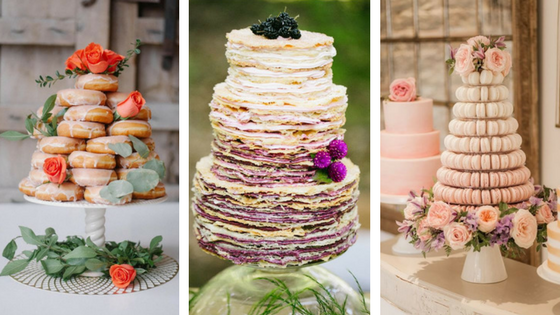 check out all the wedding cake trends for 2017 here. To wedding cake or to not wedding cake - that is the question. With so many newly engaged couples amazed by the cost of the traditional wedding cake, they are beginning to weigh up the true worth of having a wedding cake on their big day - especially when a large amount of it often gets left behind.
So what do you do if you after something you can guarantee will get eaten and be more budget friendly, whilst still wowing your guests? Step in the new alternative wedding cake trends, from doughnuts to pies and cheese - we are actually in love. Below is the round up of our favourite trends for 2017.
1. Stacked Waffle Cake
Could this stack of waffles look any more appealing?! With a healthy helping of cream, raspberries and dainty flowers this is guaranteed to be an absolute hit with your wedding guests. This would be great as your dessert or even as an option at breakfast the next day - the kids (and adults!) will love digging into this one!
Image Source: Ever After Guide
2. Tiered Pancake Cake
The purple ombre filling that gradiates down this stack of pancakes is just the best thing! Wow your guests with this alternative to cake which is super easy to make.
Image Source: Wedding Chicks
3. Cake and Dessert Bar
Why pick one cake when you can have them all?! Satisfy all the tastebuds of your guests by offering various mini cake options on a buffet. This is also a great way to get guest to contribute cakes to the desserts table if they fancy.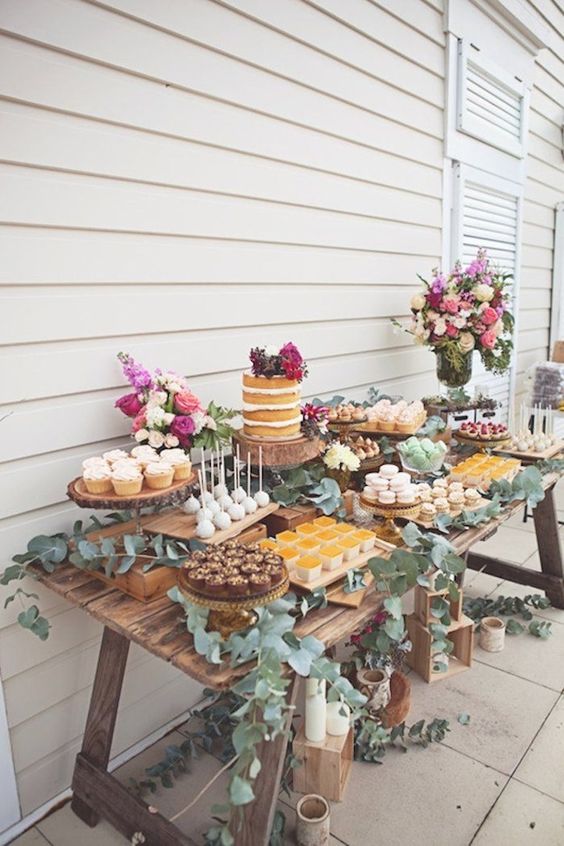 Image Source: Brit + Co.
4. Giant Biscuit Cake
Go wild and whimsical a la this tiered biscuit cake - it can all be prepped in advance and assembled on the day. If you want to take away the stress, we say pick this option!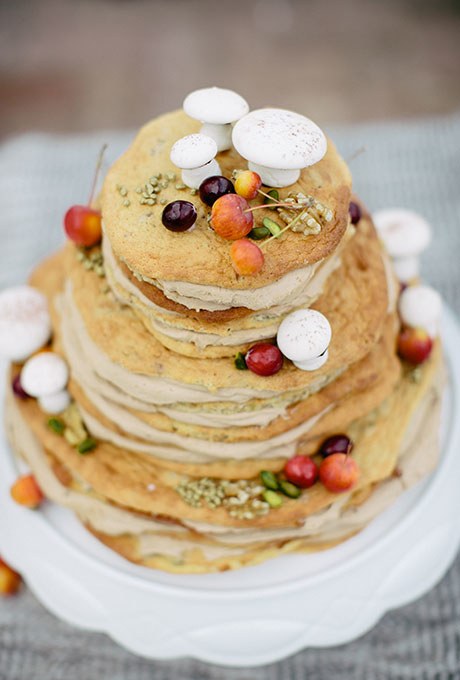 Image Source: Carmen and Ingo Photography
5. Pies upon Pies!
Who doesn't love a pie?! If you're going for a more country inspired wedding for your day, this idea of a selection of pies will fit in perfectly. Go for lots of different fillings to keep everyone happy and maybe even consider doing a gluten free one to cater to all diets.
Image Source: Angie Wilson Photography
6. Cheese Cake (literally)
Brides are going mad for stacked cheese cakes and we do not blame them whatsoever! Such a fab savoury alternative to the traditional wedding cake and a lot of fun. Just don't expect it to stick around for long!
Image Source: Love my Dress
7. Profiterole Stack
Oh the humble profiterole, how we love you so! Stack them up high and just wait for your guests to come running.
Image Source: Fitzgerald Photographic
8. Pie Pops
Aren't these just the best?! Such a great new take on cake pops and you can choose to either make them savoury or sweet. Let your creative juices run wild and create a gorgeous display to pop these into.
Image Source: Sarah Bakes Gluten Free
9. Ice Cream Cake
This is guaranteed to be a crowd pleaser, the traditional ice cream cake I'm sure many of us have had as kids has had a cool new revivial. Go for interesting and different flavours to really impress your wedding party.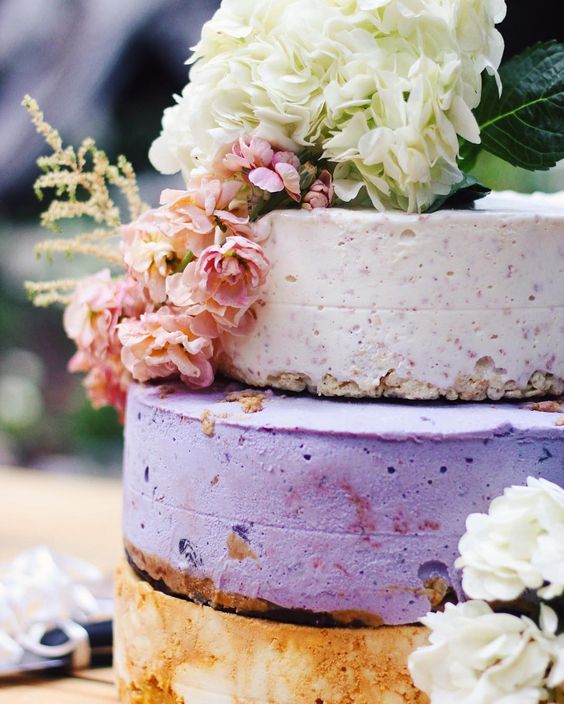 Image Source: Kitchn
10. Doughnut Stack
With cronuts (croissant crossed with doughnut FYI) being the new biggest thing, doughnut themed cafes are popping up everywhere. So why not hop on this trend and opt for doughnuts instead of a wedding cake? Not only are they super easy to eat, they'll gve you the chance to show a bit of personality.
Image Source: The Knot
11. Macaroon Tower
These dainty French Patisserie favourites are the ultimate alternative option for a truly classy wedding. In the delicate of hues and flavours, this is great option served with a cup of tea!

Image Source: Rock my Wedding
12. Rice Krispie Cake
Whoever thoughout of this a genius - not only is it a) Delicious, it's b) easy + cheap and c) beautiful topped with flowers. Love this!
Image Source: Burnetts Boards
13. Tiers and tiers of Brownies
These chocolatey squares are so quick to make in a tray bake and work so effectively when piled high. This is a great option too for other traybakes such as shortbread or lemon drizzle cake!

Image Source: Taofeminino
14. DIY Smores
Get the American vibes going and offer your guests a build-your-own smores table - this is bound to be a hit with the kids! If you are having fire pits outside then this makes for the perfect accompaniment.
Image Source: Style Me Pretty
15. Pavlova Tiered Cake
If you're planning a summer wedding, then this option of a mini pavlova is the perfect accompaniment to more procesco or if you're in wind down mode - a cup of tea. These are a great one to prepare in advance too and dress on the day.
Image Source: wedding-venues.co.uk
16. Meringue Cake
Ah The Meringue Girls, they sure do know how to make the average meringue look spectacular. Take a leaf out of their book and great creative with your meringue colourings and flavourings.
Image Source: The Meringue Girls
Feeling peckish now, right?! Well then, let the taste testing commence and take a look at all our lovely cake suppliers to see if they can help your ideas come to life.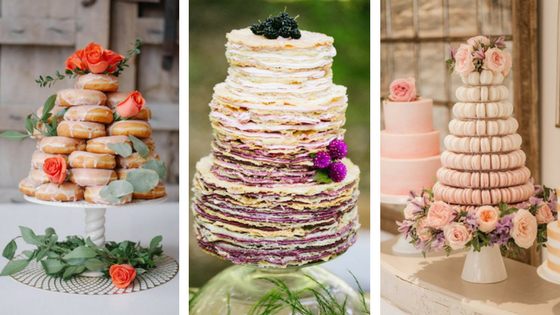 If you're still fancying sticking to the classic wedding cake or just fancy having both (very wise), check out all the wedding cake trends for 2017 here.