Contact Sylvia now to get a quote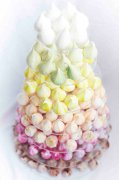 Meringue Girls

0 0
Looking for the best price? Enquire through WeddingPlanner.co.uk
Summary
Meringue Girls are an inspirational baking brand making bespoke creations for weddings and events, we offer many alternatives to a traditional wedding cake from our classic Rainbow Meringue Crate to our Mini Unicorn Poo Jars. All our products are made with natural colourings and flavourings.
Key information
What kind of wedding cakes do you offer
Alternative
Do you do bespoke designs?
Yes
Can you do gluten/wheat/dairy free?
Yes
Can you supply cake toppers?
No
Where are you based?
East London.
How long before my wedding should I order?
1 month
What forms of payment do you accept?
Credit Card, Bank Transfer, PayPal
About
More about us
The Meringue Girls story began in 2012. Founders Alex & Stacey met while working in a hot, male dominated restaurant kitchen in East London.

The pair initially baked from Alex's home kitchen in Hackney and were a regular fixture in London's booming street food scene (KERB, Street Feast, Broadway Market), meeting a lot of influential foodies along the way.

The Girls were causing a storm in the fashion and PR world generating a huge amount of press and a rapidly growing following on social media. Private orders flooded in from high-end fashion brands and press events, all wanting to get a piece of the action. Clients included Dior, Chanel, Christian Louboutin, Stella McCartney, Brides Magazine, Alexander McQueen, Agent Provocateur, Adidas, Nike, Jo Malone, Elizabeth Arden, Topshop, Clinique and Jimmy Choo.
View availability
This supplier has not received any reviews yet.