Inspire Me: Colour Pop Wedding UK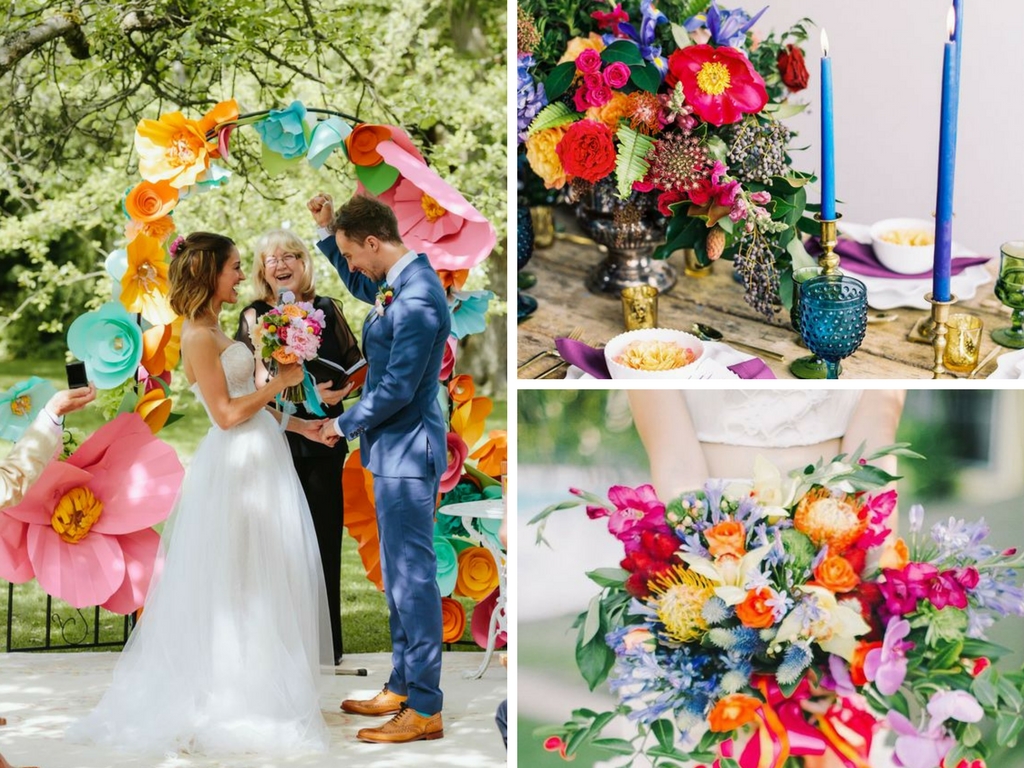 Colour Pop Wedding Inspiration
With more and more brides wanting to DIY their weddings, take an alternative route or just plain play around with the rules a little - it has given rise to a trend of colour clashing and risk taking and we are obsessed. Bright, clashing colours have the ability to lift any room, inject real personality and can often be a great impactful yet low cost route to take. With a large number of varied, seasonal flowers available in bright colours, going bright will often encourage you to play around with other beauties that nature provides rather than your usual roses and peonies (as much as we love them!). So to give you a flavour of what one of these weddings could look like, we have rounded up the very best of Pinterest to get you inspired.
Flowers
Flowers can be such a great place to start with a colour scheme, as colours that compliment each other in nature as going to translate well across decor too. Some of our favourite flowers that come in a multitude of colours are Ranunculus, Calla Lilies, Roses, Snapdragon, Lisianthus, Dahlias and Hydrangea. Also, don't be afraid to play around with what you choose to bind your bridal bouquets with too. Go crazy with a riot of colour in the form of ribbons and pom poms.
Image Sources: Bloved Blog | Bridal Musings | Love My Dress | Want That Wedding | Ruffled Blog
Table Settings
This is where the fun really begins! You can indulge in colours through a variety of different elements. This could be decking out the table in a fanfair of gorgeous bright blooms, using coloured glassware and chinaware or playing around with your table linen. Go full or go minimal with colour, it's totally up to you but just remember to be brave. The beauty of colour pop comes when you in corporate another (perhaps clashing) colour that really makes the look POP and changes the whole dynamic of the look. Visit a florist and try holding together a collection of stems to see what colours effect other colours in a great way. Your florists too, will know which colour combinations look fab together and the style of blooms with compliment your table best. Coloured table settings look amazing in the great outdoors or against natural elements such as stripped back wooden tables.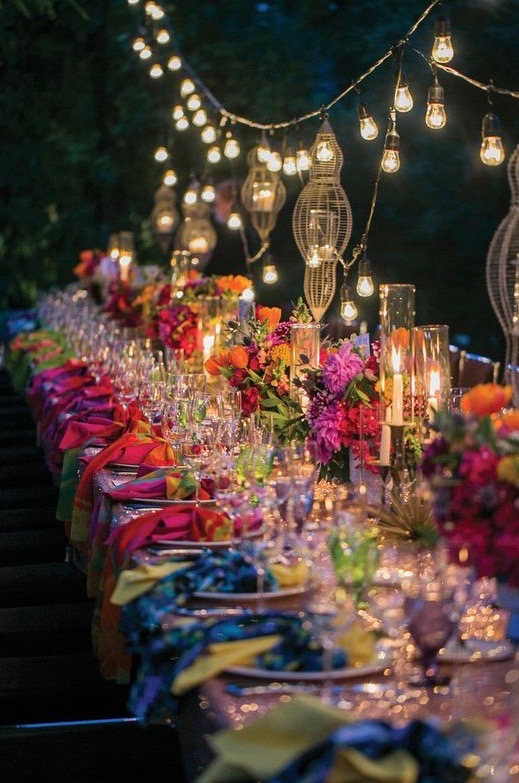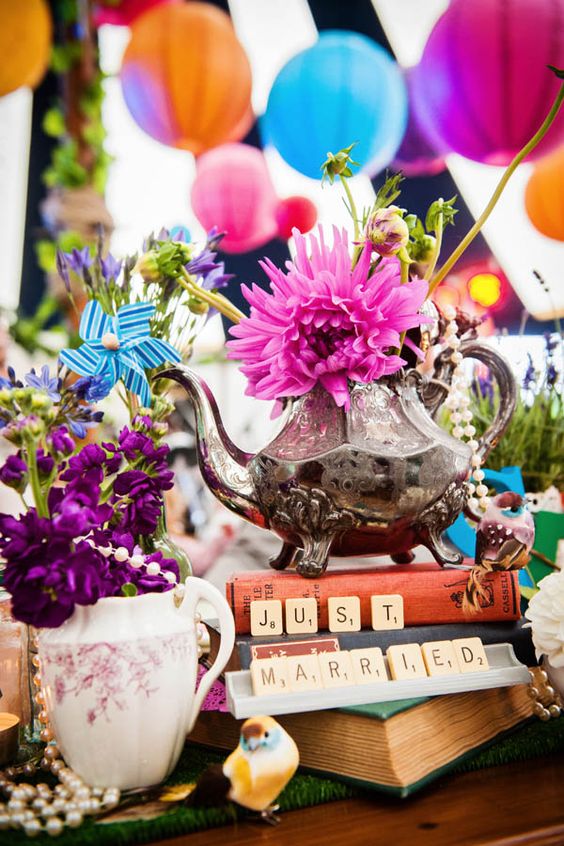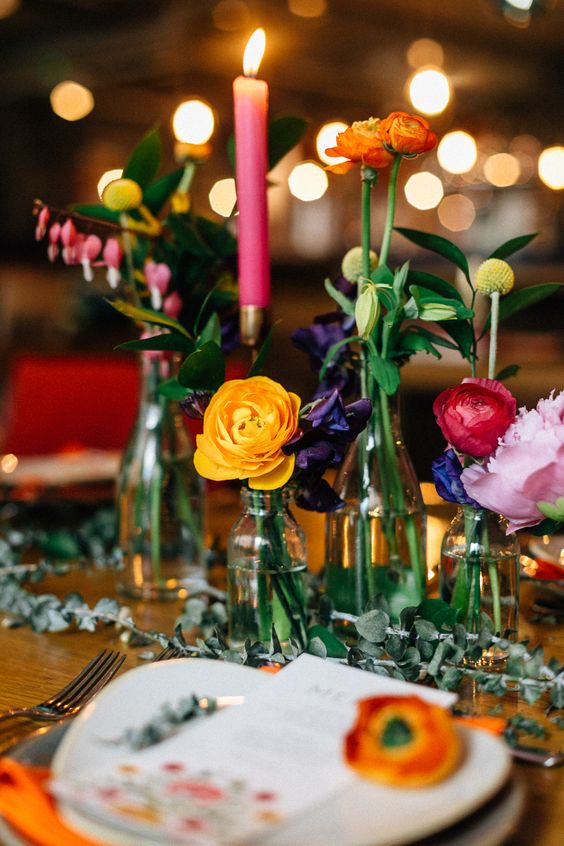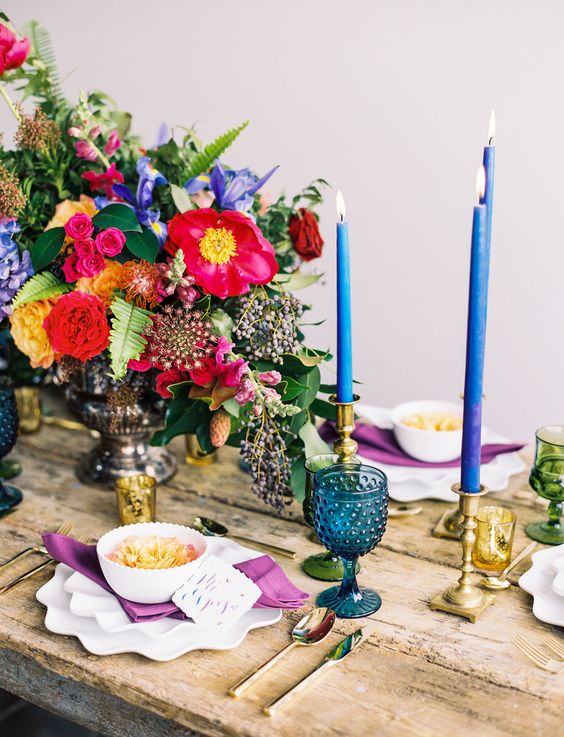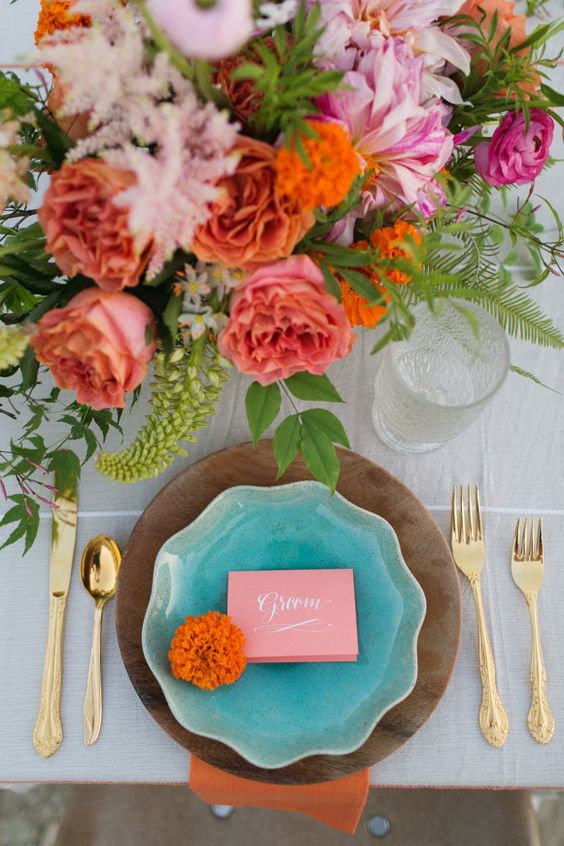 Image Source: Alchemy Events | Notey | Ruffled | Rock and Roll Bride | Rock My Wedding | Green Wedding Shoes | Wedding of My Dreams |Ruffled | Wedding Sparrow
Cakes
The great thing about injecting a pop of colour into your cake is that you can either choose to have the cake itself take centre stage through coloured ombre icing and elaborate sugared icing pieces or, keep the cake simple but go mad with the decorations. You could use flowers, display items such as butterflies or plastic typography, sweets or even fun objects that are relevant to you as a couple just nestled in!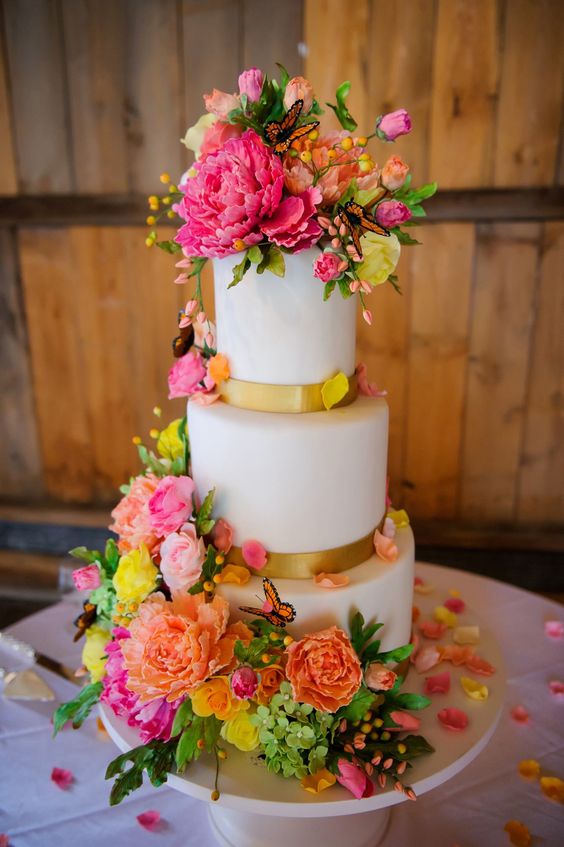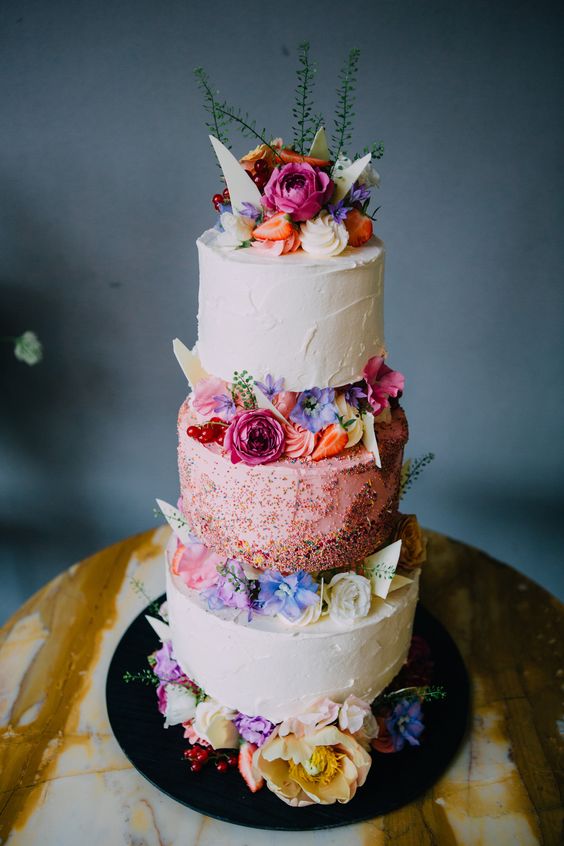 Image Source: MOD Weddings | Maddocks Farm Organics | Rock My Wedding
Fun Extras
Ahh the extras! This is where your creativity can truly kick in and we absolutely love this bit! With the main things such as the table settings, flowers and the cake sorted - this is the bit where you can play around and be brave without the pressure. Those things you thought you couldn't have because of budget, such as a floral arch for the church - have you ever thought of giving it a go and doing it your way? We love these ideas of crepe paper tassles and large 3D paper flowers as a truly lovely option. This is also a great way to transform an area of your venue that you feel needs a bit of love but you're not really willing to part with a huge chunk of your budget to do it. This could be creating a fun photobooth background, wedding favour or even a cute seating area outside the venue. The possibilities are endless, so get inspired and head down to your local Hobby Craft, perhaps with some willing bridesmaids in tow!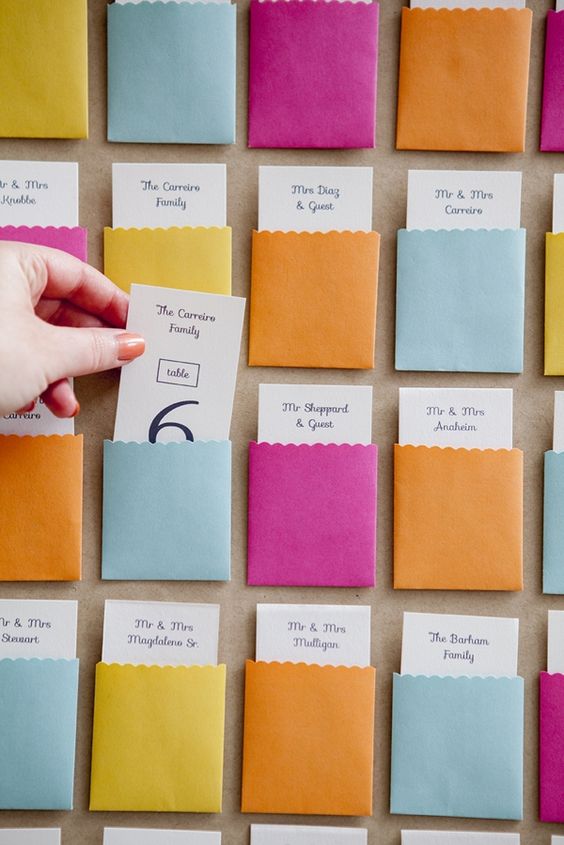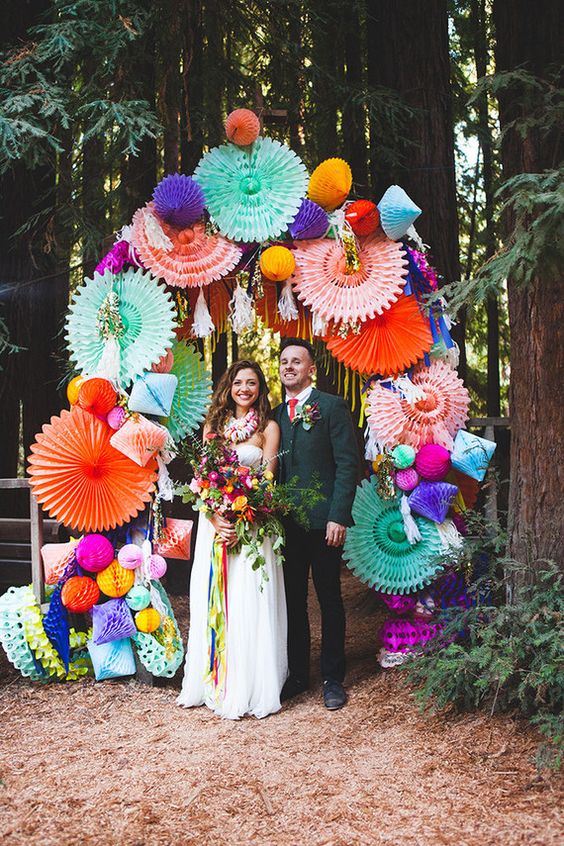 Image Sources: Bespoke Bride Wedding Blog | Brides | Love My Dress | UK Rattan Furniture | Rock My Wedding | South Bound Brides | Create Cultivate | Rock and Roll Brides
Feeling inspired? We recommend your first port of call is booking an appointment with a florist - they will without a doubt get you inspired on your colour palette. Take a look at our florists and enquire to book an appointment.