Top 5 (unashamedly) Girly Activity Ideas for you Hen Do!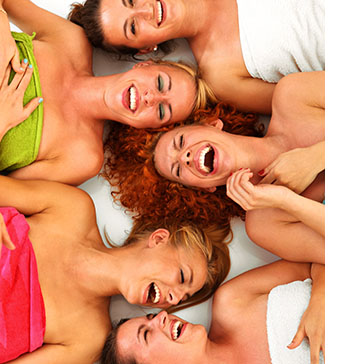 There's nothing wrong with being feminine. In fact, if you're not allowed to be girly during your hen weekend away then when are you allowed to be? After all, it's one of those special times when the 'no boys allowed' rule can be legitimately reinforced. So if the thought of feeling like a gaggle of glamorous, cosmopolitan princesses appeals to you and your friends then we've rounded up some of the best girly ideas to help you plan the perfect frilly (grown up) hen weekend!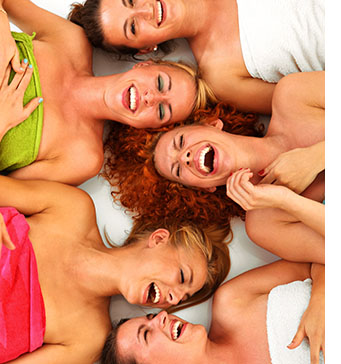 Spa weekend

Everybody loves a good spa weekend away. You get to be pampered, preened and primped to ultimate prettiness. Just imagine it, a lovely back massage, followed by a dip on the hot tub (maybe even the sauna?) Then it'll probably be time to sit back, sip a glass (maybe two glasses) of cheeky bubbly and catch up with the rest of the girls - whilst getting a fabulous pedicure of course.


Perfume Making

For ladies who love fragrance and smelling amazing, this unique activity involves you and your friends learning all about this olfactory art form. You'll get to learn exactly what goes into perfumes and all the different smells that go into making a memorable scent. Plus, after you've finished, you'll have a bottle of your very own hand made scent to take home as a souvenir!


Afternoon tea

I've been a little bit obsessed with watching Mr Selfridge and Downtown Abbey recently, so the idea of getting glammed up, going shopping and catching up with all my favourite girls over some tea and cute cakes (in delicate bone china cups) sounds delightful. Just make sure you dress appropriately as many places don't allow jeans or trainers in the tea room (no – not even designer ones!) We like going to afternoon tea at The Berkeley London.


Photo shoot and makeover

The ultimate modelling experience, this activity is great for boosting some confidence and it's an easy way to get ready if you're going out later that night. It involves getting your hair expertly styled, your make up done my MAC make-up artists (you'll also get personal tips and tricks to try at home) and finally posing for professionally taken photos. You'll even get to take home a free A4 print as a memoir of your hen weekend.


Chocolate making

Messy but so much fun, this fun-filled activity will have you and your girls giggling yourselves silly as well as learn a new cooking skill! Learn how to temper chocolate and how to flavour all the ingredients to make the most delicious chocolate truffles. Naturally, you'll have plenty of opportunity to sample your efforts and even take home your mouth watering creations. So make sure have a light breakfast because if you're a chocolate lover then you'll want to truly immerse yourself in this experience (and by immerse we mean sinfully indulge in more chocolate than you should!)