Top 5 Hen Party Costume Ideas!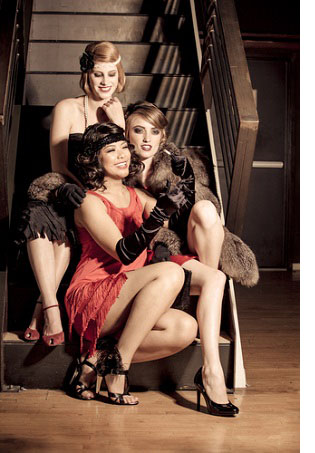 Whether you're having a DIY hen party at home or going away for a hen weekend in Marbella, no unique hen do should be without costumes. Now whilst there's nothing wrong with neon pink tutus and leg warmers, we can't help but feel that in the age of Instagram and internet shopping, hen do costumes should also be getting a 21st century makeover. Problem is when you're the one planning the hen party, thinking of costumes can be a bit tricky (unless of course the bride as specified a theme that she already wants!) So to give you some inspiration and to get your creative thinking caps working; I've searched the internet and combed through Pinterest to find some of the cutest and most fabulous hen party costumes for you to (potentially) try out!


Girl meets Boy

Now whilst I love a good dress, there's something to be said for the trouser suit - particularly a tuxedo. Not too keen on the idea? Then maybe some celebrity endorsement will help convince you otherwise. Remember back in the day when Marlene Dietrich rocked the look (and looked unbelievably fabulous in the process)? Not to mention the stylish Angelina Jolie who joined Brad Pitt earlier this year by choosing to wear his and hers matching tuxedos to the BAFTAS. Plus the lovely Martine McCutcheon choose it has the theme for her Parisian hen weekend…Finally, if it's an outfit that's good enough to become an enduring icon at Yves Saint Laurent - then it's good enough for us!


SATC-esque Tu Tus

I know I said no tutus, but these won't be neon pink and they won't look like rejects from pantomime costume closet. No, I'm thinking grown up ballerina chic here. Remember SJP in the intro of Sex and The City wearing that dusty pink tutu (and completely making it work)? That's more what I'm getting at. Think high fashion and knee length to keep it grown up and classy. Trust me on this; a whole gaggle of stylish hens sporting tutus and killer heels is going to make quite a chic statement when you're out on the town. Carrie Bradshaw would be so proud.


Vintage Vixens

Let's face it when is vintage not in? When typing this list up I simply couldn't leave vintage off of the list: there's something so classy about a group of great women wearing vintage well. My suggestion would be decide on an era and tell the other girls to stick with it. So if you're a fan of full skirts and prim cardigans then the 50's sounds like the perfect choice for you. Or you could go for a glamorous 1920's Great Gatsby inspired look. Whatever era you choose, there'll be plenty of options and lots of room for individuality. So even the fussiest girl in your group will be able to find something!


LBD Brigade

I saw this idea on Pinterest and loved it. It's so modern and chic and practically every woman owns a little black dress. It's also got such a lovely Breakfast at Tiffany's sort of feel to it (which let's face it, is always going be stylish.) Everyone is going to look fantastic and as far as costumes go, this one is one of those effortlessly versatile themes that won't break the bank (unless of course you decide you need a whole new dress).


Pyjama Party

O.K so this is a little unconventional and it can be done as stylishly or as tacky as you like! The examples I saw were of ladies all in matching silk pyjamas, heels and eye masks (and some even had rollers in their hair.) The bridesmaids were in black and the bride was in pink so she stood out and though they were essentially walking around wearing night clothes during the day, they were covered, comfortable and looked effortlessly cute. Admittedly this trend is only for the brave as I guarantee you that people will openly stare.