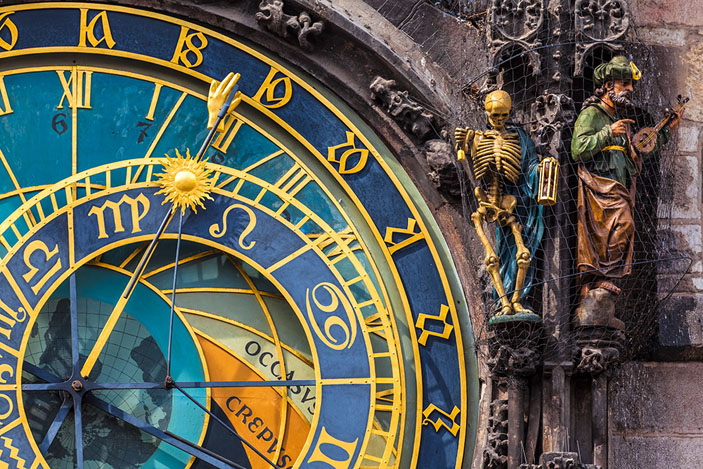 Three Cities of Culture for Your Stag
---
A decent send-off for your best friend doesn't need to end up in a sticky-floored club in Blackpool, especially when there are plenty of great European cities pretty much on our doorstep! These cities always prove to be popular with tourists from all four corners of the world, and when you see what they can offer in terms of fun activities and great sights, you'll understand why.


Prague

The City of a Hundred Spires is the capital and largest city of the Czech Republic, growing in popularity as a tourist destination following the fall of the Iron Curtain, and is now the fifth most visited European city after London, Paris, Istanbul, and Rome.

Prague is home to more cultural attractions than you can shake a big stag do stick at, which made choosing attractions you must see when you're in Prague a harder task than I imagined. This is a city that is best explored with no real plan or route, just see where it takes you; that's how I ended up discovering the Lennon Wall during my first visit, not to mention the sex toy museum and the torture museum.


MUST SEE:
Lennon Wall

Since the 1980s this wall has constantly been covered in graffiti and lyrics influenced by John Lennon and the Beatles. The wall is constantly changing its appearance as people come from the world over to view the wall and to add their own piece of graffiti to it. Authorities once tried to whitewash the wall, only for it to see poems, lyrics, and graffiti return after just two days. It is owned by the Knights of Malta, who allow the graffiti to continue to this day.


Astronomical Clock

The 'Orloj' is mounted on the side of the Old Town City Hall, found in the Old Town Square (also a great attraction in itself), where it was installed way back in 1410. Put simply, it looks great, and crowds gather on the hour to witness 'The Walk of the Apostles'. A legend (now found to be a historical mistake) stated that it was constructed in 1490 by Jan Ruze, an old clockmaker, was blinded by the order of Prague Councillors after building the Orloj so that he could not repeat his work!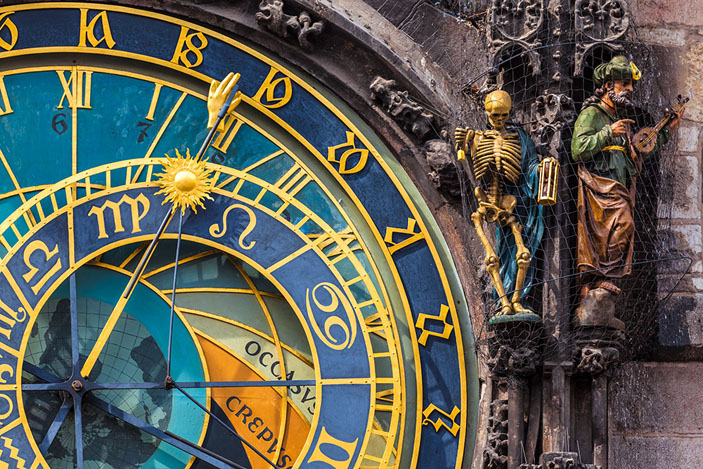 Dancing House

This one is pretty cool, and also really quite new compared to other attractions in Prague; construction of the building started in 1992 and was completed in 1996. It was designed by Vlado Milunic, and Frank Gehry (whose other radical building design credits include the Guggenheim Museum in Bilbao, the Louis Vuitton Foundation in Paris, and many more). This place is good for a photo opportunity, and you've got the River Vltava right next to you as well, where you can look down the river towards Charles Bridge.


Barcelona

Catalan Culture is on the cards for any stag groups who choose Barcelona as their stag do city. The city is home to a number of UNESCO World Heritage sites, two football teams (one you already know, the other is RCD Espanyol), and a stack of architecture that you'll be filling your iPhones with pictures of before you ever realise you're doing it. The Torre Agbar is a 38 storey building that is covered in LED lights that allow it to display messages and images all over itself, making it worthy of seeking out at nightfall.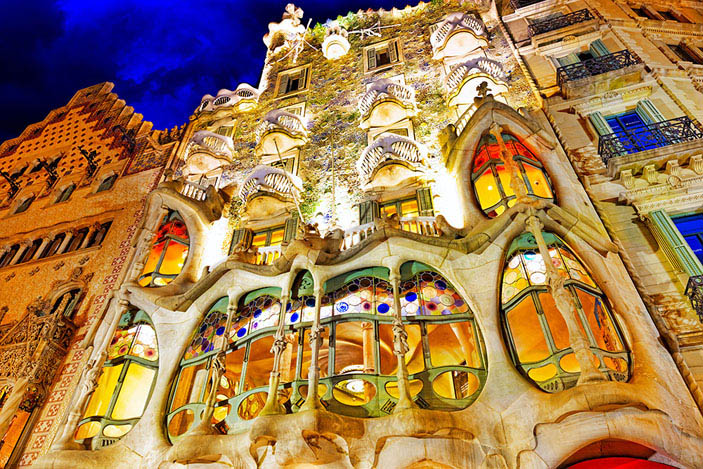 Barcelona is also home to seven beaches, totalling just under three miles of coastline. Hugely busy during the summer months, unsurprisingly, the beaches prove most popular for tourists and holiday makers. Interestingly, the sand on some of the city's beaches is artificially replenished due to the large quantities removed by the regular, large storms witnessed on the coast. You've also got some of the most impressive architecture in Europe, which makes up almost all of my top three must see attractions for Barcelona. In fact, my next article may just be a list of the best Gaudi structures and buildings to visit in the city.


MUST SEE:
Sagrada Familia

Construction on this huge Roman Catholic Church started towards the end of the 1800s, with Gaudi quickly becoming involved and transforming the project, combining different forms of art to give the church its iconic style. At the time of Gaudi's death less than a quarter of the project was completed, with the full project's completion date currently pencilled in for 2026! The structure is imposing enough as it is already, and it is one that has to be seen to really be believed and appreciated.


Gothic Quarter

Rather than pick out particular buildings or attractions, I'd suggest taking a wander around the Barri Gotic, or Gothic Quarter to you and I. Plaça Reial (the Royal Plaza) is a popular destination for tourists, with plenty of bars and restaurants around the area. It can get lively in the evenings, so this is a great area to visit if you want to get a real feel for the city and its cultural influence. The remains of a roman wall can be seen around parts of the Quarter. The street plan is 'labyrinthine', so expect to find yourself wandering down alleyways and narrow streets before they unexpectedly open out onto one of the quarter's many squares.

BE AWARE:
The Gothic Quarter and La Rambla are notoriously popular locations for pickpockets. Be sure to keep an eye out and stay safe.


Casa Batlló

I've actually found it really hard to stick to just three attractions for Barcelona, there are so many other buildings and areas I wanted to list, but I'm going with Casa Batlló, because I love how it looks and also some of the stories and theories about it. Redesigned by Gaudi in the late 1800s, the building's façade includes a colourful mosaic of broken tiles, with an arched roof that is said to replicate the back of a dragon. The building's owner at the time, Josep Batlló, chose Gaudi to redesign the house because he had designed Park Guell and he wanted him to develop a risky plan for the exterior. I think it's safe to say that decision paid off.


Amsterdam

More than just women behind glass doors and coffee shops, the Dutch city of Amsterdam proves popular to tourists for a number of reasons, with the main attractions often noted as the Red Light District and the city's relaxed drug laws. However, get past that and you'll find yet another city rich in culture; from parks to enjoy the summer days to museums about almost anything you can think of, to bicycle tours and miles of canals. In fact, a canal boat tour is one of the best ways to see the city.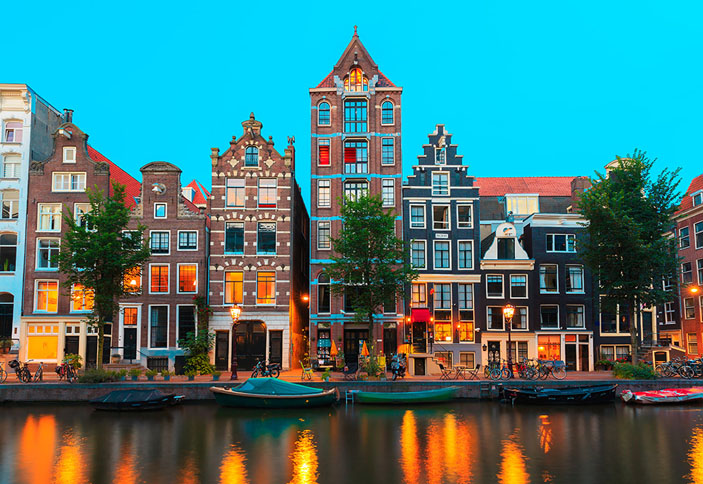 MUST SEE:

Jordaan – Close to Anne Frank's house, the neighbourhood of Jordaan is the perfect place to really get a feel for the culture of Amsterdam and the Netherlands. You'll find some nice little shops, cafes, and galleries tucked away along here, and when the weather is nice you'll think that you could spend the rest of your days walking around these streets. Be sure to look up throughout your trip to Amsterdam, you'll be rewarded with the sights of some great architecture.


Museumplein

The first thing I have to say about the Museumplein is that the idea of having a number of museums in one place is a genius touch. You can easily spend a day here taking in all that the museums have to offer. The Van Gogh museum is recommended, and another thing I'd recommend is either eating before or after you've visited the area, or taking some food along with you, as prices in the restaurants and bars in the area tend to be a little more expensive.


Red Light District Tours

Ok, I know I said that Amsterdam is more than women behind glass doors, but the Red Light District is culturally significant to the city. You can take a wonder though the streets and alleyways of the district yourselves, or you can sign up for a tour with a qualified, knowledgeable guide. The latter option will allow you to get a better understanding of the city and the district, which most of you will find quite fascinating.

Now I've really only started to scratch the surface of these cities, and there are plenty more that I haven't even considered for this list. So if you find yourself tasked with arranging a decent weekend for your best friend, remember it doesn't always have to include non-stop drinking and fancy dress. You can easily mix a bit of sightseeing and culture into that mix, and believe me, you'll be glad you did.