The perfect socially distanced hen-do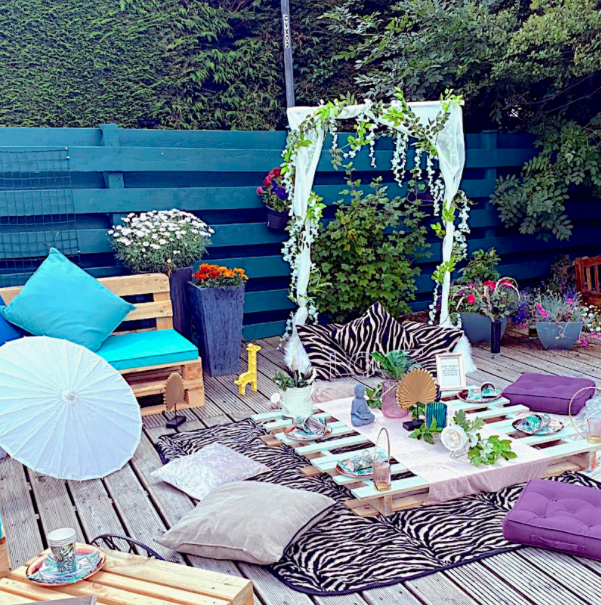 As maid of honour, you've probably been entrusted with throwing your bride-to-be the hen- do of her dreams. There's just one tiny problem, in the form of a global pandemic. With the social gathering number reduced to just six after the announcement, planning a hen do might seem impossible.
But throwing the bride a stylish, memorable and fun shower can still be within the realm of possibility. We've spoken to some experts for some advice and ideas on throwing the perfect socially distanced hen do.
Stay outside
Lesley is the owner of Edinburgh based company Hen-Do: Hen Party & Tailored Events, specialising in throwing garden parties. She, like so many others, has been largely affected by the virus. "I rely heavily on large group bookings and working alongside venues, so all my big bookings had to be put on hold. It's been devastating to the whole industry."
Regardless, her advice to all those trying to plan a hen do at the moment is to "stay as optimistic as possible."
First consider if one of the 'bride tribe' has a garden suitable for hosting a hen do. If so, why not consider throwing a beautiful and classy garden party? Think fairy lights, flowers, candles and cosy throws.
Lesley said "now is a great time to try out something you've never considered- like a garden party. The beauty of themed parties is you can really let your imagination run away with you. You could even incorporate your wedding theme into it to make it really special. Endless choices."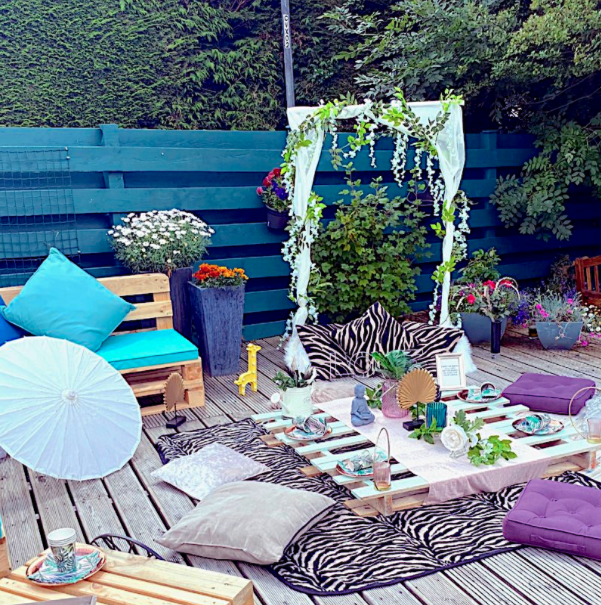 If your bride is not one for cliché feather boas, crude balloons, cramped clubs and VIP lounges, the social distancing guidelines could be a blessing in disguise. We think the outdoors can be just as lovely a setting for a celebration.
Alternatively, how about a weekend away camping? Think individual tents, the countryside, fresh air, and hen games around the campfire, and if you had something a touch classier in mind, nowhere does glamping better than the UK.
Socially distanced activities
Now you have a 'where' in mind, what about activities? You may not be able to throw the traditional big house party, or go to clubs, but there are plenty of creative ways to keep everyone happy and smiling.
Murder Mystery
The best thing about an outdoor setting is that it's a great blank canvas for throwing a hen do.
Lesley from Hen Do: Hen Party & Tailored Events said "I realised now is the perfect time for people to have some fun again. Covid has certainly allowed me to be more creative with my parties, and taking them outdoors has been really fun. Next year's diary is already filling up, so people are loving them."
The activity options are endless. How about hosting a 'Happily Never After' murder mystery dinner party in the garden? If possible, host it at night- time for extra spooks. Set up a big dinner table while keeping the chairs at a safe distance. Assign everybody a fairy tale character, dress-up, get the hens drinking and have some socially distanced fun.
Dancing
Shannon from Hen and Stag Events in Kent recently hosted her first hen-do dance class since lockdown. "At first, I was worried about how I would make the class COVID friendly, but I found I could have the hens distanced even without masks. The venue ensured all areas had been cleaned prior to our arrivals and all the windows and doors were open to ensure plenty of fresh air."
"The hospitality industry has changed a lot at the moment, but there are so many venues that have outdoor areas, so you can sit outside without any worries. There is still a way to enjoy yourselves and make amazing memories with your family and friends."
If you're still not comfortable with the idea of indoor venues, there's nothing stopping you from creating your own dancefloor in the privacy of your own garden. Blast out that cheesy playlist, and on the plus side, they'll only be five other people there to witness your embarrassing moves.
Movie Projectors
A small group of six is perfect for a cosy (but socially distanced) movie night. Provide everybody with their own cushion and blanket, their own bowl of popcorn and dare we say it, a bottle of wine each too…
Although not being able to have a big hen do can be disappointing, it's also an opportunity to be creative. Lesley from Hen Do pointed out "it's amazing what you can do with items from antique fairs, and Pinterest is a great start for inspiration." For example, why not swap out the matching 'bride tribe' t-shirts for 'bride tribe' face masks?
It's all about making the best of a bad situation.
Think of it this way- a smaller hen do is safer, easier to plan and it's really the people that make a hen do special anyway.