The First Dance - What You Need To Know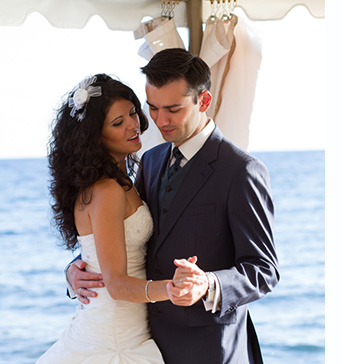 The 'first dance' is a tradition that has been an important part of wedding ceremonies across the world. However, if setting foot on the dance floor fills you with fear, then this article may be just the one for you!
Traditionally…


Traditionally, the bride and groom take to the floor for the first dance. All eyes are on you… what style of dance should you choose? Well it is entirely up to you!

You may choose to dance a waltz routine, which is a very romantic style of dance. It can come across as very peaceful and loving, perfect for a first wedding dance. However, more couples are now choosing more contemporary styles and songs. If you have a favourite song and it is more upbeat and fun then dance away, the dance floor is your stage!

There is no need to be adventurous with your dancing, you can take it slow and start the night with a well-known love song, slow dancing together and setting the scene. However, if you are looking for a fast, quick routine then why not throw some moves and learn how to jive!

Whatever the format, the first dance can be a daunting experience. Follow our top tips on how to overcome your nerves and prepare for your first dance.
Top tips for your first dance

1. Find suitable music that you are both happy with. Find a song that reflects your personality and your chosen dance style. Experts suggest a three-minute routine. For beginners, a moderate speed with easy to hear rhythm, is ideal! For those of you who already know how to dance, choose a faster or slower rhythm to add creativity on the dance floor.

2. It is very important to check that your band or DJ can play your chosen song. It is a good idea to have a back up plan- save your song on a memory stick and take it with you on your big day.

3. Consider what you are wearing. For example, will you have restricted movement? How will you tackle the train of your gown? Wear similar shoes in practice, to those you will be wearing at your wedding.

4. If you are considering taking dance lessons then find a reputable company. Look out for RAD, ISTD or IDTA trained teachers. Decide whether you want to have your lessons at home or in their studio.

5. 1-2-1 lessons are far better than group lessons and although the price may be higher, you will learn much more.

6. Practice between dance lessons- dancing is a good way of relieving stress too! Not only will you be great at your routine, by the time of your first dance, but you will be fit and more agile too.

7. If you are looking for inspiration on choosing your first dance song, then be sure to check out Wedding Planner's wedding music section. Here you will find a selection of the best wedding songs, in easy to find categories!