Supplier Spotlight: Original Wedding Tea Towels
Thanks to the proliferation of the internet, and perpetual over-sharing, finding a truly unique idea for your wedding is becoming increasingly difficult! Should you have a brilliant, never-been-done, idea whilst in your planning process, chances are it will be a BIG hit! That's exactly the experience Karen and Ben from Original Wedding Tea Towels had whilst planning for their big day, and how their brain child began!
We are thrilled to welcome the lovely Karen, maker of the 'Lady Gaga of the wedding invitation world', to our blog to tell us all about it!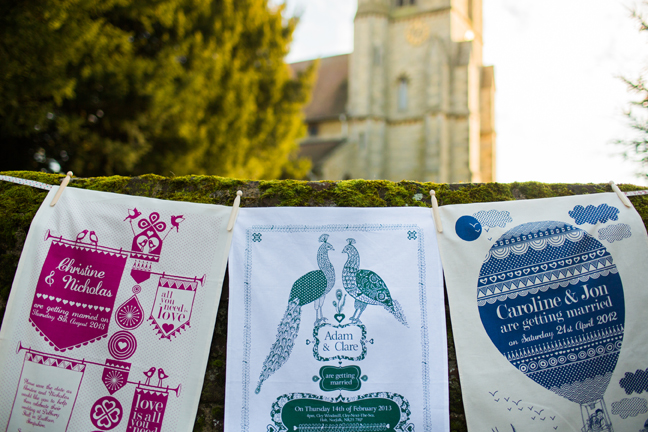 About Karen...
'My name is Karen Brown, I am a 33 year old mum of two under 5s and wife to my lovely husband, Ben. As well as being mum, I run Original Wedding Tea Towels. Our third baby! '
'Now... to begin with I will confess something completely unwedding related that I am ashamed to admit... about 6 weeks ago, I really really got the fire in my belly to start running. It's all I wanted to do, I was going to get up early every morning and off I go! So I steamed off to the shops to get all the gear, and then the next day it rained and so now, all the gear still sits under my bed in it's original packaging. I just can't be bothered to go any more. There I said it! '
About Wedding Tea Towels...

'We got married back in 2009 and Ben being a designer really felt the pressure to come up with something different for our wedding invites. We went through all the usual ideas of making our own, invite cards etc and then it hit us… a tea towel! When the day came to send out our invitations, we were nervous... they arrived and... the reaction was MEGA! All of our friends and family loved it! The RSVPs came pouring in and at that moment, we just knew we'd invented something pretty special and so, the Original Wedding Tea Towel was born!''Our wedding invites have been called 'the lady gaga of the wedding invitation world' and I love that quote! Our couples have actually had guests cry real tears of joy when they open them. Imagine that!'
Where do you get your inspiration from?
'We get our inspiration from all over really, we might see something out and about one day and it may inspire us to come with something new. Of course we try and stay on top of the latest bridal trends but sometimes, inspiration can even come from our couples themselves, if we get asked a lot for the same style of font or to include a specific item or style then we know that that is where we need to be with our designs!  '
What makes you stand out from other services/products?
'Our wedding tea towels are completely usable, they can be kept and used as a reminder of your special day. Why spend the money on something that is going to end up in the bin when you could spend the same amount on something that not only looks beautiful but also will stick around for years! '
'Plus, it is only Ben and I here and our wedding tea towels mean everything to us! We aim to design every single one as though it is our own wedding invitation so we know we are always giving our couples great service as well was a totally cool product!'
 Do you like to follow current wedding trends?
'Yes of course, I think you have to but it's also important for us to try and use outside influences to predict where we think the market is going and what couples will be looking for next season.'
What does the future hold for you?
'We are happy at the moment spending our time working with the couples who like our idea. We know our idea appeals to a certain kind of couple and we are totally happy with that. We also know that we'll never be the next Microsoft but we don't want that either, I always want to be the one answering the phones, chatting to the couples and making sure that everything is exactly as they want it to be.'
So there you have it, if you're looking for a truly unique gift for your guests which they'll treasure for years to come, we've got it here!
Massive thanks go to Karen, and you can find Original Wedding Tea Towels' profile and get in touch with them here.