Wedding Dress Woes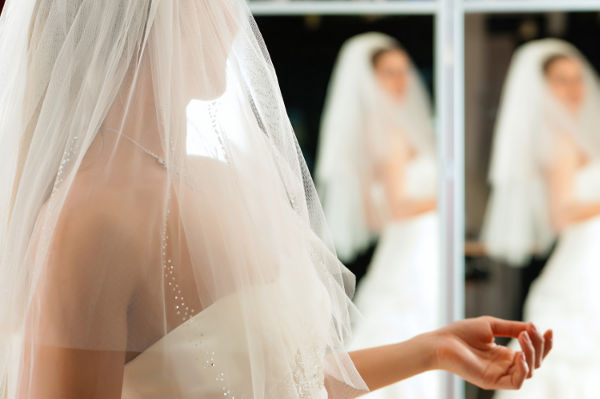 Finding 'The One' is undoubtedly the most important factor of your dream wedding, and when we say 'The One' we're not talking about the man!
The one which brings tears to your eyes, the one you never want to take off, the one you, 'just know', is for you.
Finding your perfect dress isn't always, however, quite the fairy-tale you may have expected. Perhaps you've spent endless Saturday afternoons in bridal boutiques to no avail, or perhaps you're finding the hunt a little too daunting to begin, either way this handy little guide should help!
Don't forget, the most important thing is how you feel in the dress. If you're comfortable and confident in your dress you'll look great! To help you along the way to discovering this dress prowess, follow these simple tips...
Hourglass
Lucky you! This is often considered one of the most versatile body shapes, so feel free to experiment with lots of shapes.
[ezcol_1half]
Dress Dos


Accentuate that little waist!


For a full skirt, choose one coming from the waist not hips


Choose a fishtail to accentuate curves


Go for a smooth A-line to streamline larger curves, or perhaps a trumpet style.[/ezcol_1half] [ezcol_1half_end]


Dress Don'ts


If you're larger in the chest department avoid frills and too much detail


You're well balanced both top and bottom, so avoid adding too much emphasis to either! No empire lines then![/ezcol_1half_end]





Pear Shaped
Just like the fruit, you have wider hips than shoulders, show off your best parts whilst finding a style to skim over you lower half!
[ezcol_1half]
Dress Dos





Choose princess style gowns which skim your hips.


Go strapless to show off your tiny shoulders


Empire line will balance out your smaller bust, and skim your hips.


Diagonal draping and deep necks will flatter and elongate.[/ezcol_1half] [ezcol_1half_end]





Dress Don'ts








Avoid tiered or trumpet dresses which draw attention to your bottom half


Steer away from clingy, or overly shiny satin's which will emphasise your hips[/ezcol_1half_end]








Apple
A common insecurity, but there are plenty of ways to flatter your middle!
[ezcol_1half]
Dress Dos








Create the illusion of a waist with a belt detail.


Try a corseted 2 piece with an A-line skirt.


If you're proud of your legs, a 50s tea dress is perfect![/ezcol_1half] [ezcol_1half_end]








Dress Don'ts








Avoid straight across strapless numbers, we want more vertical lines than horizontals!


Too much embroidery or detail on the body will attract attention, try and keep in simple.[/ezcol_1half_end]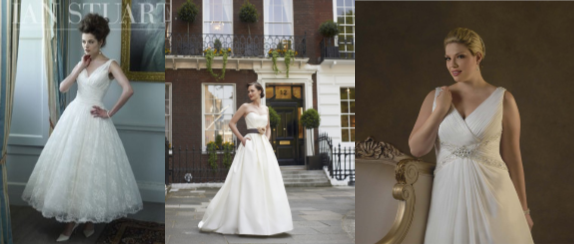 Inverted Triangle
You may be self-conscious of your shoulders, classically wider than your hips, so here are some tips to make them appear smaller.
[ezcol_1half]
Dress Dos








Balance your upper half with a full skirt, cinched at the waist to create a symmetrical silhouette.


Wrap/cross over fronts (think ballerina style) are great for creating a deep V to break up your shoulders.


If you're intent on strapless, sweetheart is the best neckline for you to create the illusion of narrow shoulders[/ezcol_1half] [ezcol_1half_end]








Dress Don'ts








Avoid halter-necks like the plague! They will only accentuate your shoulders.


An off-the-shoulder, sweeping neckline will draw a long horizontal line shoulder to shoulder, making them seem even wider.[/ezcol_1half_end]








No matter what, however, the absolute most important thing is that you 
love
your dress. You may not get that teary eyed moment, you may not choose something that will please Grandma, but as long as you're happy and confident, you're beauty will shine through!