Ruth and Tim's Idyllic Aswanley Wedding
Combining both their English and Scottish roots in a three day long soirée, Ruth and Tim chose the gorgeous Scottish venue of Aswanley as the backdrop for their wedding, photographed beautifully by photographer Suzanne Li. Enlisting all the creative talents of many members of their friends and family, everything from the wonderful floral arrangements to the hand-painted wedding stationery were lovingly taken care of. Ruth's mum even hosted a fun lunch the following day which involved a Scotland vs. England football match, with the more jaded guests watching on whilst tucking into a hog roast and ice cream!
Tim and Ruth met not long after Ruth moved to London, at the birthday party of a mutual friend, and they haven't looked back since! They now live in Brixton and have been together for five years. When it came to popping the question, Tim proposed on a surprise trip to Prague, a city where the couple went on their first ever holiday together. Tim had bought the ring, a 1920's sapphire and diamond vintage engagement ring from an antique jeweller in Edinburgh because he knew Ruth would want something unique with a story to it and that she would value history over bling!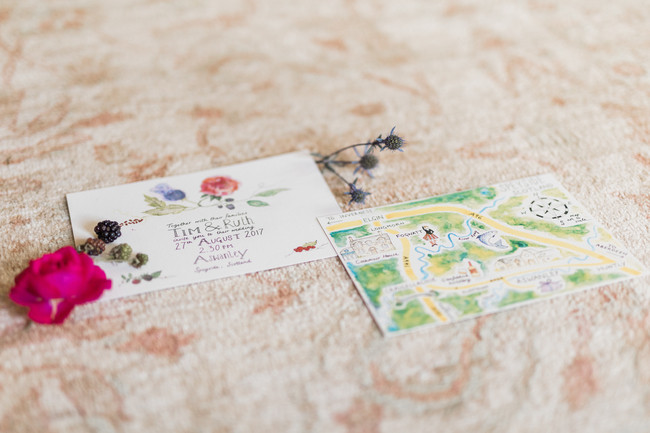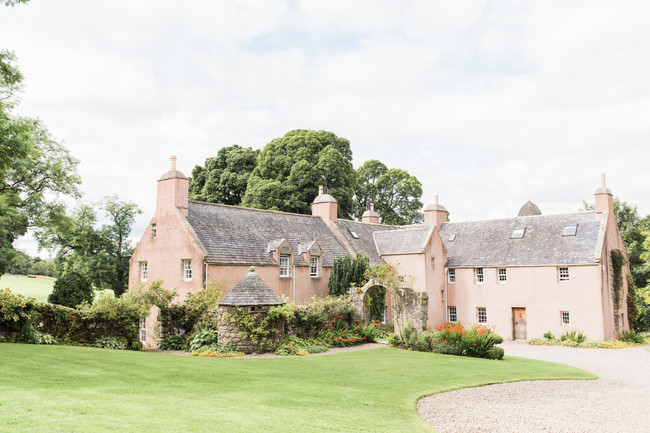 The couple decided to get married in an outdoor humanist ceremony at the end of August at Aswanley in the north east of Scotland. They wanted it to be a joyful, inclusive three-day event with activities both before and after the wedding, due to lots of friends travelling from England and overseas to celebrate with them. With Tim being English and Ruth Scottish, they wished to combine traditions and symbols, such as the rose and the thistle on the invitations, Tim's brogues made in his hometown in Northamptonshire and Ruth's hand-knitted Shetland shawl that she wore as a veil. They injected elements of their personalities into the day as much as possible, whilst also enlisting their creative friends to help with the flowers, cake, invitations, catering, music and decorations.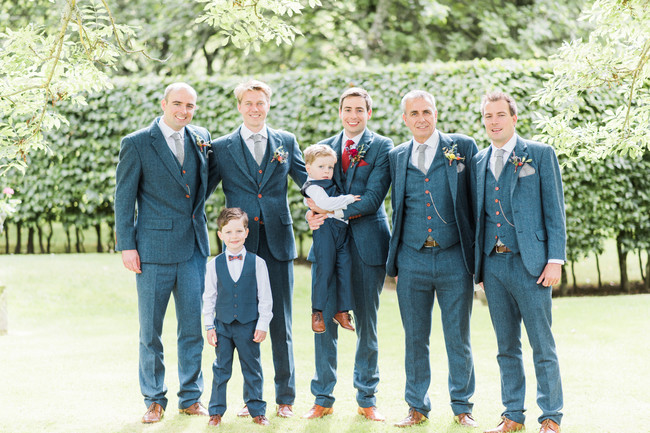 The flowers were chosen and arranged by Ruth's friend Mairead who runs an incredible floral design company Flowerkraut in upstate New York. Her sister Alice made the cake with help from her mum whilst her university friend Anna created the beautiful hand-painted invitations and wedding stationery. Tim's mum and dad made the decorations including hand-carved place names for everybody and dried flower petals for the confetti. Music was provided by various guests and friends, including folk songs and fiddle tunes for the ceremony, jazz standards during the drinks and a ceilidh in the evening. Ruth's mum hosted a lunch the day after the wedding and those who had the energy played a game of England vs. Scotland football whilst the rest of the party enjoyed a hog roast and ice cream!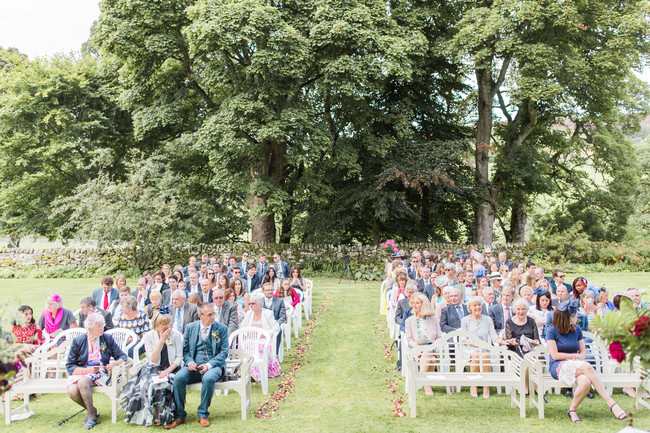 They decided to choose Aswanley as their wedding venue because it was such a beautiful setting and offered the pair so much freedom to make the day their own. They loved the rustic, laid-back atmosphere and being able to make use of all the outdoor space. Aswanley's wedding planner Lauren and her team were so helpful and made everything so easy for the couple.
When it came to picking the perfect dress, Ruth actually found it in the first bridal shop she visited - Avorio Bridal in Fochabers. Despite visiting several other boutiques in London afterwards, this one was definitely the best! She fell in love with the Ettia dress by Maggie Sottero the first time she tried it because of it's vintage 1920's style, making her feel like she had stepped straight out of Great Gatsby! She soon went back again with her mum to try it on with her heirloom hand-knitted Shetland lace shawl and knew it was the one when the dress and veil both suited each other so well, with her mum loving it just as much as she did.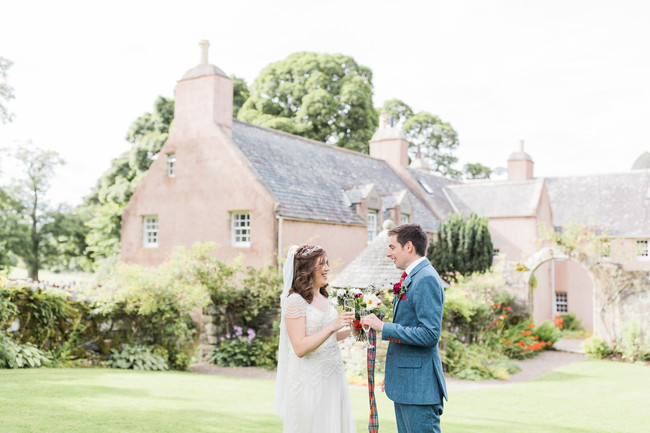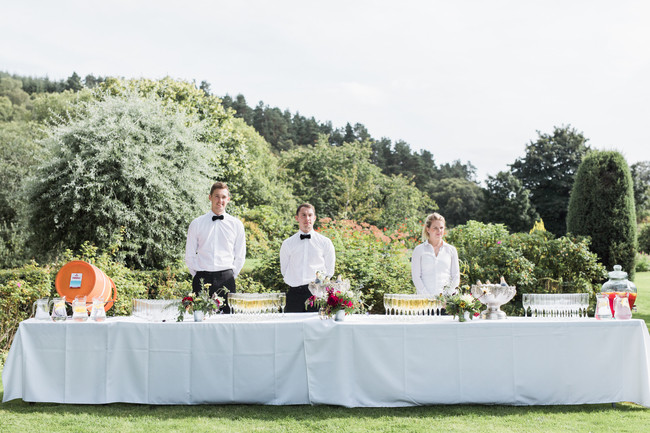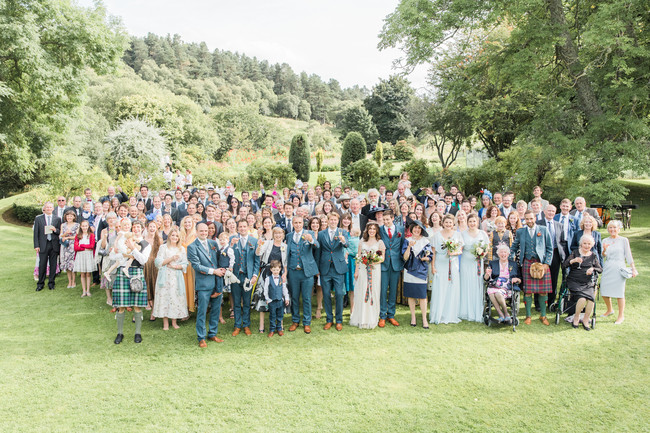 Their most memorable moment has to be when the sun came out just as Ruth walked up the aisle in the garden to a traditional Shetland fiddle tune. It shone throughout the ceremony as they made their vows under the huge oak tree to the sound of birdsong and sheep in the fields.
Ruth's advice to future bride and grooms to be is "follow your instincts and stick to your guns if things are important to you. You will have to compromise on some things and lots of people will have an opinion on what you should or shouldn't do but remember that you want your wedding day to reflect you and your partner. Give yourself plenty time to wind down in the run-up to the big day so that you can relax and enjoy yourself – it really does go as quickly as everyone says it will so savour every minute!"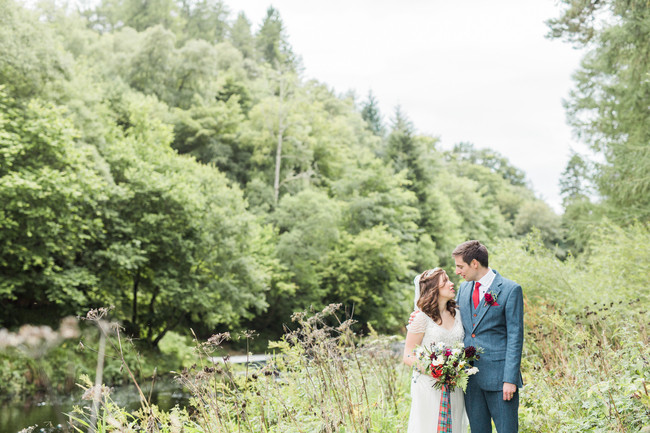 The Suppliers
Photographer – Suzanne Li (suzanneli.co.uk)
Videographer – Kyle Littlejohn - [email protected]
Venue – Aswanley
Florist – Flowerkraut
Stationery – Anna-Sophia Watts
Catering – Anne Armstrong
Cake – Bride's sister
Music – Ghillie Dhu
Decor & Styling – N/A
Dress – Ettia, Maggie Sottero – Avorio Bridal
Accessories – Bride's own
Hair & Makeup – KAM
Bridesmaid dresses – Ghost
Groomswear – The Vintage Suit Hire Company