Cara & Adam's Old Hollywood Glamour Style Wedding
We're delighted to bring you Cara and Adam's wedding which took place just before lockdown in March 2020. Mt Studio did an incredible job of capturing this very happy occasion leaving everyone with lots of fantastic memories: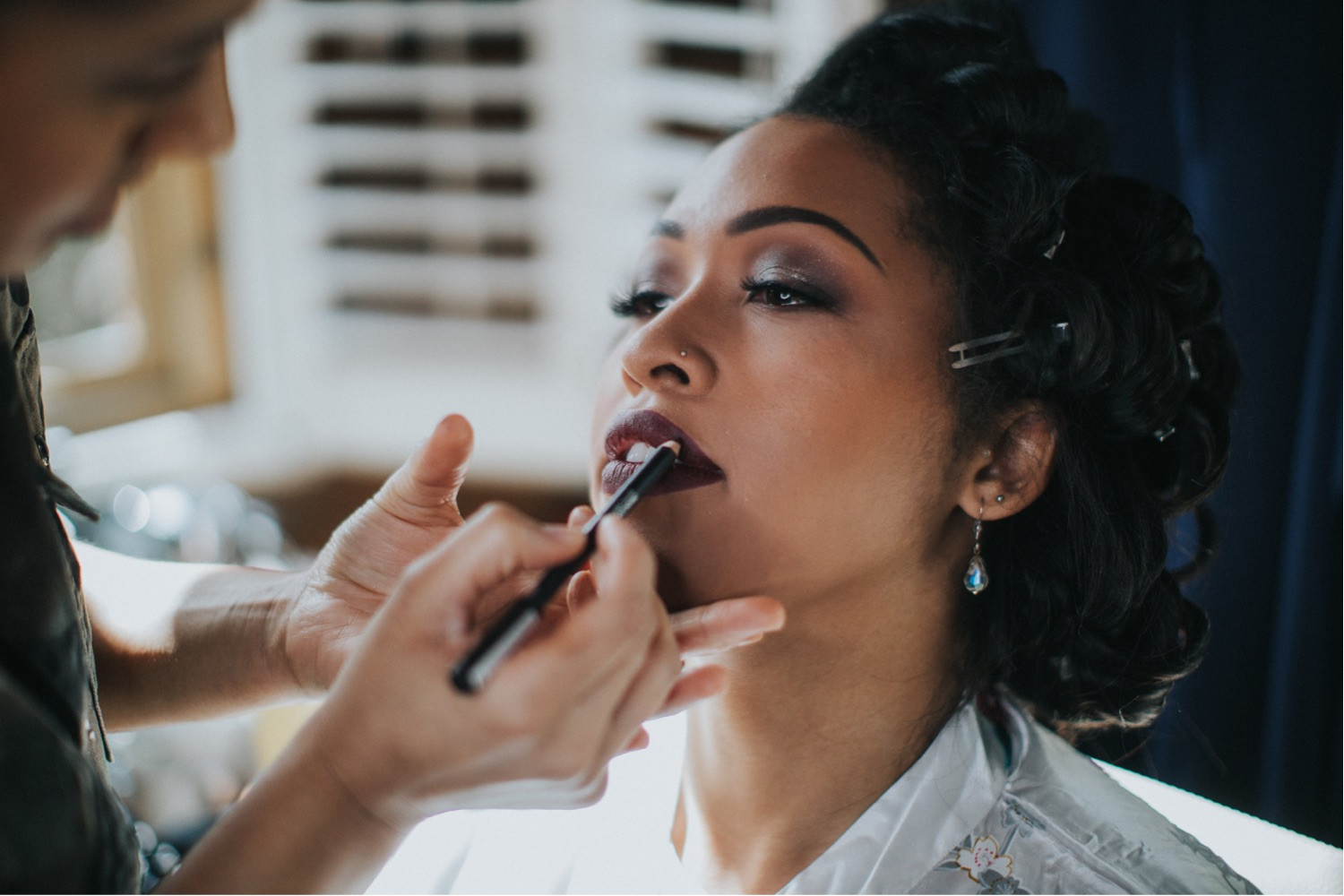 1. First things first, we want to know a bit about you! How long have you been together, what do you do, do you have any pets etc..?
We have been together for 10 years and got married on our 10th anniversary on the 14th of March 2020. We both work at Oxford University, I as an Events Officer and Adam as a Grants Officer. We have a 2-year-old daughter, which coincidentally was conceived on our city break trip to Paris, where we got engaged.
2. Popping the question - how did it happen!?
We had booked an anniversary trip to Paris; we've always enjoyed city breaks and had decided this would be the perfect getaway for a long weekend. A few days into our trip Adam had asked for us to go visit Pont Des Arts (love lock bridge) before dinner, but earlier on in the day he saw that you couldn't put a lock on that bridge anymore, so we went to a bridge along the river. When we got to the said bridge teenagers were drinking and frolicking (not the most romantic location), we got our lock and put it on the alternative bridge. At this point I had an inkling something might be happening, so waiting expectantly as we placed our lock on the bridge. Adam commented on how nice the view was, then got up and proceeded in saying 'let's go get dinner', this threw me, I then had a full-blown 'omg I must have made this all up in my head' moment as we travelled to our dinner location. Now at the Trocadero steps, next to the restaurant, again we had a little stop to see the view, again teenagers drinking and frolicking killed the mood. At this stage Adam grabbed my hand and was rushing me through the crowds of people, across the road at a hidden bench with the Eiffel Tower in the backdrop, there, Adam proposed. It was beautiful, he later said he was so nervous having to change his proposal location, especially as when he did propose, I didn't respond for a shock for what seemed like a lifetime to him.
3. Tell us about your big day - when did you get married, where, and what was the day like? Did you have a specific theme/style? Was it traditional, or did you do things a bit differently?
We got married on Saturday the 14 March 2020, this was also our 10th anniversary. We got married at The Crazy Bear, a hotel and restaurant in Stadhampton, Oxfordshire. The day was stunning, it went in such a blur and was filled with love and warmth from family, friends and us. It was so joyous, and memorable, and also practically the whole wedding parties last outing before COVID restrictions hit!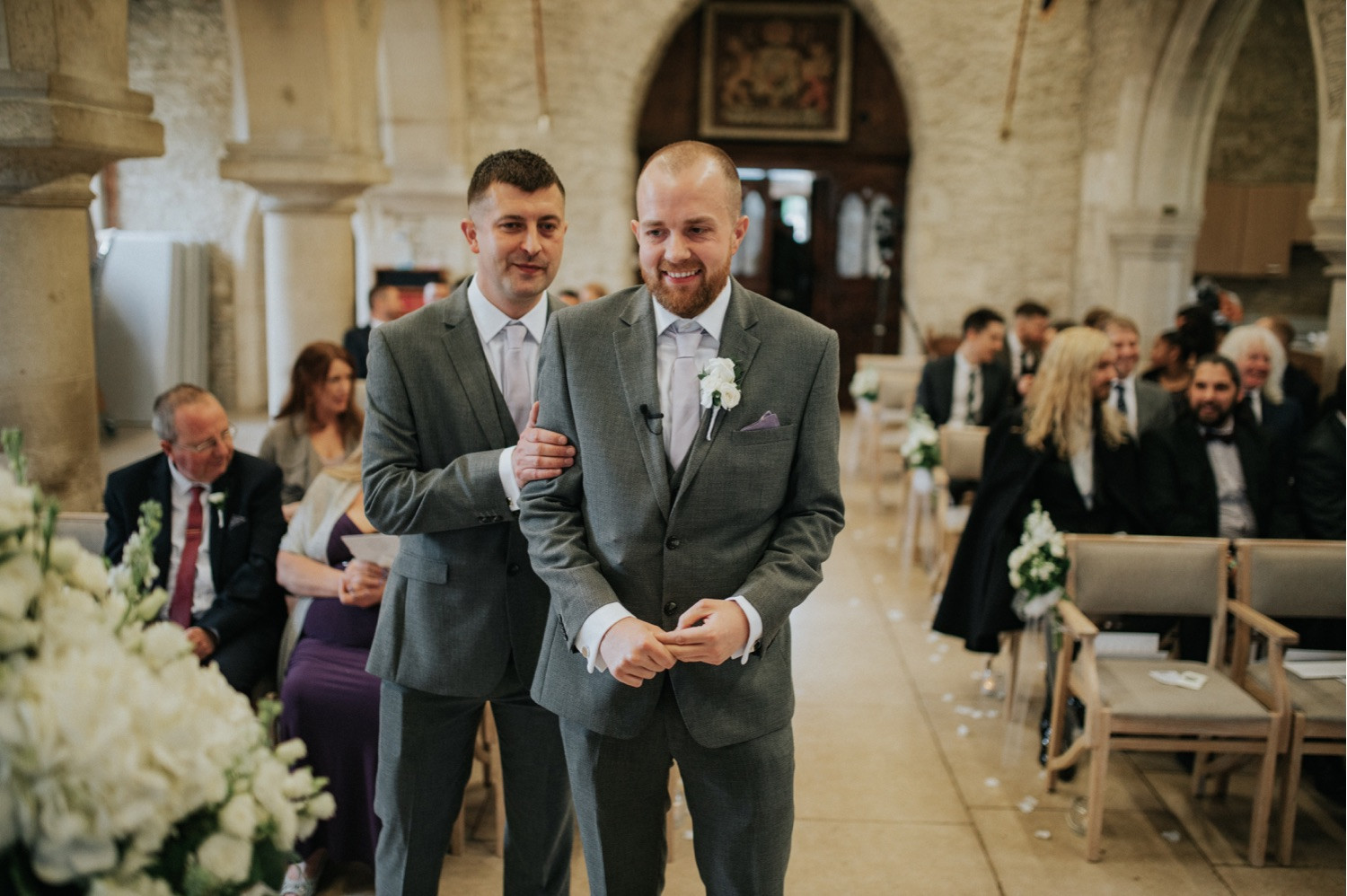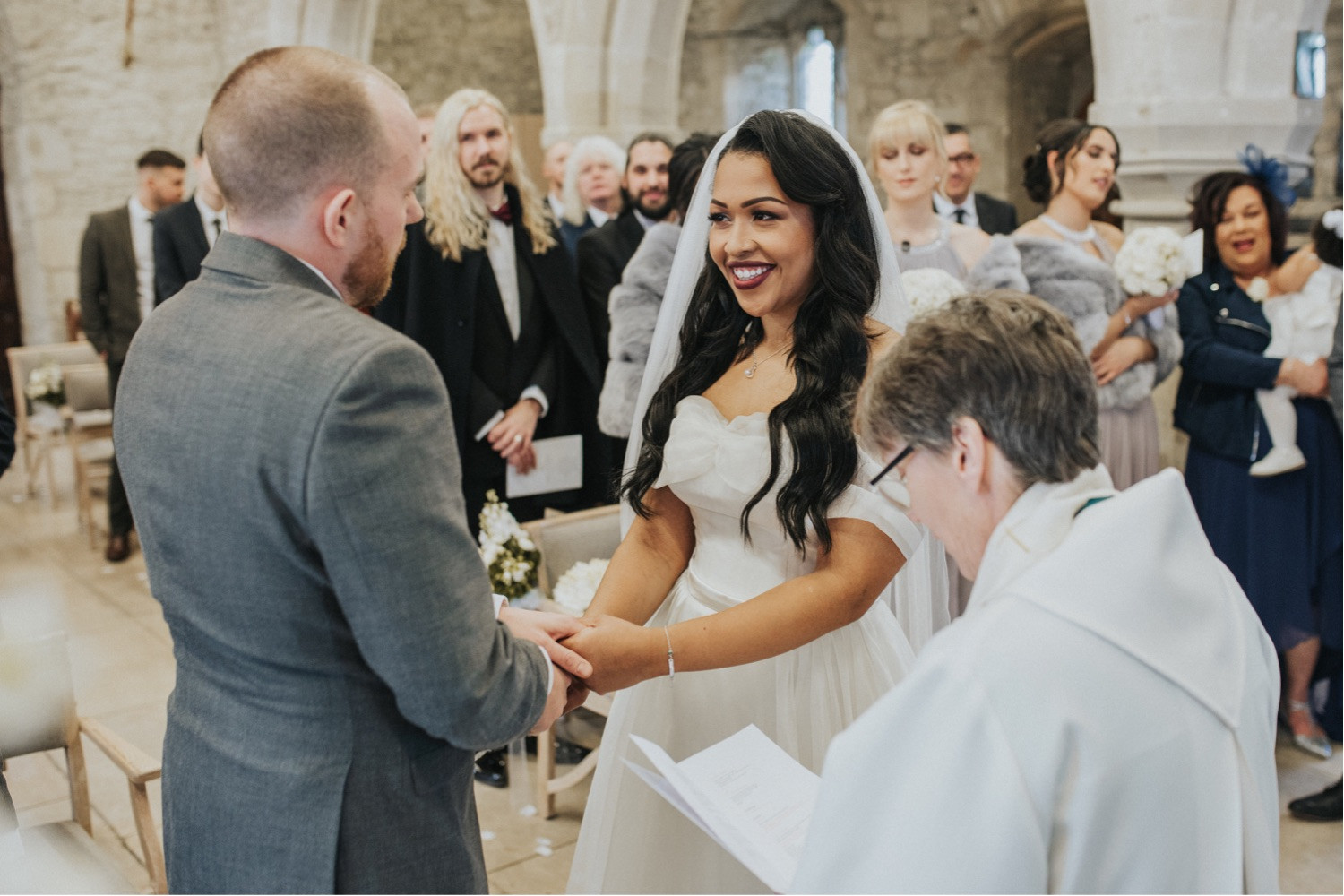 We went for an old Hollywood glamour style throughout the décor and styling, with a modern twist. My hair and makeup were inspired by an old Hollywood look with a modern dark lip instead of a classic bright red. The groom went for a sleek dark grey wool suit with lavender accent colour detail in the pocket squares and socks of the groomsmen. Our venue had a quirky but glamourous feel ( even with large sparkling girafficorn head above as you enter!) which matched our theme perfectly.
We wanted a traditional church ceremony, as a little girl this had been something I had always dreamed of. We loved the juxtaposition between the traditional church ceremony and the modern glamour of our reception venue. We also had a modern magic mirror photo booth in the evening and our amazing band played a mix of jazz, soul, funk and upbeat pop covers for the evenings dancing!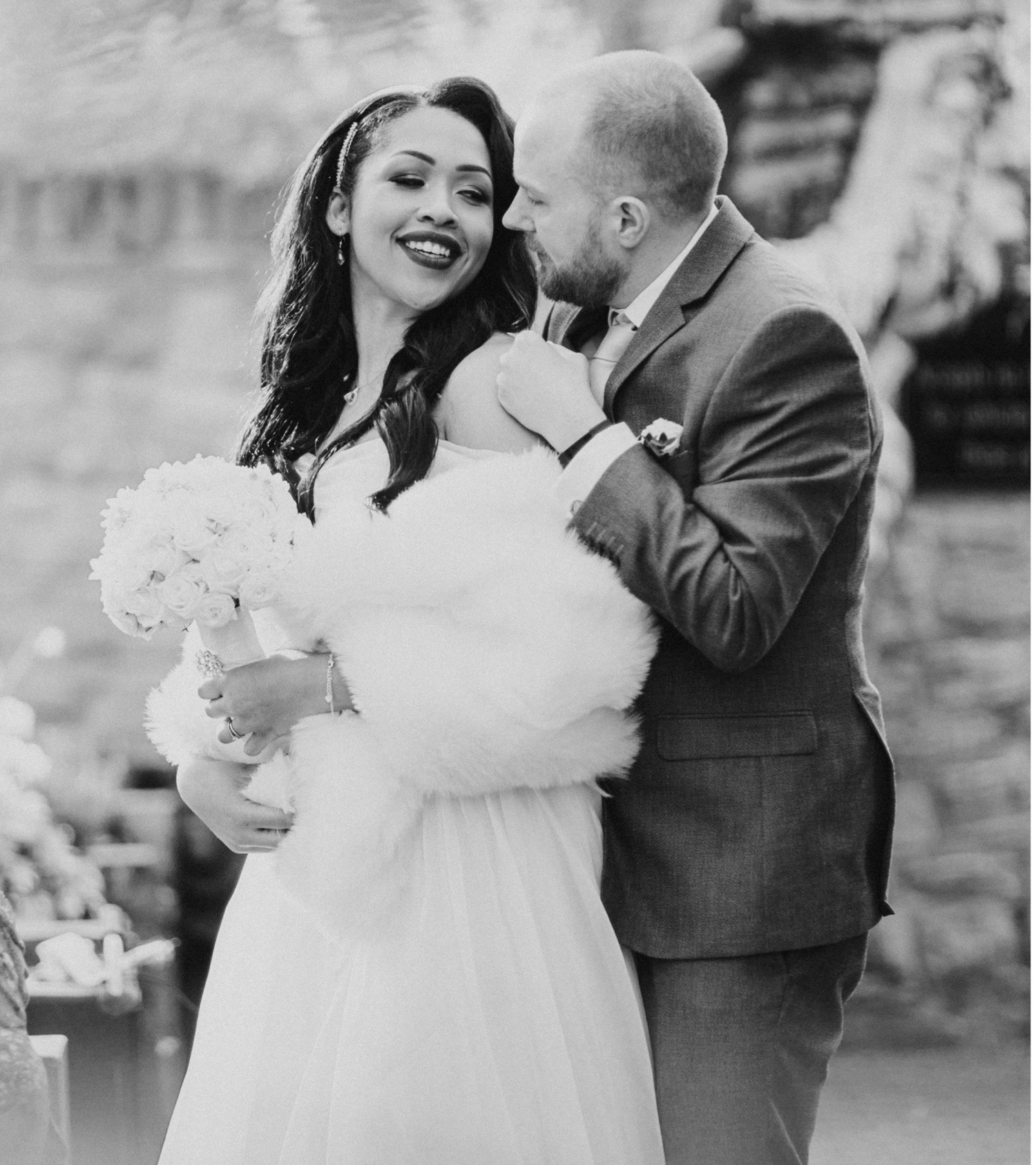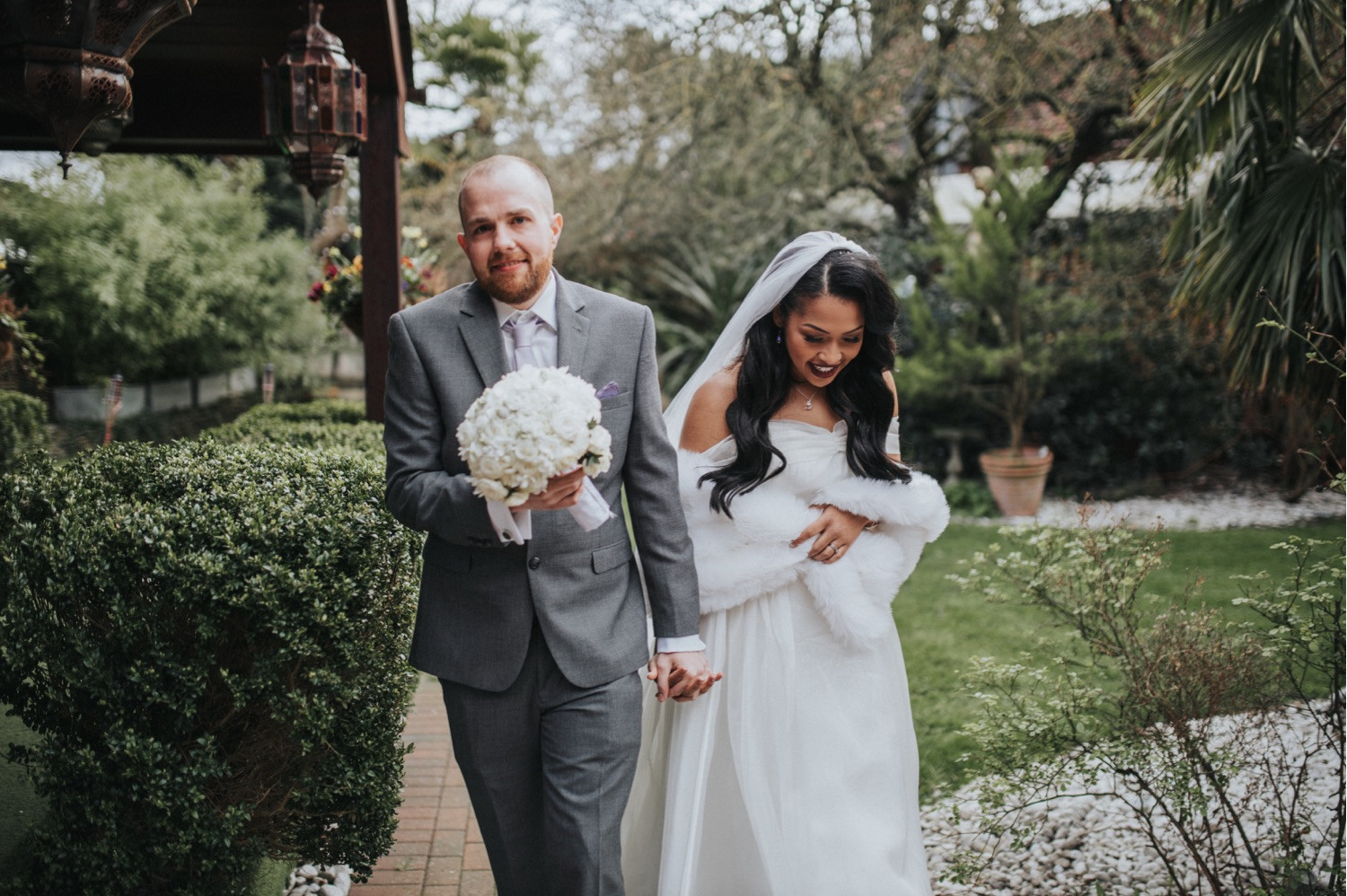 4. What was your favourite/most memorable moment of the whole day?
For me, my favourite and most emotion-evoking part of the day was walking down the aisle and seeing Adam there waiting for me, the look on his face, with the music we'd chosen (a cover of God only knows by John Legend and Cynthia Erivo) and our family and friends all around us. It was so magical and you could feel the love in the room. For Adam, his most memorable moment was after the ceremony and first set of photos, when we got to go to our wedding suite, enjoy our wonderful reception canapé's and talk as man and wife for the first time.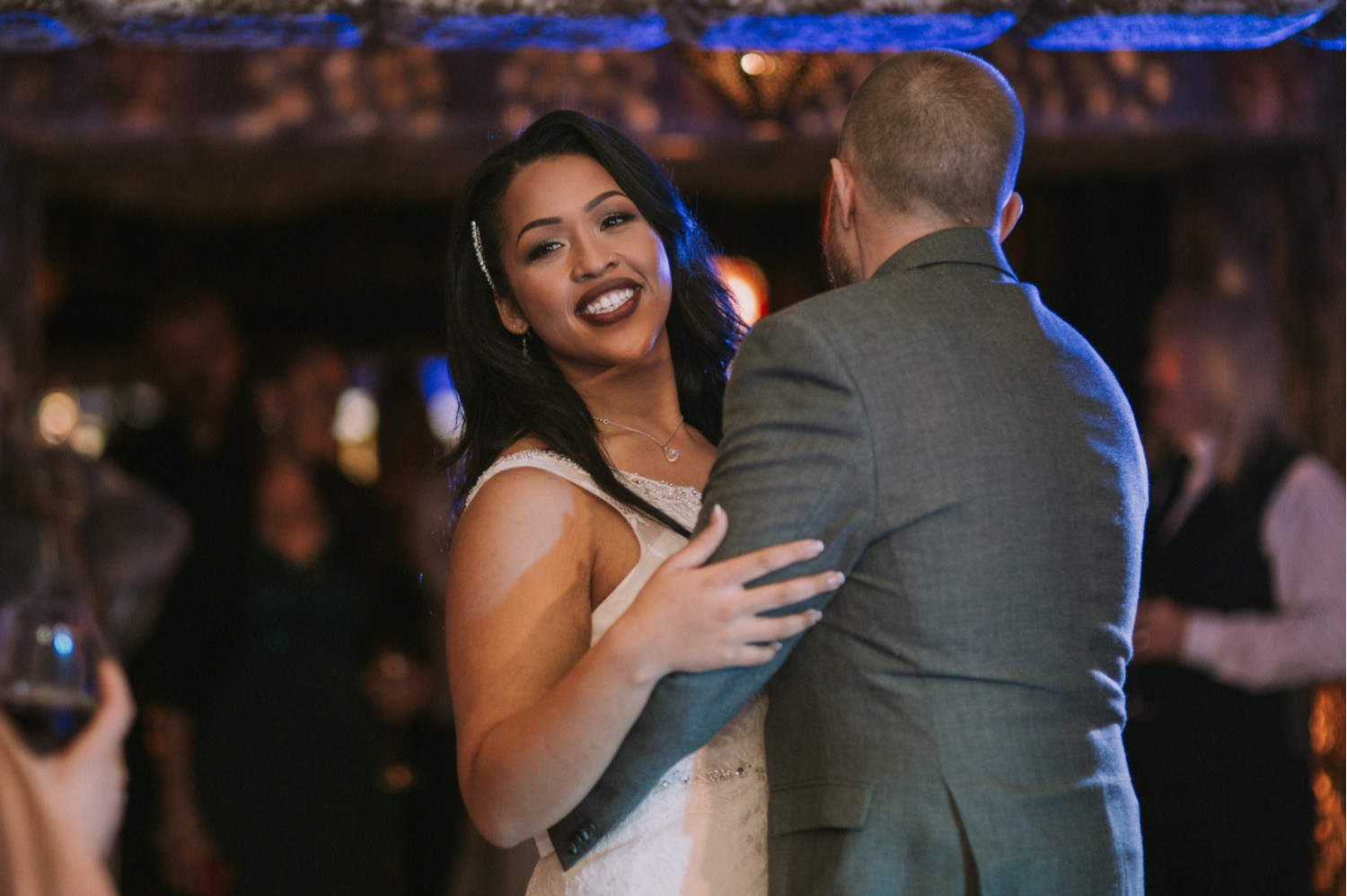 5. Why did you choose your venue, and what was important to you when making the decision?
We originally chose a large 18th-century manor house in the Cotswolds as our reception venue, signing the contract and paying all our deposits. A year into our engagement, we got the dreaded call that the venue was changing hands and was not going to be a wedding venue anymore, so they had to cancel our booking. We were obviously disappointed, then frantically tried to find another venue with just over a year before the wedding.
The Crazy Bear had always been a venue we loved but had overlooked it, so with this new freedom we went and viewed the venue again. It was quite a turnaround as the two venues are so different, we realised after visiting the Crazy Bear how this was so much more 'us' (as the first time around we were more blown over by how grand the first location was, rather than if it was 'us') so quickly booked there and never looked back. Possibly the second most important thing was the quality of the food. We wanted top star cuisine with the flexibility of making it our own rather than just a standard menu. We already knew the food at The Crazy Bear was incredible so this made it very easy to make our decision, having an amazing sharing platter of Thai food (our favourite) and a pizza and chips station for the evening with choosable toppings. The feeling of knowing we didn't need to worry about the food your guests will receive was such a relief.
6. The dress/suit - where did you find it, and what was it like? Who did you take with your dress/suit shopping and how did you find the whole experience?
Adam got his suit and the groomsmen's suits from Slaters Menswear, this was after a lot of online searching. He always wanted a dark grey wool suit but finding something that was still light was a challenge. Slaters Menswear had a branch in Reading which is close to us so was perfect. This was his allocated task throughout the organising of the wedding, which he said he found stressful, trying to organise his groomsmen's availability, but when they were at the shop on the day, he said he felt very happy (and relieved) that he'd found the perfect suit.
The same as Adam, I found the process of finding my dress pretty stressful. For me, my expectations of what I thought it would be like to find 'the' dress was actually what made it harder for me to choose. I visited a lot of dress shops, finding something I liked at each one but not wanting to commit myself to that dress before visiting more places. I also had a battle between wanting a fitted mermaid style dress to seeing A-line dresses on and thinking this looked nicer on me. In the end, after months of procrastination, I went to a sample sale and given the pressure of choosing a one-off dress and the freedom financially I ended up with two dresses- the A-line style for the ceremony and sexy fitted mermaid style for the evening. Even so, my dream of simple off-shoulder satin Hollywood glamour in the morning and sexy fitted lace in the evening wouldn't have come to fruition without my amazing seamstress. She took my visions and make them into a reality, especially with the first dress. I remember at my second fitting, a month before the wedding trying on both dresses as they would be on the day and nearly cried out of excitement and happiness, they really did look stunning.
7. When planning your wedding, did you have any help or did you do it mostly yourselves? What were the most important aspects for you (eg. the photographer, the food, the decor...)?
Planning wise, we did everything ourselves. I'm an event's organiser and was very particular about what we wanted. Initially, we were going to have a wedding organiser but very quickly it became apparent organising the day would be my loving project. For us both, the most important aspects were creating a day that represented us but also a day we would enjoy. We had what we called 'chill checks' at various points to try to make sure we didn't take planning too seriously and remembered the main reason for having the day was to become man and wife and celebrate that with our nearest and dearest. That's easier said than done but definitely helped us see the goal of what we were doing and not get caught up in the superficial aspects of our day (which is hard for a particular patty like me!)
8. If you could give any piece of advice to the current bride or grooms-to-be (about planning their weddings or the Big Day itself), what would it be?
Our main piece of advice would be to say you can have what you want, at the the budget you have. We didn't compromise on any aspect of our day, even though considering the national average cost of a wedding, our budget was a lot lower than this. We were very resourceful with our choices; asking for seasonal flower varieties that would still project the overall vision we had but at a lower cost, I ended up getting my dresses at a sample sale which still accumulated to less than a normal dress cost and fittings and we got a lot of wedding décor from second-hand sites from couples who had used the items for their day and then didn't know what to do with it.
Finally, don't be late to the church (Adam says this as I am a self-professed late to everything person, and was 40 minutes late to the church *puts head in hands*)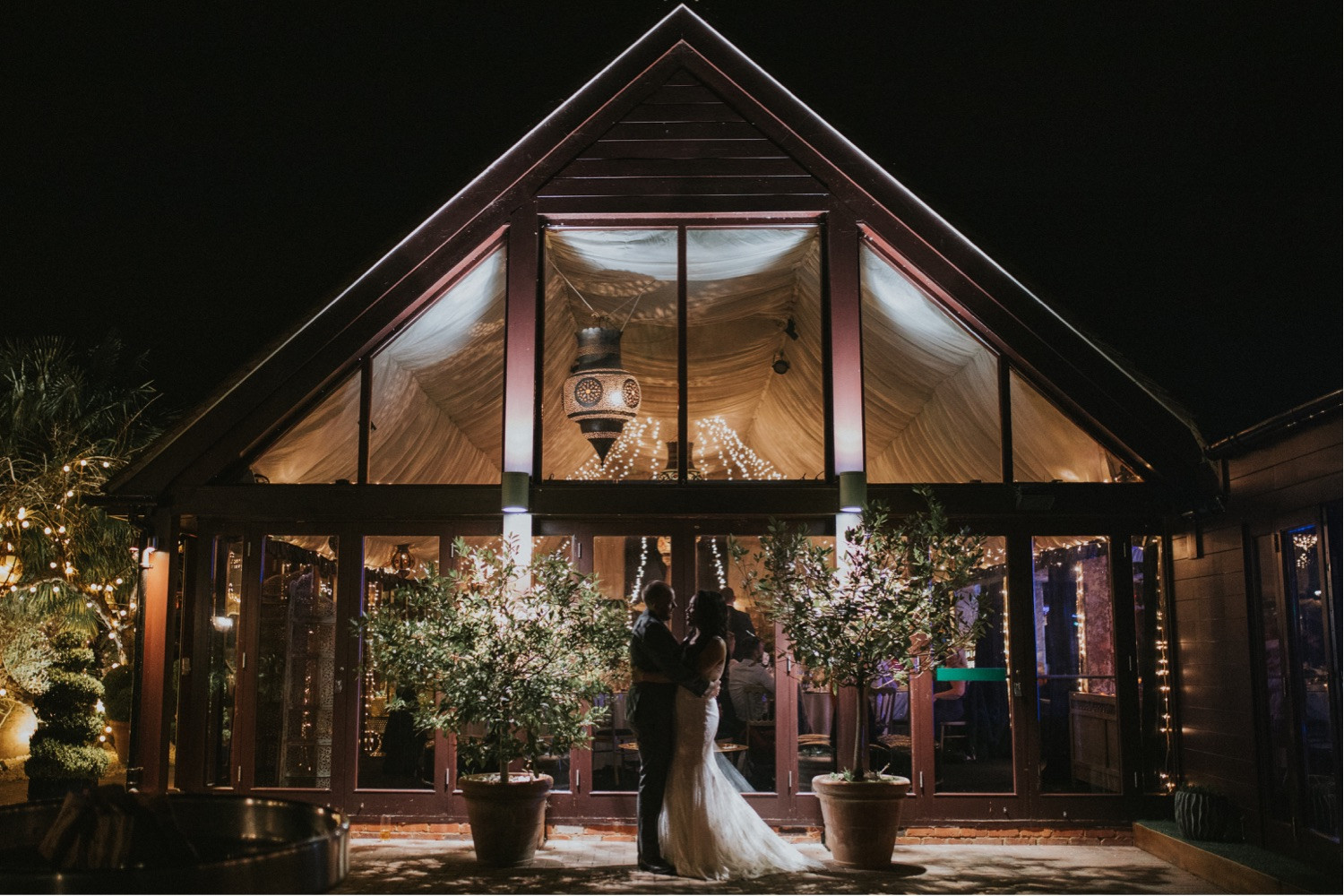 Wedding suppliers:
Photographer - MTStudio
Videographer – Smileysnap
Venue – The Crazy Bear Stadhampton
Florist – Twigs and Twine
Stationery – Vistaprint
Cake – Once Upon a Cake
Music – Candy and the Sound
Decor & Styling – We styled the church and venue ourselves
Dress – Both 1st and second -Banbury Bridal. Altered and veil by Oxford Bespoke Gowns
Accessories – Shoes (Asos) Hair accessories and earrings for the bride and bridesmaids (Debenhams sale) Flower girl flower hoop (Dunelm and altered myself), necklace gift on the day from the groom, undergarments (amazon), garter (eBay), personalised white leather coat (coat from Depop and decal from Etsy), fur shawls bride and bridesmaids (eBay), bag (debut from Facebook marketplace)
Hair & Makeup - Hair – The Wedding Hair Specialist
Bridesmaid Dresses - Asos
Groomswear – 3-piece suits, shirts and pocket squares Slaters Menswear
Other – Magic Mirror Photobooth- Magic Mirror Company ([email protected])