Popular First Dance Songs For 2022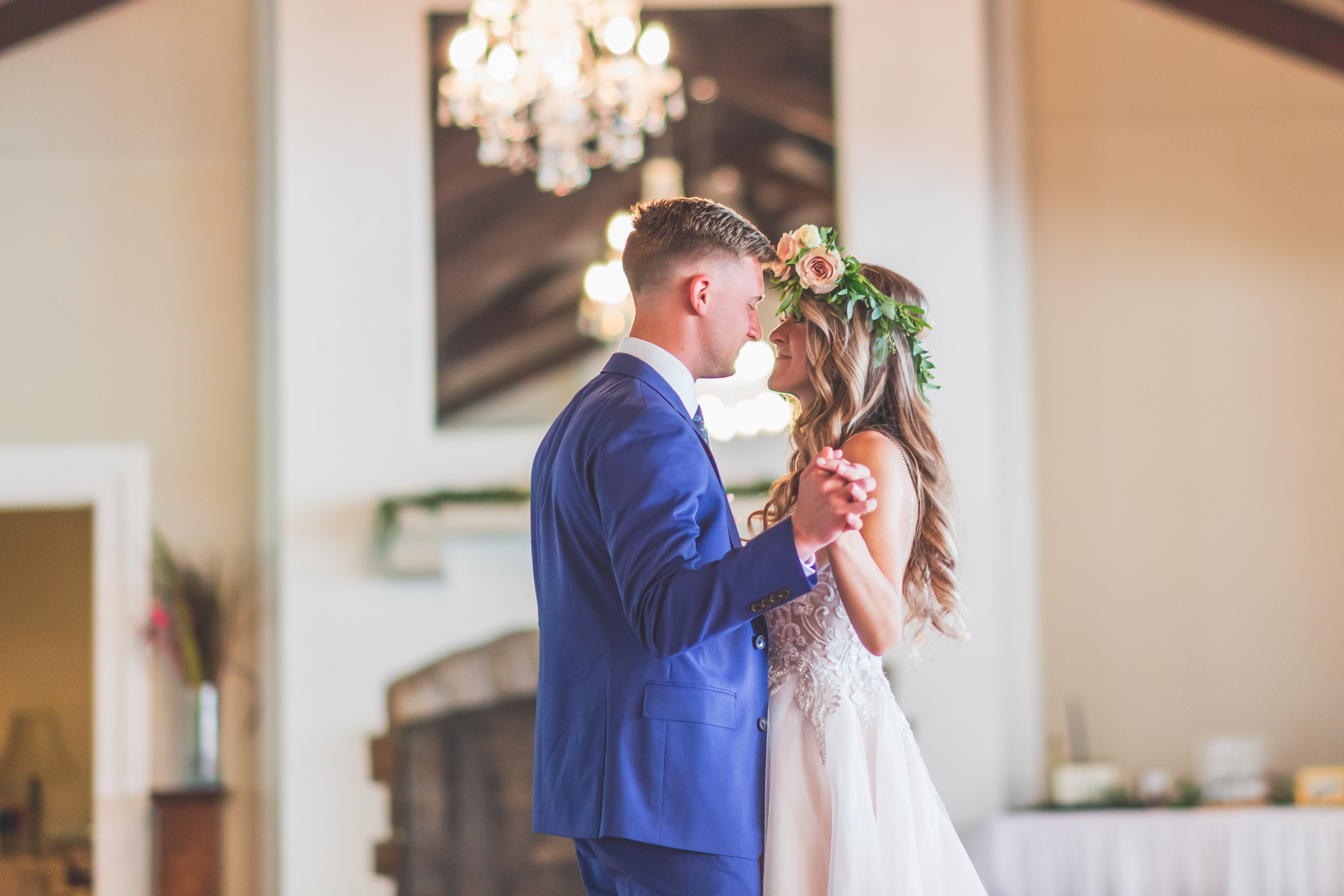 We all know we want our first dance song to feel special and really speak to us as a couple, but there's often so much to think about before picking 'the one'. 'Is the tempo of the song right', 'is it suitable for a wedding' and 'how long actually is the song' are questions we might ask ourselves when trying on different songs for size. Having been through this process ourselves, we think it's always wise to listen to a real plethora of songs and you'll know which one feels right for you.
To get you inspired, we've listed out some popular first dance songs for 2022 which features some newcomers and some classic golden oldies.
First Times - Ed Sheeran
Gentle and melodic, in Ed Sheeran's song 'First Times' he sings all about the simple things in life that make you happy, and remembers all his first special moments with his loved one.
The Way That I Love You - Passenger
Romantic and sweet, this song has so many thoughtful lyrics such as 'how many times can I tell you, you're lovely just the way you are. Don't let the world come and change you, don't let life break your heart.'
Anyone - Justin Bieber
An ode to his beau Hailey Bieber, expect lots of lovely romantic lyrics in this one. The song is upbeat and builds really nicely throughout.
Let's Go Home Together - Ella Henderson x Tom Grennan
Soulful yet upbeat, this duet is a lovely song all about when a couple first meet. A slightly cheeky number and perfect for a fun couple.
Holy - Justin Beiber
A well loved song with over 198 millions listens on YouTube alone, Justin Beiber's Holy is a tender and emotional song. The religious relevance is also makes this a memorable option for a church wedding.
Leave the Door Open - Bruno Mars
A fun and slightly more unconventional option, this would be a smooth and funky addition to your wedding day.
The Luckiest - Ben Folds
A really sweet and gentle song which featured in the rom-com film About Time, it makes for a slow and romantic choice.
Thinking Out Loud - Ed Sheeran
A forever classic, Thinking Out Loud by Ed Sheeran will always be popular with the romantics amongst us. Plus that dance scene in the video is the perfect inspiration if you fancy a choreographed dance…
Make You Feel My Love - Adele
Good luck trying not to cry with this one! Such a beautiful and tender song, that so many of us can relate to.
Come Away With Me - Norah Jones
A favourite for many generations, this is a lovely choice for a slow dance. Its peaceful pace means it'll be a nice chance to really think about what the day means to you both.
Your Song - Elton John
With the Elton John and Ellie Goulding versions both being well loved, you can take your pick on which would suit you best. Plus the song is even fit for royalty, with Prince William and the Duchess of Cambridge having it performed by Ellie Goulding as their first dance song too!
The Way You Look Tonight - Tony Bennett
Romantic and gentle, sometimes you just can't beat a classic. We could imagine this being played at a chic black tie wedding, with perhaps even the live band playing it for you!
Ho Hey - Lumineers
A fun and upbeat song with a lovely background melody, this is guaranteed to get your guests on the dance floor, singing along.
Love Again - Dua Lipa
A cool and laidback option for those who don't fancy a slow dance, Dua Lipa's Love Again is a great dance floor filler.
Take My Breath - The Weeknd
A modern choice, this song is pacey and fun, with a memorable chorus that will see all your guests join you on the dance floor.
Conversations in the Dark - John Legend
A tender song all about the lovely parts of being in love, and loving each other for exactly how we are. We challenge you to watch the music video and not feel emotional.
Lover - Taylor Swift
Sometimes you just can't beat a Swifty number. This is a lovely song to slow dance to that still feels fun and cheerful.
Wherever You Are - Kodaline
A sweet song that speaks to the modern day couple, especially those who have had a long distance relationship. The music video is also a lovely watch too!
The One - Kodaline
With the song beginning with the lyrics 'tell me that you want me, and I'll be yours completely for better or for worse', it feels so perfect for a wedding. If you can't tell, we're obsessed with the beautiful words in this song, especially 'you make my heart feel like it's summer, when the rain is pouring down'.
In Case You Don't Live Forever - Ben Platt
For any of you musical theatre and Dear Evan Hansen fans, the well-loved Ben Platt's song 'In Case You Don't Live Forever' could be perfect for your wedding day.
You Are the Best Thing - Ray LaMontagne
Jazzy and soulful, Ray Lamontagne can always be relied on for beautiful, romantic songs. We can just picture this song being wonderful at a barn wedding, surrounded by all your loved ones.
Lucky - Colbie Caillat and Jason Mraz
Featuring lots of heartfelt lyrics that we can all relate to, Lucky will always be a first dance classic for a good reason.
The Way You Look Tonight - Frank Sinatra
A well-loved classic, Frank Sinatra is a favourite for all the ages and will always be a beautiful addition to your wedding day.
Beyond - Leon Bridges
Beautifully soulful, the lyrics of this song are just lovely and talk about when you realise the person you love is 'the one.' Also highly recommend the video that accompanies it to get you feeling warm and fuzzy inside.