Dogs at Weddings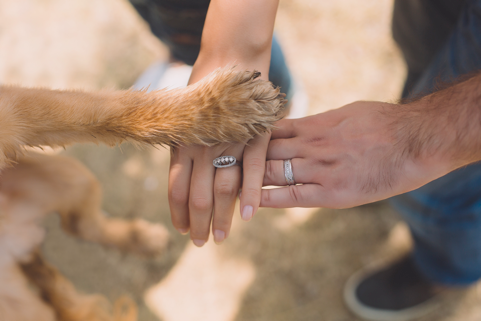 Your wedding is planned to be the best day of your life. As you enjoy the occasion with your family and loved-ones there to support you, it's the perfect time to celebrate everything good in your life. If your dog is an important part of your family, it only feels right that they should be with you on your special day. With venues becoming more and more flexible to accommodate increasingly unique requests, this is now entirely possible in the UK. According to a survey in 2018, 16% of couples in the UK are now deciding to include their pet in the wedding celebrations.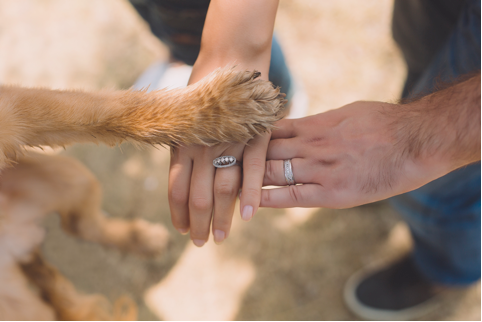 But, with the best planning in the world, the run-up to your wedding, and the day itself, can feel stressful, especially if there are loose ends to tie up or last-minute changes. You want to make sure that everyone there has a day they remember for all the right reasons. Having your dog at your wedding makes the day extra special for all the family and makes for super-cute photo opportunities!
So, is including your dog in your wedding a good idea or is it just barking mad?
Naomi, who runs a business called Rooby Doo's Pet Services that helps couples who want to include their dog in the wedding celebrations offers her tips to ensure both humans and dogs have the best day possible:
Planning
Start planning the part your dog will play at your wedding right away, the sooner the better. One of the first questions you need to ask yourself honestly is whether your dog has the temperament to enjoy the day without causing absolute chaos! With the best will in the world, some dogs are born trouble makers! Much as we love them, they can be furry whirlwinds of destruction!
If you're very relaxed and enjoy spontaneity, just go with it (if you're very, very brave!). However, if you'd prefer things to run smoothly, you need to really think about the role your dog plays and make sure you have every eventuality covered. This starts during your planning stages.
If you're planning on having your dog at your wedding, think about their current behaviour. Are they happy in crowds? Do they steal food from the table? Do they bark a lot? Are they used to being poked and prodded by children? Consider every situation your dog is likely to encounter and ask yourself how they might react. Dogs are, for the most part, gloriously unpredictable. But, knowing your own dog as you do, you should have a rough idea of how they will behave.
If your dog has a sound temperament, but there are a few situations he may not feel sure about, what about starting some training? For example, get your dog used to attending crowded events by visiting local shows, markets and shopping centres. You can do this yourself or get a professional dog trainer onboard to help make sure your fur baby can handle the pressure on the day as well as you do.
It's a good idea to make sure your guests know your dog will be attending. It may be important for people who have pet hair allergies or phobias. A great way of doing this is by including your dog's name on the invitation.
If you choose a dog chaperone, either a friend, family member or professional, make sure they're involved in the planning stage. Attention to detail is key.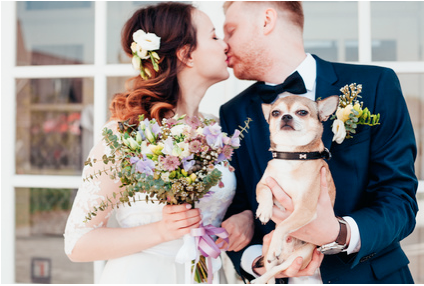 Venues and Permission
Make sure your venue is aware of your plans and get written permission from them for your dog to attend - you don't want any last-minute changes. You also need to consider how your dog will travel if you're spending the day and evening at different locations.
If you're getting married in a church, make sure you discuss the matter with your minister as soon as you can. Many ministers now have a very relaxed attitude to animals in sacred buildings. Churches now offer animal blessing services and some even include a donkey in their Christmas services.
Choosing a Dog Wedding Chaperone
Your dog is going to need a chaperone for the day. Trust me, it's not something you should do yourself, despite how much you love your pet. With everything that's going on, the last thing on your mind will be whether your dog has been fed at the right time, toileted or making sure he isn't stealing vol-eu-vents from the buffet table. You need to be able to relax, confident that he is safe, happy and well-cared for.
Your dog's chaperone could be a friend or family member who's willing to take the job on. However, the top reason our clients tell us they chose to use our professional dog chaperone services is that they want all their friends and family to enjoy the day without having extra jobs and responsibilities to handle.
Escorting a dog during a wedding can be quite labour-intensive, depending on your dog's role and needs. Using a professional dog chaperone service means that you won't have to worry about one of your loved-ones missing out on the fun of the day as they're so busy looking after your four-legged guest. A professional chaperone will also be able to escort your dog to and from the venue and may be able to stay overnight to look after him.
If you decide to use a professional dog chaperone, it's important to book them as soon as you can. Their services are in high demand and some may be booked for months ahead.
Your Dog at Your Wedding: A Starring Role?
So, you've decided to include your dog on your wedding day. Now the fun part starts – deciding what role your pet will play. Again, consider your dog's temperament when you consider your options. Expecting your dog to escort you down the aisle without incident may well be an unrealistic expectation if your dog has a nervous disposition.
The easiest way for your dog to attend is simply as a guest. Dogs are also great at welcoming other guests – as long as they aren't allowed to jump all over them! Dogs can be flower girls, page boys or ring bearers. If you're 100% confident in your dog's ability to handle the pressure, he/she can walk you down the aisle or be your best man.
The key to ensuring your dog does well in his designated role is training and rehearsal. Identify early on in the planning stages what role he will play, make sure is trained and rehearse the occasion.
Outfits and Flowers for Your Dog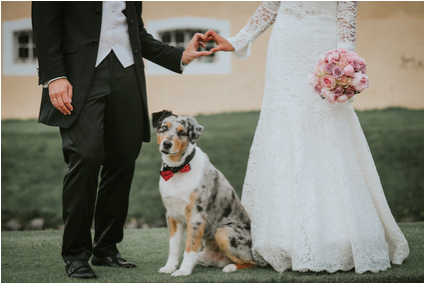 Many people decide to dress their dogs up for their wedding day. From a single flower in a new collar to a full, bespoke doggy tuxedo, it's all possible. But, be warned, if you expect your dog to wear something he isn't used to next to his skin, you have to make sure you take time to familiarise him with it!
It's a great idea to have multiples of your dog's outfit. This gives you a chance to let him get used to wearing it without worrying about it getting damaged or dirty. You may find he wants to rip his new clothes off at the first chance, despite how cute he looks, and you don't want that happening on the big day!
It's a good idea to have a back-up outfit for the actual occasion, just in case of any accidents or damage. You may also want to consider an outfit change for your dog. What he wears during the ceremony can be changed to be more comfortable for your reception. Remember, this is especially important during hot weather and who doesn't want the sun to make an appearance on their wedding day?
If you're putting flowers on your dog's collar, double-check that they aren't toxic – many traditional wedding flowers can be quite poisonous to animals. If you're in doubt about this, your professional dog chaperone or florist will be able to help you choose safe blooms.
Your Photographer
When you discuss your wedding photos, make sure you decide which shots your dog will be in and inform your photographer and dog chaperone. A professional chaperone will liaise with your photographer directly to ensure your fur baby is where he needs to be for the shoot.
Doggy Essentials Wedding Planning
All dogs have needs. It's vital that you decide how these needs will be catered for during your celebrations. Things you need to discuss and plan for with your dog chaperone include:
· Feeding times and locations
· Toileting times and locations
· Water availability (it should be available to your dog throughout the event)
· Exercise on the day – does your dog need to leave the venue to be walked?
· Warm/cold/wet weather contingencies.
· Travel to and from the venue
· Overnight stays – you may need your chaperone to stay with your dog overnight both before and after the day
· Grooming requirements
· Any guests who are not comfortable with dogs and would prefer not to be introduced!
Remember, plan, train, rehearse and make sure your dog has just as good a day as you do!
Nicola and Richy Collins got married in 2018 with their pugs, Millie and Bear playing a starring role in the unique ceremony.
Nicola says, "Having Millie and Bear at our wedding was something we both knew we wanted right from the start. In fact, I wouldn't have done it without them there as they are as much my family as anyone else. Seeing them both walk down the aisle as little furry flower girl and page boy was so perfect. It made our day so special. They mean everything to us and we needed them right there next to us on the most important day of our lives. They had a great time and everyone there enjoyed the part they played on the day."
Naomi Walker runs Rooby Doo's Pet Services who are based in Northumberand. They