Our Favourite Bridesmaids Dresses for Summer 2019
Still looking for the perfect bridesmaid dresses to ensure that your girls look as good as you do on your wedding day?
Choosing bridesmaids dresses can be one of the most difficult and stressful aspects of planning a wedding: after all, you want your closest friends to look and feel fantastic, but choosing one dress to suit everyone can feel impossible. Don't worry, we've got your back.
If you're getting married this summer and still haven't chosen dresses for your bridesmaids then here are three of our favourites that you can buy right now. Sure to please everyone, these dresses are figure flattering and bang on-trend:
Beautiful Beading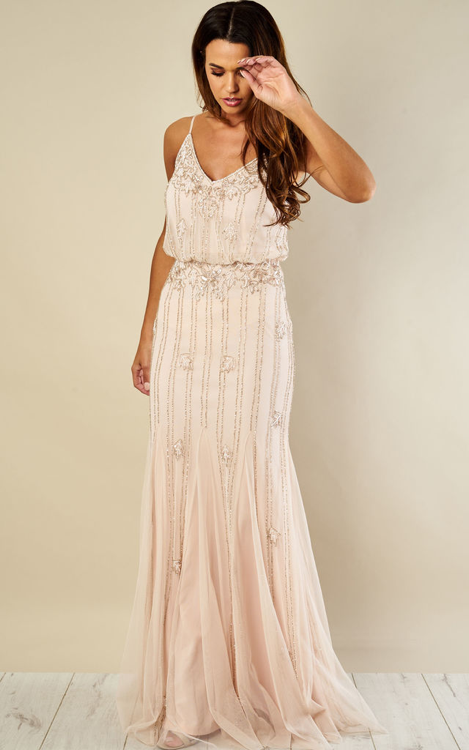 Keeva lace and beads maxi bridesmaids dress
Do you want your bridesmaids to stand out from the crowd? If so, this lightweight and ethereal chiffon gown loaded with beaded detailing is the perfect choice. The beads have been perfectly layered to draw the eye down the body, creating a long and lean silhouette, whilst the thin spaghetti straps are bang on-trend this season.
Because this dress is extremely detailed it needs very little accessorising: in fact, if you want to keep things simple then you don't even need to give your bridesmaids a bouquet. This dress will do all the talking without adding flowers to it. Just add neutral shoes and a simple updo (so that the hair doesn't cover the beaded neckline of the dress) and your bridesmaids are ready to take on their role as a support team to your starring role.
Stylish and Structural
Angelina blush one shoulder maxi bridesmaids dress
For bridesmaids that are looking for something minimalist, this structured one shoulder dress is the perfect choice. The simple shape will stand out from the crowd without any fuss: because you don't need to wear flowers, bright colours or sequins and jewels to be a show-stopping bridesmaid.
Blush pink is one of this season's hottest shades, meaning this dress is perfect for summer 2019 bridesmaids. It is flattering on most skin tones and will coordinate with both neutral and bright accessories, meaning that you can inject your own twist to create an outfit that is completely unique. We think this dress would look great paired with metallic sandals and a coordinating necklace to draw attention to the unusual neckline.

Fancy in Florals
Mia floral wrap maxi dress in beige
Looking for something chic but on-trend for a low-key wedding? This muted floral bridesmaid dress is sure to make a real style statement. Featuring a figure flattering wrap front and a coordinating waist tie designed to create an hourglass figure, this dress will look great on bridesmaids of all different shapes and sizes.
The floral pattern is perfect for summer, and would look great paired with a coordinating floral bouquet or topped with a crown of flowers. Keep the rest of your accessories simple, so that the print of your dress can do all the talking. Your bridesmaids will be turning heads for all the right reasons!
Delicate in Butterfly Sleeves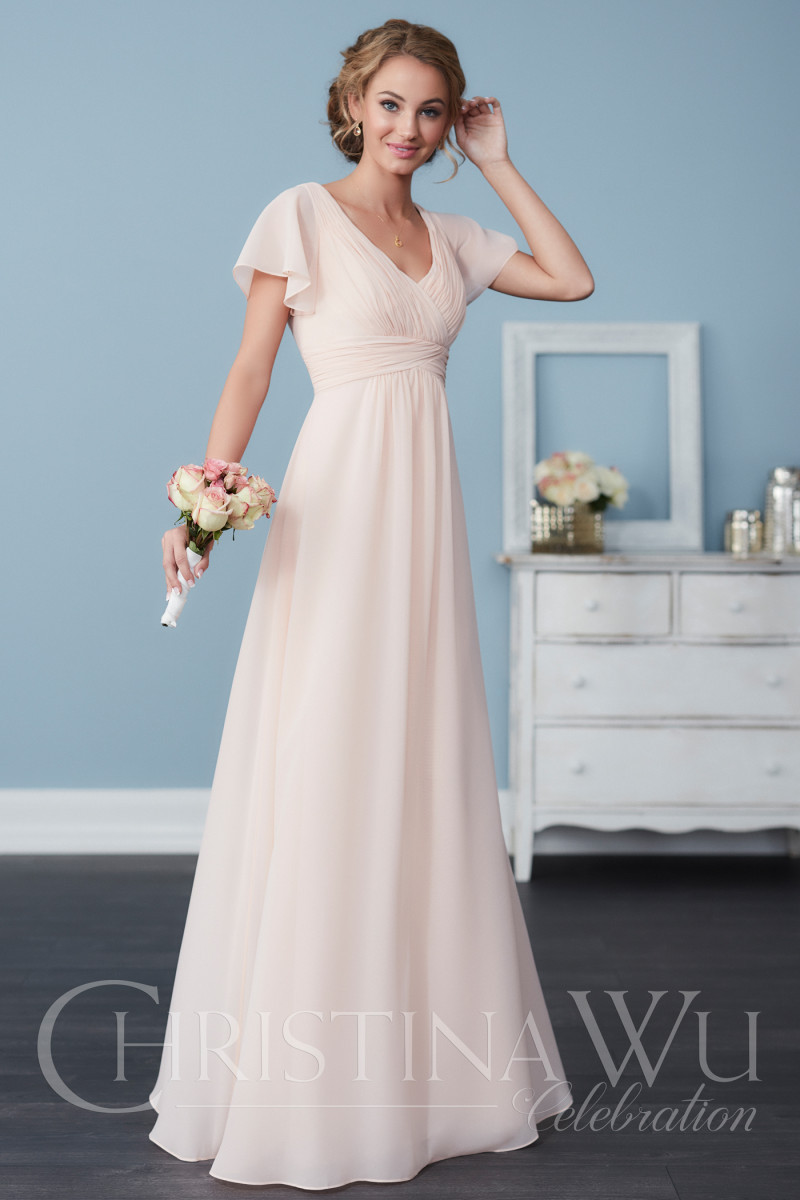 Chiffon A-Line dress with butterfly sleeves
Butterfly sleeves are all the trend this year - perfect for weddings in any weather and for for bridesmaids after discreet elegance. This empire lined, gorgeous chiffon gown in blush pink is perfect for spring, summer, and autumn weddings. The way the fabric moves with the wearer creates elegance and grace and is perfect for couples after a classic, romantic, or outdoorsy wedding feel.
Check out more of our favourite bridesmaid dress designers here.