Wedding Suit Accessories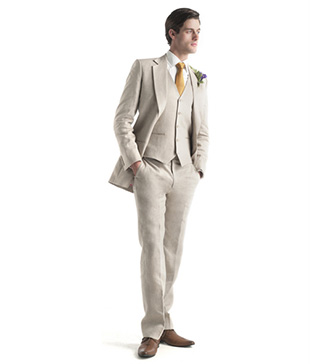 By David, from 'A Suit That Fits'
Having acquired your wedding suit, what next? Here are some considerations for suit accessories - which, in my opinion, are what sets a suit apart from the others.
Shoes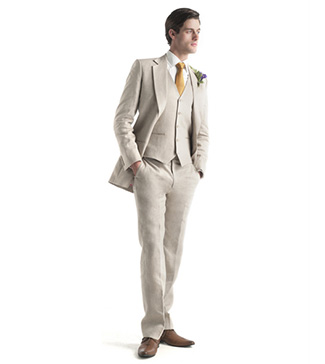 When I'm measuring a groom for a wedding suit, the accessory (if you can call shoes an accessory) that I'm most interested in, is his shoes. Why? Because shoes will dictate the cut of the trouser leg, at the ankle, more often than not!

For example- the hem of one's trousers will ideally hover 0.5" above the heel of traditional heeled-shoes, though this will depend how narrow the ankle of the trousers is (narrow trousers will not sit as low), so bear this in mind if you have sock-phobia! Above the arch of the shoe, i.e. the laces, there should be no more than a single break - the dent in the crease of your trousers at shin-level.
If you're wearing slip-ons, trainers or flip-flops (- I'm a fan by the way-) then the trousers ought be boot cut and longer in length, i.e. inline with the heel of your foot.
Shirt


The shirt must complement the suit colour! For example, ivory coloured shirts will provide a softer, more traditional, or vintage, look for grey, black or blue suits, whereas white will give a sharper, more classic look. Whichever you choose, ensure the shirt colour does not clash with the wedding dress colour - if in doubt choose white; better still, take advice from your betrothed!
Tie

In most cases the colour of the tie is the same as the wedding colour-scheme, and, ergo, some thought should be given to the wedding suit cloth at an early stage to ensure the tie complements the suit itself. Some thought should also be given to the colour of the shirt as it will provide the backdrop for the tie.
Whilst narrow-ties have enjoyed a renaissance of late, be sure to wear a tie that is proportionate to your frame - I'll say no more.
Pocket square or corsage

Whilst I am of the school of thought that feels that a pocket square, silk-handkerchief or pochette is required to complete the look of a suit, they may be superfluous to requirements on the big day, if you are to wear a corsage. Let taste be your guide.
Fob watch

If wearing a 3pc suit - without a doubt, the most popular suit ensemble for weddings is a Fob watch, in my book at least. And, as such, when a chap is wearing a waistcoat it is an almost natural inclination to want to adorn it with a Fob watch, as our forebears would have when 3pc suits were de rigueur and chunky time pieces had not even been thought of by scuba divers! And why not, there are some fabulous Fob watches around, both antique and new. Of course, if you're lucky enough to have been passed-down your grandfather's Fob watch, then I think there can be no better compliment to one's wedding suit.

Whatever you choose to wear with your suit, ensure the colours of the accessories compliment the suit, and that your suit compliments your bride's dress.

Best of luck on the big day.