Wedding Dresses On Trend In 2019
2018 has been a great year for bridal fashion, from rustic weddings down to the classic vintage themes. These themes were clearly established and talked about by a lot of bridal fashion enthusiasts. For 2019, there are plenty of sophisticated and showstopper wedding dresses, created by the best bridal designers to get you inspired for your wedding day.
Below are the biggest trends for wedding dress styles and designs for next year. Take a peek at what is 'in' this 2019, from major sleeves to shorter veils.
The Duchess Syndrome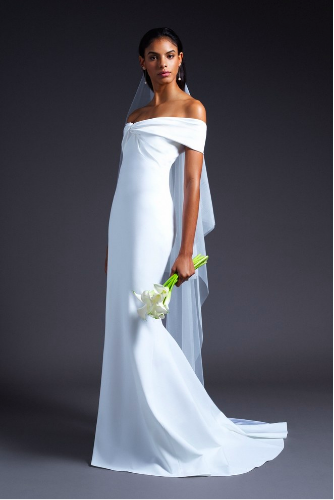 Cushnie
The world has been shaken since the then Meghan Markle shocked everyone with a tailored and embellishment-free Givenchy gown on her wedding to Prince Harry last May. This classic white gown dismisses the loud designs, big volume, and plentiful beads and laces that reigned for some time. The Duchess inspired and led the way for future brides to opt for a bridal gown that is clean and straightforward, with more focus on fabric and less focus on a "busy" design. This 2019 expect more of this simple yet elegant gown style to flood your Facebook and Instagram feeds.
Caftans Are In!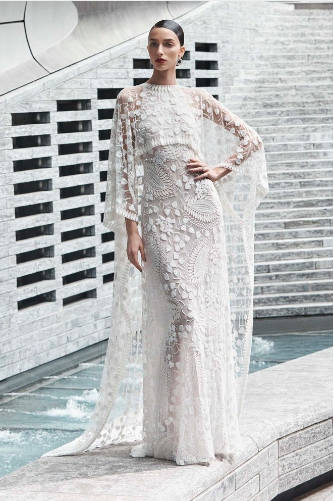 Naeem Khan
Next year will be the year of caftans in bridal fashion! This bridal gown is inspired by celebrities and public personalities who have started wearing exquisite and shimmering caftans on their red-carpet appearances, like Rihanna, Jennifer Lopez and Rachel Zoe. Even Hillary Clinton wore a beautiful caftan when on a personal trip to India last March. Moreover, caftans are normally appreciated for their loose, comfortable and boho vibe. But, due to its booming popularity in the fashion world, many designers have put their artistic hands and creative minds into making this elegant and modest gown rock your 2019 wedding!
The Return of the Sleeves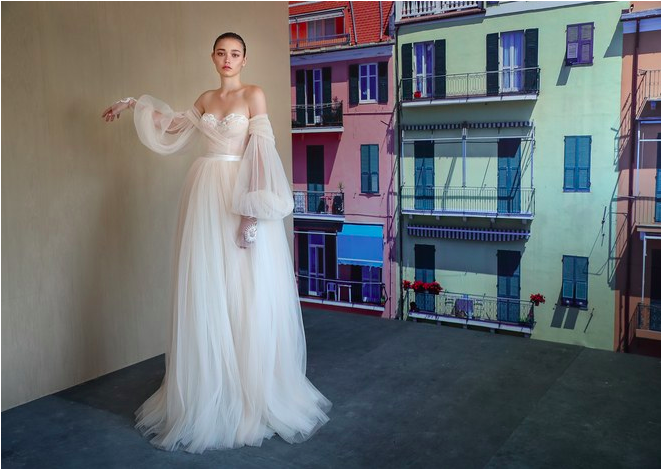 Galia Lahav
Also inspired by both Royal weddings earlier this year, make way for the major comeback of sleeves this upcoming year! Due to royal wedding mania, many wedding enthusiasts and followers have made this modern and regal dress trend once again. But, don't expect quiet and clear sleeves, expect more voluminous, extravagant, and melodramatic sleeves on the market next year. Many designers are using really big and loud sleeves for emphasis, making their 2019 designs a complete showstopper. These statement sleeves have been making their name in the fashion world and are expected to follow into the wedding world in 2019.
Mini Dress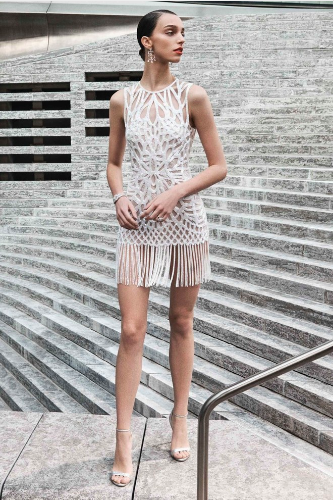 Naeem Khan
Long gowns are still in for 2019, but, this mini wedding dress style will be trending too. Now, many brides are opting for a second dress for the wedding reception. To accommodate this, most designers now offer a "dress" for any type of bridal occasion. May it be your bridal shower, rehearsal dinner, engagement party, or yes, even your wedding day. This mini dress is not just lighter compared to a full-blown wedding gown, but you can also show off your beautiful legs on your big day with this. The idea of walking down the aisle with this short dress appeals to many brides planning their wedding next year.
Halterneck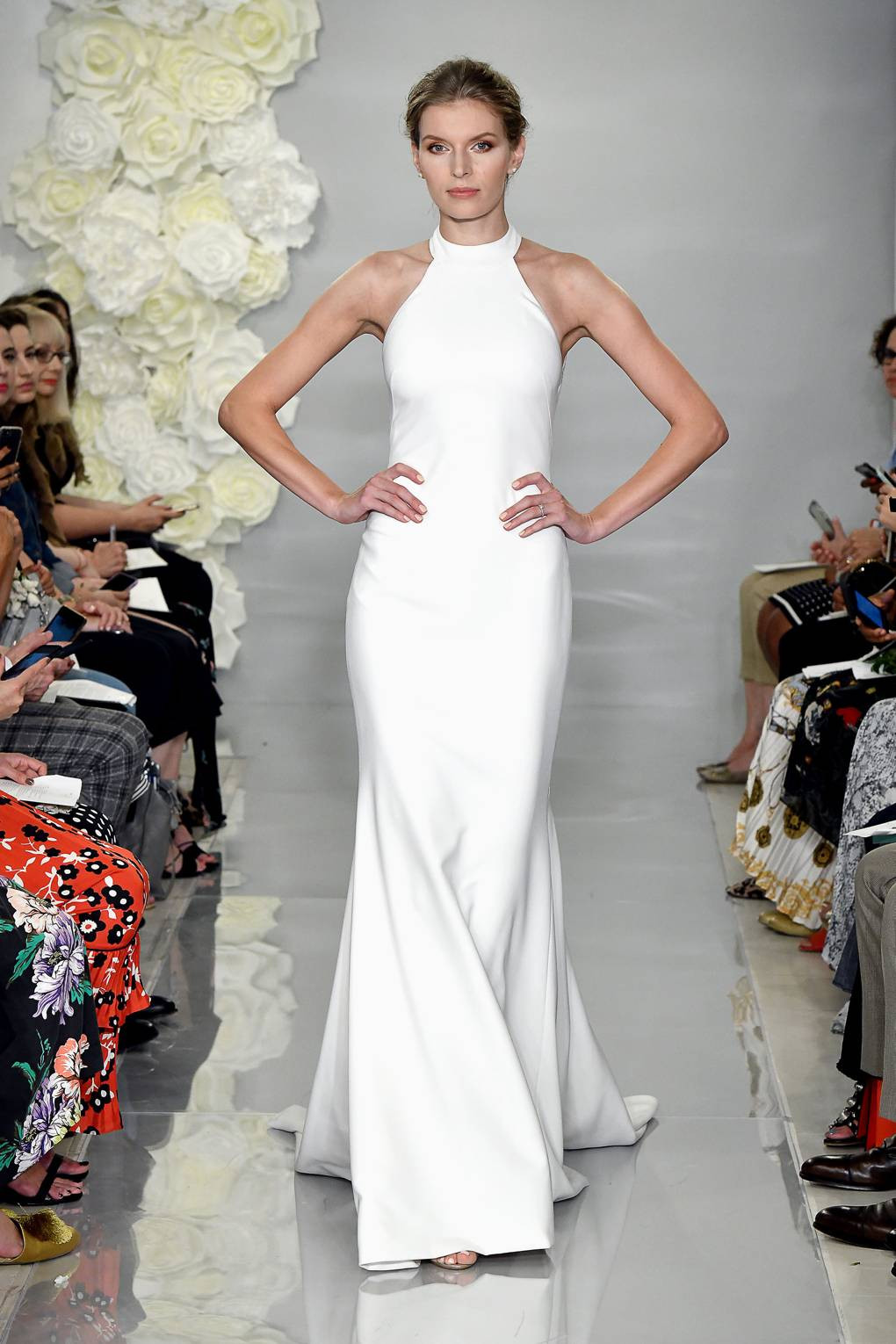 Ronald Joyce
Wedding dresses to look out for in 2019 have been greatly influenced by the royal wedding last May. If you have noticed, Duchess Meghan's second halter-neck dress also made a noise in the bridal fashion industry. Many designers are really inspired by this wedding dress and are now incorporating halter-neck designs and styles that are shiny and refined, rather than the casual off shoulders and strapless wedding gowns. This 2019 halterneck wedding dresse will be seen more often on future brides, compared to its debut many years ago as a wedding dress style.
Shorter Veils
Zuhair Murad
For many years, some brides believed that opting for a floor length wedding veil on their big day was the only choice. However, for many brides, these long veils just feel a bit awkward and over-the-top for a modern wedding. But, 2019 has many options for shorter veils that might just meet your needs. If you are undecided up until now whether to go for a full-blown wedding veil or just forget the whole thing, remember that many designers now are creating elegant and sophisticated shorter veils for brides like you. There are easier options like shoulder length and mid length, depending on your choice and maybe on your wedding dress style. Laces and beads are also being intricately placed in these shorter veils.
Whatever style and cut you pick for your wedding, remember that it's what you feel most beautiful and comfortable in. That's the most important thing. It's one of the biggest days of your life and you should standout and "carry" the dress. Don't have the dress "carrying" you and stealing your spotlight.
Click here to see our selection of wedding dresses and featured designers.