Vintage Wedding Ideas That Will Wow your Guests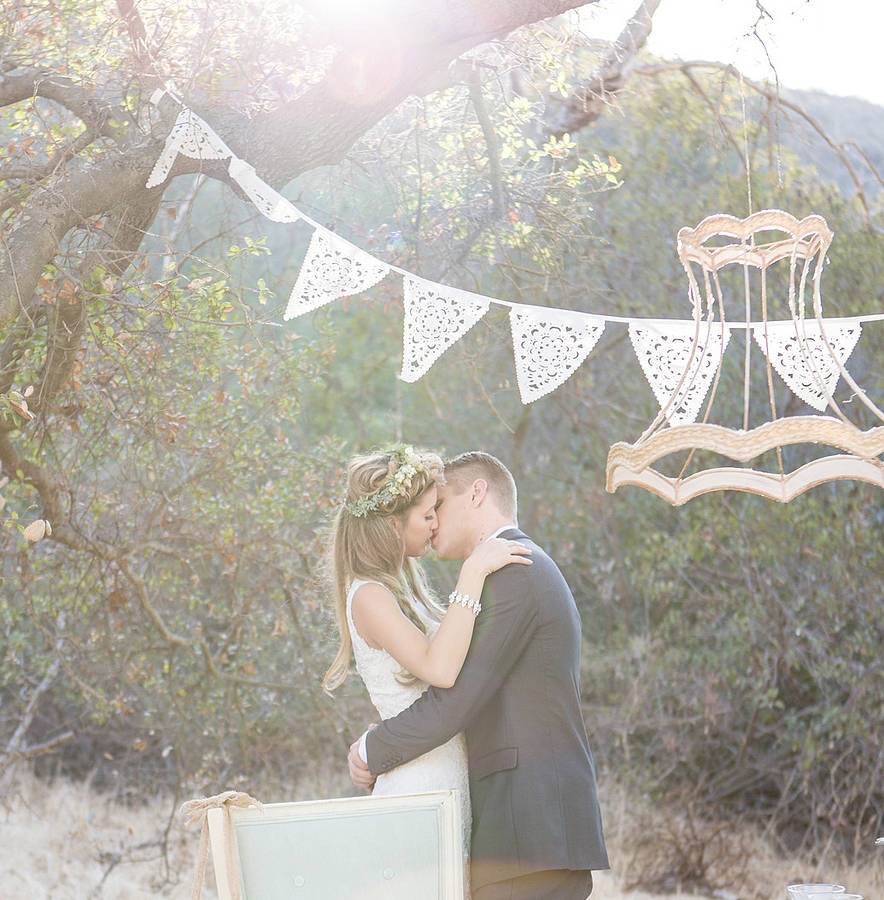 Vintage Weddings themes get increasingly more popular each year and with stunning accessories, décor, and treats it's easy to understand why. From birdcage veils, to classic cars, and fun activities for your guests, we've narrowed down some of our top vintage wedding ideas that will wow your guests. Take a look below for some vintage wedding inspo…
1. Birdcage Veil
When most people think vintage weddings, especially those from the 40's and 50's, they also think of vintage birdcage veils. These short, rigid veils instantly add glam and old fashion vibes to any bridal look and come in a variety of colours meaning you don't have to stick to white! Such veils are perfect to pair with short vintage hair curls and a red lip.
Source
2. Heirlooms
The old wedding poem goes "something old, something new, something borrowed and something blue". What better way to add a vintage feel to your wedding day then making your something old a vintage family heirloom! Think your mother or grandmothers veil or ring or even their wedding dress! This is such an easy way to make your vintage wedding even more special.
3. Hollywood Glam
Hollywood Glam is a staple on the list of the most stunning vintage looks. Think Grace Kelly, Elizabeth Taylor, and Audrey Hepburn! Classy up do's, ringlet curls, red lips, pink blushers, and statement pearl and diamond earrings are all must haves. Not only is Hollywood Glam still absolutely gorgeous but it's also timeless! To go that extra step further, why not wear the ultimate Hollywood glam scent and wear Chanel No. 5 perfume on your big day!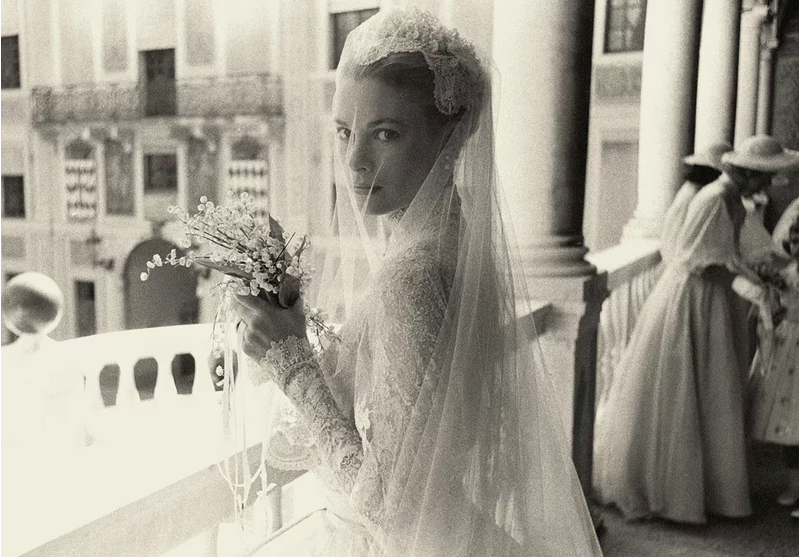 Source
4. Wedding Dress
The wedding dress is always going to be a centre piece of any wedding with all eyes on the brides pick! If you're after a wedding with a vintage feel why not incorporate the theme into your dress. Think lace dresses for 1930's and 40's vibes and short dresses for 1950's and 60's. For examples, go to Grace Kelly's wedding gown with long, lace sleeves and a high neck or this stunning 50s tea dress below!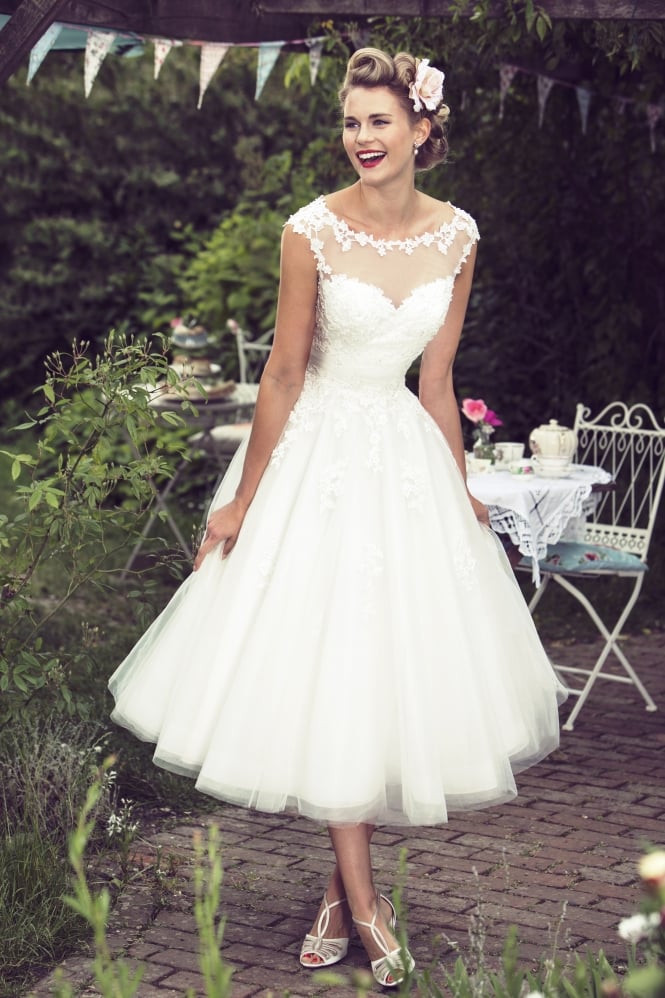 Source
5. Six Pence in your Shoe
The well-known poem in no.2 has a slightly less well known final line that goes "and a silver six pence in her shoe". Since sixpences have been out of currency circulation since the 1970's, they are most certainly vintage! Not only is this tradition super cute but it's also good luck! And never fear, they might be out of circulation but it's still easy to get hold of a six pence as brands such as Etsy and Boux Avenue always have them in stock!
Source
6. Vintage/Classic Car
Your transport picks on your big day can play a big role in enhancing any vintage themes and making your wedding day that bit more exciting, glam, and special. By choosing to arrive and depart from your wedding in a classic car you're guaranteed to travel in style and keep to that stunning old fashioned theme you're after. Think classic Rolls Royce Phantoms, Badsworth Landaulettes, and Bramwith Landaulettes.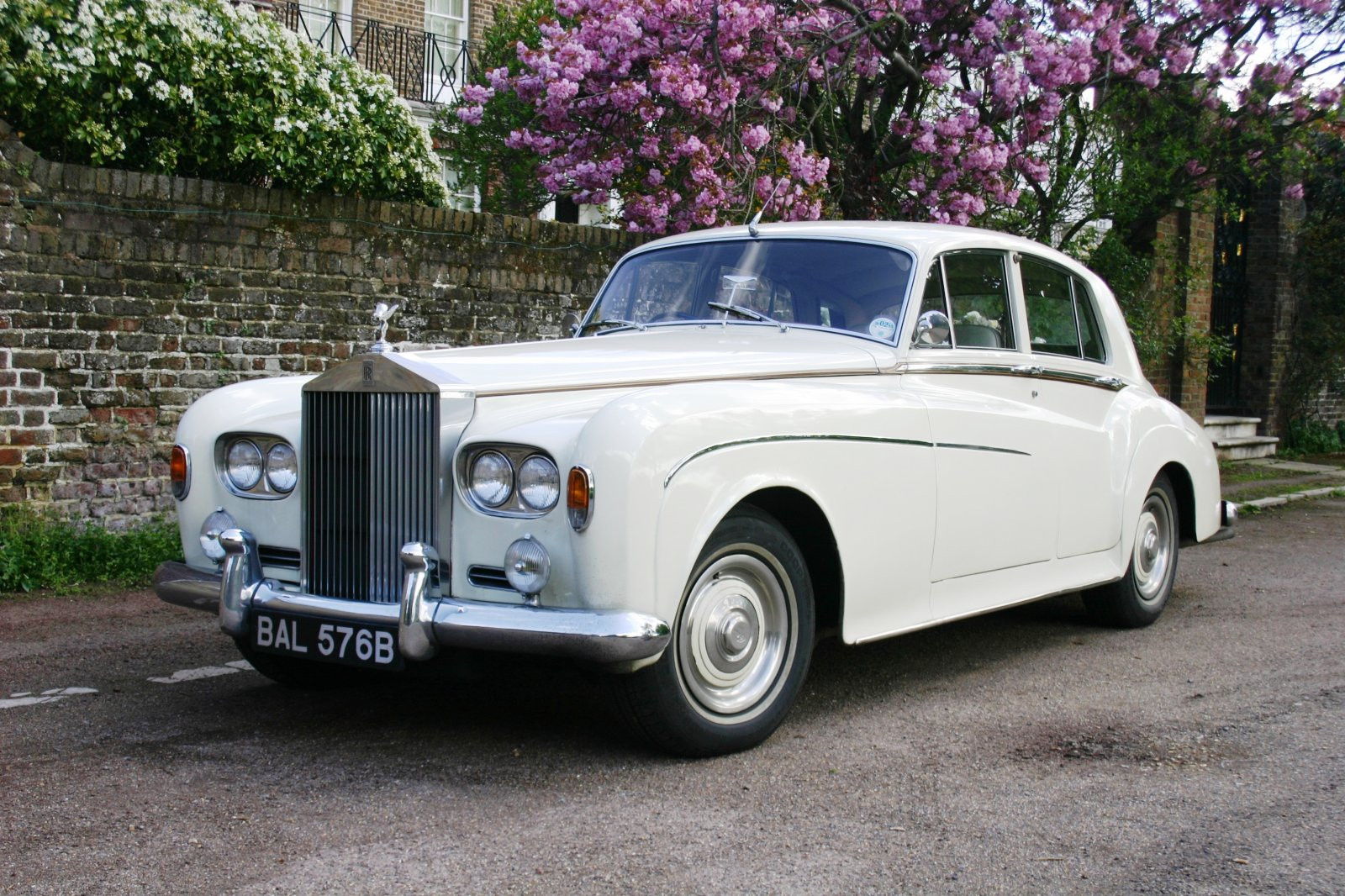 Classic Car Hire
7. Italian Transport Vibes
Keeping within the transport theme, cars are not your only vintage feel transport option! For couples after a more laid back, relaxed vintage feel, why not opt for a white or colourful Italian Vespa for your big day! Not only will travelling on a Vespa be great fun on your wedding day but it will also look unbelievably cute in any wedding photographs.
Source
8. Roses
When it comes to romantic flowers, Roses are at the top of the list! Not only this, but they also have a long history of being romantic and being at weddings, making them the go to flower for a wedding with a vintage feel. To nail this floral feature, think light pink and white rose centrepieces, bouquets, Rose garlands, and Rose headpieces. Top tip, keep the stems and leaves looking natural and not too perfect as this adds that extra bit of vintage character to these beautiful flowers.
9. Favours
Another fantastic vintage wedding idea is tailoring your wedding favours to match the theme. The best way to do this is think of rustic or home made little gift ideas that you can give to your guests. Our top suggestions are miniature jam pots with handwritten labels, homemade fudge in decorative boxes, and even homemade candles! To add an extra finishing touch, we recommend tying little bows around your favours or placing them in little lace gift bags.
Source
10. Statement Vases as Centre Pieces
Statement vases are a fabulous way to make your wedding décor look and feel super vintage. Think old vases, different colour glass vases, gold vases, bottles for vases, and even tea pots for vases. Keep them slightly older and slightly quirky for added effect. Fill them with flowers of your choice but we, as chatted about earlier on, highly recommend white and light pink roses for a truly vintage feel.
Source
11. Polaroids
Polaroid pictures are such a fun throwback for you and your guests and are a great way to enhance a wedding with a vintage feel. Not only are they a great activity for your guests to partake in but they are also fabulous keepsakes for both you and your nearest and dearest. We suggest putting a couple of cameras on each table for your guests to enjoy and a little basket so they can pop the pictures into if you choose to keep them! Polaroids are super easy to purchase and are available at most tech and computer stores.
12. Cocktails in Teacups
When it comes to food and drink, one sure way to add a vintage feel is to serve cocktails in cute and quirky teacups. Not only will these drinks be Instagram worthy and Pinterest perfect, but their delicate design and subtle colours will fit perfectly with the vintage look. As an added bonus, you get total freedom of the cocktails you choose to offer as pretty much every drink looks adorable in a teacup!

Source
13. Bunting
Last but not least on our list of some fantastic vintage ideas for your wedding is to use decorating flag bunting as the finishing touch to your décor! Bunting adds a burst of colour and character and its association with Victorians and the War Decades give this British tradition and truly vintage feel. A top tip from us would be to get hands on and create personalised, DIY bunting! You can personalise it by putting your initials on it or even photos of the couple!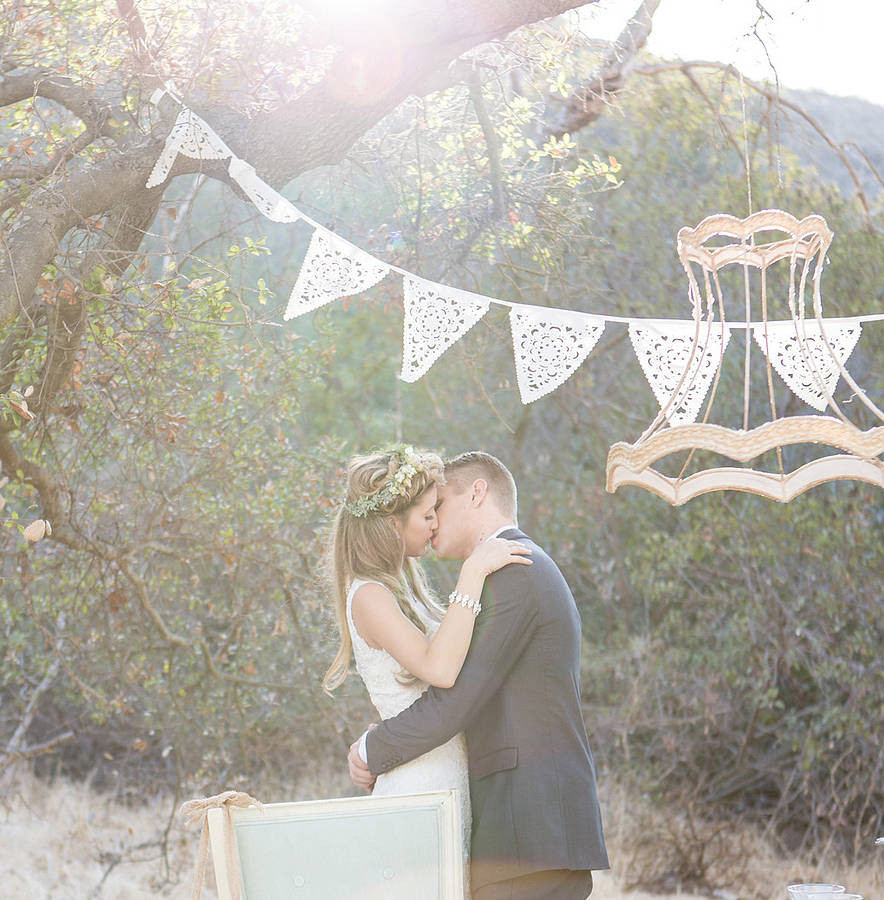 Source