Newlyweds: Financial Planning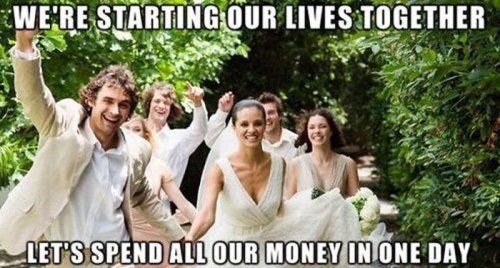 You're engaged! Wahoo!! Naturally, engagement means you can get excited about beginning your wedmin for the big day such as choosing your perfect venue, wedding dress and photographer. Without meaning to be a 'Debbie downer', it is also definitely worth putting some time aside before and after the wedding to sort out certain financial aspects that may affect your future lives together. Below are some of our top tips:


1. Insurance – Not only is it recommended that all couples get Wedding Insurance for the big day in case of any unforeseen events, but it is also worth looking at your other insurance policies, whether it is your health, household or any other forms of insurance you may require.

 





2. Make a Will or update your current Will – A 2011 study by unbiased.co.uk revealed 48% of married adults do not have a will – they are inexpensive to set up and ensure your assets are passed to the person you would want them to go to – worryingly around 10% of the population seem to think this will happen 'automatically' – your will can be updated as circumstances change and your family grows! Read more here.

 





3. Financial Goals – Whether you are looking at saving for the future together or investing in property or other assets it's worth considering your options and your plans for how you can achieve your goals. Being on the same page in this regard will save future money worries putting a strain on your marriage. 




4. Managing your financial affairs – Deciding on whether or not to have a joint bank account, who is paying the bills and assessing your current financial commitments as individuals and a couple are important starting points so you can be in position to set your financial goals. 




5. Raising children? - The average cost from 'cradle to college' in the south east a staggering £237,000 according to this LV.com report. This may be a while off but for those already considering children, it's worth understanding the indicative financial costs of bringing up those "bundles of joy!"

 



If you need any advice on the above or general support with your finances we recommend getting in touch with
Checkmate Financial Services
who will provide an independent initial consult on your existing financial arrangements and discussion about financial aspirations completely FREE of charge 0207 562 5857.