Looking Good and Feeling Great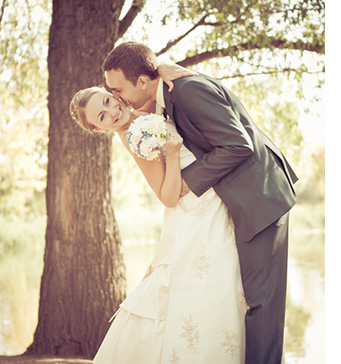 Your wedding day, possibly the biggest event of your life! It is safe to say that you will want to look fabulous! Use this Timeless Advice for some great tips on how to go about looking good and feeling great.

The basics

Deep condition your hair once a week! This will really help your hair to look brilliant on your big day.
Drink plenty of water, it's recommended 8 pints a day! Not only will this help you to stay hydrated but it's great for your skin too.
Work out a facial regime that really brings out the best in your skin. Do not be lapse when it comes to washing your face in the morning and evening. Try getting into a pattern where you cleanse, tone and moisturise. Use eye creams to help prevent lines and wrinkles and use an intense cream to really work on the rougher parts of your body- your knees, elbows and feet!
'Say cheese.' Cameras will be about all day long! Make your teeth look incredible with regular trips to the dentist, at home bleaching kits or even whitening toothpastes! A simple solution to achieving a perfect Hollywood smile!

'You are what you eat'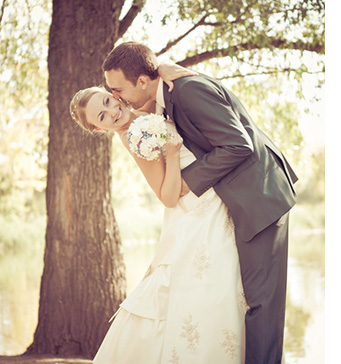 If you want to shed a few pounds or slightly tone up before your big day then you should really start thinking about a diet and exercise plan. Try eating cleanly for the months leading up to your wedding and cut back on the cakes and biscuits! Small changes will make all the difference!


If you are looking to lose a significant amount of weight then contact your local gym and see what they can do for you or try power walking for 30 minutes a day. A great 'do it yourself' programme is 'Couch to 5K'- a motivational app that you can download straight to your phone!


Wedding planning can be a stressful time. Foods such as cereal, yoghurt, fish, eggs and bananas can really help calm your stress levels! Try incorporating them into your diet to help you feel more relaxed and calm. Alternatively, why not try Pilates or Yoga?

Tips for those who wear glasses

Firstly, choose lenses that are non-reflective so your eyes can shine through. Avoid reactive lenses - remember that outside they will turn into sunglasses. If you have always worn glasses, do not make the mistake of wearing contact lenses just for your wedding day, or if you do, try them for several months beforehand to be sure you feel comfortable and relaxed!
A low bridge on your glasses will shorten a long nose.
A darker coloured bridge will narrow the space between your eyes.
A colourless bridge will make your eyes seem wider apart. To soften the angles of a square shaped face, look for gently curved frames. Avoid wide and rectangular frames that are over extended.
Round faces suit angular or geometrically shaped frames. Anything too wide will echo the roundness!
Those with long shaped faces should avoid frames that extend beyond the sides of the face and instead choose frames that are deep from top to bottom.



Make-up application tips

Always test and choose foundations in natural, not fluorescent light.
Yellow based concealers will even out skin tone by counteracting redness. Water base formulas will hydrate the skin and wont dry out and cake.
Use loose powder to start your day, then pressed powder during the day for quick touch-ups.
If you apply your blush before your eye shadow you will avoid overdoing your eye make-up.
Apply eyeliner before eye shadow. Your eye shadow will soften the line and create a more natural look.
Always apply blusher starting from the outer part of the face and move towards the centre. Use circular movements to avoid stripes.
When applying both eyeliner and mascara, open your mouth slightly to relax the eye muscles.
Close your lips when applying lip liner so that the pencil will not fall into the folds.
Apply lipstick to the centre of the lip first and work towards the corners. To help colour last, blot lips with a tissue and apply another coat.

More make-up tips


If using a professional make-up person, book your appointments well in advance and check how long your make-up takes so that you can schedule this into your Wedding Day diary.
For colour coordination, take along material swatches of your outfit or wear a similar colour.
Check your make-up in both natural and artificial light. In the summer you may need a more matt finish. In the winter or in the evening, something slightly heavier may give better results as will a lip gloss.
Do you want your eye shadow or lipstick to pick out a colour from your outfit or your flowers?
Will you be wearing your hair up? This will change your look!
Waterproof mascara is essential.
Your skins condition changes, so have a trial make-up no more than 2 weeks before your wedding.
Try new products or treatments several months, rather than weeks, before your wedding. (Any adverse skin reactions are best treated by your doctor.) Be wary of seeking advice from make-up counters, the assistants are trained to sell latest colours and products which may not be the most suitable for you!
Set aside a quiet, well lit space to prepare on the day. Wear something that buttons at the front so not to spoil your hair and make-up when you change. If your outfit needs to go over your head, be sure to cover your face!


Wedding day packages


Most salons and mobile beauticians will offer a special wedding day package for all members of the bridal party but you must book well in advance! The packages can include hairdressing, tanning, make-up, manicures, pedicures and face and body treatments. This can be a great, girly way to start your big day!
If you are going to tan then make sure you have tried out the colour beforehand. You do not want to be left orange on your special day!
Ask about the discount structure - does more cost less?
If using a mobile technician, does the cost include travel expenses?

There are lots of ways to help you look good and feel great, but most importantly it is about having inner confidence! If your husband-to-be doesn't like you how you are, then there would not be a wedding at all! Confidence is key!

Other Timeless Advice you might like to read:
'How to Avoid Having a Bad Hair Day'
'Wedding Day Repair Kit'