Style Ideas from the Stars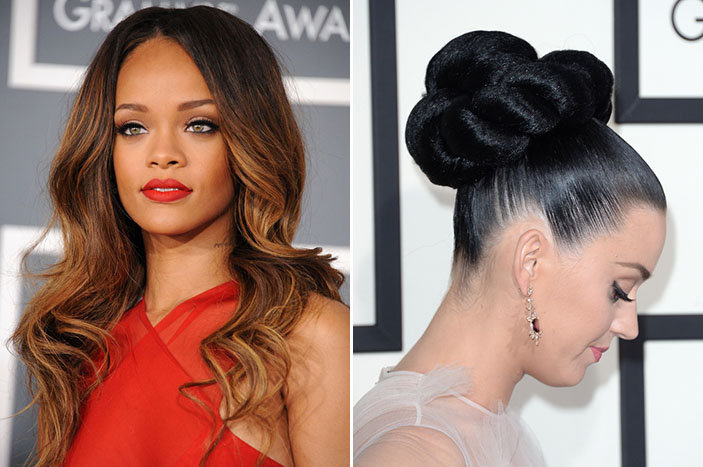 What better way to find the perfect, on trend wedding 'do than by checking out the latest trends on the red carpet? And thanks to January and February being jam-packed full of glitzy award ceremony events, we have a lot to be inspired by. So today, to help you out a little bit, I am going to go through some of my absolute favourites (although I have to say, it's been a tough choice so far this year!) from The Grammys, The Golden Globes AND The Baftas and hopefully you will come away with some fab ideas for your big day.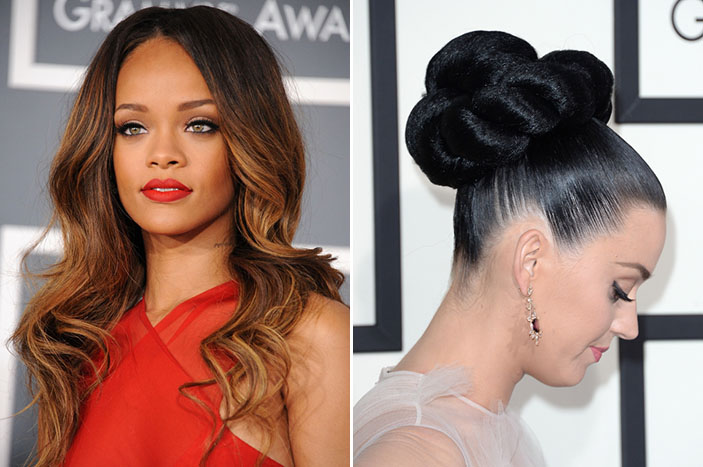 At the Grammys, we had a fantastic choice of styles, ranging from the hugely popular simple pony tail (with a little added oomph) or effortless chic as seen on Taylor Swift and Ciara, to the uber glam vintage inspired side swept curls and elaborate up dos sported by the likes of Rita Ora, Keltie Knight, Rhianna, Paris Hilton, Katy Perry – and more!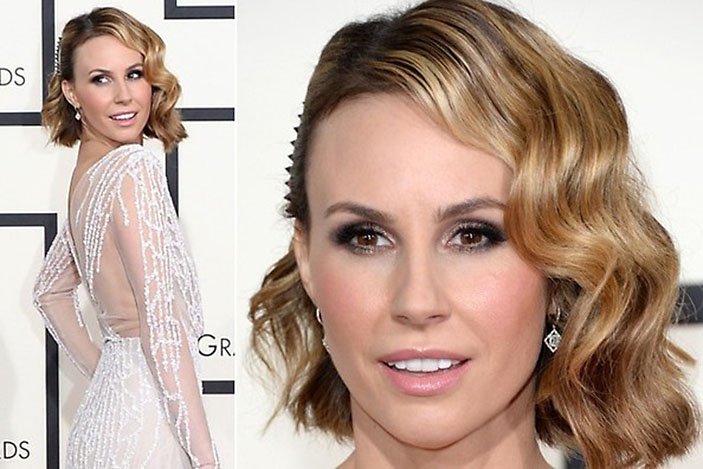 Keltie Knight's chin length waves teamed with a punky, studded accessory gave a pretty awesome mix of wonderfully retro feminine with a feisty twist – which I just adore. It is also a brilliant example of a fairly simple, yet striking hairstyle for those of you with shorter hair, which can often be hard to find. Just remember that to be a beautiful bride, you don't need to have waist long tresses! Shorter hair can (and will) look just as gorgeous and you just can't go wrong with a contemporary vintage style.

Effortless styles – be it ponytails, messy buns, topknots or loose waves are back in a BIG way for 2014 and can look just wonderful when teamed with and elegant bridal gown, making the whole thing look just that little bit more chilled out.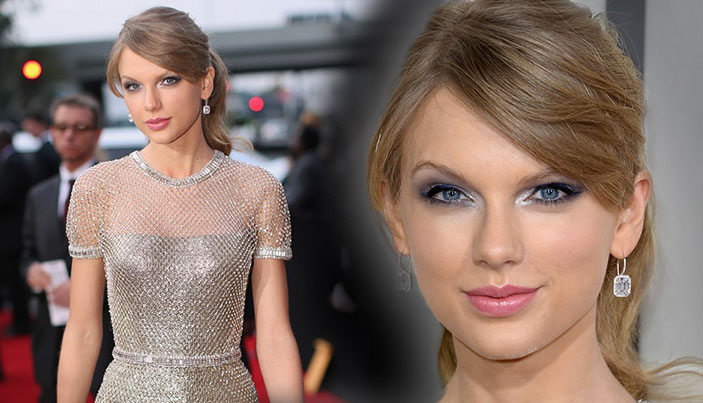 Taylor Swift's simple, wavy ponytail enabled her to go for quite flashy eye makeup to match her silver dress without looking over done – making the whole ensemble really eye-catching. This can work really nicely if you are opting for a quite heavily beaded or embroidered dress – sometimes, less is more! Ciara's practically unwound bun had a real sex kitten 'just got out of bed' vibe, which is a great alternative look when going for a fairytale princess gown. Why not mix it up a bit?!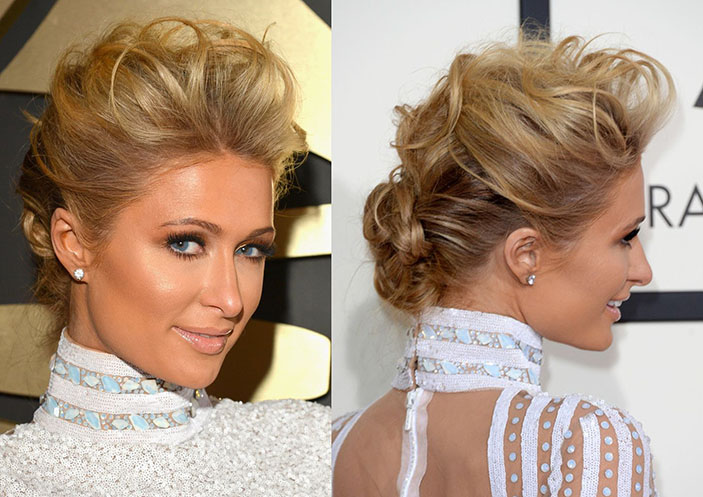 As for the up dos – Katy Perry's Elizabeth Taylor style twisted, high bun has got to be one of the most impressive and original looks I have seen on the red carpet so far this year. Practically Cleopatra-esque, this amazing design really was a work of art! If you're thinking of going for a kind of Grecian Goddess theme, then this is one you should really consider. Elaborate yet perfectly sleek with not one strand out of place made this a real winner – and can you believe that mirror shine?! Paris Hilton on the other hand went for an equally show stopping style but instead, opting for the tousled waves and messy braids. I would love to see this style for a romantic beach wedding.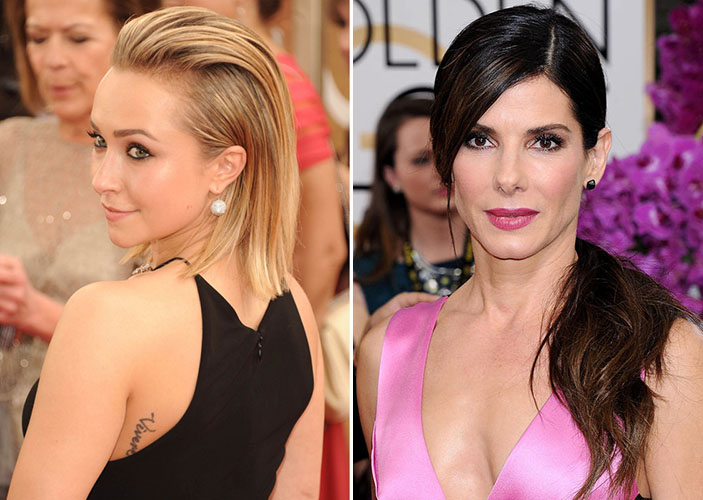 Moving on to the Golden Globes, Hayden Paniterre was seen rocking the slicked back wet look. A tricky one to get right and I have to admit, I am generally not a fan of this new fashion, but Hayden got it absolutely spot on and I can't fault it! Teamed with her simple, floor skimming, black dress and delicate eye makeup, this style looks exquisitely sophisticated and has totally changed my whole opinion on the trend. Her dangling, disco ball earrings balanced the high top and flat sides perfectly, making her just exude class.

Sandra Bullock has picked up on the ponytail fun, and aren't we all glad that she joined in?! This classic style complete with a face-framing strand pulled out to the front ensures that all eyes were on her stunning hot pink gown – a great choice, in my opinion! Amber heard went for a similar look to Paris Hilton, but with a matte finish and ruffled French twist rather than braids. The delicate backcombing to the front has added just the right amount of lift to make the most of her face shape and flawless skin.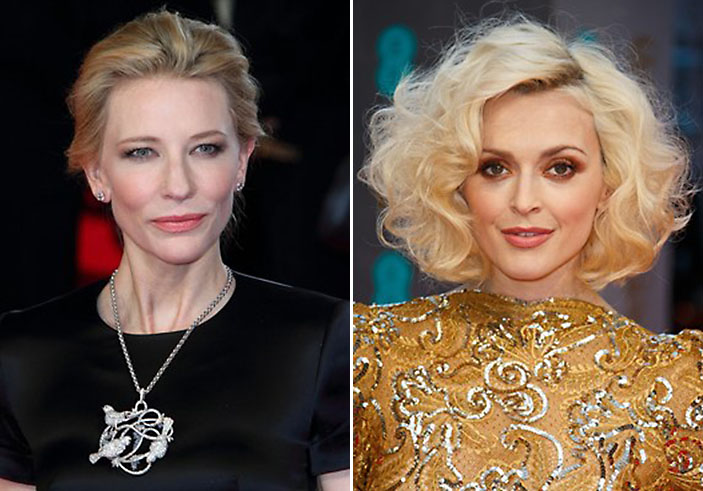 Last but most certainly not least, we have come to the innovative looks seen at The Baftas. Cate Blanchett and Uma Thurman were undoubtedly my two top choices for up-dos, showing off prime examples again of how to achieve a perfectly laid back yet undeniably foxy hairstyle, and once again that stunning mix of slightly messed up twists and braids incorporated into an impeccable, tightly fixed bun that reminisces of fairytales and mythical legends! I just adored Fern Cotton's candy-floss, 70s curls – so much fun and just brimming with character and charm. This works perfectly with her golden blonde locks and radiates that illusive combination of playful innocence and sexy minx!

All in all, there has been a plethora of amazing looks to choose from so far which is the best news possible for you brides to be. Make sure to try out a good selection of options with your hair stylist before settling on your final choice, as it is always worth pushing yourself out of your comfort zone, just a tad, during your trials; as you never know what you might discover!

Images courtesy of: Getty images, Jason Merritt, Blackbrides.com and Bellanaija.com