Danny & Andy's Beautiful Broadoaks Country House Real Wedding
On the 23rd of February 2019, Danny and Andy tied the knot in an utterly beautiful humanist ceremony at the gorgeous Broadoaks Country House. The grooms had planned for a winter wedding but the sun was determined to shine on this special day! We sat down with the lovely couple to find out all about their love story and their road to I do.
First things first, we want to know a bit about you! How long have you been together, what do you do, do you have any pets?
"We have been together for over 7 and a half years now, we met through an outdoor charity for gay/bi/trans men called OutdoorLads. Something we both still enjoy contributing to, to this day as we always have. The charity is very close to our hearts. I (Danny) am a letting agent, living in Adlington near Chorley and Andy is an engineer for a pharmaceutical company and he lives in Macclesfield."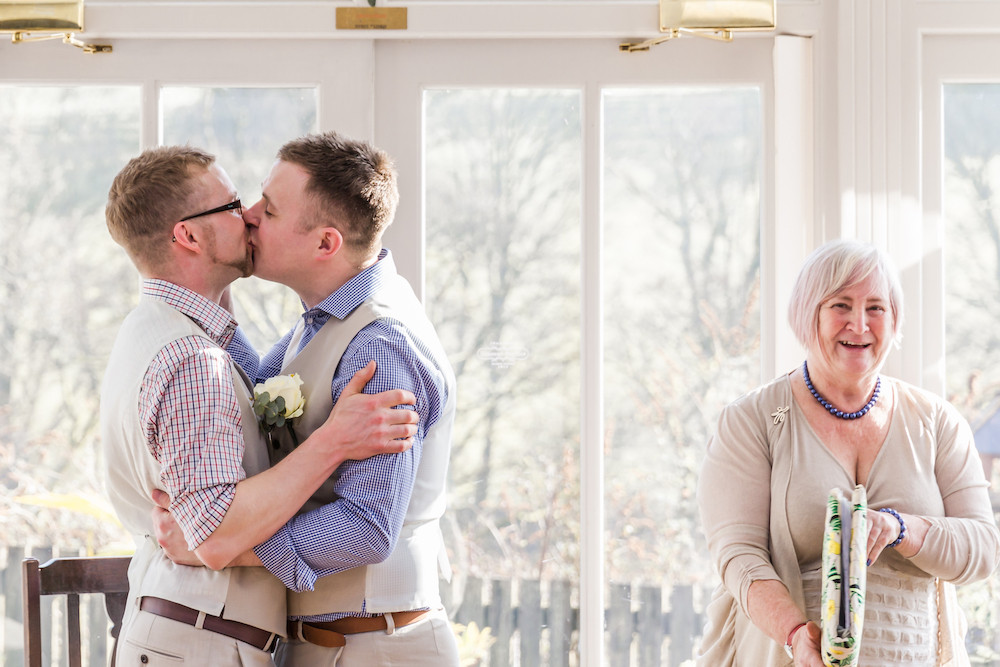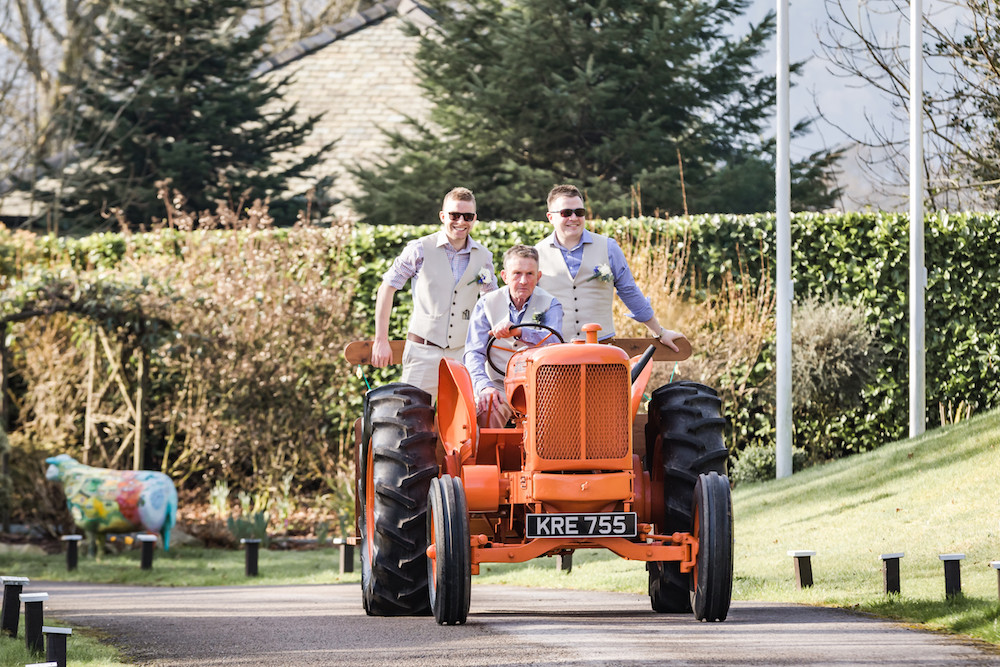 Popping the question - how did it happen!?
"We had been playing this game of cat and mouse if you will for a number of years, knowing from early on that we were both very content with one another. But the problem was, we both wanted to be proposed to and made no secret of that between each other and to all of our friends. Eventually, one of us flinched, thankfully!! We were leading an event for the charity OutdoorLads at Christmas time 2015, this event is where we offer to host up to 35 people in a youth hostel from Christmas eve for 3 nights, in case they don't have anywhere to be at Christmas or just fancy something different. It means we sacrifice our own family Christmases but this feels right to do whenever we do it.
I had returned from leading a Christmas day walk with majority of the group, Andy had been back at the hostel starting dinner preparations. On return he suggested we "open our presents", to which I discouraged and said "no, we don't have time, we have to get dinner sorted". Relenting, we went to our room where Andy gave me a card, with his wonderful proposal written inside. I couldn't believe what I was reading at first….of course I jumped to say yes. The sudden reality of then having to cook dinner for 35 people and somehow tell parents and other friends became apparent.
After successfully managing to tell parents with awful mobile reception at the hostel we stayed at – we announced our engagement to our fellow OutdoorLads at dinner once we had all say down. The room erupted into cheers and congratulations. It was very special."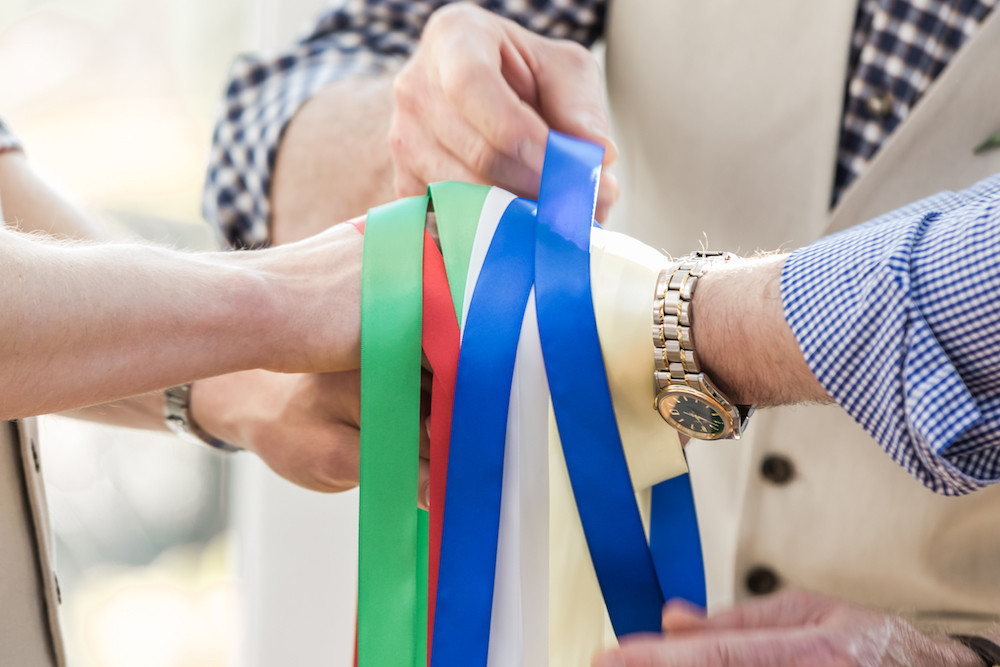 Tell us about your big day! We want to know everything!
"We chose to have our celebrations at Broadoaks Country House in the Lake District having spent some time looking at venues in the area. We knew we wanted the lakes that was for sure. We got married Feb 29th2019 in what was hoped would be a Wedding in a Winter Wonderland. Some snow on the mountains in the distance, frost on the ground and a chill in the air but a crisp blue day that only winter can provide. We were so wrong….
The week of our wedding and the majority of the following week was somewhat of a winter heatwave in the UK, for the time of year that's for sure. So much so, that our weekend itself was bathed in sunshine, no wind and for most of it, cloudless skies. Enough so and warm enough for people to be sat outside in just t shirts and verging on the need for shorts and suncream. It was so bizarre and couldn't have been further than what we had expected but that being said, the wonderful weather was most welcome.
We had the whole weekend at our venue with close family and friends staying the night before meaning we could make the whole thing very family orientated. With the majority of our guests arriving on the Saturday morning, we revealed our big secret, our arrival "chariot" was a brilliant orange tractor, driven by Andys father, Jon. The tractor has significant family significance, in that it was the very tractor that Jon sold many years ago to pay for his wedding to Andys' mum, Shirley and to help them start their life together before any of their sons were born. The tractor was reacquired for Jon's 60ththanks to some careful planning between the brothers – a project of restoration was needed as the tractor had been kept in poor condition in the decades since it was last in Henshall hands. In all her glory, Allis, the tractor, was our mode of transportation to the front door of our venue down the driveway basking in sunlight. It could not have been better.
We then had a humanist celebrant to conduct our wedding celebration, as we had been formally married in a brief ceremony with two very special friends as witnesses the day before. This allowed our ceremony to be all about our love for each other and some special family inclusive features such as our Handfasting – where 5 of our family members wrapped ribbons around our joined hands as a symbol of the bond – the tying of the knot for our wedding.
Our table decorations had a very outdoor theme with worn old (but clean) boots on the tables decorated with acorns, LED lights and complemented by freshly cut daffodils. Our favours were little plant pots with s fresh narcissus bulb shoot poking through the soil with the hope our guests would take the bulb away after the wedding and plant in their gardens. A permanent reminder of our nuptials and their part in it."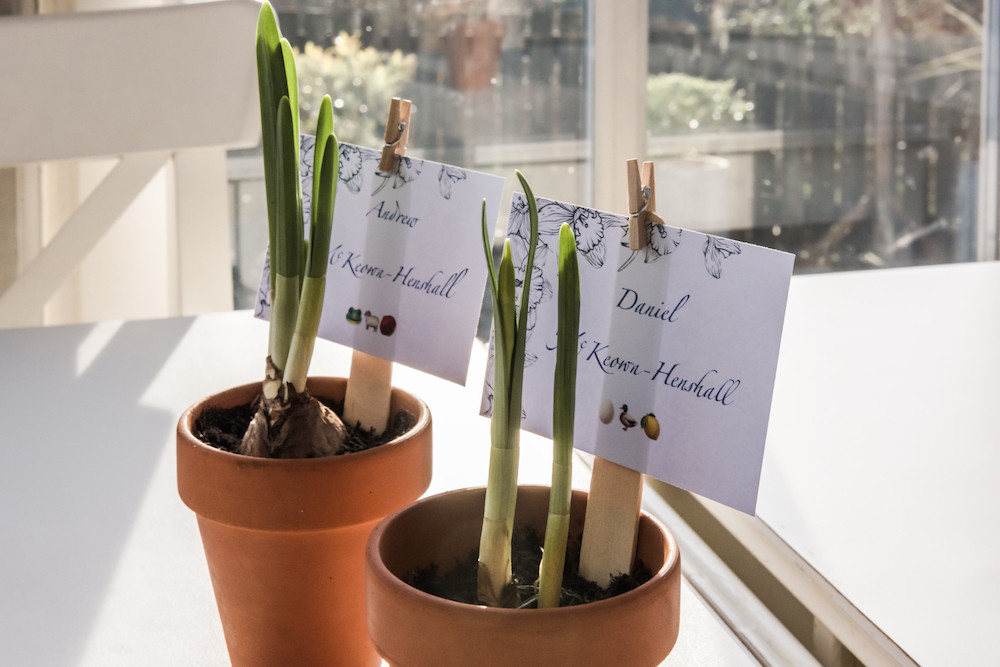 What was your favourite/most memorable moment of the whole day?
"By far, arriving on the tractor with Andy's dad at the wheel, was so special – looking ahead at our venue in the sun with our family cheering on from the terrace in front of the building."
Why did you choose your venue, and what was important to you when making the decision?
"We knew we wanted the lakes that was a certainty and although it wasn't part of our search criteria, the fact that Broadoaks was very openly gay inclusive in its advertising was very appealing but driving down the driveway for the first time on our viewing, we knew it was the place we wanted and we had not even walked through the door. Interestingly, the day we viewed the property, the sun was shining on an unusually warm early March day. Quite ironic you might say, considering the lovely weather we had on the day of our actual wedding some 2 years later…."
The suits - where did you find them, and what was it like? Who did you take with you suit shopping and how did you find the whole experience?
"We kept our suit shopping very simple, we wanted everyone to be comfortable rather than feeling too formal as weddings can sometimes be. So we opted for waistcoats and trousers with checked shirts and no tie. We asked everyone to follow a similar line of thought with their own dress code although this was very relaxed. Our colours of waistcoat and trousers were a natural cream linen colour, not too far from ivory. Very much a relaxed plan. Our main colours for the day were blue and yellow, with the yellow bringing in the daffodils which were a big part of our day in so many ways."
When planning your wedding, did you have any help or did you do it mostly yourselves? What were the most important aspects for you?
"We did everything ourselves mainly but worked with our wonderful photographer and celebrant Valeria Turner from Humanists UK. Working with our venue, Broadoaks was definitely the best part as they knew everything we wanted and were so flexible on how we could use the venue from having our own flags up on their front lawn flagpoles to arranging drinks for our guests on arrival to their rooms. It was such a joy. The most important part was ensuring everyone was happy…..we went to so much effort to plan for every eventuality including confirming with the venue that in the event of snow or ice, they would have a plan to keep the venue safe and functional, this in the end was not needed due to the wonderful sunshine but again this demonstrated the professionalism of Broadoaks and the team."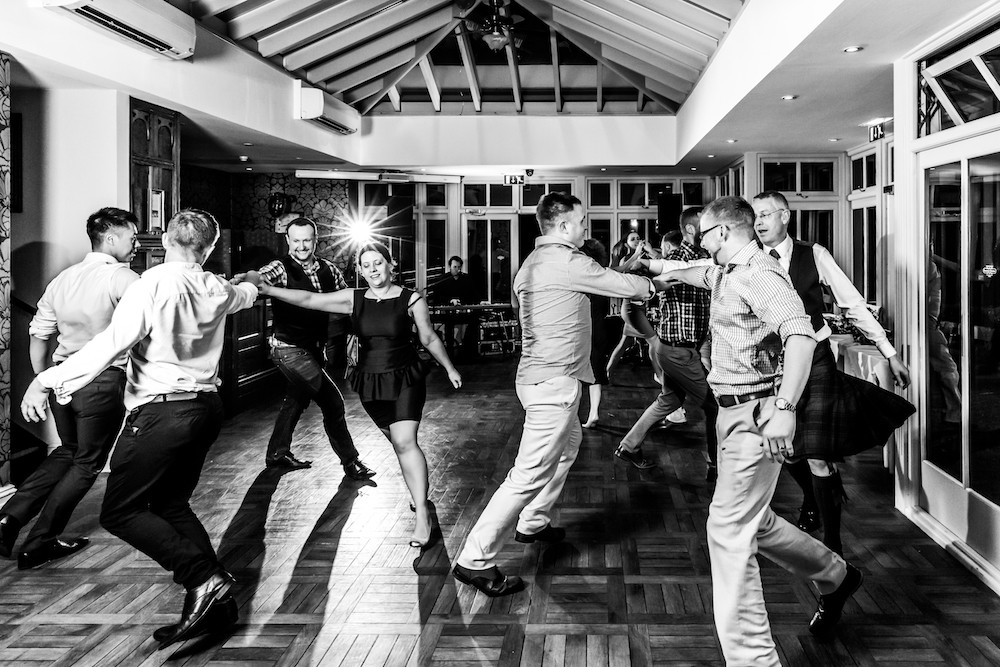 If you could give any piece of advice to current bride or grooms-to-be, what would it be?
"We would say, allow yourself plenty of time and don't think that 2 years is a long run in, this worked perfectly for us allowing us time to explore numerous ideas and plans without the fear of "the wedding is in a few months" coming to mind. So that once those few months came, we were ready and organised allowing a totally relaxed process. And don't be afraid to think out of the box and change things – just because it is tradition, doesn't mean you cannot change it and make it how you want it. Tradition is only that way because everyone does it that way. Make the day your own and make sure most importantly you allow yourself on the day to relax and let whatever happens, happen. Your venue staff, your family and your friends will deal with anything that needs to be dealt with….but enjoy it, everyone else will, no matter what happens so it is important you both do the same."