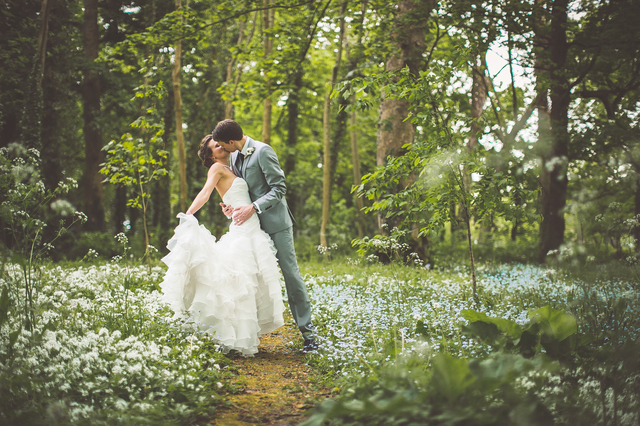 Ben & Judith's Cosy Cotswolds Wedding
---
With it's breathtaking countryside and it's iconic sandy stone buildings, there's no questioning that the Cotswolds make for the most stunning wedding backdrop and Ben and Judith's special day was no exception. Filled with country home-spun touches bringing the outdoors in, this wedding feels delightfully cosy and welcoming with a distinctly laid-back, family feel. With the simplicity of both the ceremony and the reception taking place at the gorgeous Hare and Hounds Hotel in Tetbury, the venue struck the perfect middle ground between having real historical character and charm but offered a fresh and neutral base that really enabled the couple to put their own stamp on the venue. With the wedding taking place on a beautiful Spring day in May, the touches of yellow and blue dotted around the venue in delicate jam jars and on bunting created a wonderfully fresh, happy and light-filled setting.
The lovely couple Ben, a Business Analyst and Judith, a Wedding Photographer herself met in their first year of University in Cheltenham, where they both played Basketball. Judith recalls fondly that one of the first times she saw Ben was on a night out just before Christmas where he was on his knees singing to her "All I Want for Christmas is You" - and the serenade must have done the trick as two months later they were a couple! Eight years later, Ben spontaneously popped the question on top of the space needle in Seattle.
So what made you choose the glorious Cotswolds?
We have always really liked the Cotswolds and it's where we met. The Hare and Hounds Hotel was the perfect venue for us because of it's stunning setting, beautiful décor and it meant our guests could dance late into the night without having to worry about getting home.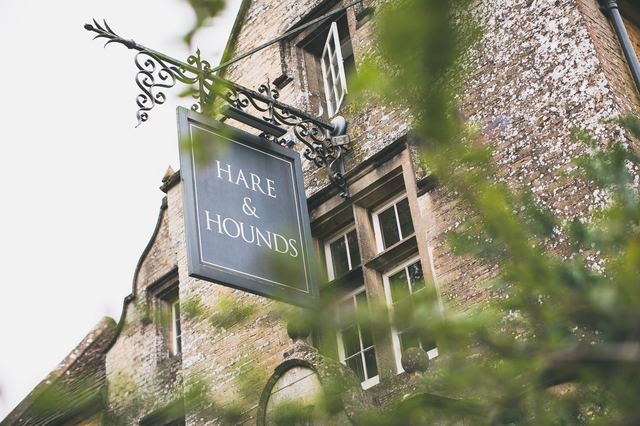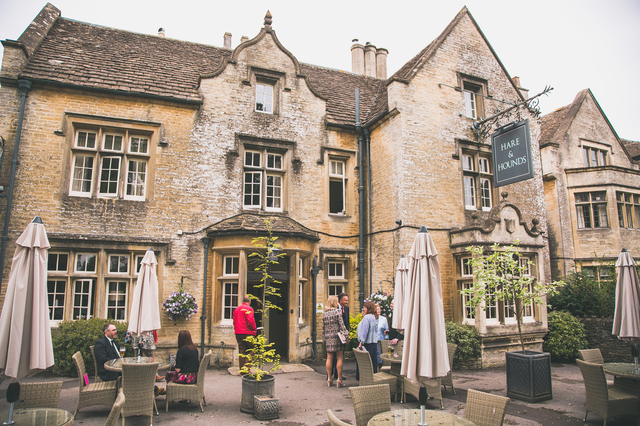 How did you go about scouting out the perfect dress?
I took my Mum and Maid of Honour to a wedding dress shop called Assepoester (Dutch for Cinderella) back home in Holland. It's true what they say, you don't know which dress is the right one until you try it on! I hadn't even given my dress a second look when I first saw it – it wasn't until my Mum asked me to try it on that I was sold!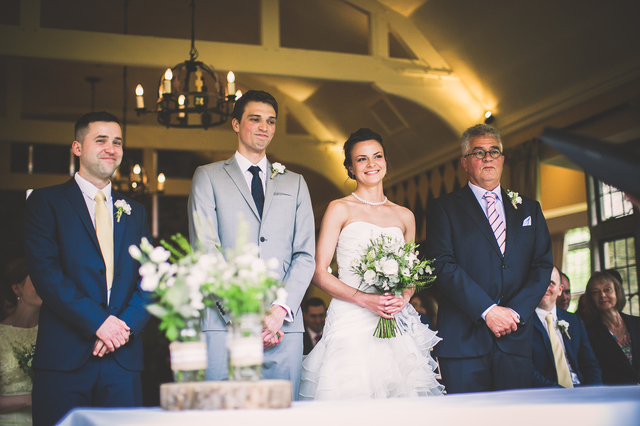 A classic question for any British Wedding - How was the weather?!
It turned out to be the perfect weather for our wedding day – not too much harsh sunlight as this can be bad for photos, but the perfect balance between clouds and sun and a lovely Spring temperature. After the ceremony everyone went outside to enjoy the sunshine and lovely grounds of the Hare and Hounds.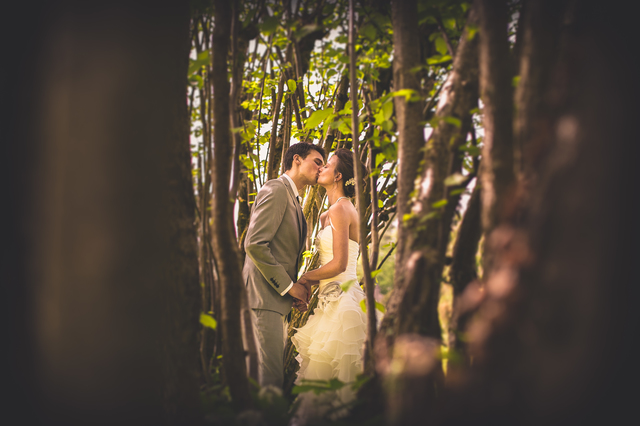 Tell us a little bit about your wedding reception...

The wedding breakfast consisted of a three course meal and it still is to date, the best wedding breakfast we've ever had (and not just because it was our own wedding!) It was served in the Westonbirt where we had kept décor to a minimum, using the flowers from our ceremony pew ends as centre pieces. We added some last minute bunting which transformed the room and gave it the festive look that it really needed. In the evening we had a DJ and everybody was up on the dancefloor! Our first dance was to 'Lucky' by Jason Mraz.
What made you choose the decor you did?
I wanted a colour scheme that matched the season (Spring) and I've always loved yellow. It's a very happy colour and works very well with a light shade of blue as a Spring wedding colour theme. As time went on I found myself adding more colours so the overall theme might not have been so obvious on the day! Our cake was a naked lemon cake made by my friend Liz and inspired by GBBO winner Frances Quinn's Summers day wedding cake. It was covered with flowers and looked absolutely amazing (and tasted good too!)
Which suppliers were most important to you?
As a wedding photographer myself, I was extremely critical when it came to choosing the right photographer to capture our big day. In the end I left it to Ben and I have to say I genuinely couldn't have been happier with the images that Jamie Dodd provided. He is so very talented and on top of that just a really nice, down to earth guy.
What was your most memorable moment of the whole day?
There were so many great moments throughout the day. The first time we saw each-other, listening to speeches and hearing everyone's laughs, introducing family and friends to each-other – generally just spending the day together with all the people we care about, some of whom travelled very far to be with us on the day.
Finally, do you have any tips for future brides-to-be?
Don't sweat the small stuff. Who really cares what the centre pieces look like? We spent far too much time deciding on these kinds of things when actually, on the day, we couldn't care less! It's about marrying the person who you want to spend the rest of your life with and celebrating that with all the people you care about. That gives such an all-time high that nothing else matters.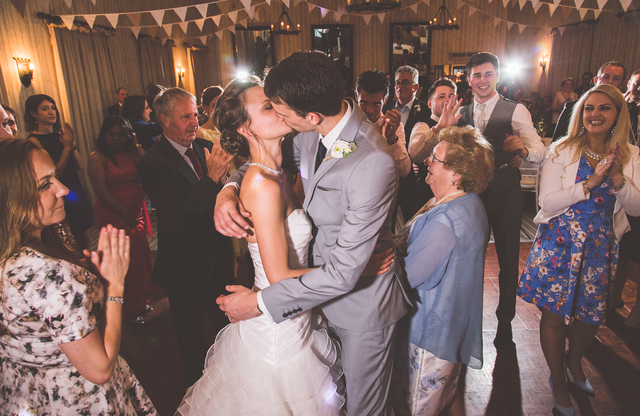 The Suppliers
Photography: Jamie Dodd Photography
Venue: Hare and Hounds, Tetbury
Florist: Ivory Flowers, Bristol
Catering: Hare and Hounds, Tetbury
Cake: Liz's Cakes, Bristol
Music: Sound Revolution, Bristol
Dress Designer: Linea Raffaelli
Jewellery: Jon Richard
Shoes: Rainbow Club
Hair: Abi Andrews, Tetbury
Bridesmaids Dresses: BHS
Groomswear: Next
If you'd like to check out the bride Judith's own wedding photography work, head over here to her website.