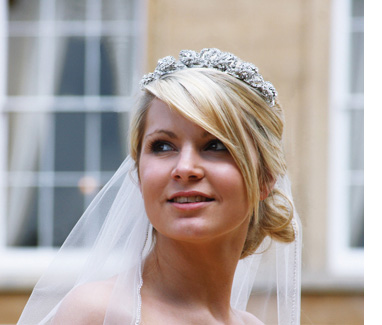 Crowns Make a Comeback - Wedding Tiaras
---
After a number of years of brides opting for sparkling clips and side headpieces it is great to see more and more brides going back to the original tiara. As bridal designers we have noticed a real resurgence in the last year of brides wanting a crown for their wedding day (in fact this has been growing slowly since the latest Royal wedding).

The tiara is an example of some the earliest jewellery worn in Europe (early crowns and coronets were worn in ancient times as a regal version of the laurel wreath worn by Apollo). At this time they were designed by taking inspiration from nature; flowers, leaves or feathers crafted from gold and precious stones. They have since become a symbol of beauty and power and became forever intertwined with the idea of marriage due to its symbolism.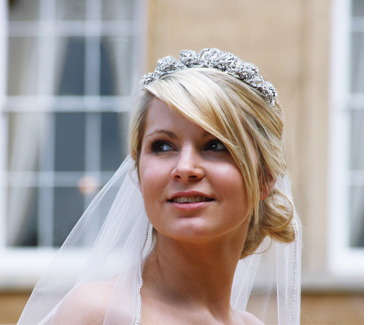 By brides wearing tiaras or crowns on their wedding day it was symbolic of the marriage and really a rite of passage. This custom was established by the beginning of the 16th Century in the UK. Only married women could wear tiaras and it represented the end of an innocent maidenhood and the start of married life.

The design of a tiara could even carry a hidden meaning, as in the Victorian times different flowers were a code for love messages and tiaras were often crafted with a floral theme to carry this code. A tiara designed with Laurel leaves would mean triumph of love and if set in diamonds would represent love for eternity, whilst roses meant every aspect of love and set in rubies would mean passion.

From our point of view this revival in the tiara is just wonderful - it allows us to design fabulous statement pieces - and to advise brides on their own secret messages - or exactly the right style for their big day.

For brides having the traditional wedding (castle or stately home) and regal dress we recommend vintage style crowns; tiaras designed with inspiration from antique Regency and Victorian styles. Ancient Grecian designs can look just wonderful with floaty dresses for an overseas beach wedding, whilst contemporary creations look perfect with more modern dress styles. Abstract tiaras with plenty of sparkles are the best match with heavily encrusted bridal gowns and for sparkling winter weddings. Tiaras can even be worn effectively with a 1920's style wedding dress - whilst most brides reach for the Art Deco clip, it can look much more original to wear a crown but over the brow just as women in the Jazz era were doing.

So there really is a tiara for every type of wedding. My advice would also be that brides can wear decorative clips or Alice bands at other times in their lives but the only time that you can really wear a tiara is the wedding day - so why not make the most of the opportunity as there is nothing better than putting on the tiara as the last finishing touch before walking down the aisle. It's also really nice to be able to have a family tiara after to be able to pass down to a daughter on her wedding day.

So the tiara really seems to be the bridal accessory of the moment, they have re-emerged as the front-runner for brides everywhere, which makes perfect sense. They have always represented glamour and majesty so they will of course make any bride feel special on the most important day of their lives.