Catering - Your Wedding Plans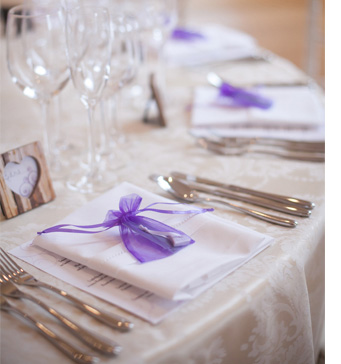 If you are recently engaged and just starting to plan your wedding, the catering is generally the last element to organise. Most brides- to- be have some idea of the type of wedding they would like to have but of course it will depend on budget, time of year and getting their partner to agree on everything! It is an important day for both equally so the first thing is to list your priorities and 'must haves' for the day itself. Much of the choices will depend on budget so it is important to set the budget early on.

At this point take advantage of your chosen caterer who can help plan every aspect of your wedding. After all it is what they do all year round. Here are a few helpful tips and the order of what to organise once you have chosen your caterer:


Venue

If you haven't found a venue, the caterer can help you do so. If it is a summer wedding, it is always nice to have outside space. Many venues are booked a year in advance, so the further in advance you start looking, the more likely you are to get the time, date, and cost that you've planned for. Take into account the space that is needed for your guests together with a good looking after dinner bar, live band or DJ and dance floor.


Guest List

The number of guests you will be able to invite might depend on your final choice of venue. However, it's a good idea at this stage to start counting family and your closest friends, and get a sense of how many essential invites you have.


Meeting Your Caterer

It is always a good idea following an initial meeting and chat to meet your caterer at the venue. They will help give you a visual idea of colours, space and a general run of the event. They should suggest a further meeting at a later date and get all the suppliers together – florist, lights, music etc.


Flowers/Music

Your caterer can advise on a florist, theming or entertainment and you may be restricted on using those accredited to the venue. Remember to co-ordinate the flowers with your chosen key colour or use a neutral shade.


Tasting

This is probably the most important meeting you will have with the caterer. Not only will you decide on your menu but you will discuss all the final things to do ie: table plan, place settings, the order of the day; advice on managing photographs, drinks, the cutting of the cake, after dinner bar and finish. Usually the caterer will offer a small choice of the style of menu chosen and they will endeavour to arrange a sample flower arrangement


Table Plan

You may want to simply number your tables but it is quite fun to name them. The names could be either places you have been together, your favourite trees or flowers, pubs, animals or wines.


Wedding Cake

This does not have to be traditional and is very often is a substitute for dessert which helps the budget. Your caterer can cut and plate the cake and add some pretty berries and crème fraîche to finish it off.


Drinks

Don't feel you have to offer your guests a large variety of 'open bar' drinks. Keep it simple as it is more cost effective. Your supplier should offer you wines and champagne on a 'sale or return' basis. You don't pay for what you don't drink. However, an after dinner cocktail bar does add to the party atmosphere.


The Day Before

This is a day to remain calm! Trust your caterer. They have taken care of everything and will co-ordinate all suppliers and everything at the venue. They should be given the table plan, name cards, any favours or gifts, drinks, dietary requirements, final numbers


The Day

Just enjoy!