7 Charitable Ways to Give Back on Your Wedding Day
With UK weddings alone costing an estimated £10 billion a year, I'm sure we're not the only ones wondering how we can give back and benefit others through our wedding day. To get you inspired, here's a few suggestions on ways you can bring happiness and help to those in need.
1. Donate your wedding flowers
Once your gorgeous wedding flowers have finished their role beautifying your special day, why not let them brighten someone else's day? The wonderful team at Floral Angels are a non-profit organisation who bring happiness to those in need through recycling donated flowers from weddings, events, florists and retailers. They restyle the flowers into beautiful new bouquets and deliver them to women's refuges, care homes and hospices within London and the Greater London area. To see how you can donate your wedding flowers and make someone else's day, find out more here.
Image Source: Daily Mail
2. Share your foodie leftovers
There's no doubt when it comes to catering for a wedding we often overcompensate how much people actually end up eating. Olio is a free app that connects local neighbours with each other so surplus food can be shared, not thrown away. All you need to do is list on the site what you have leftover and they'll come to you to collect. So if you care to share, find out how to here.
Image Source: London On The Inside
3. Favours as donations
Make a difference for a good cause by making your table favours charity donations. A particular charity that is close to our heart is Plan UK who are on a mission to end forced child marriage across Africa, Asia and the Americas. Place one of their ring favours on each guests place setting and donate £2 per ring to the charity. To find out more about the cause and how to get the rings, head over here.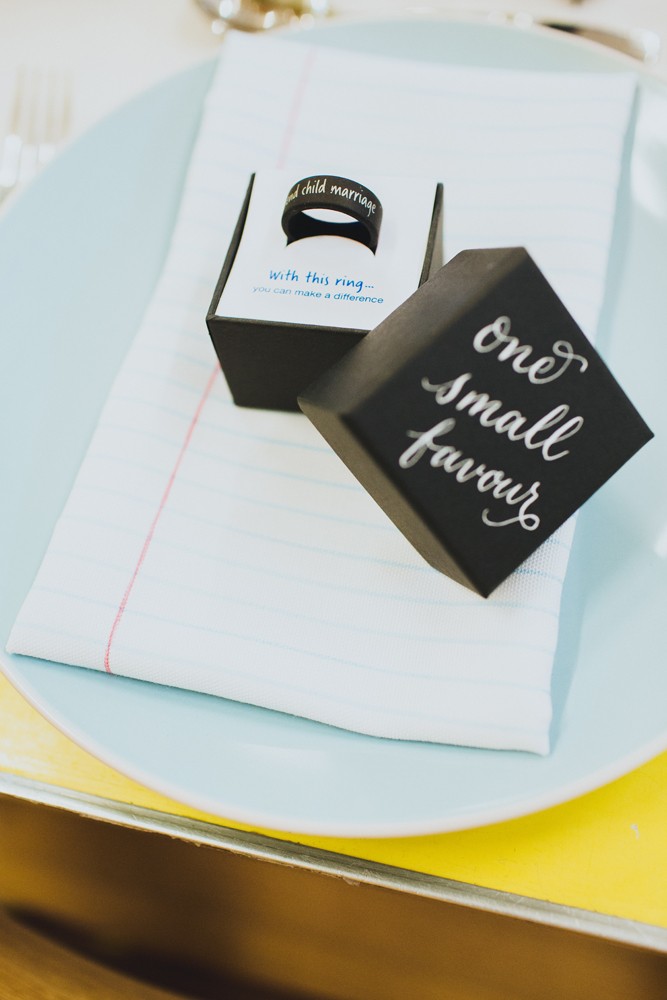 Image Source: Rock 'n' Roll Bride
4. Donate through your dancing shoes
As I'm sure many brides will agree, flip flops are an absolute saviour on your wedding day for dancing the night away in comfort! So why not invest in a pair that does some good for others too? Gandys is a company run by two brothers who tragically lost their parents in a terrible Tsunami in Sri Lanka. In light of this the brothers set up flip flop brand Gandys, with a percentage of proceeds going towards building orphanages both in Sri Lanka and worldwide. To help the cause, take a look at Gandy's selection of flip flops here.
Image Source: Boo and Maddie
5. Donate your wedding dress
After feeling like an actual princess for the day, it seems a shame to store your dress away when you could help someone in need feel just as special too. Wish for a Wedding is an amazing website where you can donate your wedding dress to someone struggling with a terminal illness. With often such a limited time left to experience these wonderful milestones in life, the difference you'll make to that person's lasting memories are huge. It really is such a worthy cause and you can out more about it here.
Image Source: Rosa Novias
6. Create a donations table
If you have a few charities close to your heart, perhaps consider having a donations table and give all your guests a coupon. They can then decide which charity they would like to donate to and you can match that coupon with a pound donated to their charity of choice.
Image Source: Philip Ficks
7. Support family business and charity through your favours
Started as a retirement project, The Spice Kitchen are a family run artisan spice and tea company, run by mother and son duo Sanjay and Sashi who speciallise in creating small batch fresh ground spice and tea blends. Using old authentic recipes and Shashi's 50+ years of cooking experience, by choosing their beautiful wedding favours you will not only be supporting a small business but charity too. Through their work, the company donate to several charities, with their main charity being FRANK water, who build sustainable water projects in India and Nepal.