Royal Wedding Designer advises on dressing your Bridesmaids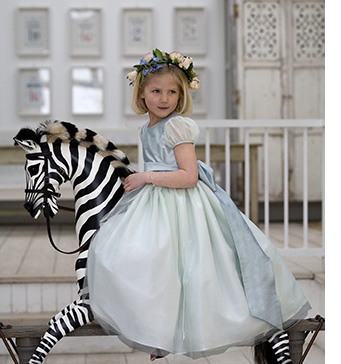 By Nicki Macfarlane
With the summer holidays behind us and autumn well and truly here, many brides' thoughts are turning to planning the details of their weddings next year. One of the many exciting things to contemplate is deciding what your entourage will be wearing.

There are many ways of dressing your flower girls, bridesmaids and pageboys so that they compliment you, the star of the show, in the most effective way. However you do it, there should be a common theme running through their outfits - either colour or style but it doesn't have to be both. Be adventurous.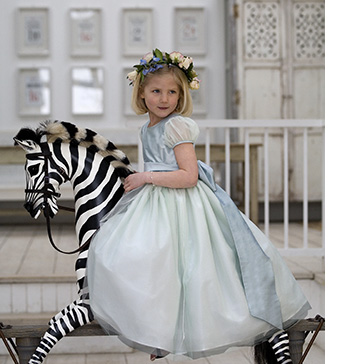 Your adult bridesmaids will thank you for choosing a fairly simple style that makes them feel both comfortable and glamorous. It is effective if they wear similarly cut dresses in the same colour, but with perhaps different necklines to flatter each of their figures. They will all feel more relaxed with a particular style for their bust size and it offers them some individuality. The alternative is for them to all wear exactly the same style dress but in a selection of toning colours. Choosing the right colour for them can be great fun and should reflect your own preferences. There is no point in dressing them in acid yellow if you wouldn't be seen dead in it yourself – I think your guests would be a little surprised. While they must all look wonderful together in the church and photographs, they should each look stunning on their own.

The flower girls are the link between you and the adult bridesmaids, so an echo in both directions works well, though if you are wearing lace it is probably better that they don't. It looks very elegant to choose a pretty neutral colour, like silver or champagne, for the dresses and introduce the colour with the flower bouquets. If you would prefer the little girls to wear the same ivory or white as your dress, then a subtle link such as shoes dyed to match the adult bridesmaids is enough. Most small girls are thrilled to wear almost anything so long as they feel like a princess. Their wish list usually involves pink and bling, but a swishy skirt can divert them quite easily if that isn't your thing. In my experience, even those who initially insist that they 'don't do dresses' invariably end up pleading for more petticoats and a tiara!

There is only one golden rule with pageboys – keep them comfortable. They are much more particular than girls and hate being trussed up with fussy clothes, much preferring styles that they recognise. You will have happier little faces if they are wearing a cool pair of French shorts or ¾ trousers with an open neck shirt and plimsolls. In the winter Mandarin collared jackets look smart and come under the 'acceptable' heading for boys. Again, just a small link to the girls looks effective. Maybe a cummerbund or waistcoat to match the girls, keeping the rest of their clothes neutral.

Have fun – and remember that it is your wedding, so don't be swayed by everyone else's opinions!