Bridal Accessories - A Guide to Materials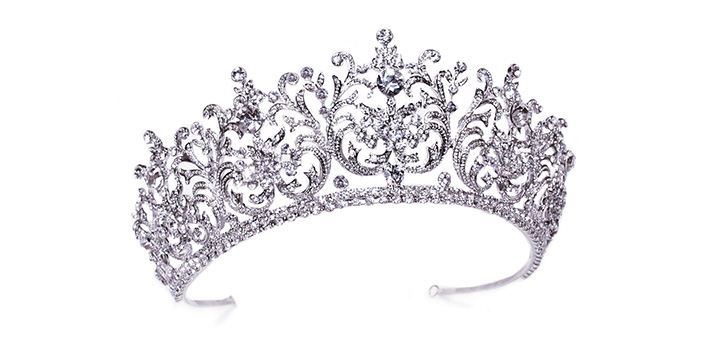 With so many different styles of bridal accessories available it can be so hard to make your choices when you come to buying (especially as these are not the sort of things that we buy everyday.) Many brides are not sure what most bridal accessories are made of or how they are produced. It can be really hard to tell the quality pieces from ones made from inferior materials (especially if buying over the internet). Here is my definitive guide to help inform brides to make those choices easier.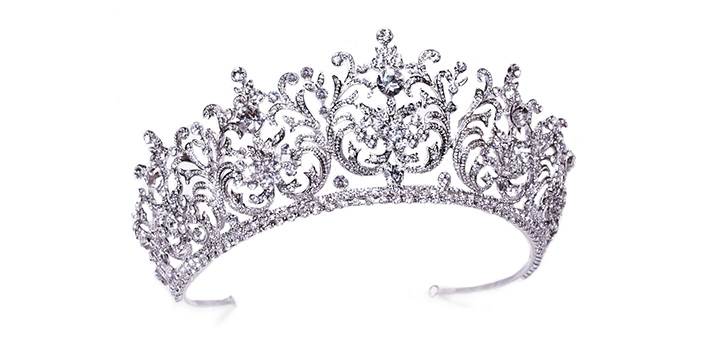 Metals


Every tiara, hair comb or piece of hair jewellery is usually made with a type of metal as its main material. The particular metal used can vary from company to company. Plating with precious metals will always produce the best results (and help to avoid allergies). We only produce pieces plated in real silver, rhodium or 14k gold.

Real silver will always look so sparkly and bright - this always looks great with paler dresses such as white or off white, and will really compliment sparkly dresses with lots of beading detailing.

Rhodium is a metal which is darker than silver - it is part of the platinum family of metals and gives an antique silver finish - so for any brides looking for a vintage or antique look, items plated in rhodium would be perfect. Rhodium is also a hypoallergenic metal so I would always recommend this to brides who have any worries about allergies; some people can have a rare allergy to silver but not rhodium (at least I have not encountered it in over 10 years of working with this metal).

Silver, whilst being beautiful and bright, does require some upkeep over time - we recommend polishing tiaras or jewellery with a silver polish cloth every few years, however rhodium does not tarnish so will never need cleaning.

14k gold is a lovely warm metal and really compliments darker cream or champagne dresses. Again allergies are unusual with real gold, however some companies use brass or an alloy of metals to produce a gold colour. Similarly alloys of silver coloured metals including nickel are sometimes used by other companies. Nickel can cause some really nasty allergic reactions (including blisters) which is the last thing that any bride would want on her wedding day - so always check with the company you are buying from what metal has been used to plate your tiara and ask them to verify that it is nickel free.


Stones


An array of different stones can be used in tiaras and headpieces. We use Swarovski crystals and triple rated simulated diamonds when we are crafting our designs - this is because Swarovski crystals are the best Austrian crystals - they have a superior shine and brightness. We use them in different ways - we use the cut crystal beads which light reflects through for extra sparkle and crystals, which have been cut with facets to look like diamonds. The triple rated simulated diamonds are the highest grade of zirconia - this is the closest you can get to real diamonds without the real diamond price tag (up close it's really hard to tell any difference). Some tiaras are made using paste (glass like diamante) or lower grade crystals - if you are opting for an expensive tiara check that it has been made using Swarovski crystals or the highest grade simulated stones to make sure you are getting value for money. Some companies produce tiaras with coloured stones - we tend to stay away from these and advise brides that are thinking of pink or blue stones to match a sash or dress etc… to instead go for clear stones as it is almost impossible to match stones the exact same colour and a mismatch will always look much worse than clear stones, which go with everything.


Pearls


Pearls can look really gorgeous on hair accessories - I love them and they always compliment lace dresses so well - but how can you tell real, freshwater and fake pearls apart? Basically freshwater pearls are easy as they are always irregular shapes - you can get different shapes - such as potato pearls (roundish) rice pearls (oval) and baroque pearls (large irregular) - there are many styles - but they are real and lovely to use in bridal accessories (we use a lot of them). If you see perfectly round pearls used in bridal accessories they will most definitely be fake (unless there is a huge price tag). This is not necessarily a bad thing - there are some wonderful high quality simulated pearls - we use simulated ones made with heavy glass to even be the same weight as real pearls and they have a natural lustre finish - they look so real. We use these as the only way to get perfectly round real pearls is to use sea pearls, which are too expensive for most brides for their tiara. Some cheap plastic pearls are used in the bridal market though so check when you are buying what the pearls are made from if perfectly round. If your dress is white and you want white pearls to match you will need to have simulated pearls, as real pearls are an ivory colour.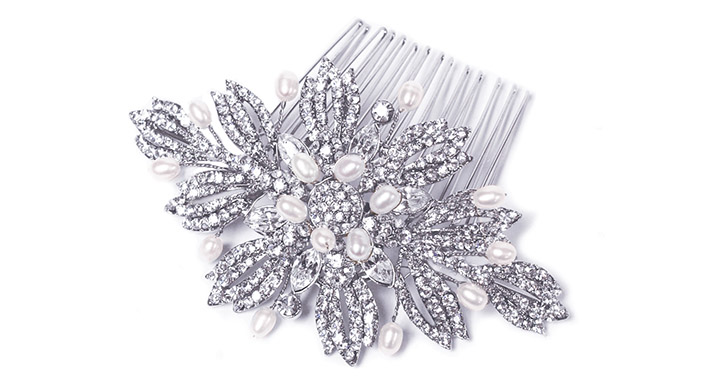 Vintage Beadwork


With the craze for vintage accessories at the moment there are lots of pieces available which involve intricate beadwork on material (usually organza or fine felt.) The best examples of this are when tiny seed beads or Swarovski rhinestones have been used. The ones which look the most authentic are the ones called 'foil lined' seed beads - these have an added gleam and look like the ones originally used in the 1920's. The finest types of beadwork are ones which are hand stitched - this technique produces the most intricate and encrusted pieces. So if you see a more expensive headpiece with vintage beadwork the reason for the price is that it may have been hand stitched instead of machine beaded which does not look so good.

Knowing more about the metals and stones can help to you to make the right choice for the money you are spending. The best advice is, if you are not sure or it does not state on the website or tag, just ask. Take the time to think about how all these different materials can effect the overall look of the headpiece and your complete outfit to be sure of getting the items which best compliment your gown and style for the day - happy shopping!