39 of the Best Wedding Exit Songs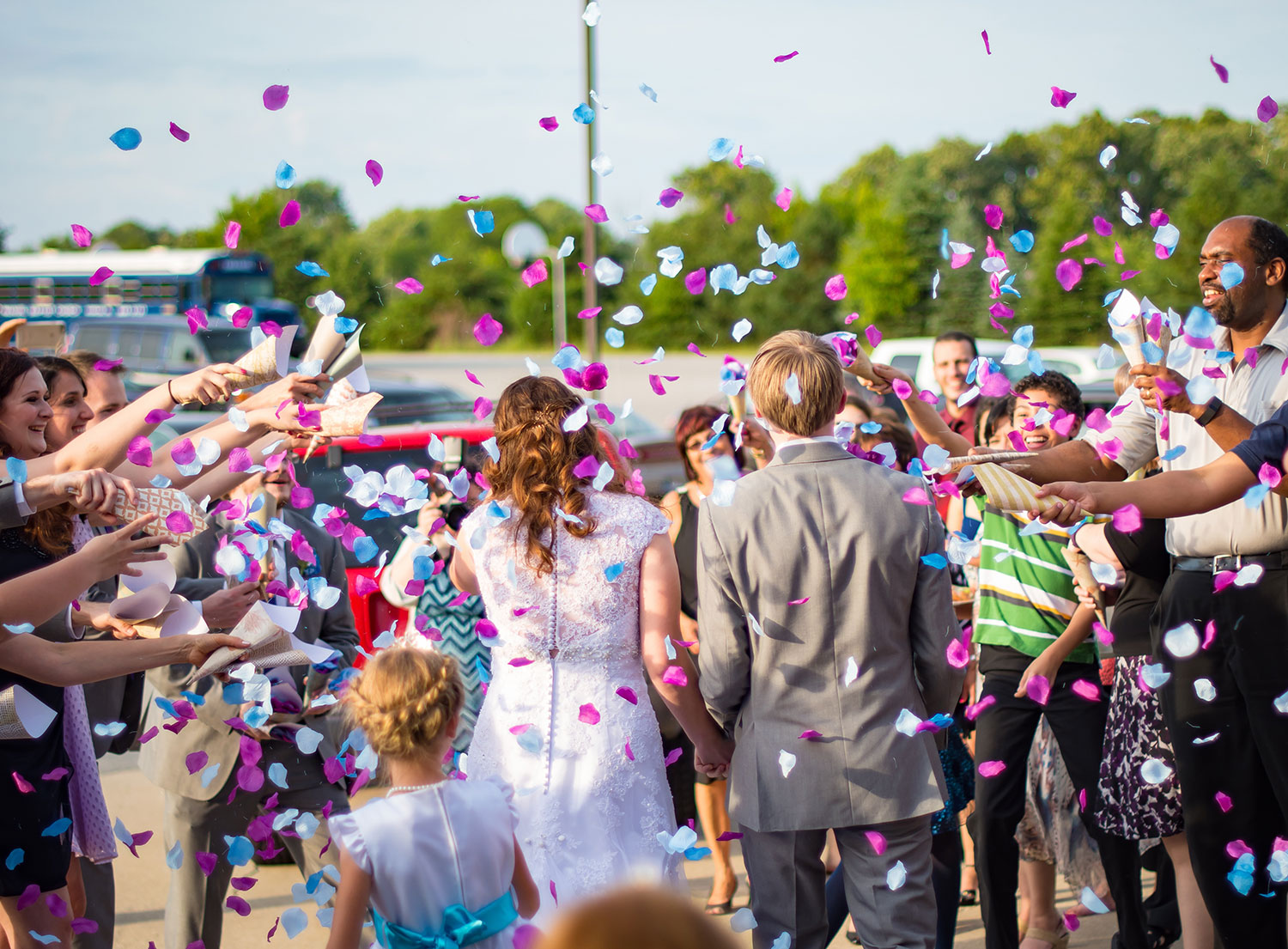 This is always the song the bride and groom think of last – you've walked down the aisle, you've said the I do's, and kissed the bride/groom, now you need to exit the room as a married couple for the first time with all your friends and family following. We think you should look for something that screams for a celebration, and unless you already have a wedding exit song in mind, it can be a pretty difficult decision. We've listed our favourite wedding exit songs, ranging from the classic Wedding March, to something a bit more contemporary like Hey Ya by Outkast, that will at the very least inspire you.
Before I get into the list, watch Duncan Howlett Guitarist, a great example of what hiring a live musician for your ceremony can add. If you like that, there are even more fantastic musicians that would happily play any number of these songs in both the ceremony and reception.
Contemporary Recessional Songs
The first selection of wedding exit songs are from the last 50 years or so that are perfect for your wedding recessional. These are songs that everyone will know and love (and it might even result in a little Mass-eoke if you pick one your guests can sing a long to). There's no winning formula so these range from the funny recessional songs, to songs that get everyone in the mood for the wedding reception entertainment.
1. Beautiful Day – U2
A classic – you can't go wrong with a song that has that title.
2. Hey Ya – Outkast
This really will get your guests on their feet and smiling as you walk down the aisle.
3. I Gotta Feeling – The Black Eyed Peas
This one is perfect if you want to get your guests in the mood for a party in the evening.
4. Happy – Pharrell Williams
This song never disappoints and will put a smile on everyone's face.
5. Uptown Funk – Mark Ronson, Bruno Mars
This one might be great if you fancy doing a little dance as you walk.
6. Crazy in Love – Beyoncé, Jay Z
Any song with Beyoncé is going to bring a little girl power to the recessional.
7. Home – Edward Sharpe and the Magnetic Zeros
A great song to reflect your dependence and love for one another.
8. Us – Regina Spektor
9. All you need is Love – The Beatles
I don't think I need to explain why this one is included. It's a classic written by some of the greats.
10. At Last – Etta James
If you were childhood sweethearts, this one may suit you.
Played and Sang by Eleanor and Gianni
11. Can't Take My Eyes Off You – Frankie Valli and the Four Seasons
What a great song to show your love for each other!
12. Just the Two of Us – Bill Withers
Great lyrics – "to make those rainbows in my mind / when I think of you sometime / and I wanna spend some time with you
13. Dancing in the Moonlight – Toploader
Toploader HAD to be included. This will get everyone singing as they follow you, so it's perfect.
14. You are the Best Thing – Ray Lamontagne
More great lyrics – "the way you move me, it's crazy / it's like you see right through me / and make it easier / believe me, you don't even have to try
15. Signed, Sealed, Delivered – Stevie Wonder
"oo baby, here I am, signed, sealed delivered, I'm yours"
16. You make my Dreams come true – Hall & Oates
The title of this makes it perfect for your wedding recessional song.
17. Hakuna Matata – The Lion King
I had to include some musical hits. This modern musical recessional song is perfect.
18. We Go Together (from Grease) – John Travolta and Olivia Newton-John
Another musical – but duly deserves to be here.
19. Walking on Sunshine – Katrina & the Waves
Another classic that you will likely hear later on in the reception, but it definitely a song that reflects how you'll feel after you sign the papers.
20. For Once in My Life – Stevie Wonder
Only my second Stevie Wonder song. There are loads of his that would be perfect but I had to hold my self back.
Classical Recessional Songs
The classical wedding recessional songs that I've listed need no introduction really. While you might think that most of these are reserved for church weddings, I certainly would like to beg to differ. Just try to imagine one of our fantastic harpist or string quartets playing some of these stunning pieces for your wedding recessional song.
21. Ode to Joy – Ludvig Van Beethoven
22. Hallelujah Chorus – George F. Handel
23. Spring – Vivaldi
24. Wedding March – Mendelssohn
25. Exultate Jubilate – Mozart
26. Toccata in D minor – Widor
27. Ave Maria – J.S. Bach
28. Sonata in G major – Giuseppe Tartini
29. Arrival of the Queen of Sheba – Handel
30. Brandenburg Concerto No.1 & No.4 – J.S. Bach
31. Dance of the Swans (Swan Lake) – Tchaikovsky
32. Waltz of the Flowers (Nutcracker) – Tchaikovsky
33. Wachet Auf – J.S. Bach
34. Andante from Divertimento No.1 – Mozart
35. La Rejouissance – Handel
36. Canon – Pachelbel
Not just a wedding entrance song – there are a number of different variations out there as well that would be great as well.
Played by Northern String Quartet
37. Triumphal March from Aida – Verdi
38. Gigue from Suite 3. In D Major – J.S. Bach
39. Oh Happy Days – Edwin Hawkins Singers
I realise this doesn't really count as a classical piece – but it was originally a Hymn so I thought it's more classical then contemporary.