A Vegitarian Wedding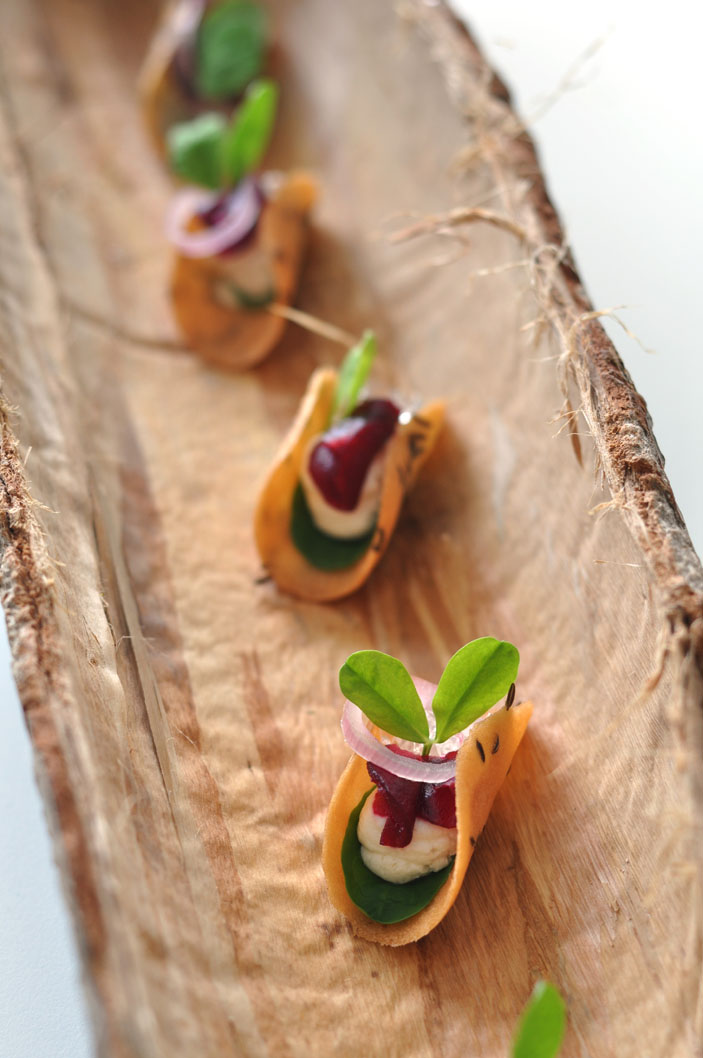 A vegetarian wedding…
Catering for vegetarians at your wedding, even when you are one yourself, can be stressful but if you are marrying a veggie or marrying into a vegetarian family, it can be enough to have you reaching for the bacon sandwiches! Gone are the pasta dishes, salads and nut roasts. Modern vegetarian food is fresh, seasonal and bursting with flavour.


The meat-free wedding breakfast…

If you are a vegetarian yourself you might decide to be bold and serve a totally meat free wedding. Don't be afraid of this as there are plenty of really delicious menu options that will satisfy even the most carnivorous of guests! Instead of a three course dinner why not serve a Middle Eastern style mezze (see our previous article '2015 – The Year of the Mezze' for advice and suggestions). It's a cuisine that is so perfectly suited to be meat-free your meat loving guests might not even notice it's vegetarian!


For your vegetarian guests…

If you are serving meat at your wedding but are catering for vegetarian friends and family you don't want them to feel as though they are an afterthought. Think carefully about what you are going to serve and talk everything through with your caterer as they will have plenty of ideas to suggest! Top tip – if it sounds delicious and exciting to you then it will probably be a good choice for your vegetarian guests. Don't forget, you can ask to try your vegetarian option at your tasting so you know exactly what you'll be serving.

Serving tasty meat-free canapés at your wedding reception is a fantastic way to ensure that your vegetarian guests are catered for right from the start. Most couples we meet choose at least one veggie canapé for their reception but it's actually a great idea to have a couple of options on offer and you don't need to serve full numbers of all the canapés which will allow for a bit more choice. You caterer should have a fairly varied list of vegetarian canapés so have a good look through it before you choose.


We love…

Elderflower jelly, beetroot relish, goat's cheese and caraway tuille
Candied pecan and shallot tart, Stichelton blue
Lightly truffled pumpkin pie, Parmesan sable, toasted pumpkin seeds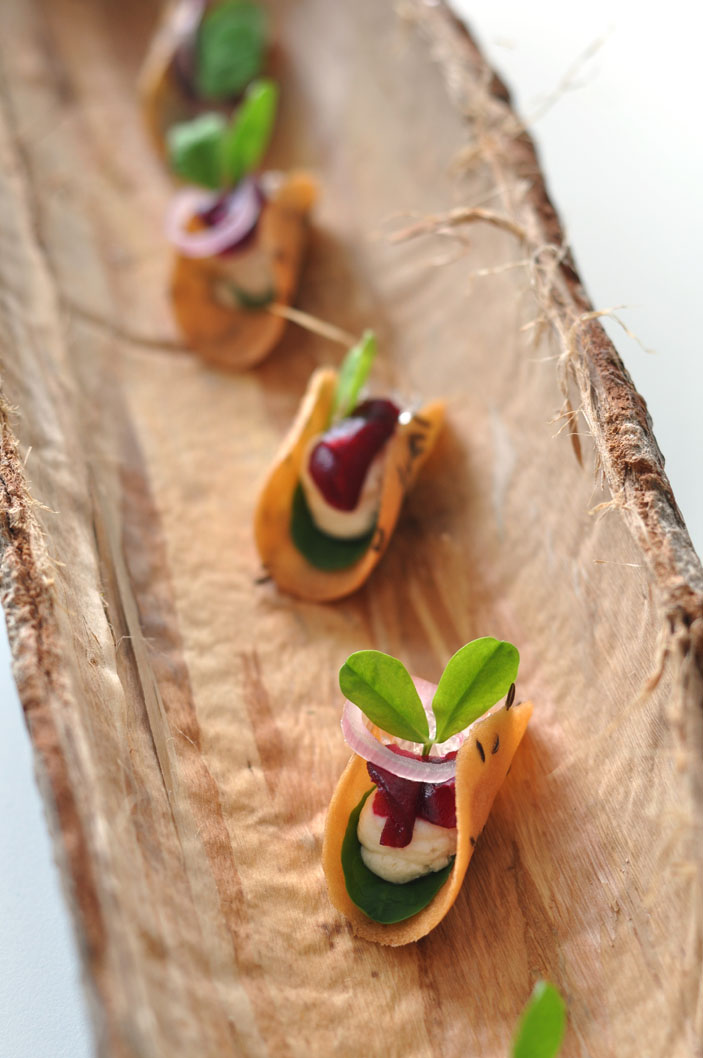 Serving a vegetarian starter to all of your guests keeps the menu admin simple and might even help keep costs down! Have a look through your caterer's seasonal menus to begin with, but if there is nothing that tempts your taste buds why not ask your caterer to design something for you? If your wedding has a theme then there's no reason why you can't tie the theme into your menu! Bear in mind that your guests might refer to themselves as vegetarian but actually eat some fish so it's a good idea to clarify this if you are going to serve a fish starter – you don't want them having food envy when they see their neighbour's dinner!


We Love…

Raviolo of 'Autumn Gold' pumpkin and chopped hazelnut, buttered spinach, St Nectaire cream and watercress
A salad of burnt aubergine, tomato mousse, hummus, sweet pepper jam, flatbread
Truffled custard with carrot jelly, soused vegetables, rosemary sand, Marcona almonds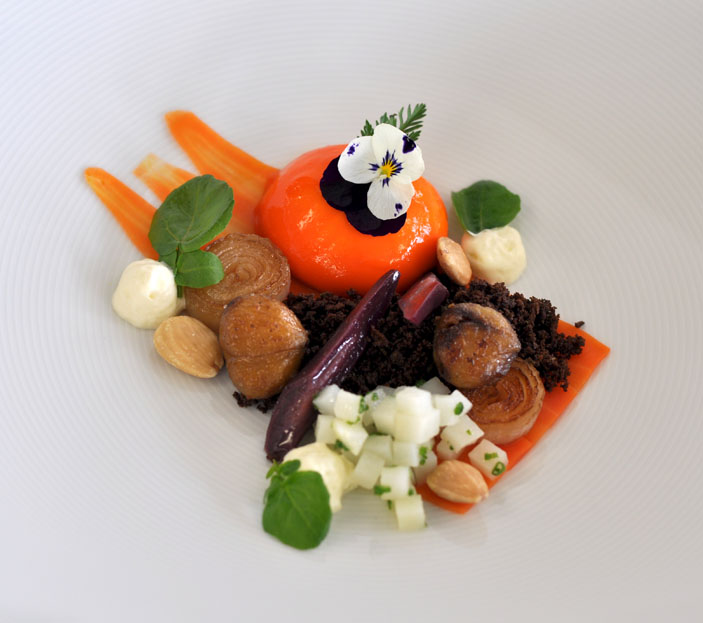 For the main course, avoid simply trying to replicate your meat main as a vegetarian dish as the flavour of the dish can be compromised. Instead have a look through your caterer's menus and choose something that stands out, sounds interesting and tastes great!


We love…

Aubergine and goats cheese 'parcel', hazelnuts, red wine cipollini onions and warm yellow lentil vinaigrette
Celeriac pithivier and three bean cassoulet, red wine sauce and brassicas


Helpful hint:

be careful with your choice of dessert as it may include 'hidden' animal by-products that aren't obvious on the menu! If you are unsure, your caterer will be able to advise!

Remember your vegetarian guests when deciding what to serve for late night snacks - you don't want to leave them going hungry whilst everyone else is tucking in to a bacon butty! Here are a few veggie friendly options that might even leave your meat loving guests feeling a little jealous!


We love…

Falafel pitta with homemade tzatziki
Posh cheese and tomato melts
Mini bean tacos with guacamole
Arancini balls

With so much choice it won't be hard to design a menu that will satisfy all of your guests!