Amy-Jo & Sean's Classic Springtime Berwick Lodge Wedding
Embracing a "classic" soft and vintage theme, bride Amy-Jo and groom Sean created a picturesque wedding at the Stunning Berwick Lodge in Bristol. Ivory, champagnes, and dusky pinks helped to create a fairy-tale feel to match the idyllic setting for a relaxed, joyous wedding day. The perfect day!
To find out more about their special day and how everything came to be, we chatted to bride Amy-Jo…
The couple
Amy-Jo and Sean met just aged 15 at local music venue. Sparks flew but sadly they were too young at the time so took a break after two years of being together. However, these two could not be kept apart and rekindled their relationship towards the end of her time at University. The couple have been together ever since (8 years!). Amy-Jo works as an HR Officer in education and Sean is a traffic Police Officer. They've lived in their beautiful home for 4 years with their 2 cats – Dexter & Lumen (yes, after the series…!)
The proposal
"The proposal took place on the 14th of September 2016 -It was our 7 year anniversary. I had been in work all day, but Sean was at home. He kept texting me asking what time I was planning on getting home and I kept telling him 'the usual time'! In hindsight this was a bit of a clue something was up!!! I arrived home to see the blinds drawn (which usually means Sean's still in bed!). Walking in through our front door, I found a lantern on the floor with a card saying 'read me'. It was an anniversary card with a long, beautiful message inside. At the bottom of the card, it read 'If you're ready for the next chapter, come and find me'. So I opened the living room door to hundreds of tea lights (it was the hottest day in September, so a wall of heat hit me as they'd obviously been lit for a while!) There was also a path through to the kitchen made with a timeline of photos of us through the years and red roses. I followed the path to find Sean down on one knee surrounded by yet more candles. He gave a little speech, none of which I can remember as I was blubbing at this point! He then asked if I'd marry him – it was perfect. We celebrated the evening with a lovely meal and lots of alcohol!"
The venue
Amy-Jo and Sean got married at the beautiful Berwick Lodge in Bristol after Amy-Jo saw an incredible promotional video for weddings at the venue on the internet and immediately called to book an appointment – she knew at that point it would the place they would be getting married. The couple got married 7 months later on 8th April 2017 on an idyllic, sunny Saturday – there wasn't a cloud in the sky.
"We had exclusive use of the main house, which meant we could have up to 30 people in the middle section of their main restaurant - which was the bit we fell in love with when we visited. The grounds are also beautiful and we never imagined we'd have such a blissful day on the wedding day, where we could actually utilise them as much as we did! "
The décor
The theme was 'classic' and they tried to keep to a colour palette of ivory, champagne and dusky pinks – to match the gorgeous vintage champagne coloured wedding dress that Amy-Jo had set her heart on. A collection of white roses and gypsophila decorated the venue and table dressings creating a soft, vintage atmosphere.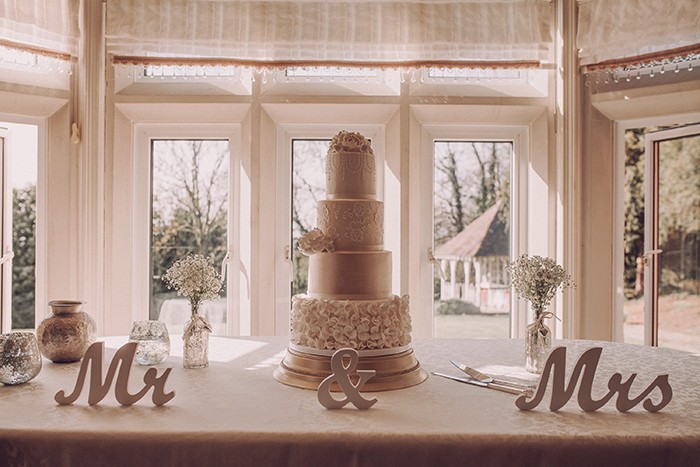 The Dress
"I'd been dress shopping the day before with my mum and Sean's mum. I'd shortlisted 3 very different dresses, but looking back none of them really gave me that feeling! I went to a boutique bridal shop with one of my bridesmaids the day after, just out of curiosity (I certainly wasn't planning on finding my dress that day!) The shop was holding a designer event, with the dress designer in attendance. His designs were being shown for that weekend only as a sneak peek and after that wouldn't be on sale until the January. I tried on a stunning strapless, lace fit and flare dress that was not at all what I'd imagined I'd get. I thought I'd go for something more 1940s inspired, with a birdcage veil but the dress was so classically beautiful and I fell in love. The only problem was I had to make my mind up there and then otherwise it would be gone until January! I frantically called my mum to come and see it, as I couldn't choose my dress without her approval… She arrived 30 minutes later and I said yes to the dress!"
Favourite Moment
"Two parts of my wedding day stand out...I just loved the whole morning getting ready. Having my two oldest friends with me getting ready was so much fun. We had a really relaxed morning with bubbles and music. When my hair stylist finished my look by adding my hair comb and veil, I started to feel nervous but excited – when the veil was in, it all felt real! I looked in the mirror and saw a bride. The ceremony was also incredible. Coming around the corner with my dad to see my husband-to-be crying uncontrollably (happy tears – I think!) was a moment I will never forget. For the whole ceremony it was a struggle to hold back the tears, I just about got through my vows. Hats off to my make-up artist – my eye make-up didn't budge!"
Advice to future couples
"My advice to brides would be to allow yourself to enjoy every moment of the day! I'd previously worked in weddings and I've seen so many brides worry about everyone else but Sean and I just zoned out and allowed ourselves to truly be in the moment. Also, make sure you trust and like your suppliers! We were lucky as everything went so smoothly – all the suppliers involved in our day were fab and everything was more than we ever could have imagined it to be! It's hugely important you get on with your photographer as you spend so much time with them on the day (more than some of your guests!!) We just hit the jackpot with ours!"