A Multi-Destination Honeymoon for Every Season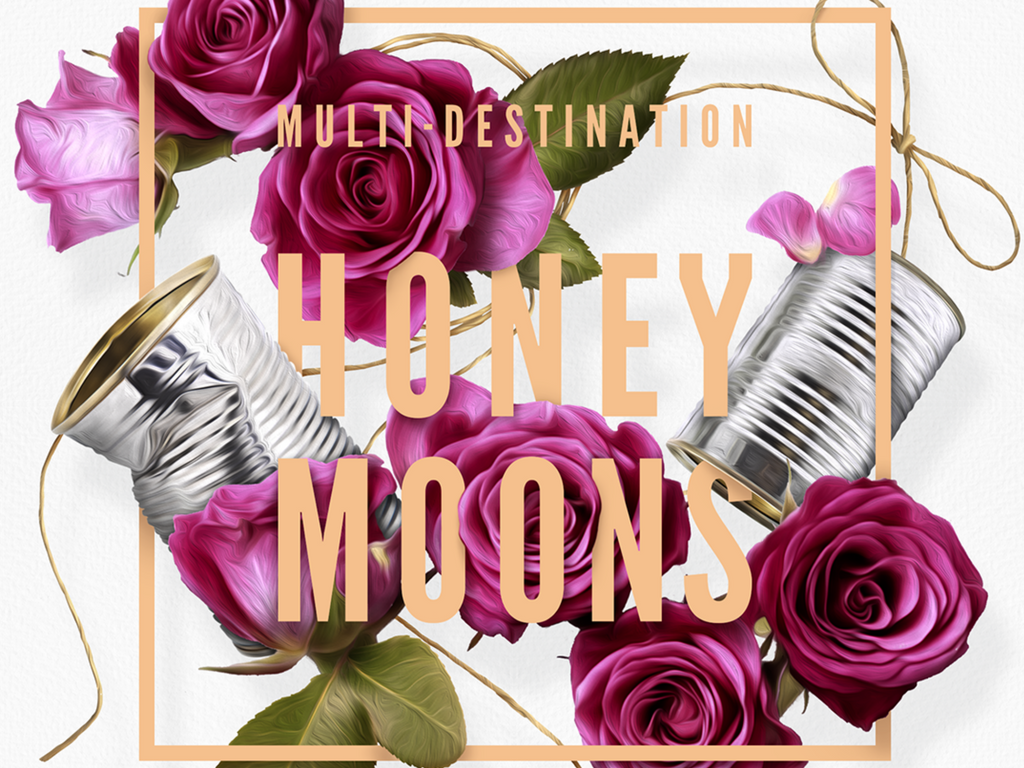 With a surge in adventure led holidays and millennials valuing experiences more now than ever, it makes total sense that newly married couples are choosing to indulge in a real bit of adventure on their honeymoon. Combine this with the fact ABTA reporting a big surge in 'multi-destination' honeymoons, where couples opt for longer travels that incorporate multiple countries, it appears that the honeymoon is fast becoming just as exciting as the big day. To help spark your imagination on the wildly romantic and exciting travels you can fling yourself into, holiday experts dealchecker.co.uk have put together a collection of multi-destination honeymoon ideas for every season, budget and timescale to truly make your honeymoon a once in a lifetime experience.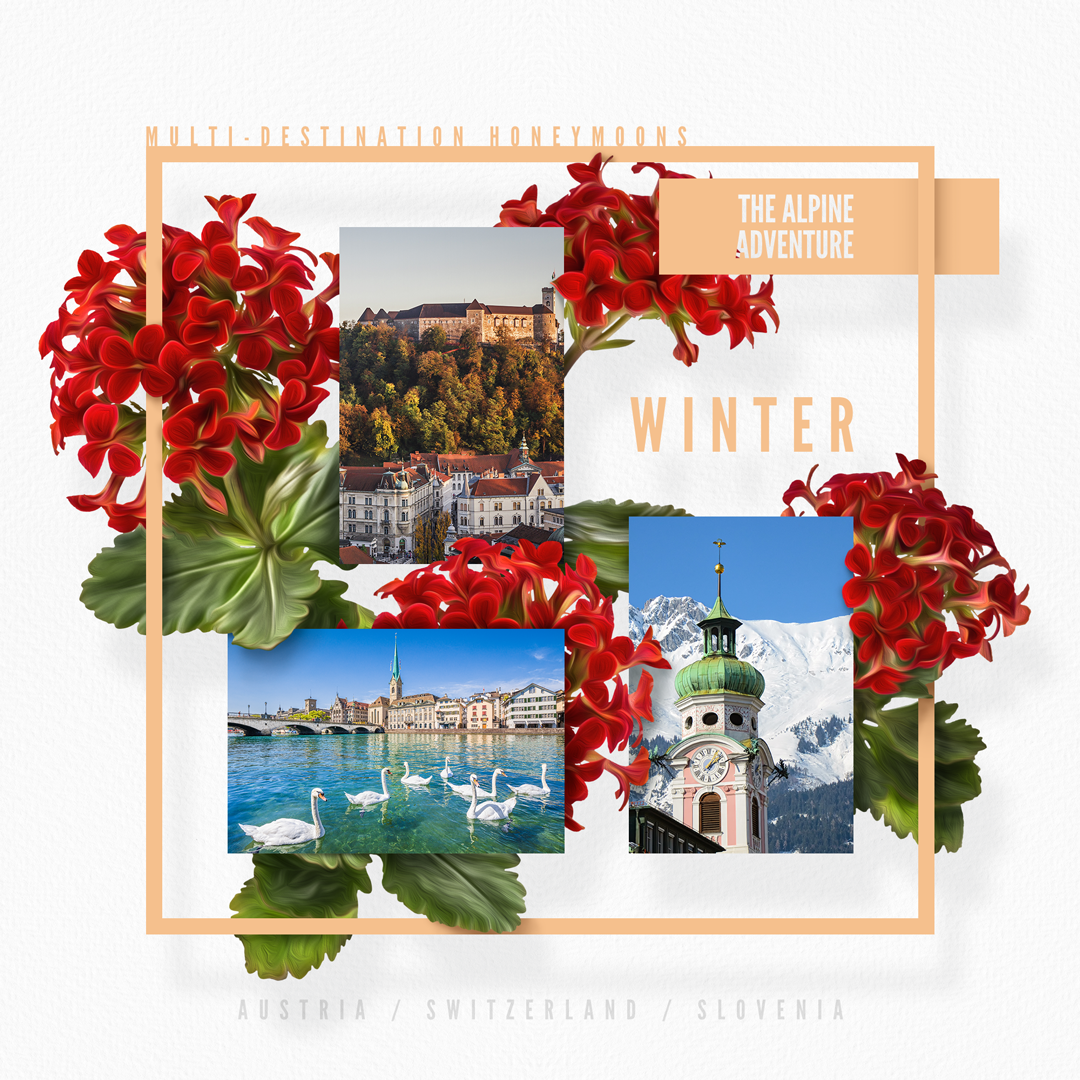 Winter: The Alpine Adventure
Length: Approx. 1.5 – 2 weeks
Cost: Budget Friendly (£1,000 to £3,000 for two)
Innsbruck, Austria
With it's stunning Alpine setting, the compact city of Innsbruck is a real winter delight for any honeymooning couple. Aldstadt, the city's old town is the city's most picturesque feature where you can find the gorgeously historic 'Golden Roof' building, Imperial Palace and the wobbly looking clock tower. If you fancy experiencing the city from another level, take the funicular railway up to a panoramic viewing platform and take in the scene of hopscotch rooftops. As the evening chill sets in, potter along the river as the sun goes down and warm up together with a toasty mug of 'Gluhwein' in the Aldstadt.
Western Switzerland
With trains running from Innsbruck to Zurick on an almost daily basis, they are a great way to take in the breath-taking mountain scenery as you make your way there. Despite it's reputation as a business-focused city, Zurich's beautiful winding backstreets and tucked away treasures give Switzerland's Italian neighbours a run for their money. The city offers you the opportunity to stroll around Lake Zurich, take in some culture in the National Museum or keep things sweet by poking around the chocolate shops of Bahnhofstrasse. With their dining being on top form, restaurant Adlisberg set within a hidden clearing in the city's forest is just crying out to be an atmospheric and romantic dinner spot.
Zurich also works as a great base as it is only a short train ride away from some of Switzerland's most wonderfully traditional towns, including the endearing Appenzell and buzzy St Gallen. If you really want to cover a fair bit of turf, you could even ride the train over the border into Germany and catch a glimpse of the enchanting Neuschwanstein Castle.
Central Slovenia
From Zurich, you can venture by plane into Slovenia's rather undiscovered capital of Ljubljana. This lively city is on the cusp of becoming hugely popular as it's stunning local architecture, buzzing markets and outdoor dining culture starts being realised by more and more eager visitors. It makes for the perfect place to round off your honeymoon, with the opportunity to explore the city's hilltop castle, cross the multitude of 'dragon bridges' and eat al fresco along the river. From Ljubljana, a short bus ride will take you to Slovenia's most renowned attraction – the breath-taking setting of Lake Bled and its enchanting castle.
Upgrade your trip…
If you fancy upping the adventure factor, why not take the train from Innsbruck to the small luxury resort of St Anton for a spot of skiing?
Our Thoughts: "We love this city orientated trip and are all for the romance of Winter when you're snuggled up with a glass of Gluhwein taking in some truly spectacular views. We would totally be up for extending it to include a spot of skiing at St Anton too!"
Spring: The Italian Job
Length: Approx. 1 – 1.5 weeks
Cost: Budget Friendly (£1,000 - £3,000)
Naples
With it's vibrancy, colour and undeniable charisma, there is no doubting why Naples is rapidly becoming one of Italy's best cities for short breaks. If food is your second love, you're in luck too as Naples is also home to Italy's best pizza and ice-cream. With the spellbindingly beautiful Cappella Sansevero and Palazzo Reale di Capodimonte being a definite on every couple's checklist, we strongly recommend adding a memorable night at one of Naples' operas to it too. It is thought by many locals that there is no stroll more romantic than the one along the seafront from Santa Lucia to Mergellina, which passes through the padlock pledges of lovers on the Lungomare. A song by Neapolitan artist Salvatore di Giacomo even says that this length of coastline is so romantic, that the fish make love by moonlight! As the sun sets, why not show off your dancing skills by trying out the Neapolitan 'Tarantella', a local dance bubbling with passion.
The Amalfi Coast
With Italy's Almalfi Coast being renowned for it's rugged scenery, higgledy piggledy hillside towns and beautiful blue oceans, it doesn't come as a surprise that it makes for an ideal honeymoon escape. To make the most of the area, the best thing to do would be to hire a car from Naples and drive along the coast, making sure to stop at Pompeii and Mount Vesuvius along the way. Finish off your roadtrip with a stopover in the lovely clifftop town of Sorrento where you can tuck into a delicious seafront meal as you mull over all the day's adventures. From here, take the snaking coastline through the stunning town of Positano filled with multi-coloured houses until you reach the lively city of Salerno.
Rome
Venturing from Salerno, hop aboard one of the regular trains to Rome and take in the sights along the way. Once there, pop on your tourist hat and spend a day or two taking in the famous Colosseum, Trevi Fountain and Vatican City. Stroll through the Piazza Navona and head towards Trastevere after dark and take it all in again atmospherically lit and full of happy, chatty locals.
Upgrade your trip…
Loving Italy so much you don't want to leave? Why not add a chilled luxury element to your trip with a fabulous stay at the sensational Lake Como? As a resort frequented by many a celebrity, it's unreal scenery, hiking trails and upscale hotels will make you realise exactly why. It can be easy reached via train from Milan, with flights from Rome to Milan being very frequent.
Our Thoughts:"Italy has the perfect mix of unbelievably good food, sensational views and a family orientated buzz that just sets the tone so wonderfully. With that said, this trip feels like a real adventure into all the things that make the place great and we are primed and ready to get our ticket!"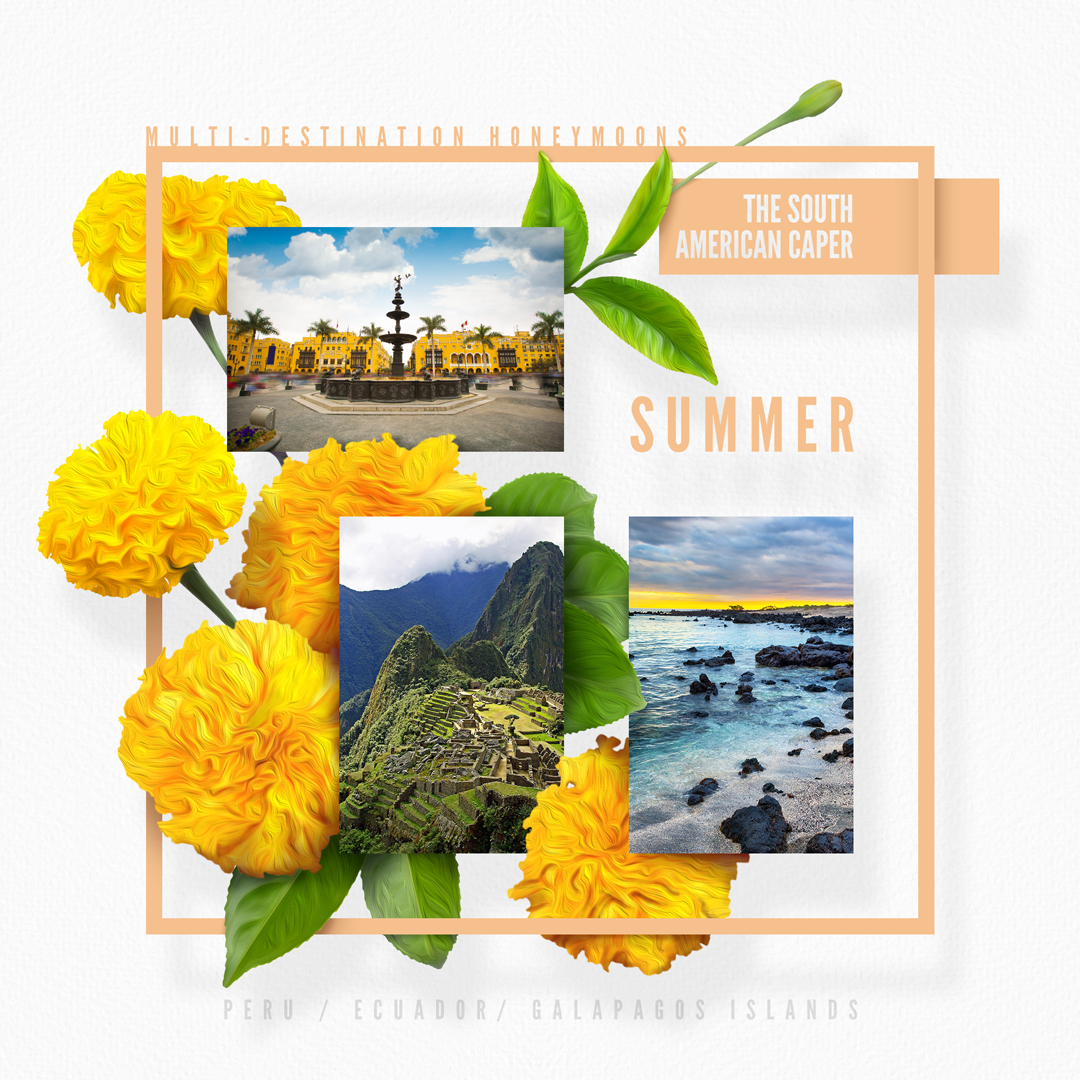 Summer: The South American Caper
Length: Approx. 2.5 – 3 weeks
Cost: Go All Out (£6,000+ for two)
Southern Peru
As a country, Peru offers an unbelievable amount of variety and has a huge amount to offer the adventurous honeymooner, but most of it's world-renowned attractions are to be found in the south of the country. To name but a few, this includes the rambling coastal city of Lima with it's beachside boulevard, the quirky Barranco neighbourhood, Old Town and beautiful Miraflores district. From Lima, there's the opportunity to take their (rather comfy) local coaches to a variety of different destinations. This include the tall city of Puno on the shores of Lake Titicaca, the gorgeous colonial architecture of Arequipa city, and the incredibly idyllic town of Huacachina. Adventure seeking couples can also head to the lesser-known town of Nasca to take an airplane tour over the mysterious and historical Nazca Lines. But there's no denying the highlight of most Peruvian itineraries is Cusco city, a gorgeous place to visit and also a great base from which to visit many of the country's famed Inca ruins, including Machu Picchu.
Quito, Ecuador
From there, hop on one of the regular flights from Lima, Cusco and Arequipa to the Ecuadorian capital of Quito – a trip that certainly should not be missed. With the city said to be one of the best preserved Old Towns in the Americas, it is a truly fascinating visit. The city surrounds the fabulous Plaza Grande, which is loyally watched over by the city's iconic Virgin of El Panecillo statue who's head you can climb up to for unmatched views. For a taste of real South American living, there's nothing better than Quito's Mariscal district, where you'll find live music, a plethora of local restaurants and boozy dance halls. It's historical quarter is also a UNESCO world heritage site, so head over that way to see some exquisite and romantic beauty.
Upgrade your trip…
If you're eager to explore more, Quito makes for the perfect base to explore another and frankly bloomin' beautiful UNESCO World Hertiage Site – the Galapagos islands. With island hopping boat trips being easily booked once you're there, you'd be silly to miss out on all the incredible wildlife including iguanas, tortoises, penguins and turtles! This trip will undoubtedly be one you remember forever.
Our Thoughts "This is a real experience like no other, with UNESCO World Heritage Sites literally here, there and everywhere! The idea of soaking in all the culture, views and cute animals in a place that feels untouched sounds idyllic and the perfect place to make newly married memories together."
Autumn: The Arabian Nights
Length: Approx. 1 – 1.5 weeks
Cost: Budget Friendly (£1,000 - £3,000)
Dubai
After a rather full on lead up to the big day, it's understandable you might be wanting a bit of TLC and luxury. Well look no further, as Dubai is undoubtedly the hub of glitz, glamour and all round decadence. From the fabulous high-rises of the Burj Khalifa and Burj Al Arab to the unparalleled shopping opportunities in the vast malls and bustling souks, there's a lot to experience for couples wishing to truly get into the Dubai spirit of things. If it's extravagant romance you're after, it is the glistening beaches, lush public parks and opulent palm island that need to be on your honeymoon itinerary. If you're up for more adventure outdoors, book a couple's horse riding session for you and your beau at the Al Wasi Stables or hop in a hot air balloon for unmatched vistas across the vast desert. With Dubai being a hub of unreal fine dining, you'll definitely not struggle with somewhere memorable to eat – dine on seafood at Pierchic overlooking the ocean or head up high to At.Mosphere atop the Burj Khalifa itself.
Ras Al Khaimah
Ras Al Khaimah has a real unique charm and tranquil appeal, making it the perfect place to unwind after the buzz of Dubai. The only way to get there is via hire car (other than the often sporadic flight) and it's resorts are few and far between, but it feels even more idyllic when you pull up to it, knowing just how secluded it is. The surrounding Hajar mountains make for a mesmerising hike and bike ride or can be simply taken in from a safe distance. As any local will assure you, what Ras Al Khalmah lacks in built up city, it more than makes up for in it's spellbinding beaches so lie back and relax!
Upgrade your trip…
To really up your game on the truly Arabian experience, spend a day or two between destinations to take in the desert just outside of Dubai. With plenty of companies offering camel trekking, dune buggying and even overnight stays sleeping beneath the stars, it would be a shame not to.
REAL DEAL: We've found a luxurious six-night adventure that combines these two Emirates from £539 pp. See here for more details.
Our Thoughts: "Nobody does luxury better than Dubai and there's no doubt after a fair bit of stressful wedding planning, luxury and decadence is just what the doctor ordered! This the ideal mix between utter relaxation but still with the opporunity to be adventurous as and when you fancy it."