3 Seriously Easy Home Baked Wedding Favours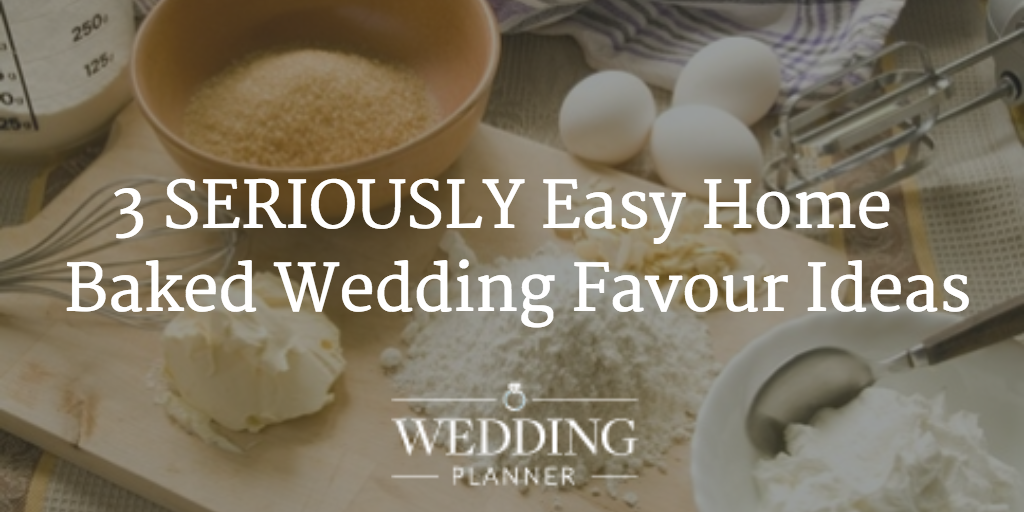 WOAH there, home baking before my wedding? Sounds scarily like too much effort to me... Fear not, DIY-phobes, these 3 recipes are so simple my cat could probably do them, and they're all things you can make ahead of time (like weeks ahead) and store until the big day. Unless you eat them first...

They're all also remarkably cheap to produce, requiring the humblest of produce and very little packaging. A large roll of cellophane cut into squares and wrapped into bags will do the trick and be totally adorable.
Why not make a party of it with your maids and mums? Though take care - too many cooks can spoil the broth!
Fudge
Because who doesn't love fudge? And if some outrageous person doesn't love fudge I'll bet they have a best friend or lover who will appreciate their fudge donation.

This is actually SO easy to make, I did it accidentally the other day whilst trying to make a caramel sauce and thought BINGO this would be a GREAT wedding favour.
Purchase some little paper bags and add cute handwritten messages, and this home-made fudge wedding favour will go down a TREAT (geddit?)
Recipe (source)
To fill 1 20cm square tin (approx. 36 small squares)
· 397g can Carnation Condensed Milk
· 150ml milk
· 450g demerara sugar
· 115g butter
1. Place the ingredients into a large non-stick saucepan and melt over a low heat, stirring until the sugar dissolves.
2. Bring to the boil then simmer for 10-15 minutes, stirring continuously and scraping the base of the pan. Take care while the mixture boils and during stirring as the fudge will be VERY hot! To test it's ready drop a little of the mixture into a jug of ice-cold water. A soft ball of fudge should form. Or check with a sugar thermometer if you have one (approx 118°C).
3. Remove from the heat and beat the fudge until very thick and starting to set (about 10 minutes). At this point you can add any extra ingredients to personalise your fudge (vanilla, nuts, peanut butter, etc)
4. Pour thickened mixture onto a parchment-lined 20cm square baking tin and level.
5. Leave to cool before cutting into squares
Butter Biscuits
Snacking on a good biscuit is perhaps the most favoured of British pastimes. They're also pretty damn simple to make, and thanks to the invention of handy personalised stamps you can make them pretty attractive to look at too!

Choose from a variation of cookie cutter shapes to make these biscuits, but the bottom of a baked beans tin is a cheap and handy solution if you're not a regular baker (also, the simple round shape without any bits sticking out makes your biscuits less likely to burn)..
The easiest way to ice these badboys is to purchase pre-made fondant icing, roll it out quite thin, then stick it onto your biscuits using a dab of warm water. You can then stamp your monogram, or hand-paint (for the brave) your chosen design.
Recipe:
· 225g self raising flour
· pinch of salt
· 170g butter
· 110g sugar
· 1 beaten egg
1. Sift flour and salt into a bowl, then rub in the butter until it resembles breadcrumbs.
2. Add sugar and beaten egg and mix into a stiff dough, turn out onto a floured surface and knead gently until smooth.
3. Wrap in cling film and chill in the fridge for about 30 mins.
4. Roll out onto a floured surface about 6mm (1/4 in) thick, and cut into about 30 rounds. Place on a buttered baking tray and place in oven at 180 C / Gas 4 for about 12-15 mins until golden.
5. Decorate with ready-made white fondant icing, rolled out and cut into slightly smaller circles. Brush underside of icing circle with warm water then place on biscuit.
Granola
Whether your guest saves their granola for hungover brekkie, or they get the midnight munchies and scoff it sans accompaniment on the way home (likely scenario), granola is always appreciated.
AND it's easy to make TONS of the stuff and wrap into pretty cellophane bags and tie with a ribbon.
Granola can be so easily modified to add extra things you and your OH love; certain fruits, chocolate flakes, honey, caramel, you name it.
Recipe:
· 4 cups rolled oats
· 1 cup almonds (or other nuts, chopped)
· 2⁄3 cup honey
· 1⁄3 cup oil (coconut oil works really well)
· 1 tablespoon ground cinnamon
· 1⁄2 teaspoon salt
· 1 teaspoon vanilla extract
· Optional: Dried fruit, seeds
1. Heat oven to 300 degrees.
2. Combine oats, nuts, salt, cinnamon and any fruit and seeds in a large bowl and set aside.
3. Combine oil, honey and vanilla in another, smaller bowl.
4. Mix wet ingredients into dry - you may need to use your hands.
5. Then spread the mixture onto two cookie sheets lined with foil or parchment.
6. Bake 10 minutes. Then remove from oven and stir.
7. Bake an additional 10 minutes or until slightly golden.
8. Remove from oven and allow to cool completely.
9. When cooled, transfer into an airtight container for storage until it's time for the wedding