13 Bright Ideas for a Book Inspired Wedding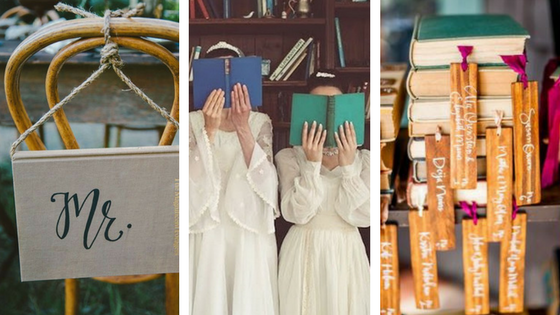 If you and your other half are lovers of literature, then injecting some of this passion into you wedding day can make for a truly gorgeous outcome. Throughout our lives, we have all connected with one book or another and learned a lot of life lessons through the books we read, be they fact or fiction. So choosing to incorporate this into your special day can really make things feel really sentimental whilst also being lovely to look at too! So inspired by this and our office's love of literature, we've rounded up our favourite ideas of how you can add romance and whimsy to your day through the incorporation of books.
Source: Swash and Fold / Whimsical Wonderland
1. Invites
Set the tone for your wedding early doors through book inspired invites. It could be based on one of your favourite book covers, the classic Penguin book look as seen above or a pretty take on your proposed wedding colour scheme.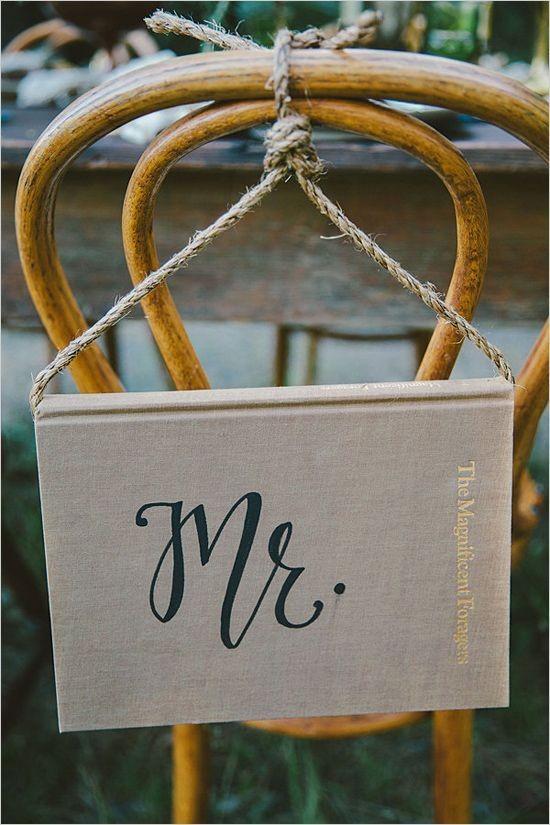 Source: Burnett's Boards / Wedding Chicks
2. Seating Plaques
The extra bits to prettify the venue is where a lot of the fun will come in. We love these ideas of adding a bit of pizzazz to your Mr and Mrs chairs through the use of books.
Sources: Brit + Co / Buzzfeed
3. Bookish Wedding Favours
This a fab way to inject the theme into your wedding tables and tackle wedding favours all in one go. If you have the time, maybe think of different and fun books for every guest (depending on how many you have!) Alternatively, wrap up each book and pin to the front a general blurb and genre and let people pick their own - it's a great way to get them to try something different too!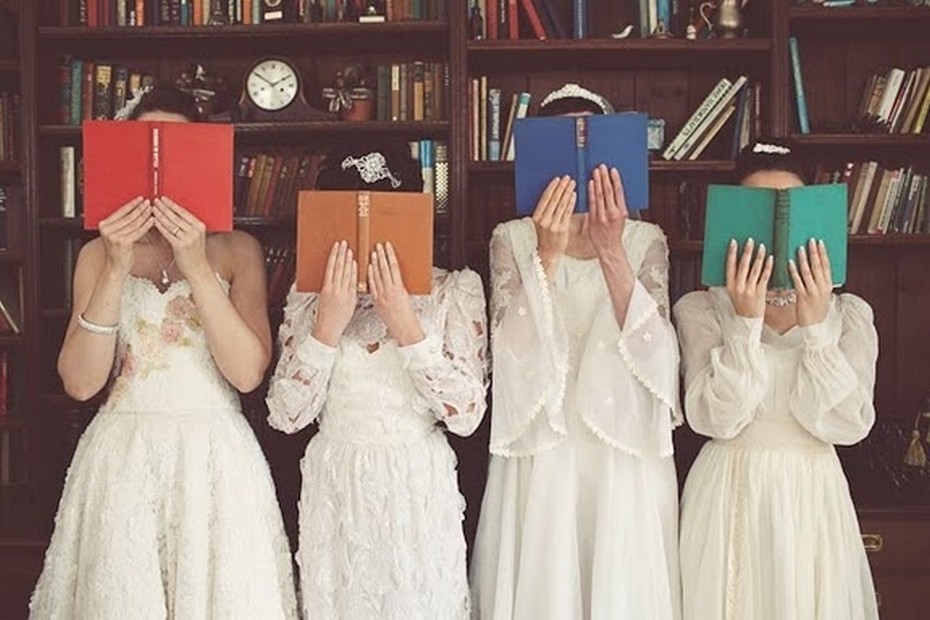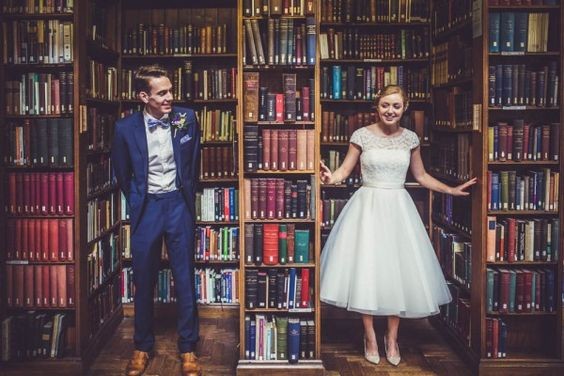 Sources: Buzzfeed / Junebug
4. Photo Ops
If you're holding your wedding in a venue that has a library, why not take advantage of this when taking your photos? Alternatively, offering books and book related costumes as props for your photobooth is a fun way to channel the theme.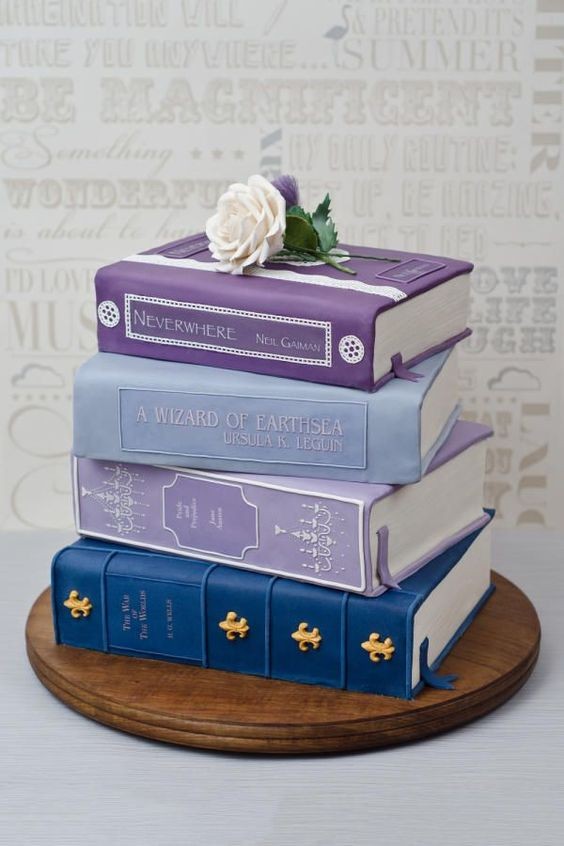 Sources: Cake Decor / Huffington Post
5. Wedding Cakes
Wedding cakes will always offer the opportunity for you to get really creative. We love the idea of stacks of books as seen above but there's definitely scope there to do something really creative. Whether it be a small nod to novels or a full blown book inspired wedding - it's entirely up to you.
Sources: Jewel Hospitality / Wedding Chicks
6. Photobooth Background
It's always a cool idea to have a backdrop in place at your reception for you and your guests to take photographs in front of, plus it will always look great as a stand alone decoration. As a good DIY project, we like the idea of getting a roll of white paper and whacking out your best handwriting to write something from a favourite novel, as pictured above.
Source: Style Me Pretty / Wedding Chicks
7. Extras to Set the Scene
This is the fun bit as it gives you the opportunity to get creative with your DIYs and then if (God forbid!) it doesn't go to plan, then it's no sweat. So get cruising through Pinterest for some ideas and try and think out the box as much as possible.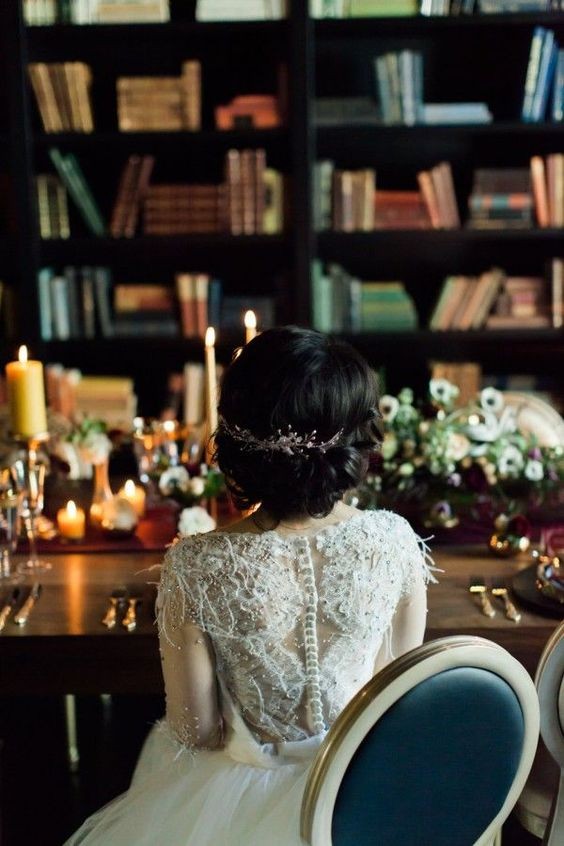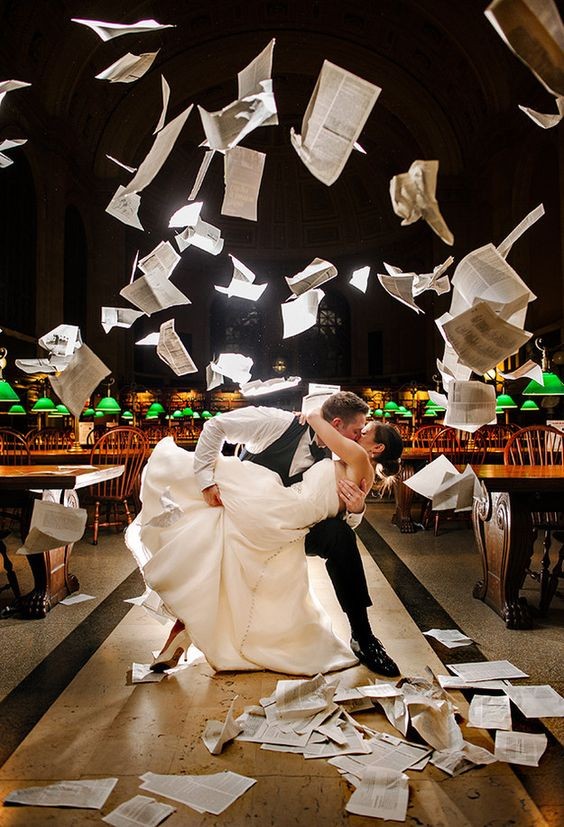 Source: Junebug Weddings / Buzzfeed
8. Hold Your Wedding in a Library
For the ultimate in book-inspired weddings, it might be worth considering having your wedding in a location that is or looks like a library. We espeically love Queen Mary University in London as it's not only a stunning room but the bookcases on the second level are a gorgeous touch.
Sources: Perfect Wedding / The Style and Co
9. Pimp out your Wedding Signs
There's guaranteed to be a book excerpt that you absolutely love - so why not pop it on a sign for all your guests to enjoy? Alternatively you can also try backing your signs onto book paper for a nice touch.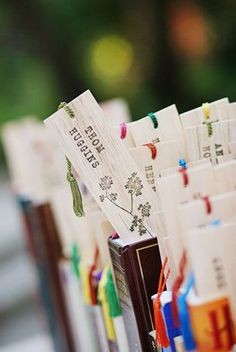 Sources: Intimate Wedding / Apples and Onions
10. Ask for Guest's Favourite Books as Wedding Gifts
We've heard of couples doing this in the past and we're personally in love with the idea. Instead of gifts, ask your guests to bring along a lovely copy of their all-time favourite book for you to read and keep. Then after the wedding, you'll be able to fill up a bookcase with all the books and create an area of your house that will always make you smile when you look at it!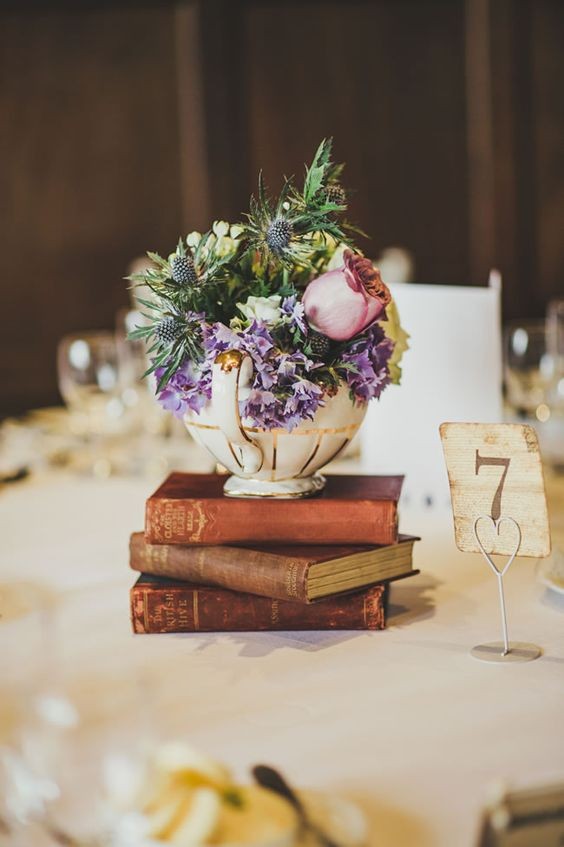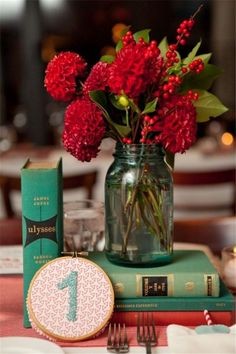 Source: Deer Pearl Flowers / Wedding Ideas Magazine
11. Book-centric Table Displays
One of the best ways to incorporate your theme into your wedding is through the table displays. Play around with combining stacks of books, with table numbers and little bottles or jars of flowers. You can also choose to make your favourite books the table names for a cool additional touch.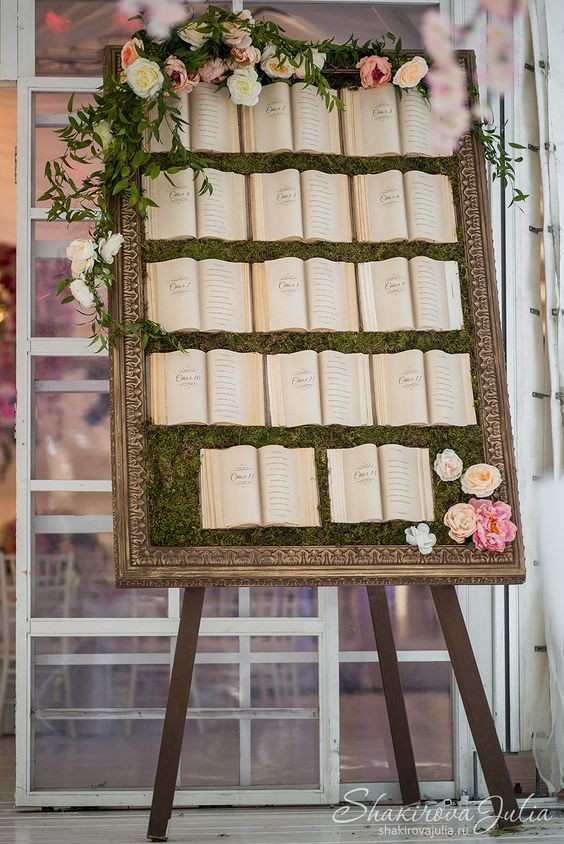 Sources: Style Me Pretty / Shakirorajulia
12. Creative Seating Plans
If you have the space, go big with your seating plan and think about book related things that can inspire the look you go for. We particularly love this idea of creating 'bookmarks' for each of your guests and tucking them in books as a way for them to find their seats.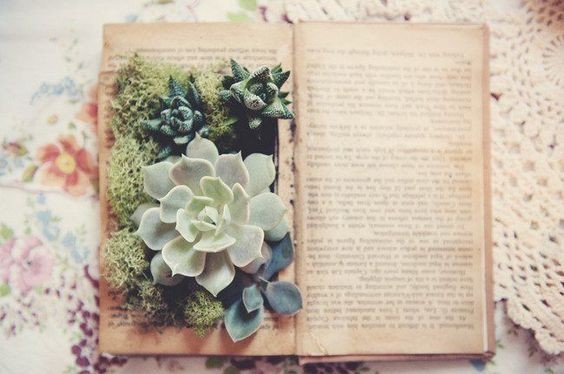 Source: Confetti Day Dream
13. Plant Up Old Books
Who needs a vase when you can use a book?! Taking a scapel or sharp knife, carefully cut out the inside of a book and glue all the sheets together to create something you can plant cacti, succulents or flowers into.