11 Of The UK's Best Wedding Caterers
With an abundance of wonderful homegrown produce, creative minds and talent by the bucketload, it's no surprise that the UK is filled with lots of wonderful wedding caterers, each with their own unique offering. It's good to bear in mind that even though they are dotted around the country, a large number of them will travel for weddings so it's best to take the location with a pinch of salt (pardon the pun…)
Below we've rounded up just a few of our current favourites.
Location: London
With a team featuring an eclectic mix of backgrounds from design and advertising to farming and luxury hospitality, it's no wonder that Spook is known for their fresh take on catering. Driven by quality, simplicity and seasonality, they are loved by some of the world's most prominent brands and individuals for their approach to food. Founded by Emily Few Brown in 2013 who was born and raised in farming communities in Hampshire, her passion for nature and where food comes from started young and is visible throughout the whole brand. They are a great option for young and fun couples, with the quirky option of midnight feasts available.
Location: London
With an unassuming and cool approach to food, Social Pantry cater for some of the most prestigious events and venues in the UK. They have a team of experienced event professional and can tailor their catering entirely to suit you. Care for the environment is a key part of what they do, and they are currently on a journey to becoming the first zero-waste caterer, with their own sustainability consultant.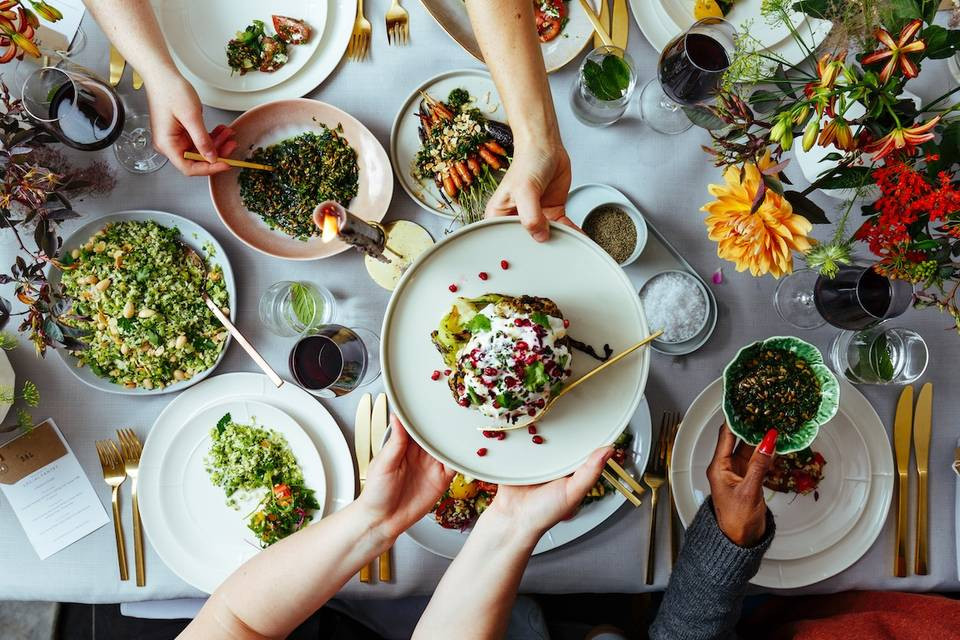 Location: London
With beautifully plated dishes each and every time, nothing matters more to the team at Peardrop than quality, taste and presentation. They always want to innovate and love making beautiful food that is surprising in both taste and presentation, whilst still remaining familiar. Their style is rustic, light, seasonal, creative and colourful and they can create anything from super healthy menus through to wholesome and hearty ones too.
Location: The Cotswolds
A small, multi-award winning fine food company, Ross & Ross Events was started by two Ross' (Whitmill and Bearman) back in July 2011. They bring together their enthusiasm for fine foods and a passion for the Cotswolds and British charcuterie to create beautiful dishes for your wedding day. They focus heavily on keeping their catering as green as possible, and source all their ingredients and products from the local producers in the Cotswolds, meaning there are very few miles involved.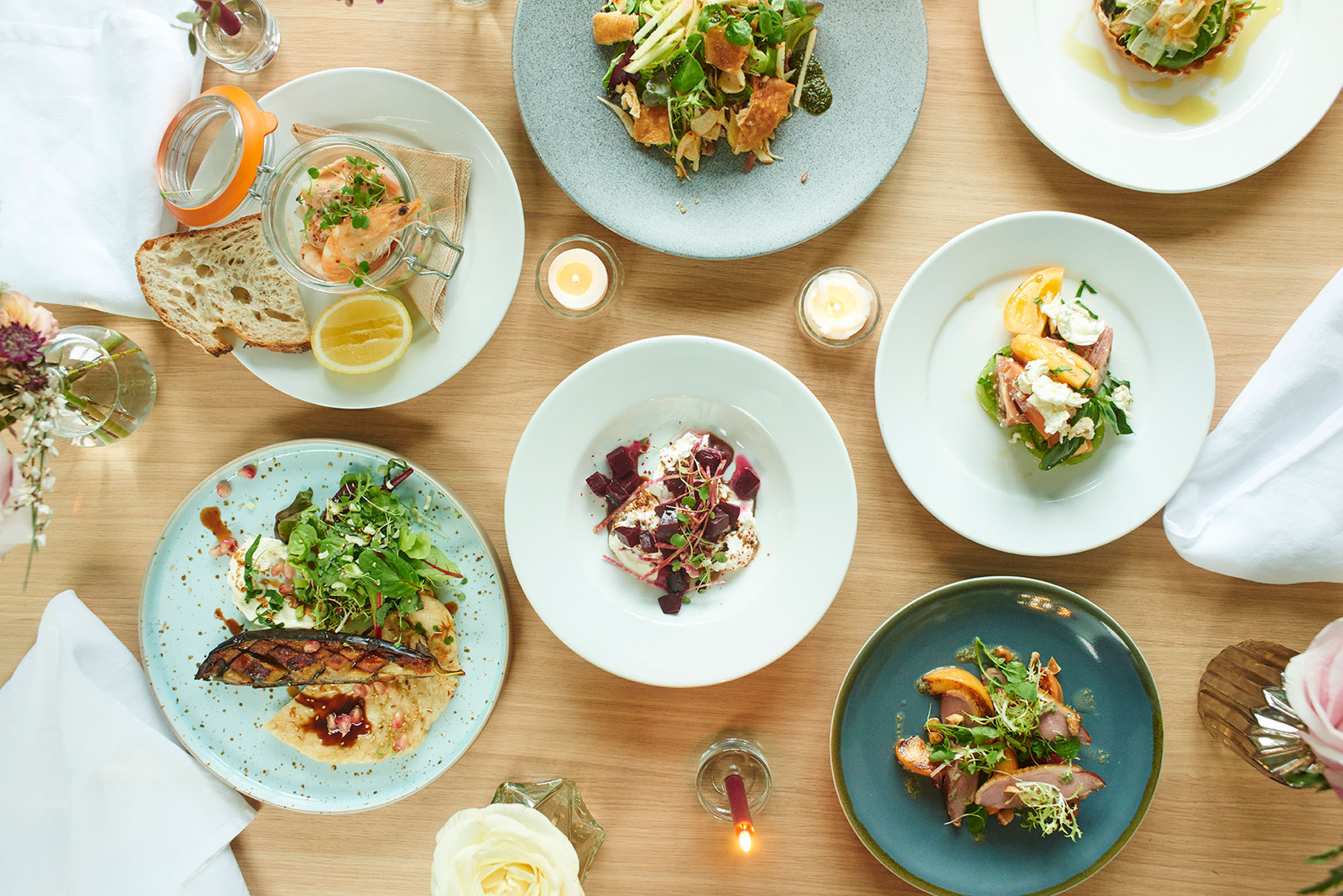 Blue Strawberry and Table Talk
Location: London
Known as being one of the top wedding caterers in London, Blue Strawberry is an option for many both inside and outside the capital. They are eco-friendly and use local and organic produce wherever possible, providing exclusive wedding packages and experienced party planners to make the decision making easier.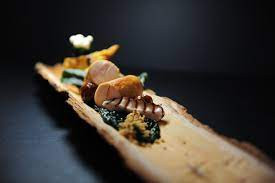 Location: Exeter
Creating 'Food from the Heart', Posh Nosh have over 25 years' of experience in event catering with an award-winning kitchen brigade. They are dedicated to constantly pursuing excellence and create dishes using Devon's finest produce, working closely with their local suppliers.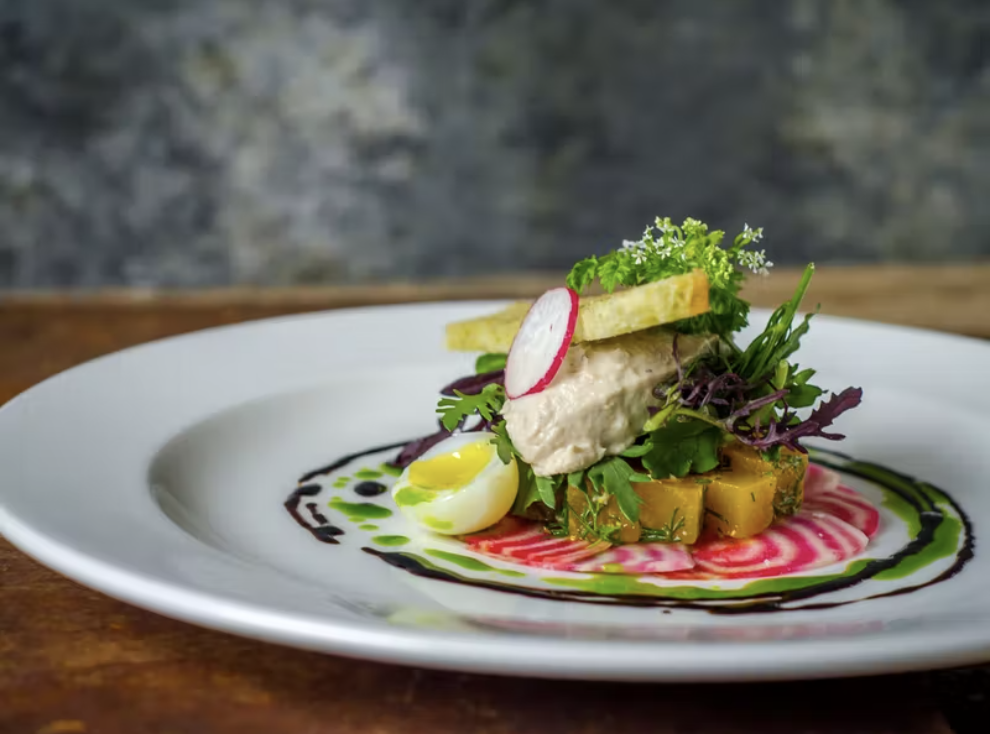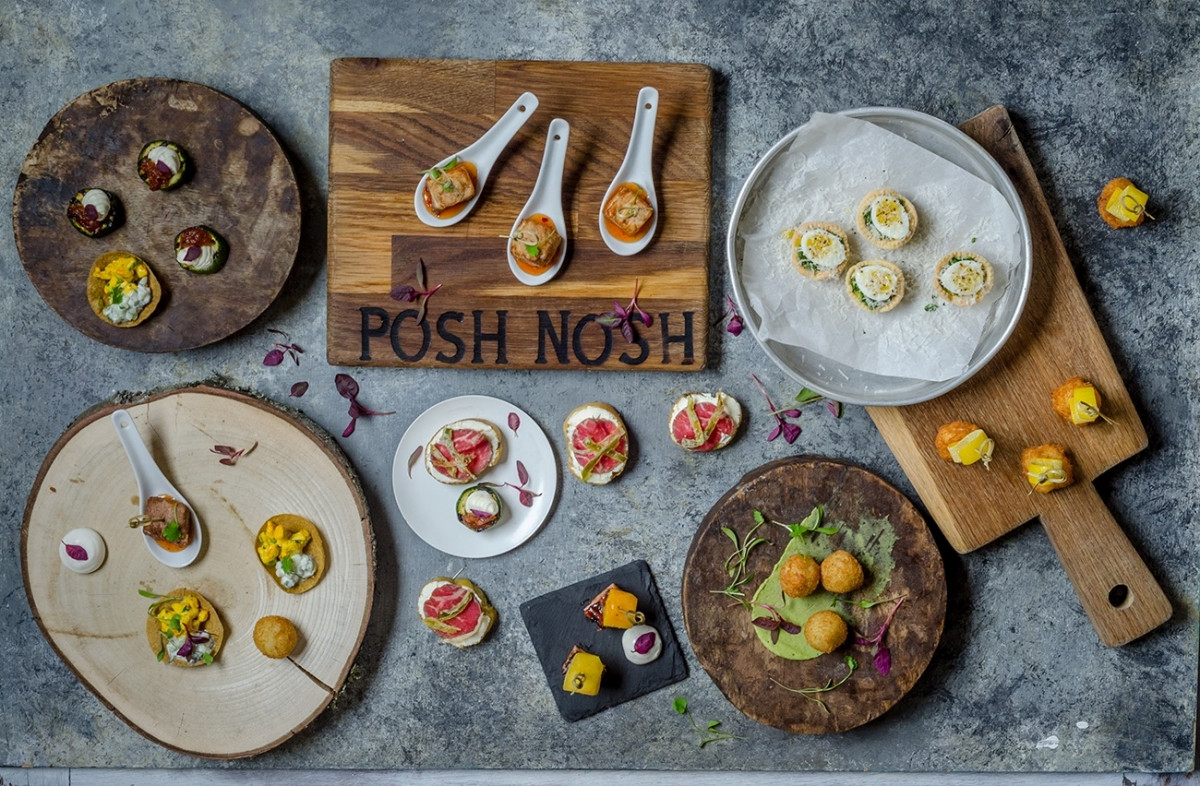 Location: Cheshire
Garni is a renowned UK catering company that is known for creating contemporary food with a relaxed and imaginative approach. They can cater for weddings across the North West of England and North Wales and tailor each event on an individual basis. They work with quality ingredients and a bit of culinary magic to bring their ideas to life.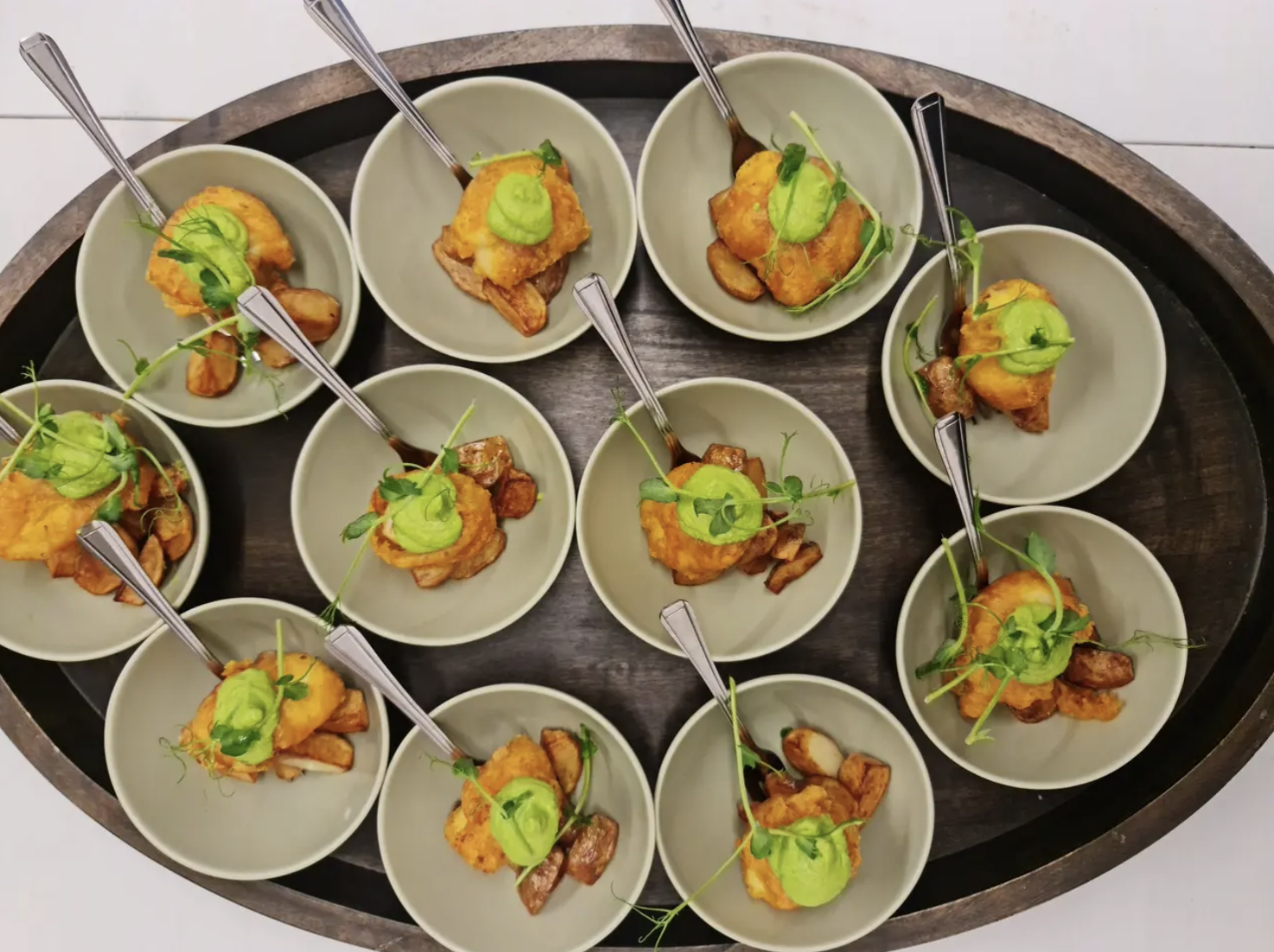 Location: Luton
Quite possibly the "funniest" caters we've seen in a while, Blame Frank is here to bring 'incredible flavours and the goodest of vibes'. They are full of character and believe food should be flavourful, fun and freshly cooked with plenty of flare. As written on their website 'the most important part of throwing a baller event is to invite really awesome guests. The second most important part is to stuff those guests full of the sexiest food they've ever encountered' and we couldn't agree more. They typically serve their food from a van called 'Frank the Tank' but if it doesn't fit with your vibe, they're flexible to work from gazebos or in the in-house catering facilities.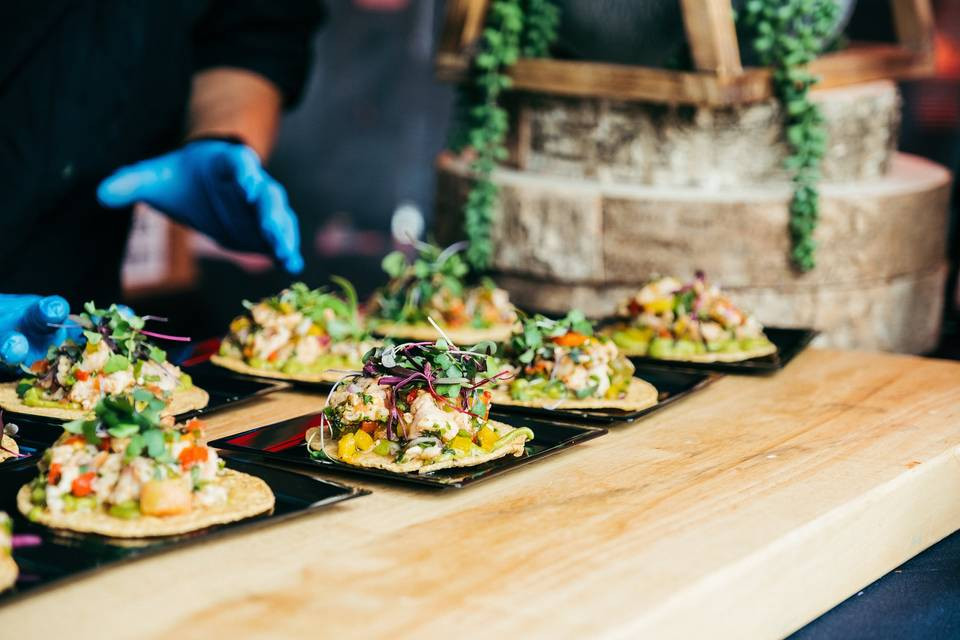 Location: Kent
With over 25 years under their belts running Flying Pig Kitchen as a family business, the friendly, characterful and creative team at the helm create lovely wholesome food for your wedding day. With the ability to cater for weddings both large and small and tailor the menu to suit you, they can also provide the bar service for the day too, to help keep things simple!
Location: Yorkshire
Providing amazing chef made grazing tables and feasts, Huw and Josh of The Grazing Guys use the finest of ingredients sourced locally and from the mediterranean. They can create their popular bespoke 'wow factor' grazing tables, or if you're after something more formal, they can provide canapés, a grazing table for mains and a grazing dessert table for after.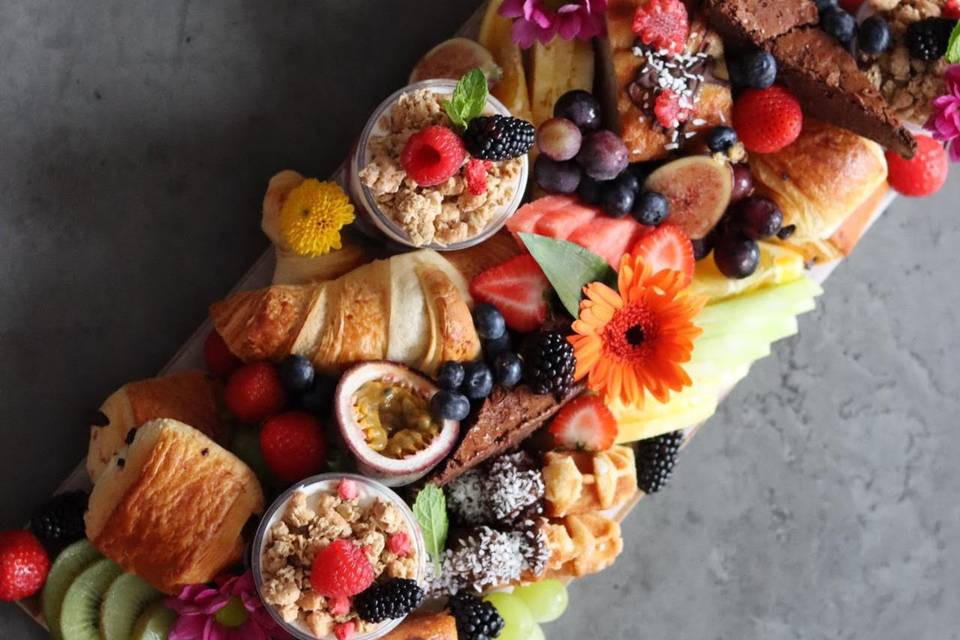 Location: Surrey
Created by old school friends Neil, Carla and James who all have credentials in the catering and events industry, The Tipsy Pig began as an old VW campervan and grew from there! They create bespoke menus for your wedding day that can be adapted according to style of wedding and budget, creating freshly made food using local produce wherever possible.