10 Best Celebrity Inspired Engagement Rings
We've all been there - mindlessly scrolling through Instagram and then we see it. An engagement announcement from that actress whose series we binge watched just last week. We stop and admire the ring for a few minutes.
"Isn't it beautiful?"
"I wish I could have a ring like that."
Well, now you can! When it comes to style, we quite often find ourselves looking to the stars for inspiration. So, whether you're looking to emulate a specific style, or simply want to see what's trending in the world of engagement rings, we've got you covered.
Here are 10 of our favourite celebrity inspired engagement rings…
1) Kate Middleton
Kate Middleton was presented with an 18 carat ring with an oval sapphire surrounded by 14 diamonds. The ring originally belonged to Princess Diana, who wore the piece while engaged to Prince Charles.
While sapphires have always been a popular choice for engagement rings, Kate Middleton's vintage piece has breathed new life into the trend. Today, sapphire engagement rings that are vintage inspired, or have genuinely been passed down through generations are a timeless choice.
For example, this sapphire ring with diamond cluster is in a style that is similar to that which can be seen on the Duchess's finger, and is therefore an excellent choice for anyone inspired by the royal.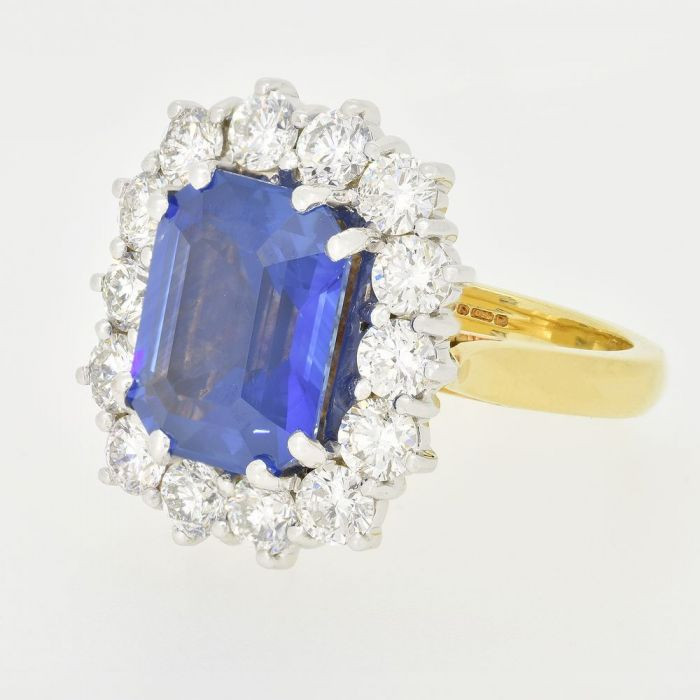 2) Ariana Grande
Child actress turned Grammy winner, Ariana Grande, shocked the internet with her engagement announcement in December 2020. But what really stuck in our minds was the gorgeous ring on her hand.
The ring features an oval cut diamond set on an east-west axis, alongside a beautiful pearl, which has been taken from her late grandfather's tie pin.
While the ring itself is incredibly unique and its story only adds to the charm, there are many ways to emulate Ariana's style in your own way. For example, you can choose any gemstone, whether it be a pearl, sapphire or emerald etc. and have it set alongside a classic diamond for a blend of personalisation and tradition.
3) Katy Perry
Another ring we simply cannot stop thinking about is Katy Perry's humongous ruby ring surrounded by eight clear diamonds to make up the shape of a flower. It's still unknown whether the petal-like design is a nod to her partner's surname, or simply the perfect way to signify the star's eccentric style or the blossoming love between the pair.
Whatever the meaning, this is yet another example of ways in which a proposal can be personalised with the help of the perfect ring.
If you're after a ring in the shape of Katy's beautiful piece, this 18ct gold ring with diamond flower cluster might be the one for you. Or if it's the ruby red that caught your attention, why not try this 18ct ruby and diamond cluster ring.
4) Cardi B
It seems music charts aren't the only thing this rapper has been taking over. Cardi B's half a million dollars pear shaped diamond ring has no doubt flooded Pinterest boards and the imaginations of brides-to-be all over the world, too.
Now, the chances of the average person splashing that amount of money on an engagement ring are slim, but there are similar pieces out there, available at a price you may be more willing to pay. For example, this pear cut diamond halo ring is available in platinum, yellow gold and rose gold.
The size and cut of the diamonds in these rings are designed to make a statement through a noticeable presence and undeniable sparkle.
5) Meghan Markle
Another ring that has the royal seal of approval is Meghan Markle's stunning trilogy engagement ring. Prince Harry proposed to Meghan with a three diamond ring, of which two of the stones were from Princess Diana's personal collection. The Duchess's original ring was set on a classic gold band, but this has since been upgraded to a delicate diamond studded band.
There are a number of ways to use Meghan's ring to inspire a style for you. For instance, you can follow suit with a chic trilogy style with a large central diamond paired with two smaller stones on either side, like this round brilliant solitaire with pear outerstones ring. Or, you can opt for something like this three stone princess ring with diamond shoulders, which creates a similar effect to the Duchess's upgraded piece.
6) Amal Clooney
It's to be expected that one of the most chic women in the world will be featured on this list. Amal Clooney's engagement ring remains timeless in style which is why even after almost a decade on her finger, the design is still a popular choice among couples.
Amal's ring features a large emerald cut central diamond with baguette diamond accents. Again, there are a number of options when it comes to choosing a ring inspired by the attorney. For example, for a more subtle look, a simple emerald solitaire diamond ring is the perfect choice. Or, this trilogy ring with diamond baguettes is a great nod to the less obvious details of the star's piece.
7) Hailey Bieber
As one of the biggest stars on the planet, the pressure was well and truly on for Justin Bieber to find the perfect ring for partner, Hailey Bieber. And he did not disappoint.
The model was given a stunning oval cut solitaire ring, which she now supports with a contoured pavé wedding band.
To replicate the look, there are plenty of options out there, with simple diamond solitaire rings available on gold, platinum and rose gold bands, all in various carats and colours. There are also similar designs crafted with gemstones, in order for you to make your proposal feel more personal.
8) Victoria Beckham
Victoria Beckham now owns a whopping 14 engagement rings from husband David Beckham. While romance clearly isn't dead in the couples longstaning marriage, it's the pop star turned fashion designer's first ring we're inspired by.
The footballer proposed to Victoria in 1998 with a gorgeous marquise cut diamond ring set on a classic gold band. The timeless design is just as stylish today as it was all those years ago, which is why it still makes for the perfect choice.
If you're looking for something similar to Victoria's original piece, take a look at this marquise solitaire 4 claw yellow gold band engagement ring.
9) Natalie Portman
Natalie Portman's engagement ring is admirable for a number of reasons. First, it's unmissable sparkle is achieved through an old mine cut central diamond, surrounded by a double halo of pavé diamonds.
But what's more, unlike many others in her field, the actress opted for a ring constructed with sustainable materials. Each diamond is smaller in size and conflict-free, and the platinum in which they are set is recycled.
If the stunning design wasn't enough to inspire your choice of engagement ring, the values behind it certainly will be.
10) Kim Kardashian
Despite all the ups and downs that have surrounded the reality star's engagement, including one of the most swoon worthy proposals and an unfortunate event in which the ring was stolen (but then later recovered, thankfully), the piece remains one of our favourites.
Kim Kardashian's ring from Kanye West features a sizable cushion cut diamond on a delicate pavé diamond band, and cost an incredible $4 million.
Again, the average person won't be splashing the cash like Kanye, but its style is one that can be used to inspire your choice. For example, this cushion cut diamond ring features a diamond halo and shoulders, which can help you achieve a similar look to Kim.
As you can see, there really is no one style to suit all when it comes to engagement rings. And while we may think finding a celebrity status ring on our smaller budgets isn't feasible, you may want to think again as there are countless ways to turn our inspired ideas into beautiful cost-effective engagement ring designs.