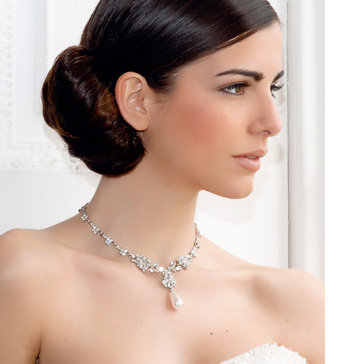 Should I use a Necklace on My Wedding Day?
---
By Victoria, Glitzy Secrets
Will it look too much? I'm not sure if it'll go with my dress? What style should I go for? It's fair to say for many brides choosing their wedding jewellery, deciding whether to wear a necklace demands the most consideration of all and quite rightly so.

Sitting so closely to the bodice of a wedding dress, a bridal necklace really has to compliment not only the brides' style but also the neckline on her dress and the detailing.

Style

Most of us ladies will have one item of jewellery which spends the least time in our jewellery box. Whether it's a pair of diamond studs, a pretty pendant or a classic bracelet, this one treasured piece tells us a lot about our style. If you always opt for earrings or a bracelet but never wear a necklace, don't feel pressured into thinking you should wear a necklace on your wedding day, if you think you'd feel uncomfortable. If you're an everyday, or even an occasional, necklace wearer then consider the type you usually go for and whether you'd prefer to keep to a similar style. Are you a pretty pendant person? Or do you adore dramatic statement 'pieces'?

Neckline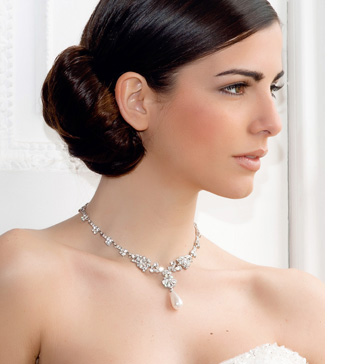 No matter what your style, the neckline on your wedding dress will often be the deciding factor on whether you wear a necklace and what style you can go for. Strapless gowns are perfect for necklace lovers and give scope to go for any style from a pretty pendant to a jewel-dropping extravagant 'piece'. In fact, some brides actually find they feel a little bare with so much of their décolleté exposed and dressing the area with a sparkling treasure helps them to feel more covered. Brides wearing a v-neckline should consider the width of the 'v' as wider lines will give more choice in terms of necklace style. However, if the line is very narrow, choose a dainty pendant to sit neatly within the 'v' or layer long pearls for a 1920s look. Necklaces can clash with high, round or boat necklines and need careful consideration. Most brides will presume a choker will complement however, while some brides can pull off the look with elegance, this type of necklace isn't as flattering on wide or short necks and you may want to consider whether your dress allows for a longer necklace to be layered over the top instead. Brides wearing a one-shoulder or asymmetric gown will usually find a choker is the only style which suits this neckline and often prefer to opt for earrings and a bracelet instead.

Detailing

Because a bride's necklace sits so closely to the bodice of her wedding dress, it's important to take into account the colour and style of any detailing. If your gown is threaded with silver or gold detail, choose a necklace with the same base tone. Or, if it features pearl embellishment, accentuate with a necklace adorned with pearls. Unless you're confident to go for a bold fashion-led style, heavy beading and a dramatic necklace will often fight to be centre of attention so you may wish to go for subtle jewellery. In contrast, a dress with little or no detail can be dressed beautifully with statement gems. Always allow your gown to guide you and remember to compliment rather than compete to ensure you achieve a perfect look for your special day.