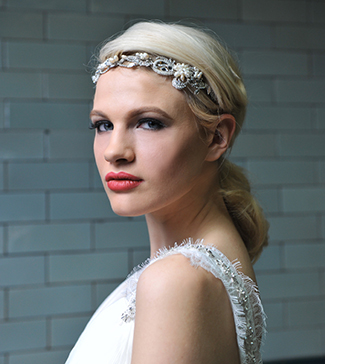 Choosing the Right Bridal Accessories
---
By Sarah, Ivory & Co
A practical guide to choosing the right bridal accessories:


Selecting exactly the right bridal accessories can be extremely difficult! There are so many choices and brides can be left feeling unsure of what to go for and the best way to choose. So, as someone who has designed wedding dresses and accessories for decades, here is my definitive guide to avoiding the pitfalls and making the right choices.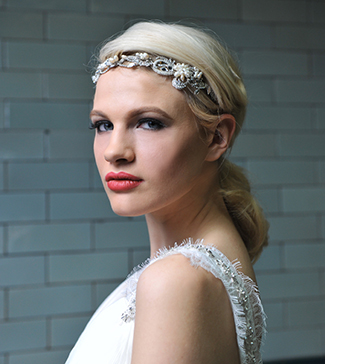 Firstly, consider the timescales involved: many brides make the mistake of leaving accessory buying until quite late.The brides who are well organized, and who visit our showroom early in the process, are relaxed and happy with their choices. The ones who visit us with less than a month or two to go, until the wedding, are noticeably more stressed and can often end up spending more. Some brides buy several items in the hope one will be perfect, as they will have no time to organise any exchanges if their purchase does not work out. So leave yourself plenty of time.This will allow you to have sufficient hair trials and be sure the accessories are right for you.

I know that most brides would assume it is best to choose a dress first an then accessories, but the other way around can be more sensible for a few reasons.Finding the right tiara or piece of jewellery can help a bride to choose the right dress.Many brides feel a bit overwhelmed with the sheer volume of dresses available so it can be a great idea to start small; to make a choice on a bracelet, or a headpiece which you feel really suits your personality and use it as a starting point. This way you can take it with you wedding dress shopping and ask to try dresses that best compliment the accessories you already have (remember it's much easier to take your tiara with you dress shopping, than it is to take your dress with you tiara shopping - which we have seen before!)

My advice would always be to go for a professional tiara fitting, than to be tempted to buy on the net. Some brides are lucky and really know exactly what they want so they can buy from websites - but if you are not sure what will best suit you it will be really hard to just decide from photographs. Instead, a good bridal accessory company have experienced staff who can help by recommending items which will best compliment your face shape, colouring and any wedding themes- so don't be afraid to ask for advice. Going to a professional showroom or boutique will also mean you avoid the pitfall of buying a poor quality product. Some accessories available, from certain websites based in the Far East or on Ebay for example, can be tempting as they are cheap but they can be made from low-grade materials and be constructed badly. For example, brides can have some terrible allergic reactions to tiaras made with nickel. So always check the accessories you have chosen are nickel free. Ideally they should be plated with real silver, rhodium (part of the platinum family of metals) or 14K gold. This will avoid any nasty reactions on your wedding day.

Who you take with you to choose accessories will also be very important. Whether it's family or friends, make sure they are people whose opinions you genuinely trust. If certain friends always politely say everything looks wonderful on you - that won't help. Assure whoever is accompanying you that you won't be offended if they say an item is really not for you. Also try to not take too many people with you; whilst two or three at the most can help, any more can prove confusing and could put you off making any decisions.

Once you have selected any items, check the company's exchange policy. It may be many months until you see your finished dress and are yet to see everything together for the first time. Check to see if you can exchange your items for others in the range if you are not happy or feel the accessories don't match your dress (even if it may be over 6 months later).

Most of all though just relax and enjoy the process of searching for the perfect finishing touches for your big day. The planning phase for a wedding goes by so quickly so have fun and good luck finding all you need.