Which Era Will Influence Your Wedding Jewellery? Part 1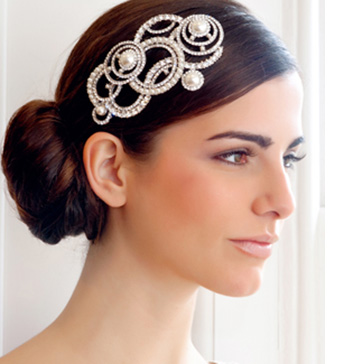 I have a confession to make. I'm completely and utterly obsessed with vintage style. And judging by the sheer number of brides we advise, so are you. 'Vintage' has stolen the wedding trend spotlight season after season and shows no signs of going anywhere soon. Yet, while many of brides tell me they want to be adorned with vintage wedding jewellery on their big day, not so many are sure of the specific styles associated with popular decades. While combining influences from various eras can create an exquisite look, going for wedding jewellery in keeping with a single era can achieve an authentic and dramatic style for your special day. Knowing the style and highlights of each decade is all you need to achieve sensational Vintage Starlet status no matter which bygone era you adore…
All That Jazz!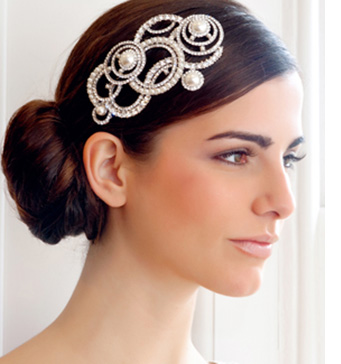 Flapper girls, The Charleston, jazz music, The Great Gatsby, the decade the Art Deco movement was born… You've guessed it; I'm talking about the Roaring Twenties. One of my personal favourite eras of all-time, 1920s bridal accessories should be all about making a statement. After all, what else could we expect from the fabulous era that dared to raise hemlines, rid women of the corset and introduce a shocking new social event called the cocktail party?

When enhancing your gorgeous drop-waist gown, embrace the styles, cuts and shapes the 1920s conjure up. Look for geometric accents to emphasise Deco detail, opt for a fusion of crystals and pearls and forget about matching your accessories by going for gorgeous mix'n'match 'pieces'. Think glittering forehead bands and feather headpieces to adorn marcel waves, long Deco style earrings to play peek-a-boo beneath a chic bob, layers of dramatically low hanging long pearls and stacks of bejewelled cuffs for a look worthy of a Twenties darling.
Flirty Thirties


Associated with The Great Depression, it's often overlooked that the 1930s really did transform the quality of women's clothing with advances in technology and the birth of the golden era of Hollywood. In terms of style, the 1930s is literally in-between the 1920s and 1940s which, ironically, is the beauty of it. While the drop-waist 1920s style still featured in evening gowns, lengths went floor-skimming and the cut was more fitted to beautiful skim the female form.

With 20s 'flapper' style so last decade, 1930s jewellery was slightly more subtle and focused predominately on Art Deco style which was flourishing internationally. Accentuate and play up a 1930s wedding dress by embracing chic geometric 'pieces'. Go for long, elegant triangular earrings, pin a marcasite brooch on the hip of your gown, embrace a rectangular cut crystal encrusted parure (yes, coordinating sets were back) and don't be afraid to incorporate unusual gems to achieve the elegant style this decade should be remembered for.

Next month, think Old Hollywood Glamour Sparkles and sassy Retro Rocks as I focus on two of the most popular vintage decades in fashion; the 1940s and 1950s.