Wedding Readings That Won't Make You Cringe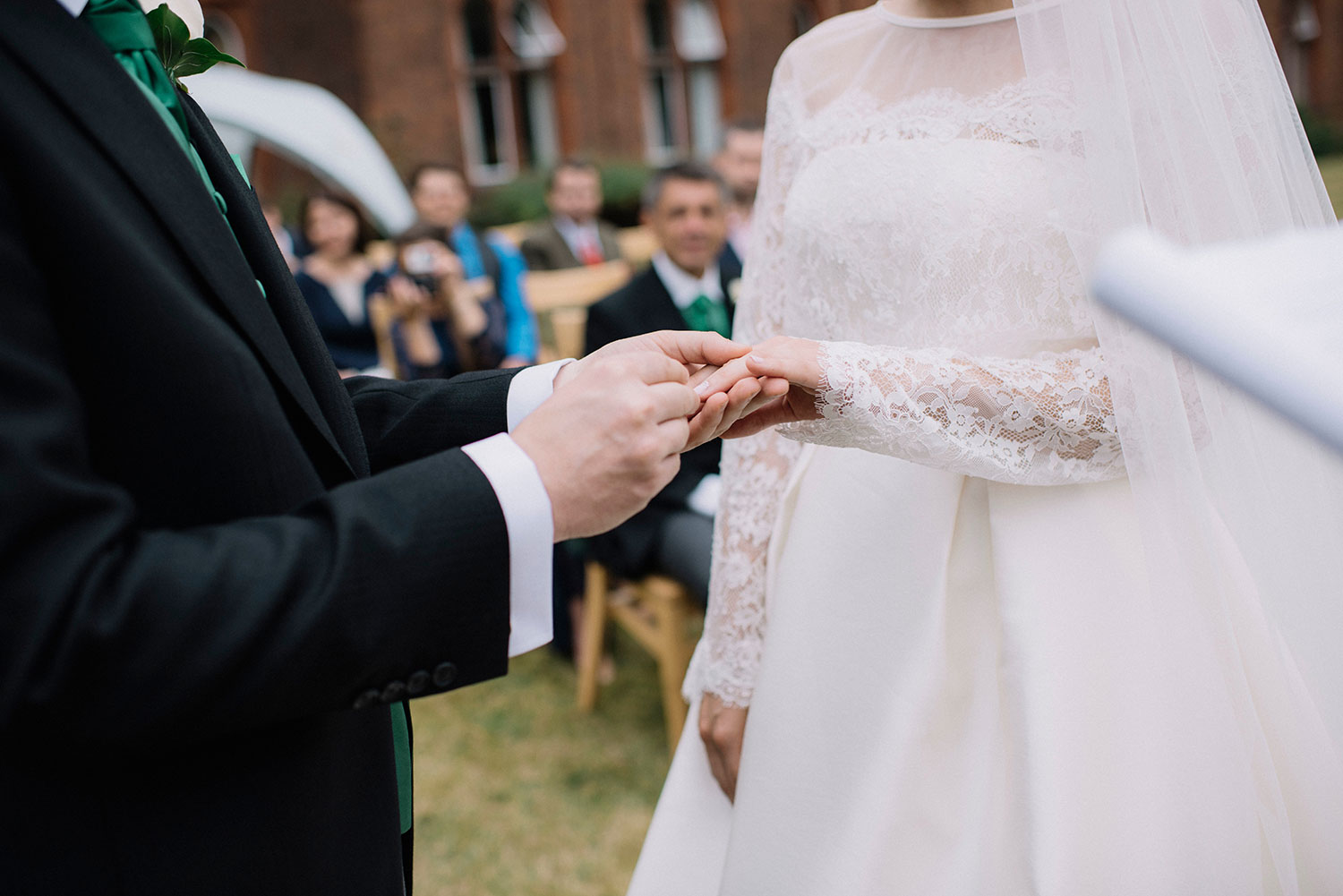 There is absolutely no doubting that throughout history, literature has had some truly beautiful lines written about love and being in love that can inspire our wedding readings. But often when it comes to deciding what to read, us Brits ultimately don't want something that feels too cringe or over the top to say. We want something that can transfer sentiment in a meaningful, thoughtful and beautifully written way that speaks of real and true love, not just the love you find in novels. So we've collected together some of our favourite non-cringey readings and quotes from books that will really hit a chord with you and your wedding guests, without it feeling a little too intense.
Wild Awake by Hilary T Smith
"People are like cities: We all have alleys and gardens and secret rooftops and places where daisies sprout between the sidewalk cracks, but most of the time all we let each other see is is a postcard glimpse of a skyline or a polished square. Love lets you find those hidden places in another person, even the ones they didn't know were there, even the ones they wouldn't have thought to call beautiful themselves."
The Zygote Chronicles by Suzanne Finnamore
"I've felt basically lucky ever since, almost every day of my life. That's something else love should make you feel. It should make you feel fortunate. It will be made clear to you in a stray gesture, the line of a throat. Something in the hands. There may or may not be any music playing. But there will be a certain velocity of the spirit, a sensation of dropping through clear space unimpeded, and you think, This is the one. I found you."
Captain Corelli's Mandolin by Louis de Bernieres"
"Love is a temporary madness, it erupts like volcanoes and then subsides. And when it subsides, you have to make a decision. You have to work out whether your roots have so entwined together that it is inconceivable that you should ever part. Because this is what love is. Love is not breathlessness, it is not excitement, it is not the promulgation of promises of eternal passion, it is not the desire to mate every second minute of the day, it is not lying awake at night imagining that he is kissing every cranny of your body. No, don't blush, I am telling you some truths. That is just being 'in love', which any fool can do. Love itself is what is left over when being in love has burned away, and this is both an art and a fortunate accident."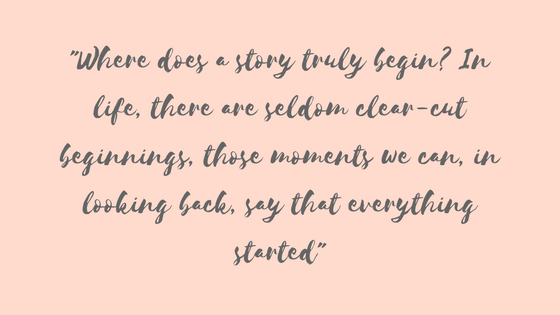 A Bend in the Road by Nicholas Sparks
"Where does a story truly begin? In life, there are seldom clear-cut beginnings, those moments when we can, in looking back, say that everything started. Yet there are moments when fate intersects with our daily lives, setting in motion a sequence of events whose outcome we could never have foreseen."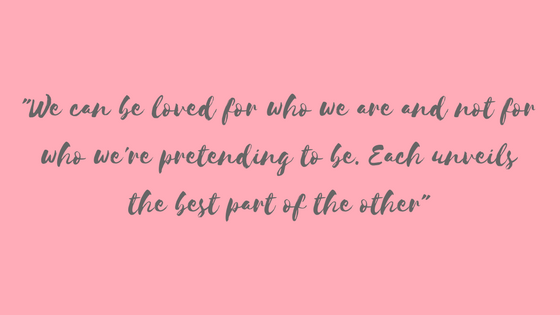 The Bridge Across Forever by Richard Bach
"A soul mate is someone who has locks that fit our keys, and keys to fit our locks. When we feel safe enough to open the locks, our truest selves step out and we can be completely and honestly who we are; we can be loved for who we are and not for who we're pretending to be. Each unveils the best part of the other. No matter what else goes wrong around us, with that one person we're safe in our own paradise. Our soul mate is someone who shares our deepest longings, our sense of direction. When we're two balloons, and together our direction is up, chances are we've found the right person. Our soul mate is the one who makes life come to life."
He's Not Perfect by Bob Marley
"He's not perfect. You aren't either, and the two of you will never be perfect. But if he can make you laugh at least once, causes you to think twice, and if he admits to being human and making mistakes, hold onto him and give him the most you can. He isn't going to quote poetry, he's not thinking about you every moment, but he will give you a part of him that he knows you could break. Don't hurt him, don't change him, and don't expect for more than he can give. Don't analyze. Smile when he makes you happy, yell when he makes you mad, and miss him when he's not there. Love hard when there is love to be had. Because perfect guys don't exist, but there's always one guy that is perfect for you.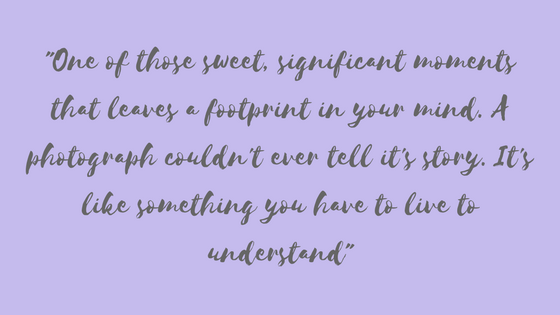 Jasper Jones by Craig Silvey
"What I'm feeling, I think, is joy. And it's been some time since I've felt that blinkered rush of happiness. This might be one of those rare events that lasts, one that'll be remembered and recalled as months and years wind and ravel. One of those sweet, significant moments that leaves a footprint in your mind. A photograph couldn't ever tell it's story. It's like something you have to live to understand. One of those freak collisions of fizzing meteors and looming celestial bodies and floating debris and one single beautiful red ball that bursts into your life and through your body like an enormous firework. Where things shift into focus for a moment, and everything makes sense. And it becomes one of those things inside you, a pearl among sludge, one of those big exaggerated memories you can invoke at any moment to peel away a little layer of how you felt, like a lick of ice cream. The flavour of grace."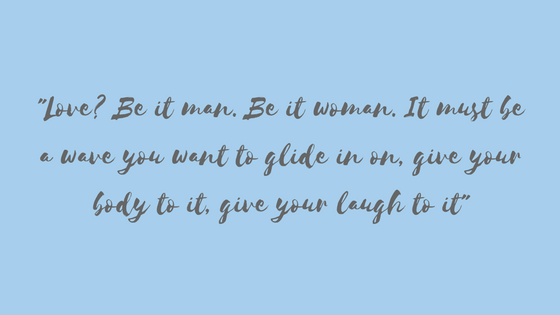 The Complete Poems by Anne Sexton
Love? Be it man. Be it woman.
It must be a wave you want to glide in on,
give your body to it, give your laugh to it,
give, when the gravelly sand takes you,
your tears to the land. To love another is something
like prayer and can't be planned, you just fall
into its arms because your belief undoes your disbelief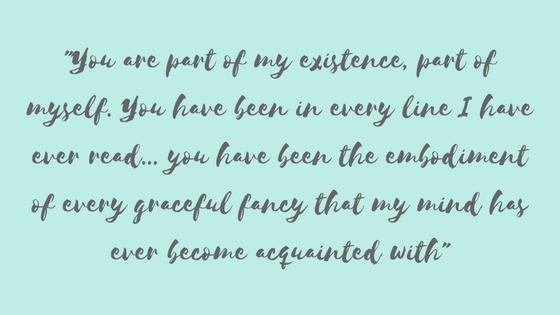 Great Expectations by Charles Dickens
"You are part of my existence, part of myself. You have been in every line I have ever read, since I first came here… You have been in every prospect I have ever seen since – on the river, on the sails of the ships, on the marshes, in the clouds, in the light, in the darkness, in the wind, in the woods, in the sea, in the streets. You have been the embodiment of every graceful fancy that my mind has ever become acquainted with. The stones of which the strongest London buildings are made, are not more real, or more impossible to be displaced by your hands, than your presence and influence have been to me, there and everywhere, and will be."
This Lullaby by Sarah Dessen
"No relationship is perfect, ever. There are always some ways you have to bend, to compromise, to give something up in order to gain something greater … The love we have for each other is bigger than these small differences. And that's the key. It's like a big pie chart, and the love in a relationship has to be the biggest piece. Love can make up for a lot."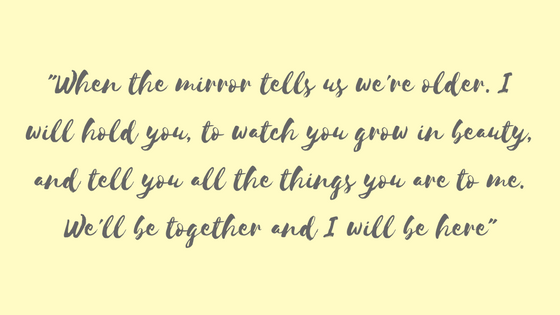 I Will Be Here by Steven Curtis
If in the morning when you wake,
If the sun does not appear,
I will be here.
If in the dark we lose sight of love,
Hold my hand and have no fear,
I will be here.
I will be here,
When you feel like being quiet,
When you need to speak your mind I will listen.
Through the winning, losing, and trying we'll be together,
And I will be here.
If in the morning when you wake,
If the future is unclear,
I will be here.
As sure as seasons were made for change,
Our lifetimes were made for years,
I will be here.
I will be here,
And you can cry on my shoulder,
When the mirror tells us we're older.
I will hold you, to watch you grow in beauty,
And tell you all the things you are to me.
We'll be together and I will be here.
I will be true to the promises i've made,
To you and to the one who gave you to me.
I will be here.
If you fancy passing the readings onto children instead, then check out our adorable children's book readings.