Wedding Jewellery Trends for 2014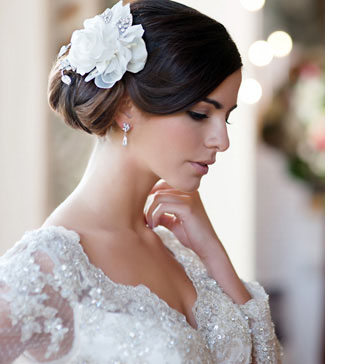 Taking their seats (preferably front row) at New York Bridal Market, the bridal industry gathers bi-annually to see leading designers showing their latest much-anticipated collections. A strong indicator of emerging trends, the 2014 Fall shows gave us a preview of what we can expect to see in the world of wedding fashion, from the pretty in pink hues from Vera Wang, Deco influences from Jenny Packham and long lace sleeves from Monique Lhuillier to Carolina Herrera's rising hemlines and Kenneth Pool's halter neck gowns. I've chosen three styles we'll be seeing more brides wearing on their special day to show how you can accessorise with style.


Pink Lady

Vera Wang is renowned for her use of colour (who will ever forget her dramatic black gowns?!) and her all-pink Fall collection was no exception, featuring shades from sugar to coral. When it comes to wedding jewellery and accessories to compliment a pink wedding dress, I prefer to keep it simple. A pretty hair flower with classic pearl drop earrings and a delicate bracelet or a simply diamond or crystal pendant and matching studs says 'Romantic Beauty' rather than 'Disney Princess'. Jessica Biel and Anne Hathaway are the perfect examples of brides who went Pretty in Pink with effortless class on their special day!


Deco Darling

The Roaring Twenties continues to remain in the spotlight and shows no sign of going anywhere. The focus from Jenny Packham was very much on the Art Deco decadence of the latter part of the decade. Play up Deco style by opting for wedding jewellery with geometric detailing, such as long triangular earrings and a rectangular linked bracelet. Look for jewels with angular accents or give a contemporary touch by wearing a single dramatic statement piece. Jewel tone gems such as rubies, emeralds and sapphires were often set with diamonds in precious Deco jewellery so don't be afraid to incorporate colour but remember to emphasise the key element of the Art Deco movement by keeping geometric lines in mind when choosing your wedding jewellery.


Lovely in Lace

Thanks to the lovely Duchess of Cambridge, long lace sleeves continue to feature heavily in many designers latest collections, including Monique Lhuillier. Generally, if long sleeves are the focal point of your gown, avoid a bracelet. Not only do you run the risk of it catching on delicate lace, it can detract from the elegance and create unnecessary fuss. When brides ask for advice on the style of bridal jewellery will complement their lace gown, I like to consider the actual lace. Heavily embroidered lace sleeves can look rich and luxurious and therefore carry off more opulent accessories, even a bejewelled cuff over the sleeve. In contrast a fine, delicate lace works better with equally delicate jewellery such as a simple necklace or elegant slim drop earrings.