Waitrose's Top 5 Tips For Buying Wedding Wine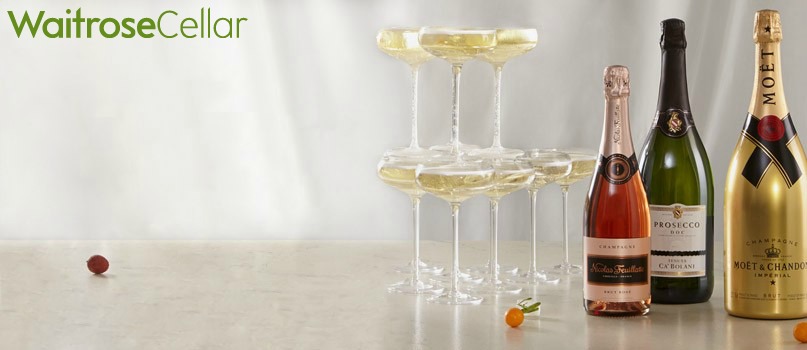 Selecting the wine for a dinner for 2 can be daunting, never mind choosing a wine selection for a party of 100 or more! What wine goes with what food? Should you choose a crowd pleaser or something with character? How much do you need?! If you're hosting your wedding in a marquee, or are lucky enough to have found a BYOB venue, you may appreciate a little guiding hand. Today we have some tips for buying your wedding wine from the chaps at Waitrose Wine Cellar.
Did you know you can purchase your wedding wine from Waitrose? And not only that, but there's a whole team of wine experts over at Waitrose Wine Cellar ready to advise you on your purchases just a phone call away. What we also really love about Waitrose Wine Cellar is that in the event you order too much wine - best to be on the safe side - you can return any unused cases for a refund! And did we mention they can lend you the glasses too?
Here are some top tips for choosing your wedding wine, from the connoisseurs in the Cellar...
Tip No.1: Taste before purchase
The world of wine is a complex, dynamic and intriguing place, which can make buying for a large group of people a daunting task. So the number one rule for your wedding day should be – if you like it, it is right.
My favourite stories come from couples who seek out a variety they enjoyed on their first date, or a blend from a part of the world where they travelled together
We have put together a collection of wedding favourites so you can explore the best selling versions of your favourite variety, country or style of wine. We suggest you mix your own taster case of two reds, two whites and two sparkling wines from this favourites list to sample.
If you would like tips on what to include in your taster case please do get in touch with a Cellar Specialist on 03456 100 304.

Tip No.2: A guide to corkage
The first question every couple asks when they start thinking about wine and fizz for their wedding is, do we get better value if we go with the house wine at our venue or should we bring in our own wine?
We recommend you do a bit of research on the house wines you are presented with, compare the cost of the wine to the reviews you find and then decide would you get a higher quality wine for the same/ less cost if you purchased bottles yourself and paid the corkage fee.
Many couples decide to pay the corkage fee to bring in wines that are personal to them or most simply do it to get more value for money per bottle of wine.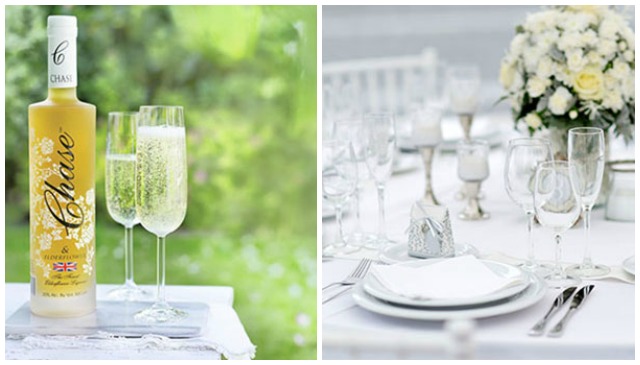 Tip No.3: The reception drink
Traditional champagne is a classic offering and a guaranteed crowd pleaser or, if you would prefer to save your beverage budget for higher quality wines for your main meal you could try a cava or prosecco with a dash of Chase Elderflower Liqueur for a sumptuous twist.
If you have a summer wedding why not add champagne to Pimms; in equal amounts to the lemonade, for a refreshing pimms royal punch.
Tip No.4: Wine for dining
The key for buying wine for your wedding meal is to keep it simple. Choose a white to match a lighter, chicken or fish dishes and a red to match a darker meat. Cellar specialist Rebecca has put together a great food and wine pairing guide for specific recommendations.
When considering the ratio of white wine to red wine, going 50/50 is the safe choice. If you are having a summer wedding serving 60% white wine and 40% red might be a good idea; consider the reverse if you are having a winter wedding.
It is difficult to know exactly how many bottles you will need for a wedding, our general suggestion is half a bottle per person. It is always better to have more wine than not enough and remember you can cellar the leftover bottles to enjoy over the next few years.
Tip No.5: Fizz for the toast
Bottles of fizz typically serve 6 glasses, so relatively, you need to buy less bottles of bubbly than red and white wine.
Generally; 9 bottles of fizz will serve one glass per person for a group of 50, 18 bottles will serve one glass each for a group of 100 and 26 bottles will serve one glass per person for 150 people
Most couples like to over estimate this calculation by a few bottles, just in case, and cellar any leftover bottles to enjoy themselves over their first year of marriage.